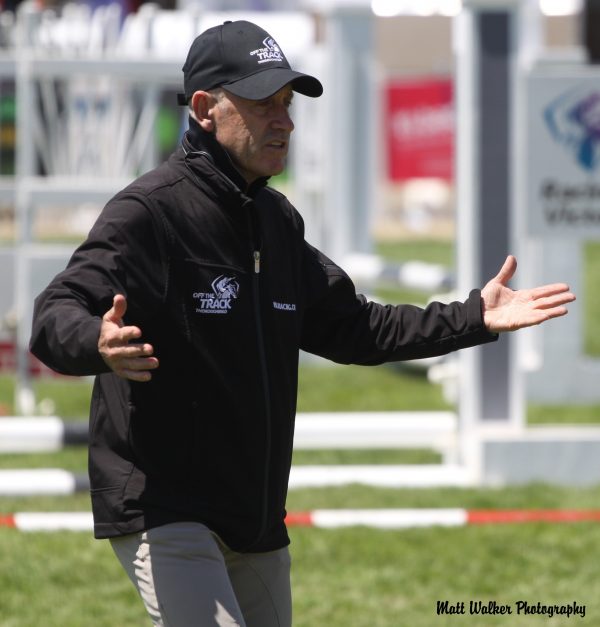 Andrew Hoy takes an Off the Track Eventing Clinic at Equitana…
Really I don't need any encouragement to sing the praises of the noble off-the-track Thoroughbred. I was lucky enough to be the rider of several wonderful horses who had been less than speedy on the track, but made beautiful and talented riding horses. The horse that comes from a good racing trainer is a long way down the track to being a great riding horse for any sport, we've had fabulous dressage horses, great showjumpers. Plus an off-the-tracker can still take home an eventing gold medal, as Arctic Soul did with Gemma Tattersall at the 2018 World Equestrian Games! Arctic Soul was another slow race horse, but when he came to Gemma as an eight-year-old, he went from Novice to three-star in a year, and then  into the British Team!
At this year's Equitana, Andrew Hoy's eventing clinic was sponsored by Racing Victoria's Off the Track program, which has been established to help retired racehorses find another role in life. Off the Track has established a network of 40 'Acknowledged Re-trainers' across Victoria, to help smooth the transition.
As part of the Off the Track program, Racing Victoria has this year, sponsored more than 150 equestrian events in which over 4,500 retired racehorses have competed.
Like me, Andrew Hoy doesn't need to be sold on the virtues of the Thoroughbred, they were Thoroughbred horses that put him on the international eventing map.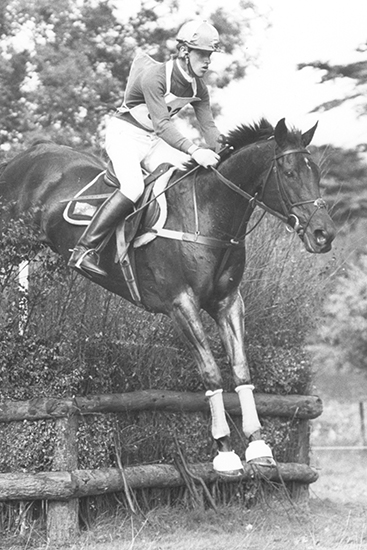 Andrew's first international star – Davey
"I've had many horses with me at the top level – Davey, two Olympic Games, two World Championships, won Burghley, he came off the racetrack. He only ran twice, but he did race."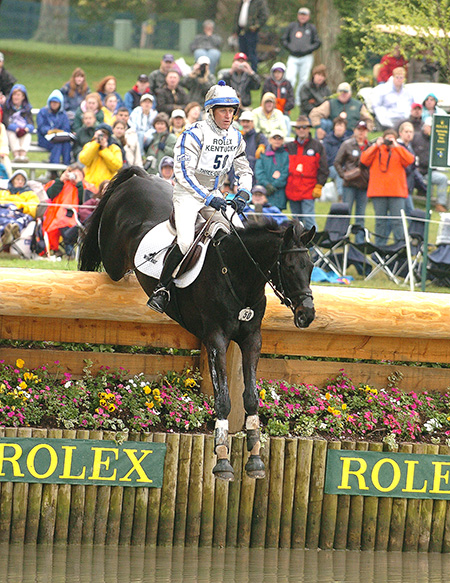 Moonfleet and Andrew competing at the Kentucky Rolex
"Moonfleet, absolutely wonderful horse, won Burghley, won Badminton, and second again  at Burghley, he raced. Algebra, Natalie Blundell campaigned him and then I had him for the last few years of his career. He was just an extraordinary horse, unbelievably sound horse, he had his own little ways, but it was a matter of working with him, that's just a few, but I have been so privileged to work with these ex-racehorses. There are still Thoroughbreds off-the-track at the top, like Arctic Soul, that horse has been doing incredibly well. He was Gemma Tattersall's ride at the WEG in Tryon and part of the Gold Medal winning team."
What do you like about Thoroughbreds?
"What I like about the Thoroughbred is that they are bred to run. The way the sport is now, you need to have speed, the horses need to be able to do the speed comfortably because if you are running horses at the top end and they become exhausted, they then find it very difficult to showjump the following day. . That's where the Thoroughbred is at its absolute best, they can run and jump, and you can get Thoroughbreds that move beautifully."
"I think the thing that has made it sometimes difficult for the Thoroughbred is that if they have raced you have to re-train the muscle memory, and that just takes time. The horse has learnt one thing, that is, out of the stable, down to the track, a little trot then basically into canter and canter at 100% of their speed."
Talking about speed, that leads on to formats. You've been successful in every eventing format, from the dinosaur days of roads and tracks and steeple, to the new shorter formats, I was there when you won the first CIC in Europe, at Wiesbaden. I know Chris Burton felt that the course at Tryon would have been better shorter and in the CIC format, where do you sit in that debate?
"I've never heard it called the dinosaur days, but the sport has changed immensely since I first rode in the World Championships in 1978 through to 2018. Now the repetition of jumping comes much quicker, now there are no places where you can make time up, you have to be quick over your fences, and in saying that, you cannot be at all dangerous, and you cannot have moments where things get a little risky, you have to be on the case all the time."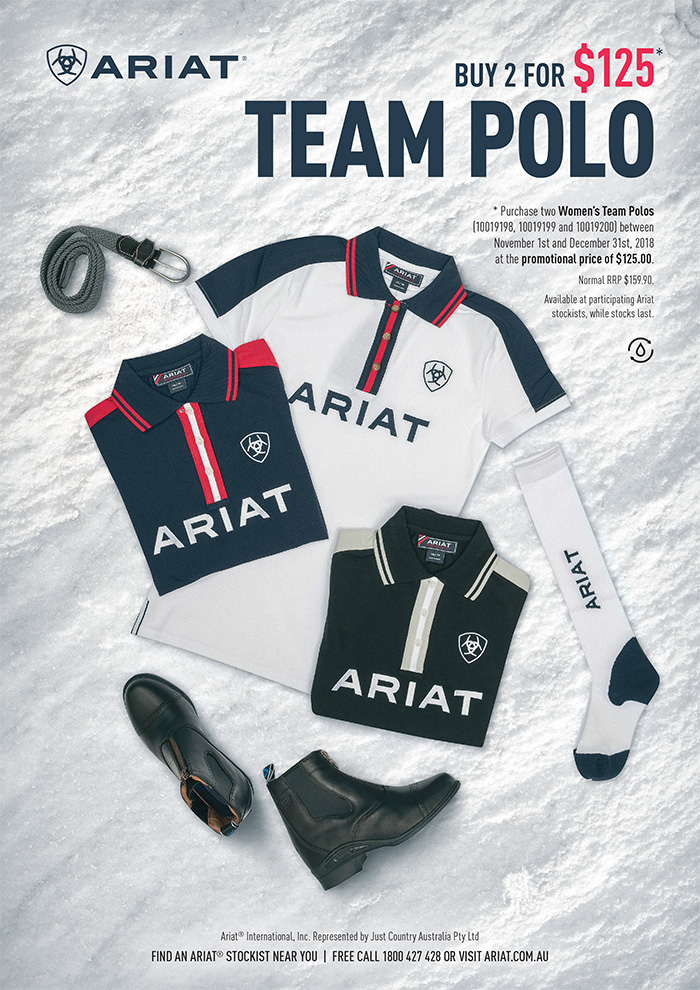 I know Chris Burton thinks the Aachen CIC format is more exciting for the spectators, and the horses last longer and it is kinder to them – would you be happy to see CIC format at the Olympic Games?
"We are in the entertainment industry, and the question is, where is the best entertainment. If you follow cricket, it's the one day and 20/20 matches that have kept Test Cricket alive. I feel, without doubt, that we need to make sure that our sport is entertaining, and the days of waiting four days before you get a final result, they are limited. Lifestyles have changed, people like to see a result more quickly. That is why showjumping is so much easier to market because the class is over within two hours. Every two minutes another rider appears. It's like the Melbourne Cup, some want to study the form for weeks, months, in the leadup, others will watch the last ten seconds, but they all get something out of it."
It seems to me you are saying that you would be happy to go along with the CIC format as the Championships format?
"Yes, I think it is going to make it easier for organizations to put on championships, with the longer format, you need a lot of space. For sure, we don't want to see it become a showjumping competition, if someone wants showjumping there's plenty to watch. But I think you can still have a very good format, and a very good event where you get a result quickly. I think that's the important thing, that we get a result quickly."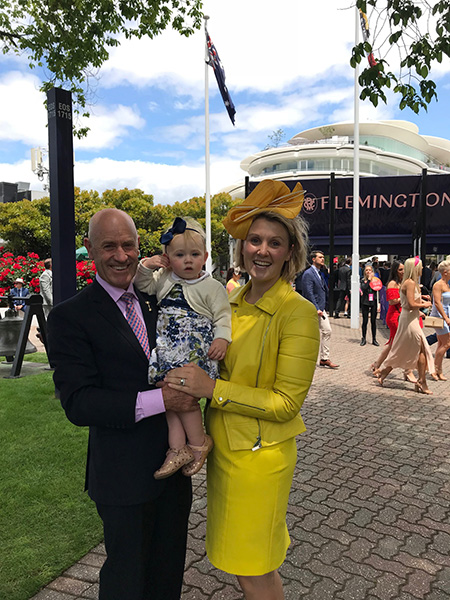 The Hoy family, Andrew, Philippa and Stefanie visit Melbourne for the Cup
There must have been times in your life when you were trying very hard to do everything right, and luck kept dealing you a rotten hand – right now you must be pinching yourself to check that it is real, new wife, first baby, and now a superstar horse to ride…
"I am very fortunate to have such a wonderful wife, and a healthy child that's just a joy for me, and then to have the horse power behind me… I've spent a long time trying to work to this. I've been in the sport at an international level for forty years, and if you don't learn from your mistakes, you are never going to learn. In business or sport, you have highs and lows, but I've always tried to look at what I am doing, and the successful people never give up. I do not do this alone, this is a complete team effort, there have been so many people who have played a huge role in my life. You have to have the bad experiences to appreciate the good experiences, you've got to learn from the moments that don't go well, and learn to pick up and run with the good ones…"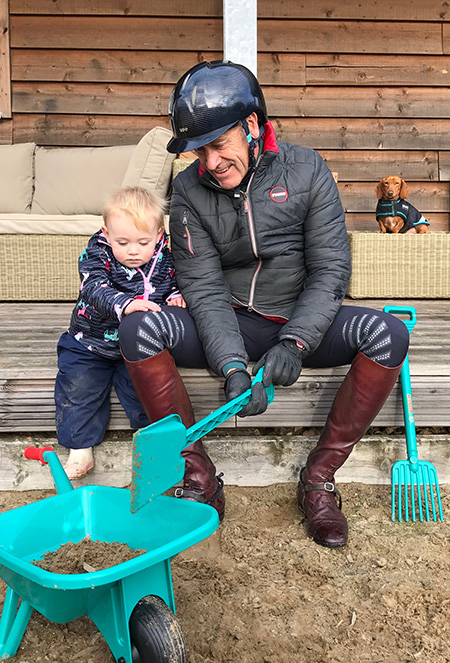 Out on the arena, Andrew showed the Equitana crowd what a thoughtful trainer he is, and highlighted the Thoroughbred horse. He had two lovely horses in his first group.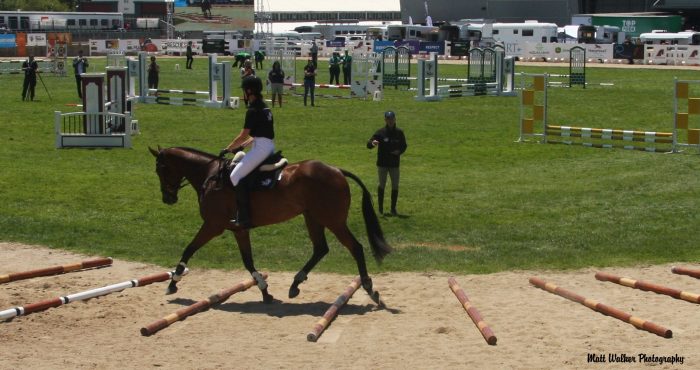 Stacey Lawrence was riding Sonny, who raced as Masterson (Sufficient / Boulevard of Dreams). It would seem the pair were fated to come together – Stacey was Masterson's groom when he went to the races for his first hurdle start at Ballarat in August 2017. This was the last race of his career. He was the favorite to win, but didn't end up placing. After the race, trainer, Patrick Payne said to Stacey if she liked the horse to take him home. The six-year-old had raced 11 times for one win. Currently Stacey is preparing Sonny to go eventing, and the pair has attended showjumping clinics, freshmans showjumping and he has been exposed to cross country, along with regular dressage.

The other combination was Heist and Sophie Doake. They are currently training at 105 cm level. The gelding raced as Safecracker (Break the Vault / Dagger) and the 8-year-old had  seven starts with one win and two placings. He was originally purchased as a show horse, but has since been transformed into an eventer!
Sophie – who has competed up to two-star level –  hopes to take Heist as far as he can go. She says that although he's quirky and sensitive, he is talented and athletic.
Sophie's aim at this stage is to get him to the CCI1* at Melbourne 3DE next year. Safecracker came off the track in 2015 and has been with Sophie for two and a half years. He has had multiple mid field finishes at various events.
Andrew is also well aware of the dimensions involved in training the Thoroughbred.
"When you are working on technique, you can't work on fitness. To work on technique you want a horse with a fresh mind and fresh muscles, don't do the two on the same day, fitness one day, technique another, with breaks in between."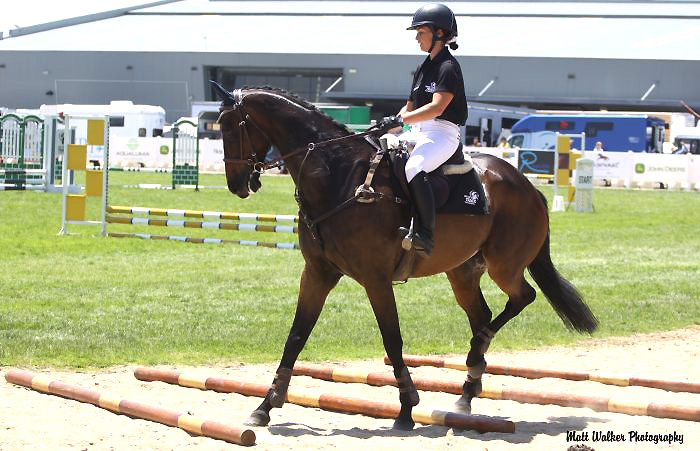 Andrew quickly advices, "when a horse becomes anxious like this, keep his mind occupied – occupied, not busy. You have to work with the horse, and what the horse is feeling. Riding is feeling, I can teach you technique, but I can't teach feeling. It's not going to help if you, as the rider, lock on and gets tense in what you are doing."
Now Sophie is happy, and Safecracker works it out…
"I believe the horse only understands what we want, three seconds before he does it. You need to create a good technique and get the horse listening to you, over small fences. What goes on in your brain, goes down the rein."
And they certainly were listening by the time Andrew finished his session, "that's right, give them a round of applause, it's important not to protect them too much."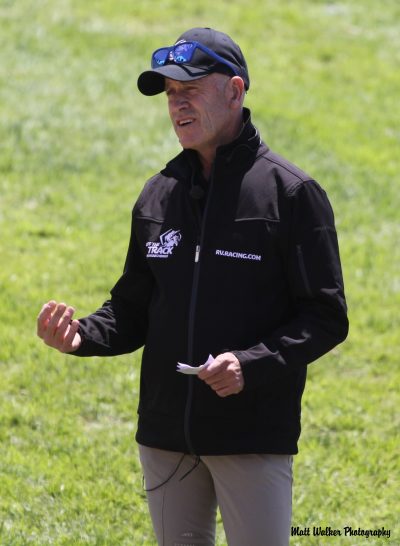 Two more graduates from the racetrack are in the ring.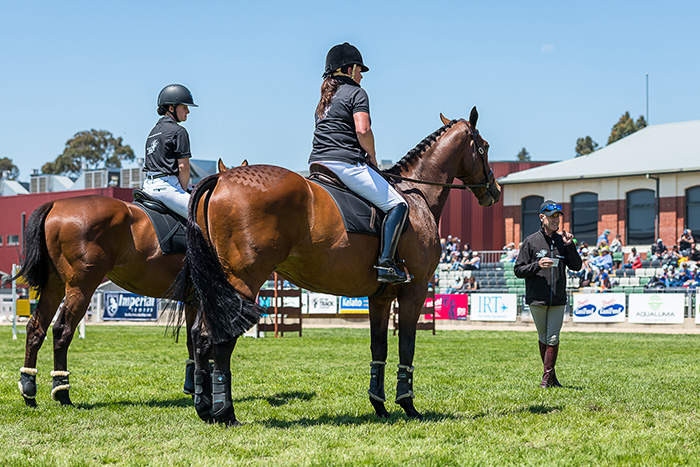 Collude (General Nediymn / Conspire (IRE)) is now 12 years old. He started 17 times, for three placings and no wins. In 2016, the gelding met up with Charlotte Flood and they are now competing one star, training two star. The pair are lucky to have expert help, weekly dressage, two to four weekly showjumping training, plus regular cross country schooling. Charlotte also goes to as many clinics as possible.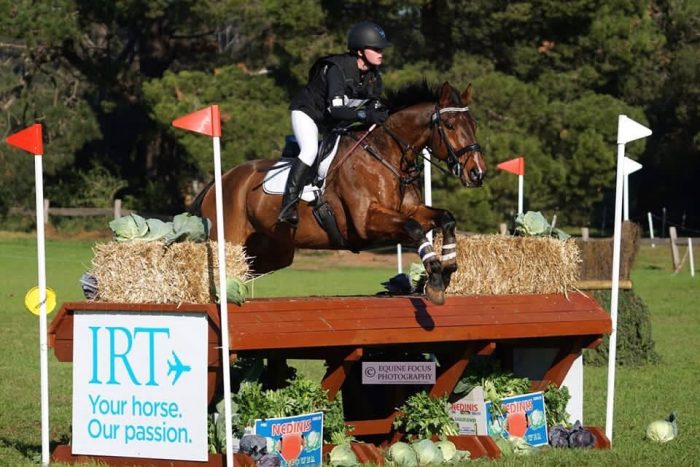 Collude – another racehorse makes the transition… (Equine Focus photo)
2018 has been a good year for the combination with lots of placings including a win at Geelong Horse Trials in the EVA 105 class. At Tonimbuk, they were 6th in the 105 class and received the Racing Victoria Off the Track award for the best performed ex-racehorse in the class.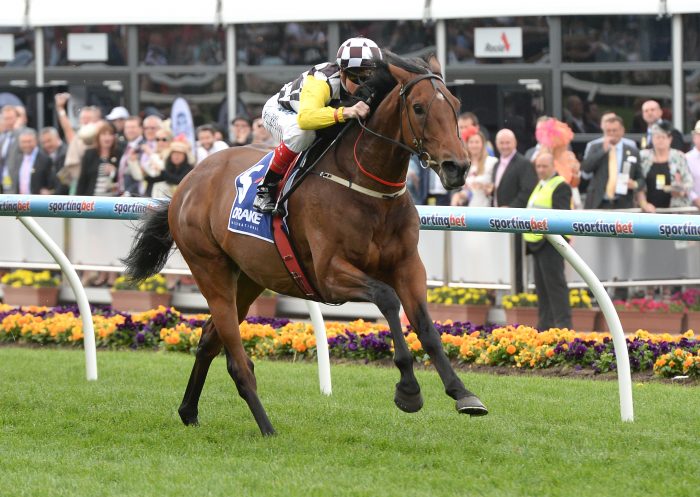 Precedence on the track (Photo – Racing Photos)
The other horse, Fiona McIntyre's Precedence (Zabeel / Kowtow), was a real favorite of Melbourne race-goers, and that's no surprise since they had plenty of opportunity to get to know him. He's 13 now, but when he retired as a ten-year-old he'd had 69 starts after starting as a two-year-old.
Trained by the legendary Cups King, Bart Cummings, Precedence won close to $2,000,000 in prize money. Precedence ran in four Melbourne Cups finishing in the top 10 on each occasion.
He is now a very promising show horse, after training with  Fiona for the last 18 months. Precedence has competed at Royal Show level at Adelaide, Sydney and Canberra Royal Shows.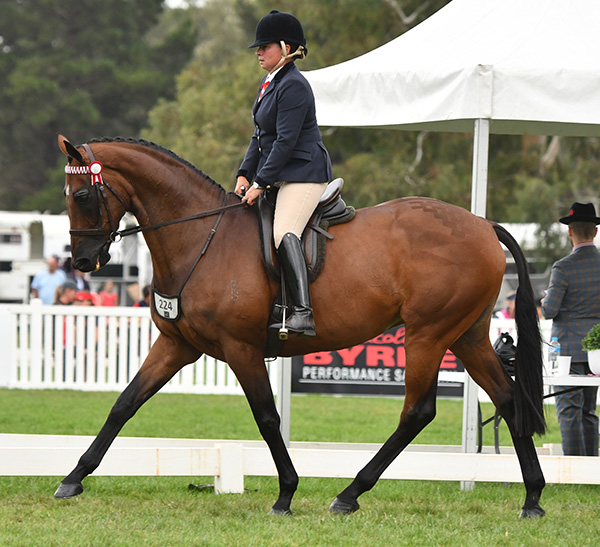 Racehorse to show horse, Precedence is a star…
What a legend – and yes, good horses are just that, Precedence was totally unfazed by the atmosphere…
Andrew loved him: "He's lovely to look at, but as soon as Fiona went to canter, this horse is just special! As he was cantering around the circle, I had a picture of him in the Melbourne Cup, you can see it happening, and it is just wonderful that Fiona has been able to take him on, and give him a five-star lifestyle following his racing career."
"When you get a horse off the track, you've got to set up working relationship with the horse, just how receptive is he to what you are trying to teach him?"
And as always with Andrew, that comes down to his four basics: go forward, turn left, turn right, stop.
"If one of those is not working, you've got problems. And when I say go forward from the leg, don't keep squeezing, that just makes the horse numb to the aids, use leg, get the result, release the pressure."
Once again, Andrew's beloved poles were in action, with them set up in a fan, ranging from one metre to a metre ten apart: "If you want a big stride go to the outside, shorter, ride the inside line."
"Our responsibility as a rider is to assist the horse to get to the right spot. Guide him, give clear instructions. Confidence has to come from you, you are the director, make it happen."
The Olympian was also paying strict attention to rider position and he had great advice for Charlotte: "Short reins, long arms, you are too much behind, holding the horse, shorten the stirrups and give him more rein."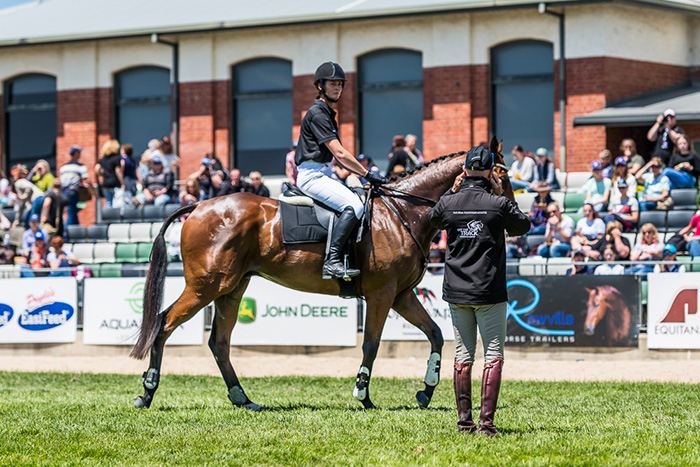 "I want you standing in the stirrups at halt, now walk, still there, now trot, still there, and canter, still there, that's your position. And see the horse is not running off because the rider is in balance, she's still standing so now she's still in her own balance, in her own rhythm, not pulling on the horse. As soon as you lean back, the horse starts to pull and that's why they run."
"Now you can sit back in the saddle, but keep forward with your upper body. Why is it that you do a regular canter on the circle, then when you go to jump, the canter becomes irregular? It's caused by you pulling. Everyone can do a perfect normal canter, but when they go to jump, suddenly the horse is sideways, inverted and rushing."
I must say, it is extremely impressive how Charlotte has held such a lovely two point seat, ever since Andrew put her in position. Thanks Andrew for showing us what an opportunity horses off the track present, and thanks for demonstrating once again what a thoughtful, tactful teacher you are…