Story – Chris Hector & Photos – Roz Neave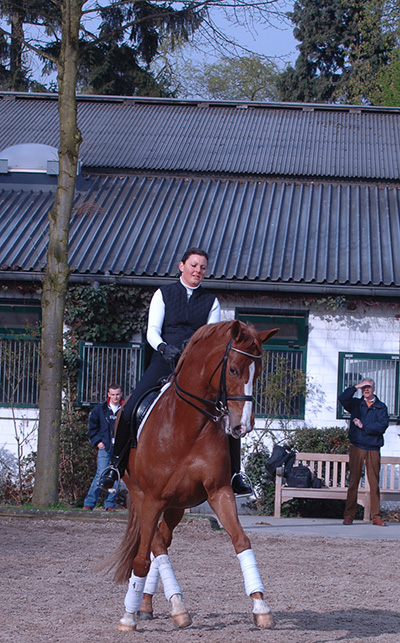 Jean Bemelmans is one of Germany's most successful trainers of Grand Prix horses. Under his watchful eye, the Spanish team became one of the world's top dressage nations, and Jean has gone on to work with the French team. He has recently formed a partnership with CB Dressage an exciting team of up-coming stars who bring together experience from both Germany and Spain. The team also includes Australian, Ashlea Day who has spent several years working and gaining experience in Germany.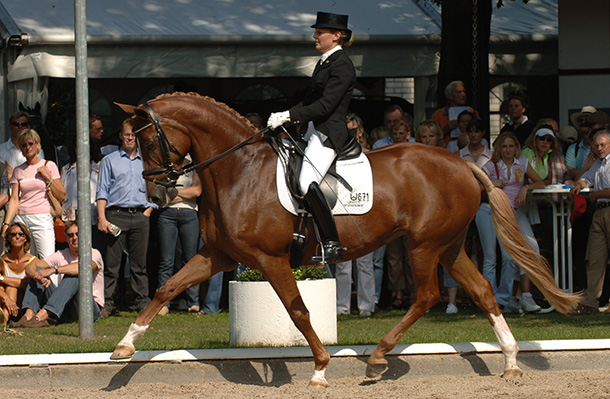 Fie and Media Luna competing at the Bundeschampionat, Media Luna is by the Trakehner stallion, Münchhausen
In this article from 2006, Jean works with Fie Skarsoe, the resident rider at the training yard at the beautiful Wiesenhof Stud. We recently did another special article with Jean and his new team, watch for it – soon…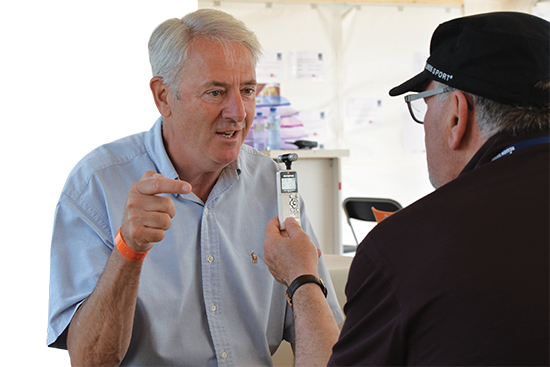 Jean Bemelmans is the consummate professional. His voice is never raised, he speaks quietly, but it is well to listen hard, because he is one of the world's most thoughtful dressage trainers.
We caught up with Jean – and Fie – at Wiesenhof – to record this illuminating discussion on teaching the dressage horse laterals, but as always, with Jean, we had to start at the beginning, at the stage he calls 'obedience' before we could move on to 'gymnastic.'.
Jean on Games… and Obedience
"When we are thinking about any horse's education, first you have to look back in the horse's earliest learning experiences. You have to remember that the horse is an animal – and what do animals like? They like to play games. If you put two dogs outside, they play all the time. This is not like us in our offices thinking all the time of business – they don't have any business, they want to play."
"The first thing you should remember is that it is a game. If you start with a young horse, you cannot start with collection or gymnastics, first you have to think – how can we get the horse obedient."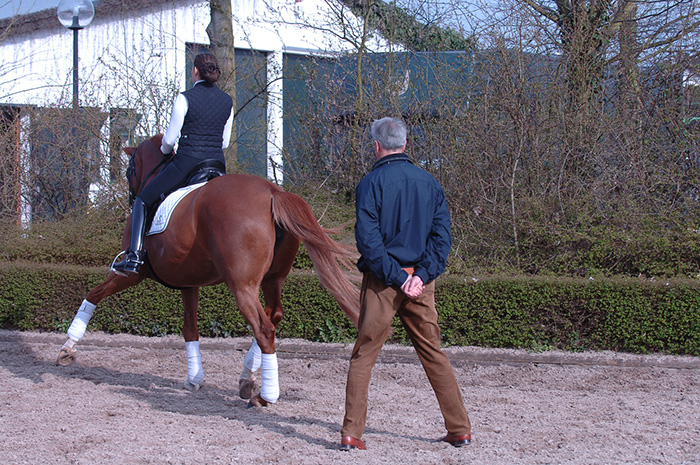 "I like to look at some of the techniques of people like Pat Parelli, who work on the pre-education of the horse. So the horses know what is going to happen. They have to follow you, go away… move away from pressure."
next how to teach lateral work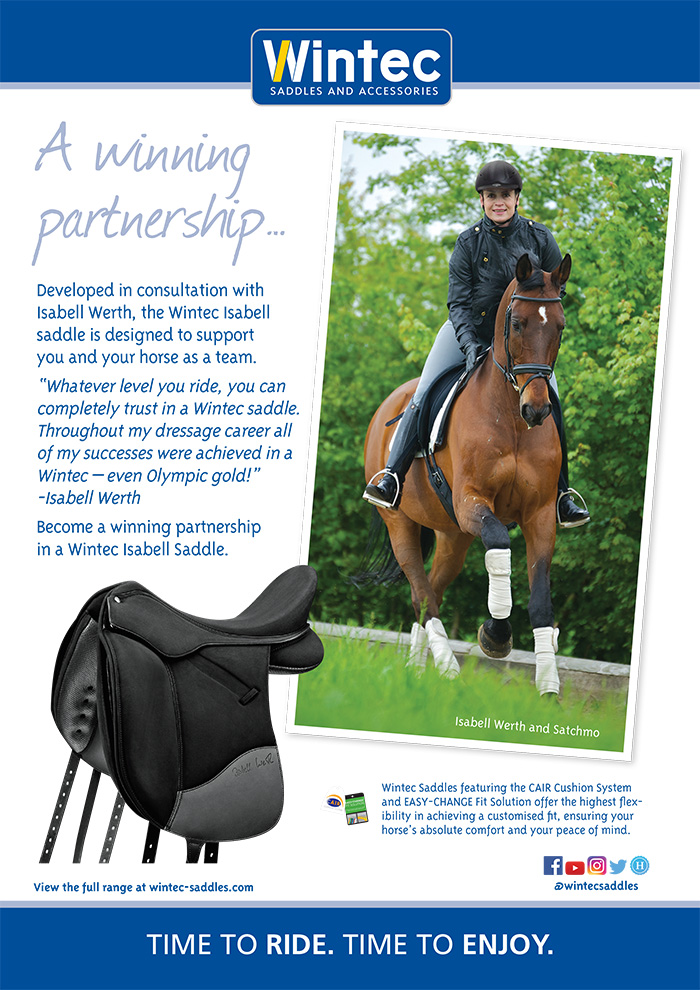 "If we are talking about teaching lateral work, they have to first of all accept the leg in a forward movement. Then the left leg to go right and the right leg to go left, and it is very easy, but everything first has to be like a little game. Horses are not obedient immediately, they have to be convinced. Oh oh, if he pushes with his right leg that means I have to go immediately to the left side. Later if everything is in place, then you can start work on the gymnastics for the horse. First everything has to be in the right place, and it has to be confirmed."

Jean on Go Forward… and Sideways
"We start from the ground, and then the same procedure, when we ride. On a long rein, you come with your leg, and he goes forward, you pat him. If he doesn't want to go forward, you help with the whip, so he understands that the leg means a forward movement – he has to go away from the pressure and go forward."
"At the beginning when you do this, you leave him loose on a long rein. Because at that stage the hand is just to bring him back, so if you put your hand on and start to push, where should he go? He is in prison between your hand and your leg, then he gets disobedient. So the first thing is this game. Long rein, leg on, he trots, Oh very good."
"Step by step, this is a long development. The education of a horse begins at the age of three years, maybe a little earlier with pre-education on the hand, just coming and going. It starts to be in a good moment when the horse is seven, then it still doesn't finish. The top horses – Anky and Bonfire, Gigolo and Isabel, they were Olympic winners when they were 18. That's a long time and they were still working with those horses. It's not like horses are machines where you can take them to the test then put them away, you are still training, although later on it is more gymnastic than learning."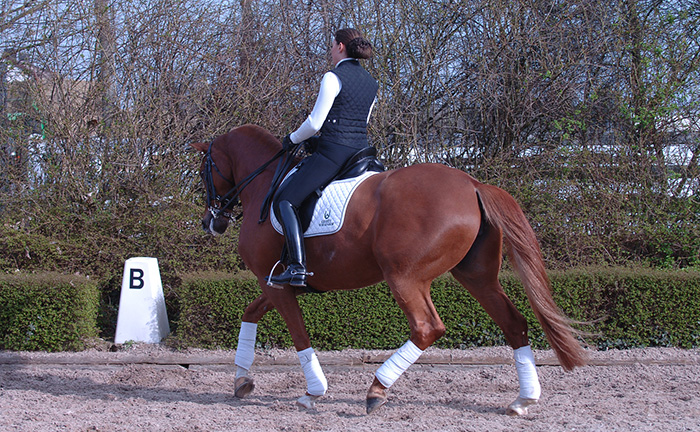 next, introducing the leg yield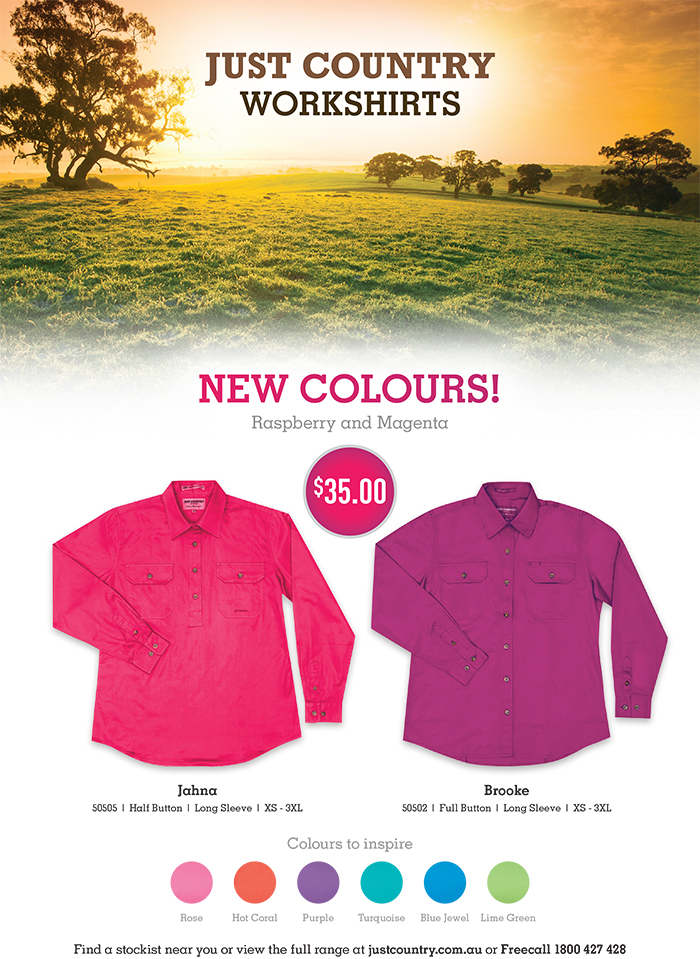 Jean on introducing the leg yield…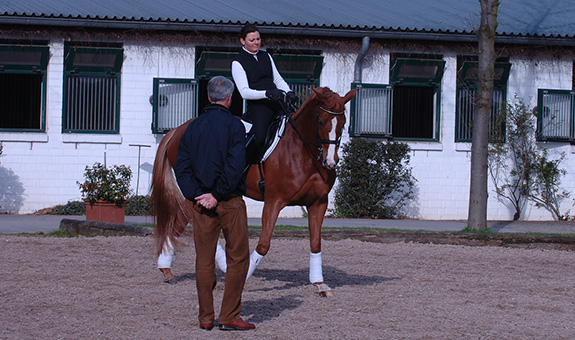 "The first gymnastic that involves a sideways movement is a leg yield because that is the most easy way to do it. The horse has the wall to help him, and he can go along the line of the wall, nose to the wall. Then you have your inside leg and your inside rein. If you are on the left rein and you push with the right leg and keep the whip in the right hand to support your right leg, then he understands that he has to go to the left side with the hindquarters."
"It is also very good to teach this on the circle. Start in the middle of the arena, and made little turns. Make him understand if you come with the left leg with the left rein, that he has to move his hindquarters, to go to the right, so he is turning around his front legs."
"This is just a leg yield, it is long time until you introduce the shoulder-in. If you see it in ages, then the shoulder-in begins at the age of five. Not before. Look at the scale of education. Here in Germany, the first L level test you do at the age of five. The German Championship for 5 year old horses, that is an L test – but in an L test there is no lateral movement. The lateral movement begins at six, then for the first time you ask for shoulder-in in a test. For the first time you ask for a half pass in a test."
"Before you do the shoulder in, you do the shoulder fore. You don't go from nothing to shoulder-in… first you do shoulder fore, before leg yielding, with the young horses, you can do a game move away from my leg – but this is a game, this is not a gymnastic exercise. Shoulder in, shoulder fore, then you are already gymnasticizing the horse."
Jean on horizontal and vertical lines…
"If you go through the game age of 3, and you come to the age of 5 where it gets more serious, then you can think about working on the horse's body and his position, gymnasticise a little. Then you have two lines that are very important: one line is the vertical line, the balance of the horse. Then you have the horizontal line and this line gives him the position where he is to be in the neck. In the Grand Prix it is the highest line, when he begins as a young horse, it is the lowest, long and low."
"These two lines you have to keep in mind all the time. Then you work on these two lines – so if you work on the vertical line, then you don't start to crack and break this vertical line, you go very slowly, like the shoulder fore, this means riding straight with a little bit position of the neck on the left side, but the body is as straight as possible. Then next step will be to bring the left shoulder a little bit in front of the left hind leg, to work on the straightness, and then, if this all works well, you start a little bit in the way of shoulder in."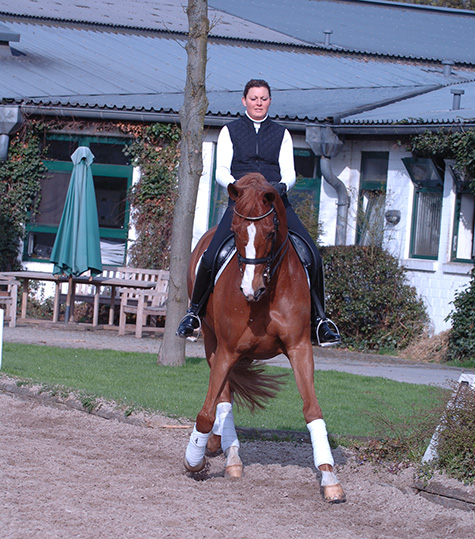 Jean on Shoulder-in…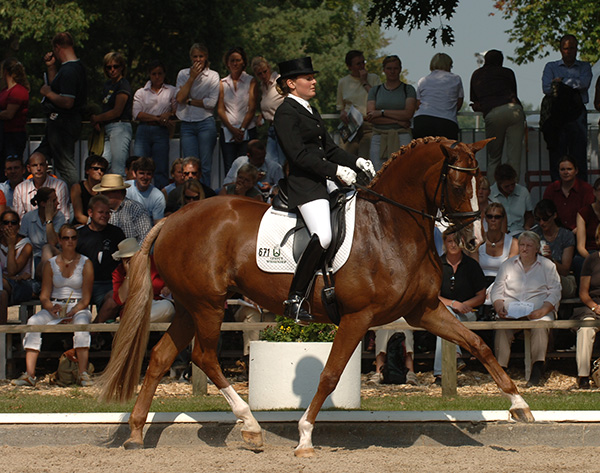 "What is the aim of shoulder-in? The aim is to bring the inside hind leg under the point of gravity, so that the inside hind leg gets strong. As long as they move forwards, they can move away from the weight, but with the shoulder in, the horse has to bring the inside leg more under, and then if he is educated – this is at the age of 5 or 6 – and he knows how to react, then you can activate a little this left leg, bring it more forwards and under, and this makes the left leg strong. On the other side, we do the same thing with the right leg – this is the purpose of the shoulder in, to make the inside leg more strong and able to carry more weight."
"There are many ways you can teach them the first steps of shoulder-in. One is coming out of the corner, you can do it on the circle, a little bit like the leg yielding we did with the young horses, then more and more, they understand leg and hand and you can put them into shoulder in. To do a good shoulder in, you have the vertical line and you have the horizontal line, but you have to control the horizontal line, because if you don't control this horizontal line, then how can you bring him under himself with a good contact in front if you don't have any contact in front – if you lose the contact, or there is no contact, it is not a shoulder in, it is a leg yielding."
"When I go to a show, I see many horses, many older horses, but I don't see many shoulder ins, more I see leg yield. More than 50% are not doing shoulder-in, they think they are doing shoulder in, they take the position of shoulder in, but they are not really doing shoulder in because the moment you don't have good contact, then it is not a shoulder-in."
"The movement of shoulder-in develops from the hindlegs, it brings movement into the horse, it goes over the back, it comes to the rider, and the rider lets the feel of this movement that comes in his hand into the mouth of the horse, and he lets it come out there. If there is an interruption in this flow, then the hind leg is not working, it is just moving sideways, it all has to be confirmed together. That is why shoulder-in with a four year old horse is not possible – how could you do it? It is only possible the more the horse is confirmed in the training, then you can start to do correct shoulder in."
more laterals follow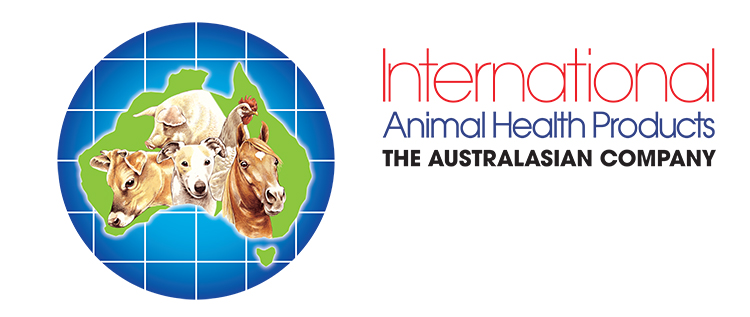 Jean on the other laterals – half pass, renvers, travers…
"If they can do a good shoulder-in, then they can do the half pass. Shoulder-in  is the basis for all these exercises. The half pass is much easier than the shoulder-in because half pass, like renvers and travers is not very difficult for the horse – but it is another gymnastic effect. The shoulder-in is gymnastic of the inside hind leg, the travers is gymnastic of the outside hind leg. For this you have to control 100% the outside hind leg. It is not a question of going in a lateral movement, no it is a question of feel – have I the right hindleg in the travers coming under the point of gravity? Is it active enough? Is it going forwards? Is it taking weight? It is very complicated."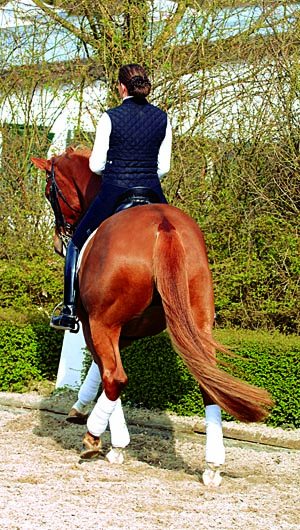 Jean on using lateral work to increase obedience…
"If the horse is not very obedient, then I think more about obedience before I think about gymnastics. First I have to have obedience, then I can work on the gymnastics. If a horse is not very obedient then using a lateral position can help you get control. My theory is always, if you have a man standing in front of you, and you try to push him down, it is not very easy. But if he stands sideways – in a lateral position – he is not very strong any more. You can push him over very easily when he is in that lateral movement – this is the system you can use if a horse gets disobedient."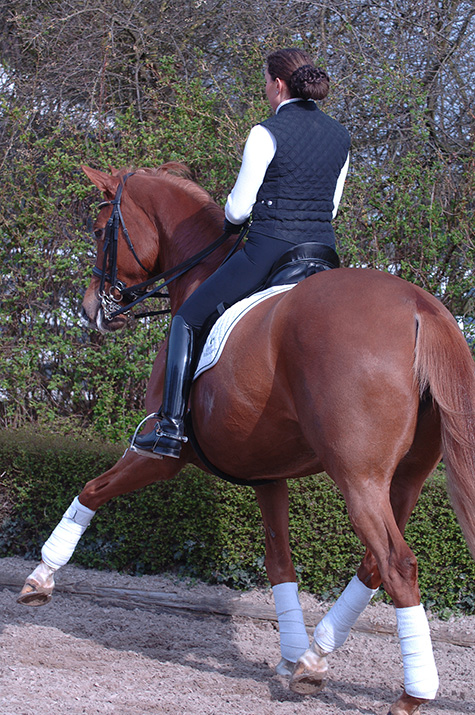 "Think again about games – and in this game I am putting the horse in a lateral position so I am stronger than him, then very easily, without a lot of effort, you get the horse under control again – if you are having problems getting the horse obedient, always think of this little game, then okay, I have control again – now I can think about gymnastics of the left hind leg. Sit down, push, think about shoulder-in. If the horse is a bit disobedient don't think about gymnastics think about establishing obedience."
"You must always think about the balance between the two. What am I working on? Obedience or gymnastic? First has to be obedience, then you can think about the right position, and about gymnastics. At the end, everything should be simple because it is not very complicated – the horse doesn't have problems, the rider creates problems. If you become too complicated in your thinking, if you do things before the horse understands obedience, and if you are already two steps further than your education, then you will have a problem."
"Horses are not bad, they have good minds. Think about what happens in the field – if you have ten stallions on the field, there is no fighting. There is only a fight if you put them new together. Three or four stallions, three or four years old, put them together in the field for the first time and all they will do is fight, but they fight because they need a rank order. In nature, they have a ranking order – see a troupe of lions, one is the boss. That is why the game of obedience is the first step for everything, and out of this, later you can move to the gymnastic exercises."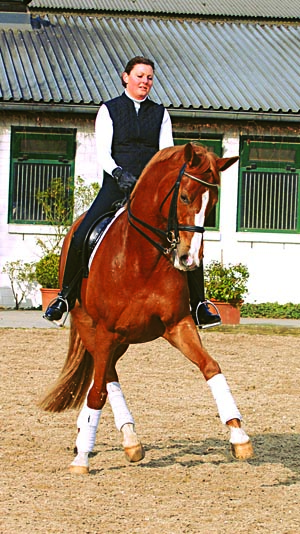 Jean on the language of riding…
"It is like being with a little child. You cannot talk to him – how can he understand things if you cannot talk to him? First teach him to speak, then you can explain – it is the same with the horse. He has to learn my language, my hand, my leg, my body, this is my language. If everything is there, that he understands my language, then I start to teach him. I think that many people before the language is there they start to do exercises and of course the horse doesn't understand, and then they get disobedient. The next step is that the horse starts to take control, because horses are stronger than riders  – there's no rider in the world who can force a horse to do anything. The horse doesn't understand the language, but he thinks, 'I am much stronger than that guy', and the horse makes a little game, and that guy loses!"
If you think about all these principles then it should not be very complicated. Look at the good riders, then you don't see so many bad pictures, you only see the bad pictures with the not so good riders, because they don't know how to talk to the horse. The riders get nervous because they know they are not so good and they want to put pressure on the horse. They think 'oh I have to keep him under control!' The good rider is calm because he knows how to get control, he knows how to get the horse obedient, and without any big effort, he gets there very easily.
What happens when you are young? You don't know so much about technique, so you feel more comfortable with your force and strength than your technique. But when you get older, maybe you are still as strong, but you don't want to lose so much energy. You start to think more. In my own life, I did many things wrong, but you can only learn if you make a mistake, because no one comes into the world and knows everything. What I did wrong when I was young, because I knew I didn't have the technique, I rode a little too much with power. If you are 21, 22 you have that energy, but now with all these years, I've learnt that tomorrow is another day. Go slowly and you will go quicker.
You need an experienced rider with inexperienced horses, and for the inexperienced rider, experienced horses. This is a very old saying but what is the problem, is that we don't have so much time, and at the beginning you need time if you want to educate any animal. If you have a little dog and you don't care, he gets wild, but if you want to teach him something you can't say, oh I have ten minutes I will teach him – no, no, no – you have to start a game with him, and then you have to stay in this game until he understands you, until he accepts the game, and he accepts the rules of the game. This is the same with a young horse.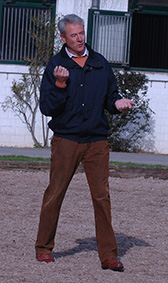 The problem is we live in a very quick world. Years ago to make a car, it took say two months. Then the machines came and they did it in one month, and now they do it in… 20 minutes. But the mentality of the animal is the same, it doesn't change.
Now I don't do so much with the young horses. I am now more specialised, and my specialisation at the moment is the Grand Prix, so all the horses that are here in the stable are more or less at Grand Prix level. The pre-education is done and we are preparing horses for the top competition –  what we do here is have a Grand Prix horse, train him and always think, in four weeks we have a show, or next year we have the World Championships. This is our goal. How can we be in form for the Olympics, what is our plan with this horse? This is our speciality and it is a lot of fun, but we did other things before… and now I have bought a three year old horse. But I don't look at a three year old horses, I have people to do that.
The first thing you need is someone who understands the theory, who knows how the elephants live together, how do the lions live? There is a classical ranking order. Then you need someone who is not afraid, someone who is brave enough to get on a young horse and get it under control, using all these methods. You have to have a good balanced seat, you have to be ready if the horse makes a little jump. Step by step, we only play with them – it all takes time, and knowledge.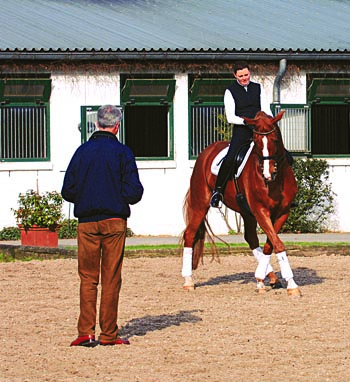 The exercise of walking around the front end:
This is the first step after the horse accepts going forwards, then we try a little bit the sideways movement. They accept inside leg and the hand, if we push on one side, they go to the other. Later if you have a horse that has been badly ridden and it is disobedient, then the first thing I do is test this response. Is this going okay? If it is, then I can start.
This article first appeared in the August 2006 edition of The Horse Magazine
---
Interested in breeding dressage horses? Go to www.ihb.com.au and choose one of the best stallions in the world  to suit your mare – stallions like Fürstenball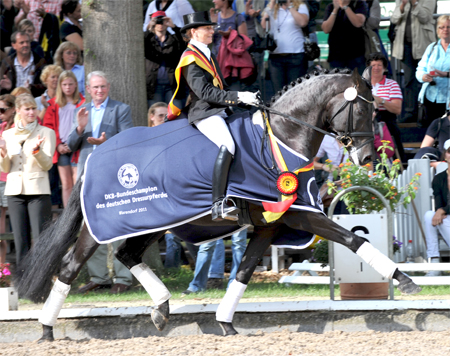 Or Foundation