story – Christopher Hector
photos – Roslyn Neave and K H Frieler
The Louisdor-Preis is a wonderful idea, a class for 8 to 10 year old Grand Prix horses, a bridge across the chasm between Prix St George and full-on Grand Prix. The actual Grand Prix earlier in the day was a reminder that all big tour dressage in Germany is not wonderful. It was more a collection of horses whose careers had stalled when problems became ingrained habits, let's pass over it quickly and breath the fresh air of the Louisdor-Preis, established by gold medal Olympian, Lisilot Lisenhoff, in honour of her first horse, Louisdor.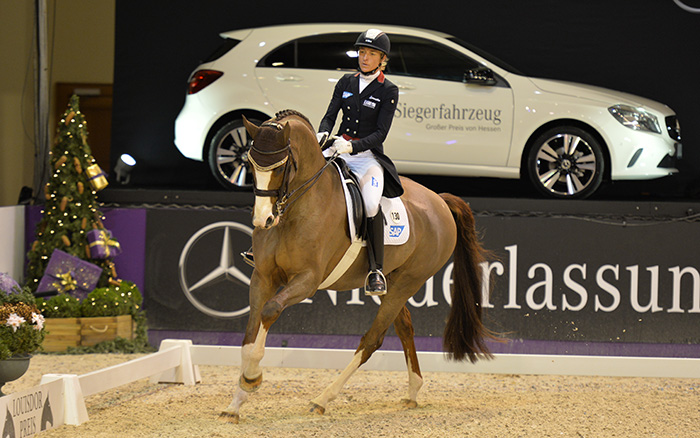 Geraldine and Ingrid Klimke
Right from the start the freshness of youth was on glorious display with Ingrid Klimke and her mare, SAP Geraldine (Fürst Grandios / Tolstoi), the elegant chestnut mare is – as you might expect – very correct and she was trying hard not to let the atmosphere get to her. Score 73.372.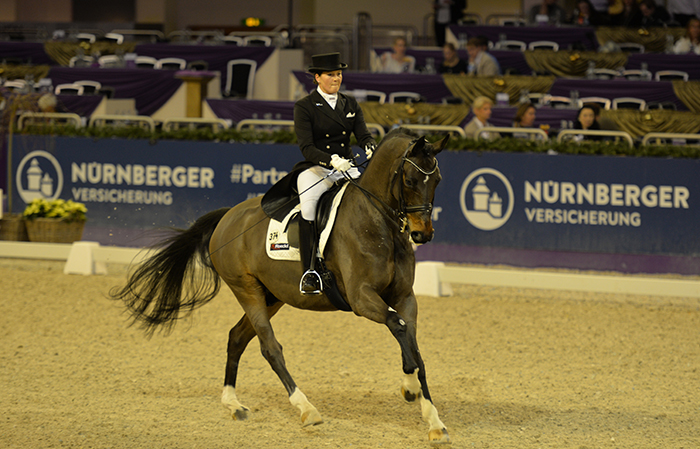 Sandiego and Carola Koppelmann
Next out Sandiego (Sancisco / Davignon) and Carola Koppelmann, the Grand Prix horses might have looked stressy, but ten-year-old Sandiego looks like he's having fun. Okay there is the odd problem, but I'm having fun too watching this class. Score 70.302.
more follows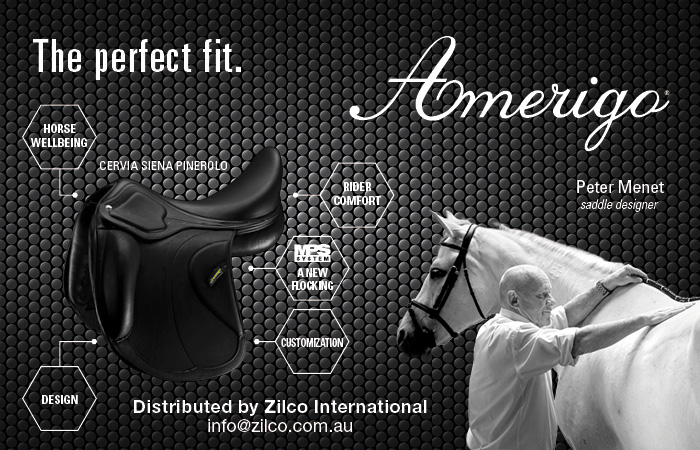 It's not just young horses but there are some younger riders on display, like the latest PSI stable jockey, Frederic Wandres on another ten year old, the chestnut gelding, Duke of Britain (Dimaggio / Rubinstein). It's another sweet test with excellent piaffe basics for a 71.93%.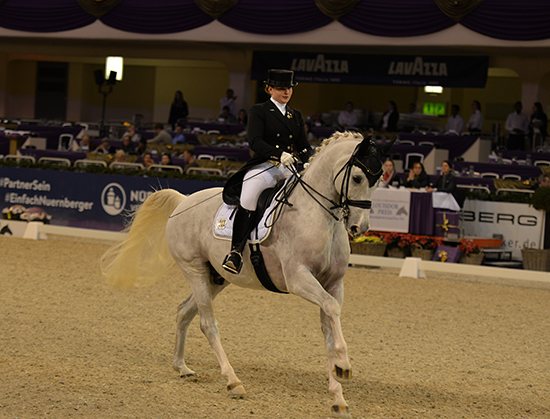 Emilio and Nina Rathjens
The grey Hanoverian gelding, Emilio (Earl / Dynamo) is ridden by what looks like a very small child, Nina Rathjens. Sure it gets a bit tight and short in the neck at times, but the passage is very impressive and the ones come up easy-peasey. 69.209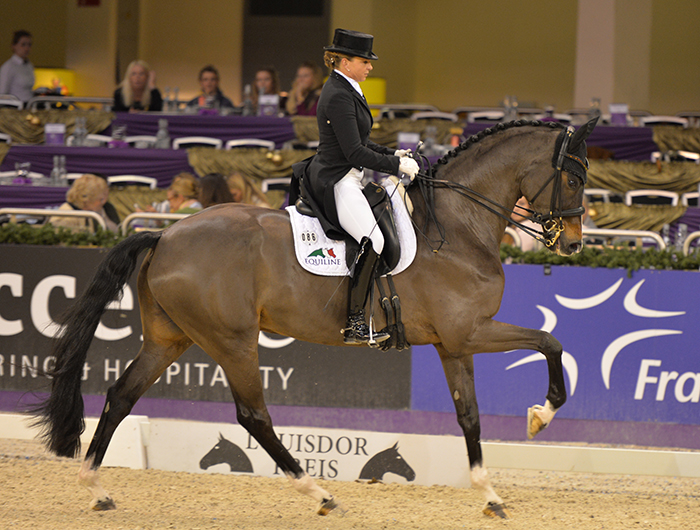 Dorothee Schneider and Faustus
Dorothee Schneider seems to have the knack of finding class horses, and Faustus (Falsterbo / Forrest xx) is a quality machine – an expansive mover the gelding is soft to the ground, and has the lovely rhythmic basis of piaffe even if it doesn't always happen. Fabulous trot half pass. The knowledgeable crowd cheers, the judges do their thing with a 72.535.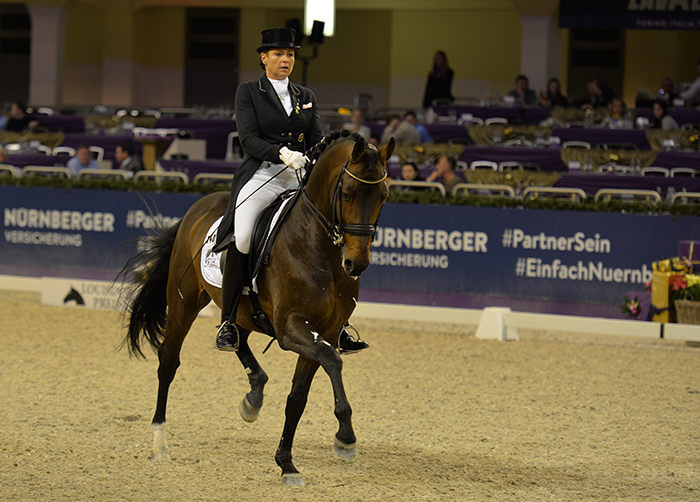 Anja Plönzke and Tannenhof's Fahrenheit
Anja Plönzke's Tannenhof's Fahrenheit (Fidertanz / De Niro) is another with great half pass, and a wonderful trot. The stallion has grasped the concept of piaffe, it's just a bit hard. Another refreshing test. 72. 535.
When Heiner Schiergen's Carlos (Carabas / Weltmeyer) freaks out on the atmosphere, the judges let him spend five minutes working the horse down and into a more relaxed frame of mind. The crowd cheers the horsemanship.
next comes the winner of this leg of the class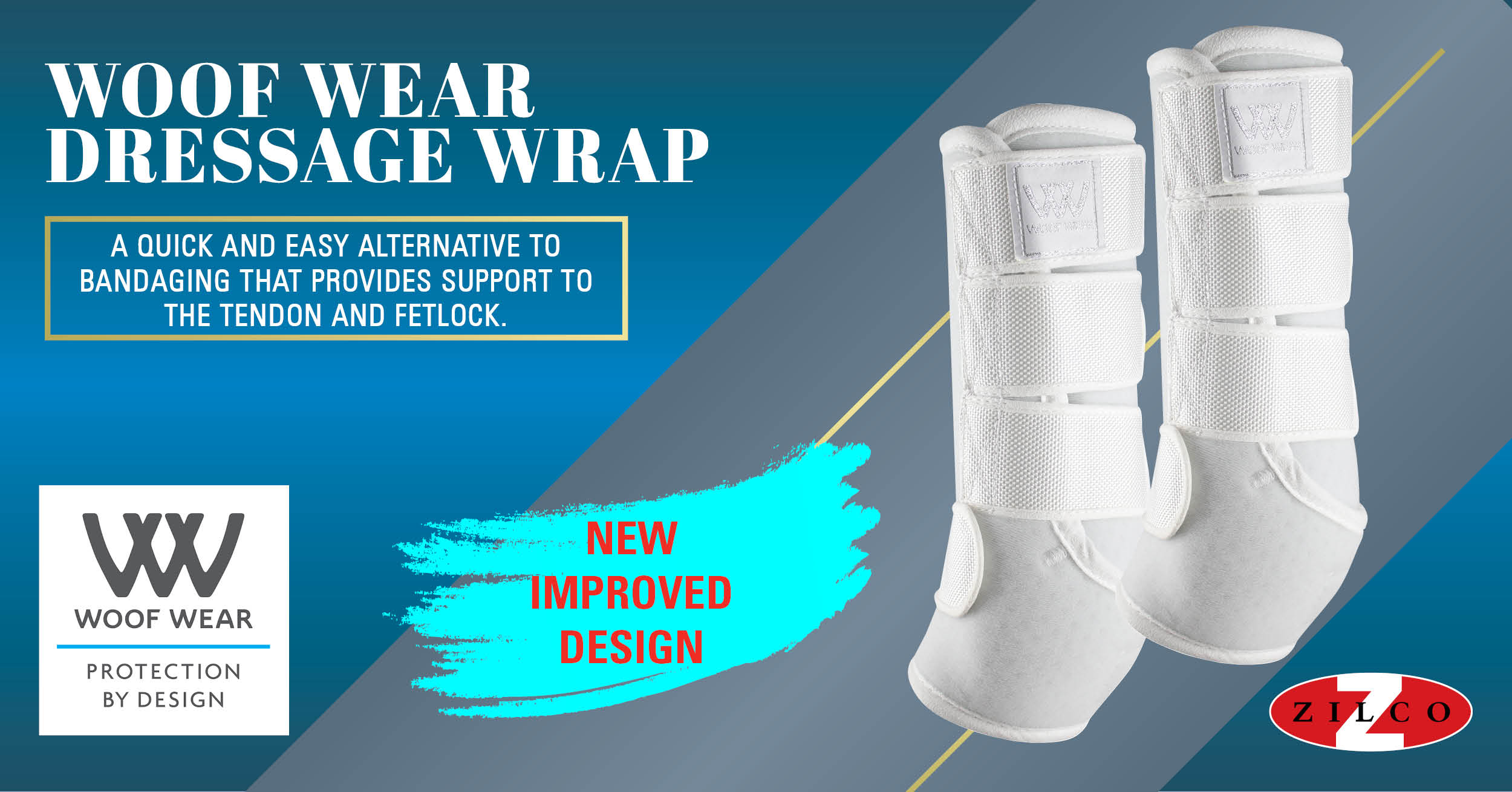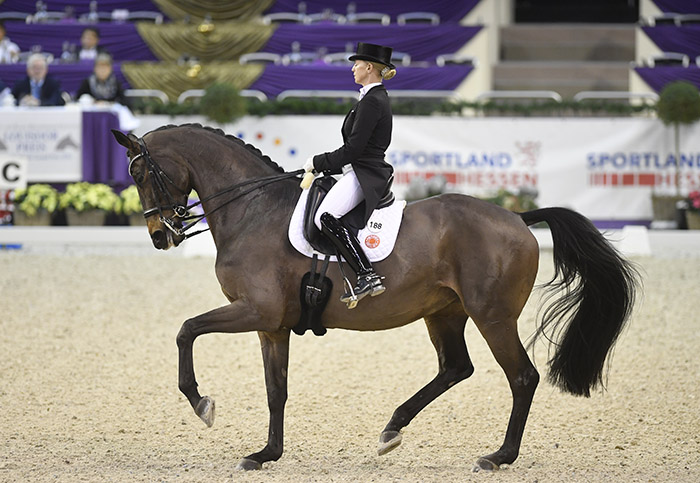 Jessica von Bredow-Werndl and TSF Dalera BB
Jessica von Bredow-Werndl's Trakehner mare, TSF Dalera BB (Easy Game / Handryk) is truly a superstar in the making. Very feminine and Trakehner in the best possible way, elegant and electric but with the rider. She is one of the few that has master the transition from her very nice piaffe to her excellent piaffe. Open expressive twos and she nails the ones. Lovely and with 77.093% they take the lead.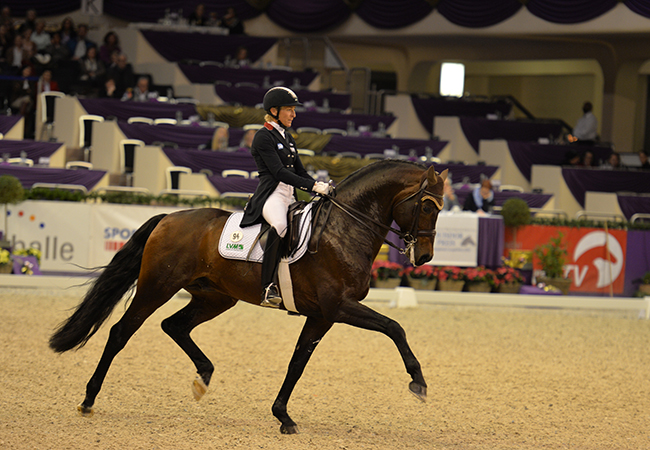 Ingrid Klimke and Franziskus
Can Ingrid Klimke and her stallion, Franziskus (Fidertanz / Alabaster) grab the lead back? The stallion's strengths are obvious, he has power and scope to burn, but he looks a little tense in the big hall and he is another that finds the piaffe to passage transition a total mystery. The canter work and the changes are excellent, but he doesn't quite have the magic of the Trakehner mare today. Score 74.233 and into second place.
Jessica is not surprisingly over the top with enthusiasm for Dalera: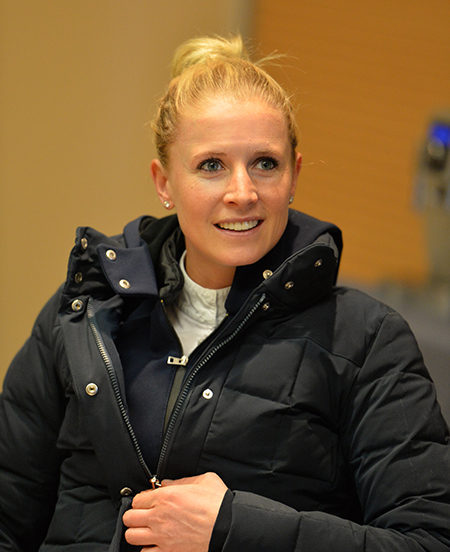 "We've been together for two and a half years. She's amazing, she actually has no weakness. She is very elegant, she has such a good character, she wants to give her very best and she wants to perform, even though she hasn't got enough experience yet. She hasn't seen such as atmosphere as this very often before – maybe two times, it's very special for her because she is green in this sport and very young."
What was she doing when you got her?
"She was on medium level and she struggled a little with the flying changes. It took me one year and then she did the one tempis. It's a question of trust, especially with mares, they have to be on your side, they need to fight for you, I think we have a very good partnership, and she trusts me."
She looks like she could go anywhere…
"It feels like there is no limit, she's really cool – I got goose bumps in my ride today!"
Me too.