« Back to Great Stallions List
Quattro B (Ciel d'Espoir)
1990 – 2014 1.70 Chestnut
Despite the scorn heaped on the French horse as a dressage prospect, especially by German breeders, in the Qredo de Paulstra son, Quattro we once again see a Selle Français stallion who comes to Oldenburg and establishes a dressage dynasty.
Quattro's dam Une Americaine descends – like the licensed stallion, Petit Bonheur – from the mare Hispania (by Uriel). This French mare line is also responsible for the licensed stallions, Histrion (sire of reserve world champion, Miss FAN), Diableur (sire to Nonix) as well as the international showjumpers Bouffone and Phiphi du Hequet.
Ciel d'Espoir was sold – through Arnaud Evain – to the Dutch pair, Jan Greve and Henk Nijhof. His semen was not considered good enough by the KWPN, so he was sold to Germany to stand at the well-known Oldenburg stud of the Böckmannn brothers, Quattro was second in the Performance Test at Medingen with a high score of 130 points. In 1994, he was Reserve Champion of the Oldenburg Korung, based on his performance test and his first offspring.
Quattro jumped very well in 1996 with his rider Gilbert Böckmann and they won more than twenty 1.30 m classes through the summer. Quattro went on to jump internationally, placing second in the Grand Prix of Emsburen, Kiel and Bremen. He also was successful in Caen, Leeuwarden, Berlin, Munich and Geneva.
Since 1997, Quattro has produced 15 approved sons including Quando Quando, Quantes, Quatier Latin and Quell Charmeur. Two of his sons have qualified for the jumping classes at the Bundeschampionate – Que Sera and Queeno.
He has produced numerous dressage performers Quando Quando, Much Ado, Quantum Tyme, Quinto, Quincy and Queenie. He sired the winner of the Dressage Derby, 2013, Qui Vincit Dynamis with Fabienne Lütkemier and Heike Kemmer's Quantico.
He is also the sire of the eventers, Quantino, competing CIC** and Quite Easy, a gold medallist at the World Six Year Old Eventing Championships, 2007.
Quattro remarkably had two offspring qualified for the Olympics in Athens 2004: Quando Quando for dressage and Oliver Q for jumping.
Jumpers at an international level include: Beat Mändli's Quanta Costa, Luciana Diniz and Suzie Quattro, Roxanne with Alexander Schill, Quichotte with Johannes Ehning, Queeno with Mario Stevens.
On the 2016/17 KWPN breeding values for jumping stallions with a reliability of 80-89%, Quattro is in =26th with a value of 130 (conformation – 95, free movement – 100, free jumping – 106. He has sired 420 progeny over 4, for 79 competitors (18.8%).
View Quattro B on YouTube:
http://www.youtube.com/watch?v=JVt6X1MQXWY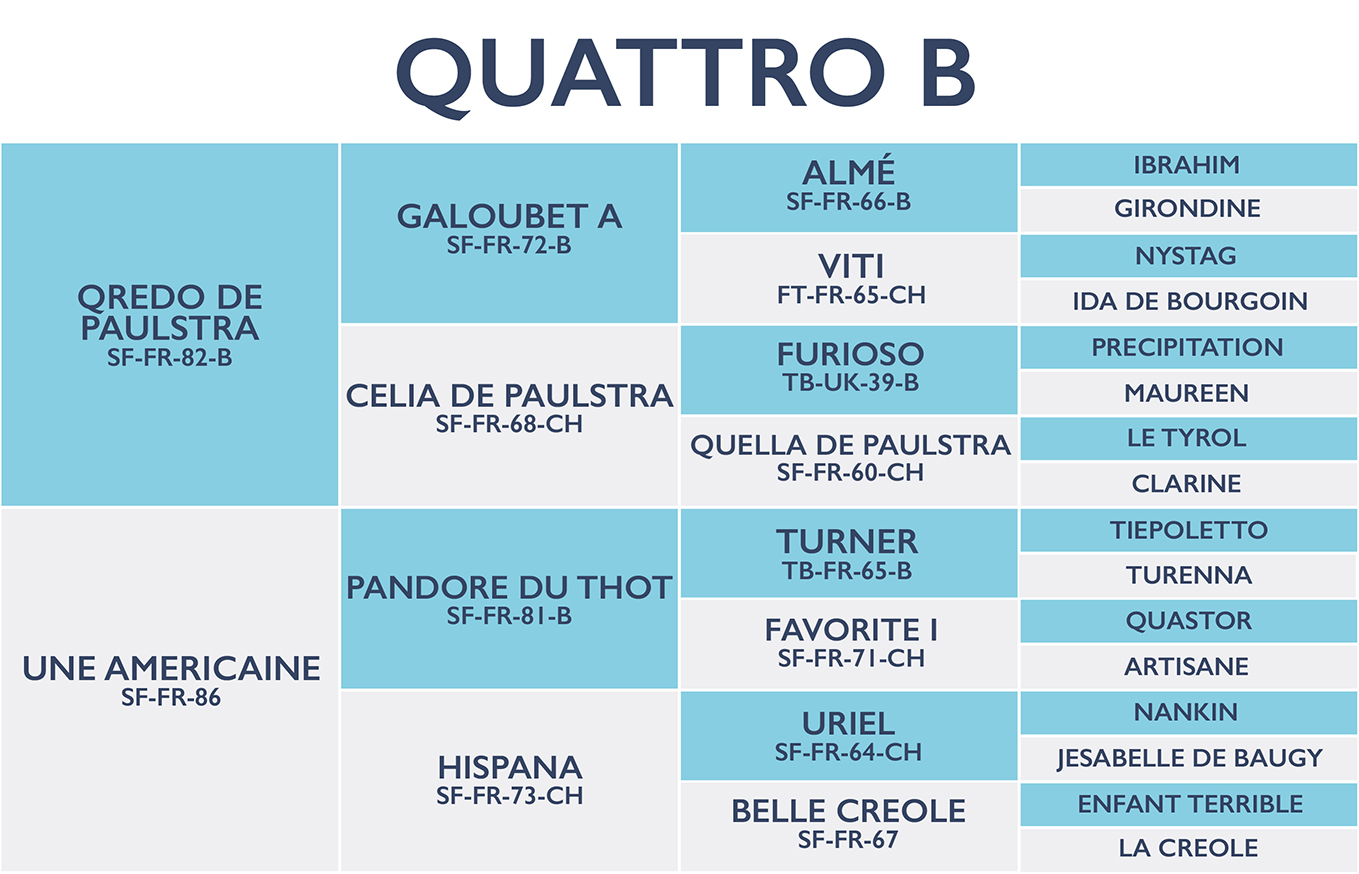 « Back to Great Stallions List