« Back to Great Stallions List
Quick Star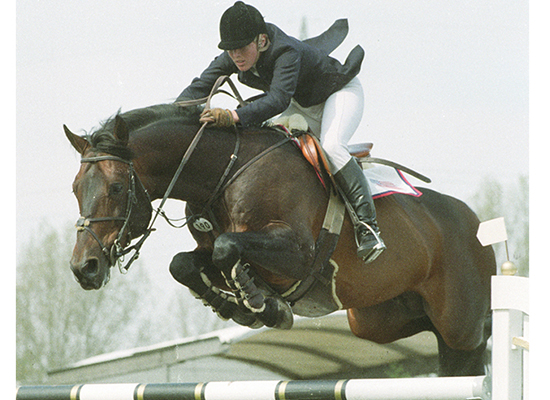 1982 –2011 159 cm Bay
Breeder: John Lennon (California)
The Selle Français stallion, Quick Star, was a tough, little competitor with American rider, Meredith Michaels, who based herself in Europe and married Markus Beerbaum and then found herself in the German jumping team. The pair won the Grand Prix of Maastricht and Munich in their illustrious career – and now Quick Star is making a name for himself at stud.
On his dam's side, Quick Star is again bred to perform. His dam, Stella, a 7/8th Anglo-Arab, by Nithard, jumped internationally with Nelson Pessoa.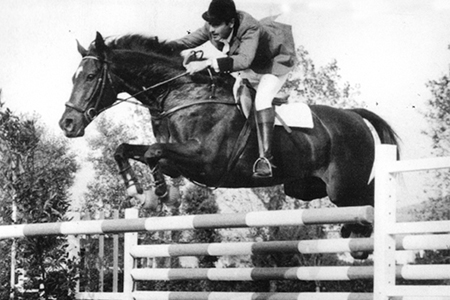 Stella and Nelson Pessoa
Nithard has been called 'the foundation sire of the modern Anglo Arab' and with good cause. Although his last surviving son, Samuel died in 1987, a survey in 1990 of the 277 Anglo Arab stallions available in France, revealed that 41 of them were grandsons of Nithard, while 46 were great grandsons.
Born in Pompadour, Nithard served from 1952 to 1968 at the National Stud of Pau after a respectable career on the racetrack. His most influential stallion son was Pancho II, sire of Matcho AA, who was imported to Hanover by Dr Bade where he has been a useful sire of broodmares.
Nithard's daughter Stella started her jumping career with Philippe Jouy before Nelson Pessoa took over the ride. She was sold to the Californian, John Lennon at the end of her sport career. Pessoa sent her to Jalisco and she produced Olisco, who went with her to the United States. She went in foal and subsequently produced Phalor and then was inseminated by Galoubet in the USA, to produce Quick Star. She also produced the Belgian stallion, Megag.
Olisco has had a wonderful career in the USA, a World Cup finalist with Michael Matz, he was the sire of many good winners, including Kraque Boom, who won the European title at Windsor in 2009 and became a member of the French team, with Kevin Staut.
Quick Star came to prominence when owned by American businessman, Isaac Augetty, who attempted – and failed – to start a showjumping circuit in competition with the World Cup series.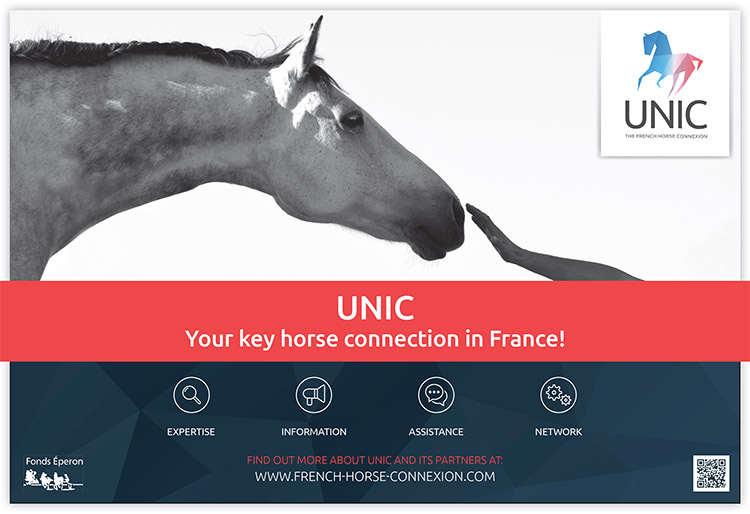 Quick Star was purchased in Christmas 1997 by French film distributor, Alain Katz.
From 1989 to 1994 he bred a few mares in the States belonging to friends of the original owner who imported Quick Star to the USA at the age of six months, and then sold him to Augetty at the age of six years. One result was the birth of his showjumping star daughter, La Stella.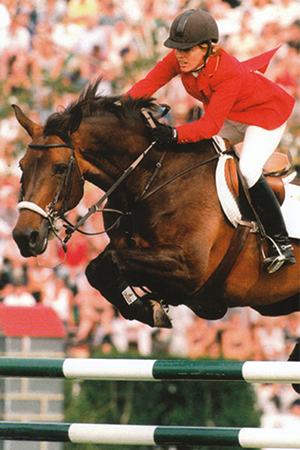 La Stella and Meredith…
According to Mr Katz: "From 1991 to 1994, during the time he was stationed with Meredith Michaels at the Paul Schockemöhle stables, he was used by the latter for his own breeding purposes and covered around 400 of his own mares, however this number remains roughly approximate because it was never possible, not for the American owner that took Paul Schockemöhle to court for this period of exploitation, nor for us, to obtain any information from either Paul Schockemöhle or from the Oldenburg studbook where he is omnipresent and very powerful and who refuse to respond to our several demands up to this day." (quoted in Annuaire Monneron 2003).
It took a while for Quick Star's breeding career to take off. Mr Katz made the mistake of parading him at St-Lô in 1998 along with two other sons of Galoubet – Quatoubet du Rouet and Caloubet du Rouet, and there was much derision from the Normandy breeders at the sight of the 'midget' who had been acquired by an outsider from Paris.
Now Quick Star is distributed in 14 countries and is approved by 21 recognized studbooks.
Mr Katz feels that Quick Star combines the qualities of his top and bottom lines: "He has inherited the best of both. From Galoubet, his force, his energy and his courage; from Stella, her elegance, her intelligence and her technique, which resulted in this little rounded stallion, standing 1 m 59 being 'a genius over the bars'. Quick Star produces bay coloured horses with spirited and easy characters, voluntary, winners with lots of strength in a short back catapulted by sprung hind quarters, but he also has some aesthetically weak points, for he is capable of giving a pretty Anglo head but also a thick jowled head, inherited from his sire, Galoubet. By the way, certain of his products have perhaps a less than perfect front gesture but as a great international rider once explained to me, 'in front can always be corrected especially if there is a true motor behind' which is perfectly the case with the offspring of our stallion."
Although there is some suggestion that Quick Star works better over German style mares, he is making his mark in France. In a review of the 'Big Breeding Week' at Fontainebleau in 2007, in Monneron 2008 / 2009, Elisabeth Delinares, comments: "One of our favourite sires was once again Quick Star who continues to produce quick, bouncing and strong-willed horses. Four of his offspring went to the jump-off in the 6 Year old Criterium, with a win and a second place, and a silver medal in the 7 Year old championship… An indisputable success."
At the 2008 French Young Horse Finals, Quick Star progeny starred. He sired the runner up and third placed horses in the five year old male class: the gelding, Petrus de Plessis (out of Elite du Plessis by Voltigeur du Bois) and the stallion, Papillon de Brekka (out of Margot de Brekka by Eyken des Fontenis). Quick Star also produced the six year old champion, Orient Express (out of Kamtchatka by Le Tot de Semilly), as well as the third placegetter, Vito M (out of a Cantus mare).
The stallion Orient Express has been a real star with Patrice Delaveau. The pair were members of the winning French team at the Nations Cup Final in Barcelona in 2013 – and in that year they also won the five star GP at La Baule and placed 3rd in the Grand Prix of Aachen.
Quick Star's first really successful competitor was La Stella, who was ridden by American showjumper, Will Simpson until Meredith Michaels-Beerbaum took her over, and the pairing had a string of good placings in top competition – including a second in the Grand Prix at Stuttgart.
The list of riders who have had Quick Star horses reads like a who's who of international jumping: Otto Becker & Qualandro, Rolf-Goran Bengtsson & Quick Silver BZ, Marcus Ehning & Quick Roxette DH, Jos Lansink with Quincy Z and Quick Lauro Z and Franke Sloothaak & Quilfilio.
In June 2002, Quick Star was bred to Ratina Z – the ultimate accolade for the game little jumper!
Lauren Hough's gelding, Quick Study won the five star GP at Dublin, as well as the Global Champions leg in Hamburg.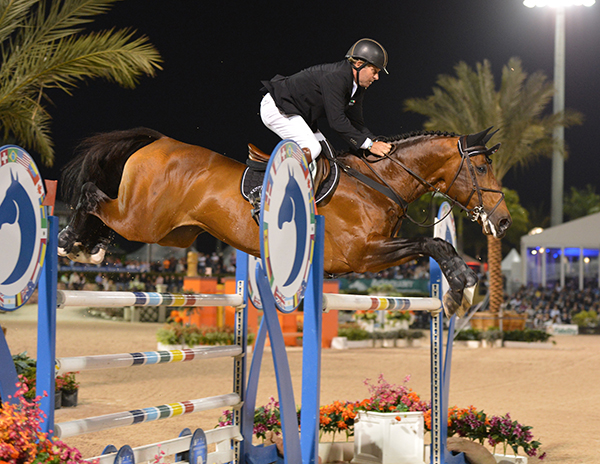 Big Star competing in Florida… 
At the London Olympics of 2012, Quick Star was one of the most influential sires, with two in the final individual top ten: Nick Skelton's Big Star (out of a Nimmerdor / Ramiro mare) who lead the British team to gold, and Ian Millar's Star Power – like Big Star, Dutch bred and out of a Calvados / Le Mexico mare – although both these stallions were French imports to Holland.
Quick Star's Irish based son, Obos Quality was the sire of another top London performer, Castlefield Eclipse who carried Swiss rider, Paul Estermann into the final top 20.
Quick Star is proving a good sire of stallions with Quinticus, Quebec and Cardinus in Germany, Quincy Z (ex-Omnistar), Quilot Z and Quick Lauro Z in Belgium; Quick Star CH in Switzerland, Qualitative in Denmark, Quality in Ireland, Quality Touch Z in Chile, and Indy Star in France.
Perhaps the one to carry on the Quick Star line, will be Quality Touch, who is by Quick Star and out of the same dam at the Olympic gold medallist, Classic Touch who is classically Holstein bred, by Landgraf out of a mare by Roman.
Quality Touch was bred by Paul Schockemöhle and acquired by that canny French breeder, Bernard le Courtois in 2006 when he was judging at a national show in Argentia. Bernard has an uncanny knack of finding 'neglected' stallions and turning them into super sires…
Born in 1992, Quality Touch was the sire of Quartz 7, the second placegetter in the Stallions of the World class at World Championships at Lanaken in 2013.
In France, Quality Touch's first generation of four year olds, impressed at the championship show at Fontainebleau, with three progeny in the top 20, with two of them jumping ten out of ten clears in the season.
Quick Star ranked 4th on the WBFSH stallion rankings for 2012 and is 3rd on the rankings for 2013. In 2014, he has dropped to 12th. By 2015, he is down to 29th place with his top points earner, Quatrin de la Roque (Kannan) closely followed by Orient Express HDC (Le Tot de Sémilly).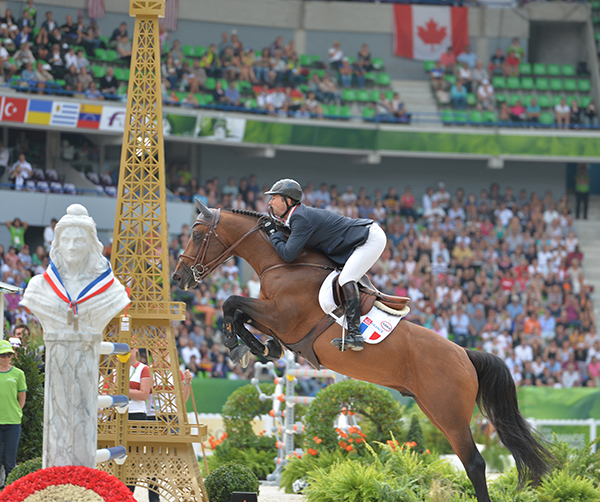 Orient Express and Patrice Delaveau at the WEG in Caen – at the end of four days of competition, they were on top of the leader board, really, they are the World Champions
Five years after his death, Quick Star's legacy continues. With the word out of Florida that Nick Skelton's Big Star is on the mend, it was two more of his progeny that stole the lime light –  Ireland's Darragh Kenny was the winner of the $130,000 Grand Prix CSI 3* aboard a brand new mount, Red Star D'Argent, during week six at the 2016 Winter Equestrian Festival (WEF). Competing under the lights in the International Ring at The Stadium at Palm Beach International Equestrian Center (PBIEC), Kenny topped a three-horse jump-off over Laura Chapot (USA) and ISHD Dual Star in second. Yep, first and second by Quick Star.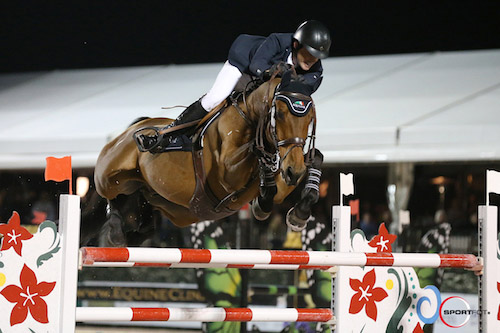 Red Star A'Argent, by Quick Star out of a Jalisco mare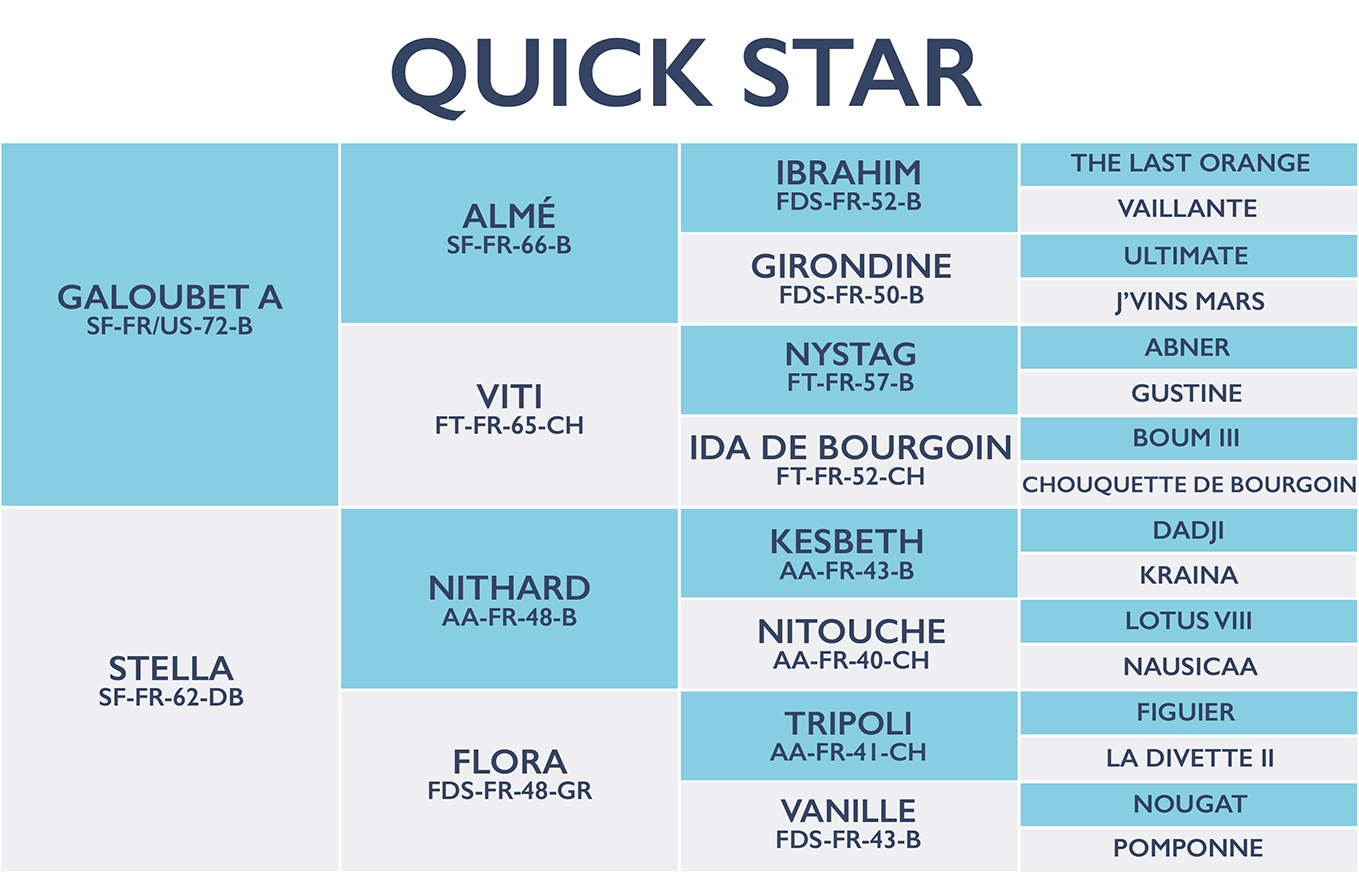 « Back to Great Stallions List