« Back to Great Stallions List
Lauries Crusador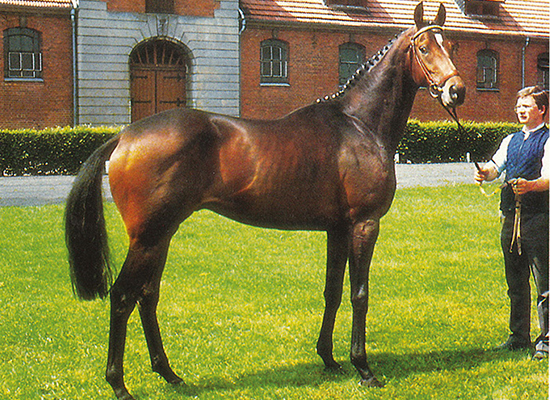 1985 – 2013 170 cm Brown
Lauries Crusador raced as a 2 and 3 year old in England. In his first season he raced six times and won twice with two placings. As a three year old he raced three times and was placed three times. He finished his career with stakes winnings of almost twenty thousand pounds.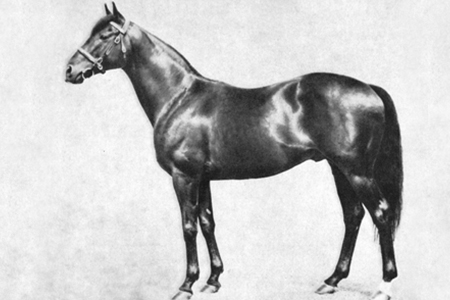 Tudor Minstrel sired the winners of 311 races and €186,972 in prizemoney
His sire, Welsh Pageant  – a grandson of Tudor Minstrel – was a good racehorse winning 11 races and £53,527. He was even better as a sire, with his progeny winning 342 races, and £1,920,000. His dam, Square Note won over hurdles as well as on the flat, and produced five winners – Aventina Lady, TSW Homes, Nippy Chippy, Chimera and Lauries Crusador.
Lauries Crusador's great grand-dam, Umbrette is out of Equitation (by Fair Trial) – Equitation is also the dam of the stallion, Ecuador (by the Hyperion son, Hornbeam) who stood at the State Stud Celle where he sired many good Verden auction horses, and the state stallions, Egerlander, Eklatant and Eldorado.
The five year old Lauries Crusador came to the State Stud Celle in 1991, via the Dutch stallion owners, Henk Nijhoff and Jan Greve, and the former Director of the Holstein Verband, Maas Hell. The story is well told in the article 'There is only one Laurie' by Gerd Gauger in The Hanoverian, 6/2006.
According to Mr Gauger, Nijhof and Greve – both Thoroughbred fans in the 1980's when the full-blood was not popular amongst Warmblood breeders – went to Newmarket in search of a stallion for the KWPN breeding program. They didn't find the stallion they were looking for, but were told about a stallion, in a barn, on the way to the airport.
Gauger quotes Nijhof: "When we arrived it was totally quiet, no human or horse visible. We snooped around a little and found in a remote part of the stable a row of box stalls, where a horse was looking out." Nijhoff was immediately taken, "If that's him, then we've found the right one!" he said to Greve. "This head, this eyes – I was immediately filled with enthusiasm. We finally located a groom, who pulled the colt out of the box stall. Jan and I were convinced: the stallion had a lot of neck, a beautifully developed body with an impressive croup. When he cantered forward upward with great ease in spite of his minor injury, we knew that we had found what we had set out for."
When the horse arrived in Holland, the Dutch licensings had already taken place. The KWPN suggested presenting the horse the following year. Nijhoff instead offered him to Maas J. Hell in Holstein – where he was rejected by the Holstein approval committee. He was then offered to Dr Burchard Bade at Celle, who leased him right away, and his breeding career commenced in Hanover in 1990.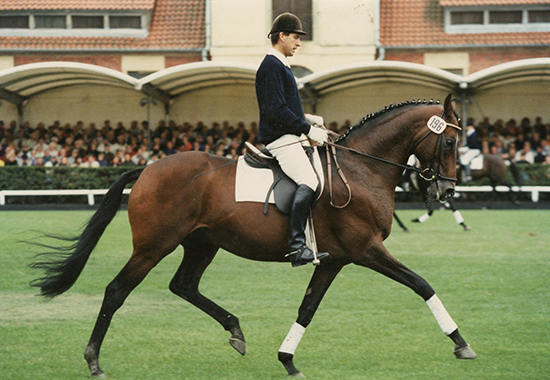 Lauries Crusador under saddle…. 
Stationed at the Landesbrück breeding station, the Thoroughbred was met with the suspicion that all 'full blood' stallions face in Germany but he convinced the local breeders with his presence, quality and exceptional movement. His career as a breeding stallion has exceeded all expectations.
In 1993, his son, Lancier (out of a Wendekreis mare) was purchased by the State Stud at the 'first lot' and he went to the Dorum breeding station.
In 1994, six of his sons were licensed, including Longchamp (out of a mare by Eisenherz) who was purchased by the State Stud. Longchamp was an easy winner of the dressage section of his performance test, and was reserve champion at the Bundeschampionate in 1995.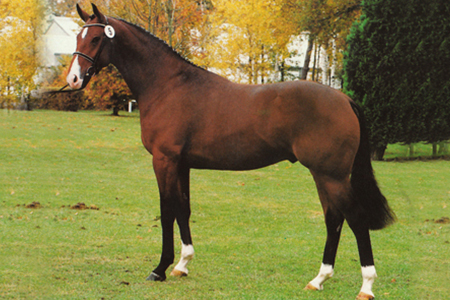 Longchamp – winner of the dressage section of his performance test
In 1995 a dark bay colt, by Lauries Crusador, out of Wolke, the dam of Wolkenstein I and II was presented by the famous breeder, Dr Max Schulz-Stellenfleth. When he was not licensed, he was gelded and competed at FEI level with Falk Rosenbauer under the name, Little Big Man.
In 1996, Susanne Schmitt-Rimkus, the head of the state stud at Warendorf, purchased the colt Laurentianer (out of a Grande mare). Laurentianer went on to win his performance test and the World Six Year Old Young Dressage Horse title ridden by Michael Farwick. Since then Laurentianer competed at FEI level with Marlies van Baalen.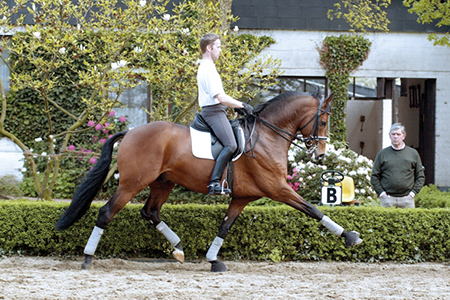 Laurentianer, a world champion with Michael Farwick
In 1997, another Lauries Crusador son, the handsome chestnut Londonderry (out of a mare by Warkant) won the Stallion Licensing in Verden. Two years later he won the Riding Stallion Championship at the Bundeschampionate, and was reserve champion at the 2001 Bundeschampionate.
Perhaps even more surprisingly, the Lauries have gone on to be successful Grand Prix horses – there's Carola Koppelmann's Le Bo (third in the German Women's Championships in 2005, and a reserve for the German team at the 2007 European Champs); Lesotho with Ellen Schulten-Baumer, and Le Primeur, an international competitor with Swiss rider, Marie-Line Wettstein.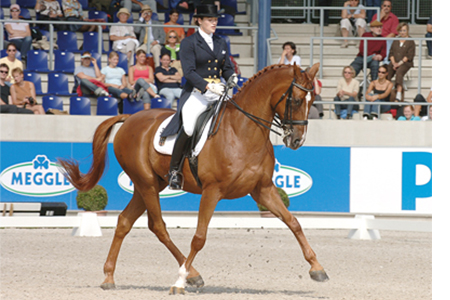 Lesotho with Ellen Schulten-Baumer
Lauries Crusador is now proving himself as a sire of brood mares. The champion of the 2000 Hanoverian licensing, Don Crusador (by Donnerhall) was out of a daughter of Lauries Crusador.
Lauries Crusador was Hanoverian stallion of the Year 2007.
In the 2014 Hanoverian Stallion Yearbook, he is listed as having 2428 registered progeny in Hanover with 811 registered broodmares, with 279 States Premiums amongst them. He has 723 competition horses with winnings of €872,296, including 605 dressage competitors, with 80 competing at advanced level. He is the sire of 55 licensed sons.
His FN ranking for dressage was 123 with a 59 index for jumping.
The results from the mare performance tests and auction evaluations confirm his dressage talent, with a ranking of 116 – while the jumping ranking of 72 indicates that he is purely a dressage sire… and may indicate why those firm jumping blood fans, Nijhof, Greve and Hell, lost interest in him.
Lauries has a value of 142 for type which is one of the highest scores of all the Hanoverian stallions.
In the 2016 Hanoverian Stallion book, he has 807 competitors with earnings of €948,569, with six dressage horses with earnings of over €10,000, headed by Le Bo (€148,643) and Lesotho (€130,636). His FN breeding value for dressage is 121, and 56 for jumping. His Hanoverian values are 113 for dressage, 74 for jumping and 143 for type. He has 55 licensed sons, none of whom has really emerged as his heir.
The 2017 Hanoverian Stallion book records 836 competitors with earnings of €980,877. He has sired seven dressage competitors with winnings of €10,000, the most successful being Le Bo who won €148,643.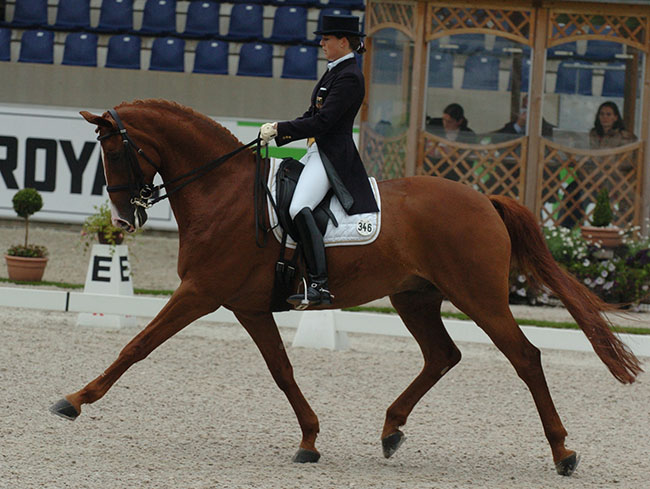 Le Bo and Carola Koppelmann 
On the new FN rankings introduced in 2017, he has a young horse sire dressage breeding value of 117, and an open competition value of 121.
Lauries Crusador still has a Hanoverian riding type value of 142, with a dressage value of 112 and a jumping value of 73
Dr Ludwig Christmann, assistant breeding director at the Hanoverian Verband assesses his influence:
"We are very lucky to have in Lauries Crusador a Thoroughbred stallion who in the first generation produces Grand Prix horses. This is very rare. Already there is Lesotho with Ellen Schulten-Baumer, and Le Beau in northern Germany with Mr Koch riding him. Falk Rosenbauer has been very successful at Prix St Georges with Little Big Man…"
Do you think Dr Bade even dared to hope that a Thoroughbred could produce such horses in the first generation – or was he hoping that in the second generation his choice would prove itself?
"We don't expect this of a Thoroughbred stallion. Often it is the second cross, not the first cross, but we are lucky with Lauries Crusador who has produced good stallion sons like Longchamp and Londonderry, and they will play a big role."
What are the qualities that Lauries Crusador brought to Hanoverian breeding? What is his stamp?
"He improves the frame of the horse. He puts on the long legs that we like, and the big shoulders that we hope from a Thoroughbred. What is also very important is the rideability of his offspring. They are very good in their mind, very co-operative, also good for collection. From their mind, from their interior they are very good horses. They have good movement but they are also trainable so the movement gets better under saddle, which is better than the other way around."
On the 2007 WBFSH stallion rankings, Lauries Crusador was 4th with five representatives but by 2013, he has dropped out of the top 50.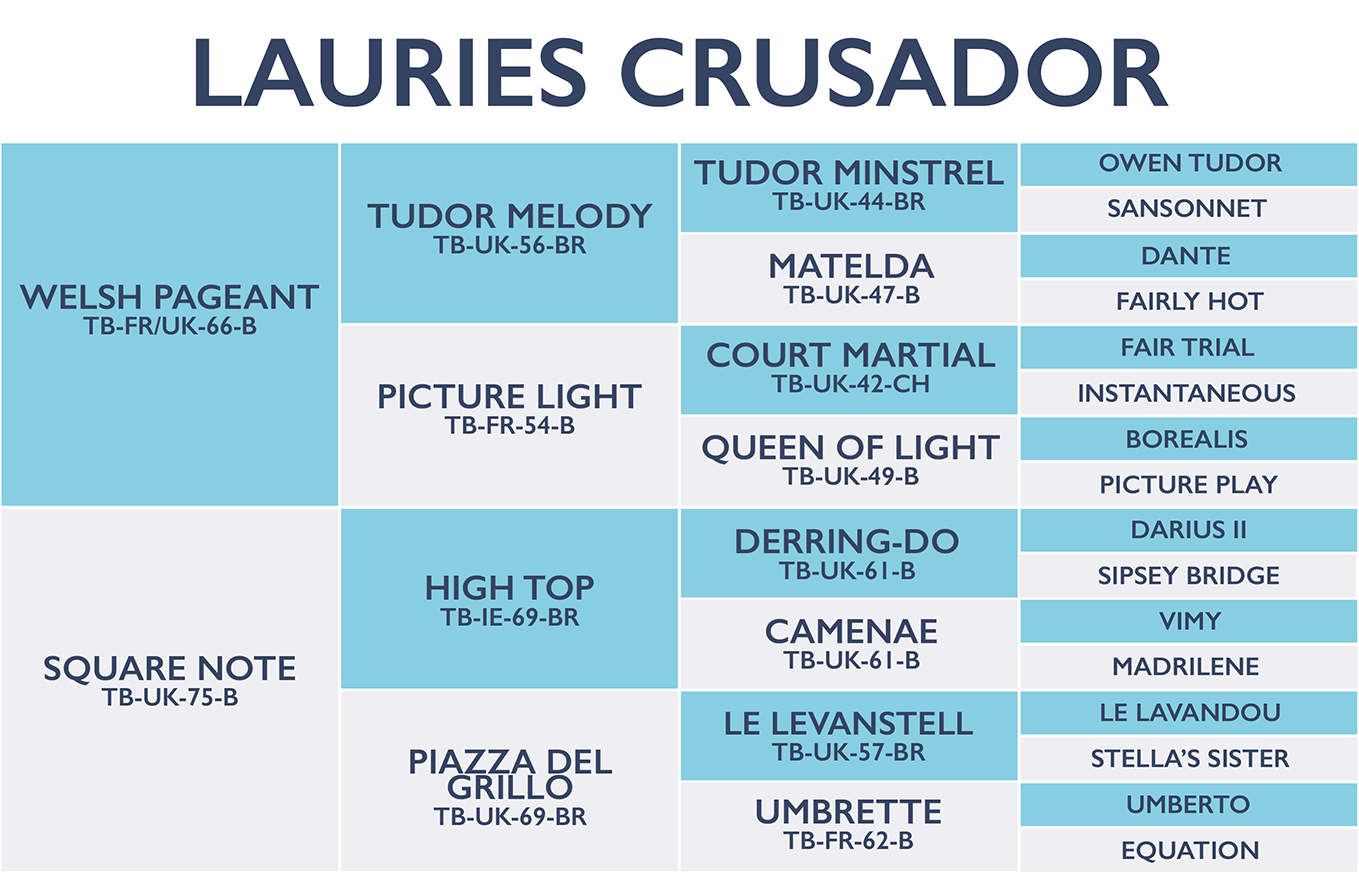 « Back to Great Stallions List