« Back to Great Stallions List
Papillon Rouge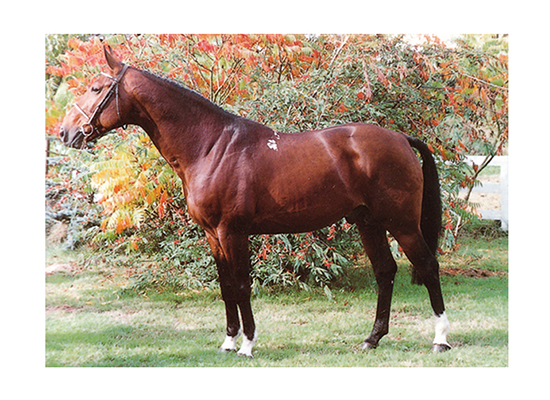 1981- 2009 168 cm Bay
Breeder: Fernand Leredde
For a while Papillon Rouge was one of the most successful jumping sires in the world, although perhaps his failure to produce a really outstanding stallion son has put him somewhat into the shade.
Papillon Rouge's story is inextricably linked with that of Fernand and Xavier Leredde of the legendary horse breeding family in the heart of France's horse country, Normandy. For more than half a century Haras des Rouges has produced top quality horses on their thousand hectares of pasture.
The Leredde's breeding program has produced horses such as Quidam de Revel, Papillon Rouge, Bleu Blanc Rouge and Rochet Rouge that have influenced and are still influencing not only the Selle Français breed, but studbooks throughout Europe.
The suffix 'Rouge' is also attached to front line competitors like Un Espoir (Fort National xx), team gold medal with Michel Roche, Montreal '76; Faon Rouge (Nankin SF) sold as a three-year old to Alwin Schockemöhle, then ridden internationally by Nelson Pessoa; Eole XXI (Tigre Rouge), who had a very good career in Italy; Nuage Rouge (Turner xx) puissance winner with Patrice Delaveau; Océan Rouge (Furiel de Baugy); Quita la Rouge (Jouventur); Qualoubet Rouge (Galoubet A) and Quissor Rouge (Kougloff II).
In an interview with Xavier Libbrecht (Breeding News, February 1997) Fernand Leredde describes how his family shifted from cattle to horses:
"When I went into the family enterprise, here at St. Ebremond de Bonfossé, the essential part of the activity was cattle breeding. I didn't have the means to break the mould. But, like everyone, I had a taste for horses. I was a member of the rural riding club of Canisy, close to St. Lô. I rode, albeit not as well as others, but this didn't deter me from selling horses. During this period, our region had already produced some good sport horses which had been noticed by the Parisians. The owners, advised by the great riders (Pélissier, Calmon, des Roche de Chassay etc.) Mrs. Villenave, the Baroness Empain, the Luchaires, the Cancres, came regularly to buy sport horses from this area. We produced some 30 to 40 youngsters then, where we breed more than 500 today."
And as is so often the case, it was the family's passion for riding that spurred on the stud:
"During the 1970's my son Xavier started to show an interest in riding. He began with pony competitions, then juniors with his close friend Eric Navet. It seemed natural to me to support the beginning of Xavier's career by finding him some good horses. The 1970's were, economically, flourishing. Riding was a fast developing sport. The demand was growing. The breeding of cows, which constituted a major part of my resources didn't excite me. So, every month I filled a horse box, bearing showjumping qualities in mind, and went to the Midi (a region of central southern France) to sell them. It took me away from home for one week. Occasionally I went just into Italy. Everything helped me to understand the market, the expectations. Then, with a proportion of the profit from my transactions, I began to buy mares for breeding purposes, for myself and my own ideas."
The name Haras des Rouges came from an interesting combination of factors…
"The true reason is that, at the beginning of my breeding career, and against the advice of my neighbours, I held great belief in a stallion from the depot of St. Lô, called Diable Rouge. I covered a number of my mares with this son of Ultimate. It should be mentioned, because during this period some of my first winning products were born. At least a dozen. Even on the international circuit, like Océan Rouge who was sold to the Portuguese team. The second, less serious was when I realised, one day, that the name Leredde, phonetically, in English, is pronounced le 'red'. The third reason, again just as relevant, is that all my life, in order to progress my breeding, I have invested financially and, therefore, I was always in the red at the bank. I believe, like a good number of French breeders, we were conscious, at the end of the 70's, of the need to establish a suffix to the name of our products so that the connoisseurs can identify a brand name. The rouge was simple, easy … and there you have it."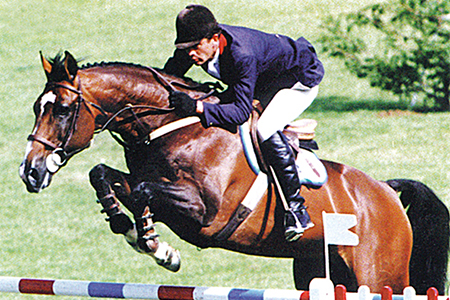 Xavier Leredde and Papillon Rouge
And of course, his favourite stallion is Papillon Rouge:
"Without question Papillon Rouge. Obviously! Take me, who has never, until now, covered more than a quarter of my mares by the same stallion, even at the time of Jalisco, I have, this year, covered 50% of my mares by Papillon Rouge. Papillon is going to transmit the qualities of his father. He is a solid horse, with a power that he uses well and, in addition, he has the temperament of a winner, he is cheeky… and mischievous. Indeed, he is not a horse for amateurs, nor are his sons, but what interests me is that he produces for the highest level of competition."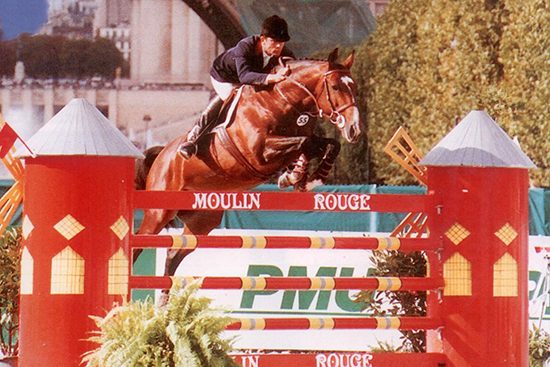 "During a certain period, I had in my fields here at St. Ebremont, Quidam de Revel, Surcouf de Revel and Papillon Rouge. Three sons of Jalisco and, I'm telling you, there is another son of Jaliso who I like very much – Olisco. It was his mother, Stella, a little Anglo-Arab mare, daughter of Nithard, who had a remarkable competition career, and who passed on, like Papillon, the character without which there is no champion. If I think uniquely about stallions as future progenitors, I prefer the cross between Stella x Jalisco which has produced Olisco, than the cross between Stella x Galoubet which has produced Quick Star. Olisco may lack the lustre of Quick Star, but he is brave and he appears to me to have more means at his disposal."
On the Monneron rankings for 2006, Papillon Rouge is in equal sixth place with 26 representatives.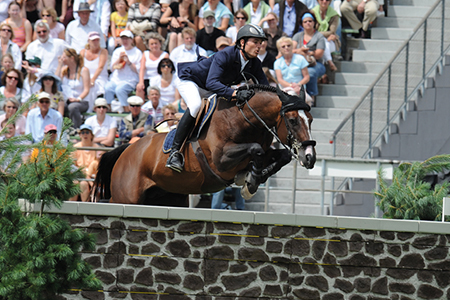 Another Papillon Rouge son – Tresor and Steve Guerdat
On the FEI/WBFSH World Rankings for 2007, Papillon Rouge was in 3rd place with 29 representatives, including six with 200 +. They are: Mozart des Hayettes (Nimmerdor), Fleche Rouge (Kissovo), Iasco Mouche (Matador du Bois), Tresor (Laudanum), Icare du Manet (Kouglof II) and Issis du Marais (Uriel). However he had dropped to 10th place on the 2008 standings, and then disappeared forever from the rankings…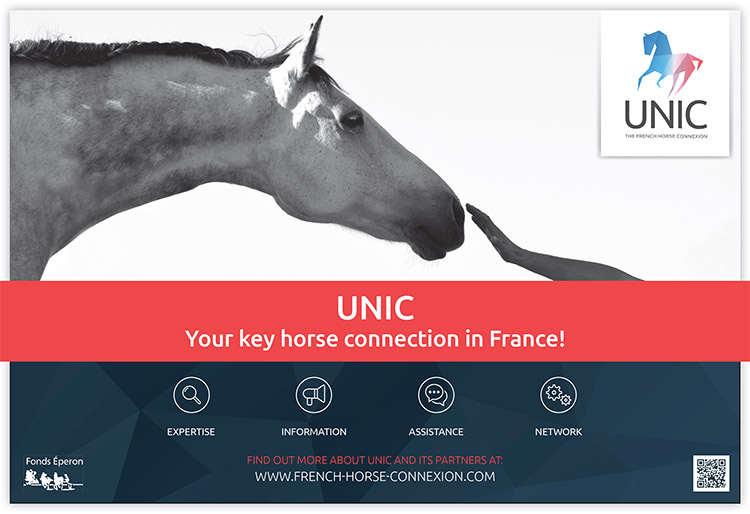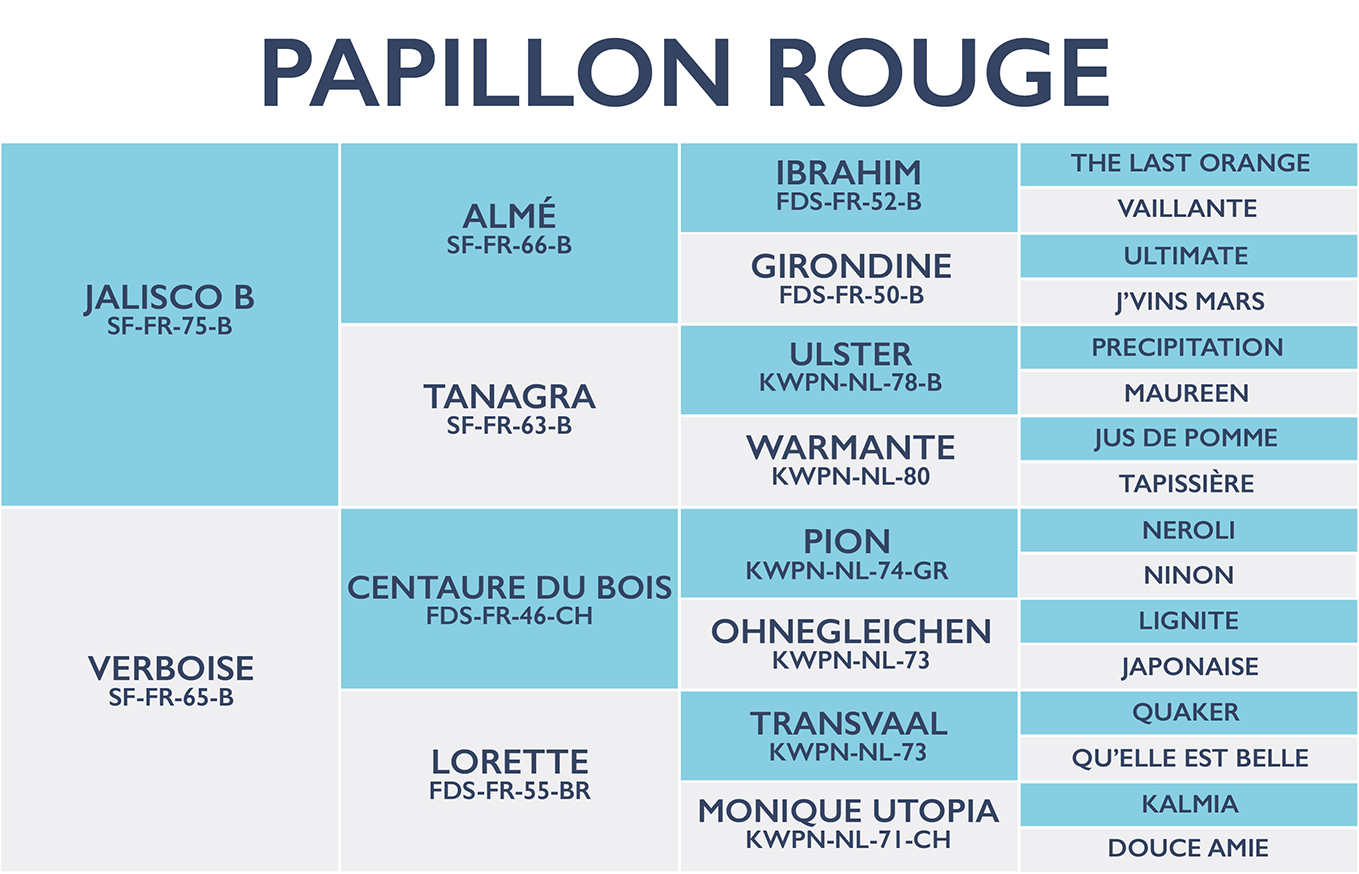 « Back to Great Stallions List