« Back to Great Stallions List
Mozart des Hayettes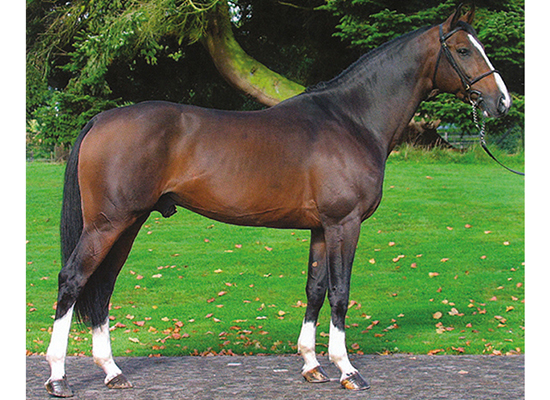 1996 165 cm Brown
Breeder: Yves Lauwers
Mozart's dam must be one of the most extraordinary broodmares of modern times. By the great Dutch jumping stallion, Nimmerdor, out of Albonnie (by Almé) who competed at Grand Prix with American Mark Leone, and she in turn is out of Bonnie Alice, who competed with British showjumping rider, Lionel Dunning. Dunning believes that Bonnie Alice's sire was Mulgrave Supreme, a Cleveland Bay.
The first foal of Calbonny, Premier des Hayettes by Concorde participated in the Belgian Classic Cycle for four, five and six year olds. He competed – and won – at World Cup level in Australia with Vicki Roycroft before going on to a career at stud.
In 1999, Mozart des Hayettes was licensed by Belgium's sBs. At three years of age he was first in the free jumping contest for sBs and BWP at Durbuy in 1999. He was first in the Belgian Classic Cycle of four year olds, with eight clears out of eight rounds. Mozart des Hayettes won the French AND the World Six Year Old Championship in 2002.
In 2007, Calbonny's daughter – Quidame des Hayettes Z – by Quidam de Revel, received a special award from Zangersheide as the best performing registered horse of the year.
Albonnie Z is the best female offspring of Almé according to her performance record. She ranked, for five years, among the 200 best horses of the world according to the WBFSH ranking.
The 2007 British Squad for the Samsung Super League included Britain's Michael Whitaker on the now 11 year-old bay stallion Mozart des Hayettes, the horse with whom he finished in second place in the Longines Grand Prix at 2007 CSIO5* La Baule, France and finished runner up at the 2006 Rome Grand Prix. In 2008, the successful partnership between the Whitakers and Haras des Hayettes came to an end. Mozart des Hayettes was put on the market, to be ridden in the interim by Eugenie Legrand Angot. Their best result was a second in the Grand Prix at Vichy CSI***.
His last recorded performances were in 2009 with Maxmilien Lemercier, their best result, 22nd in the Grand Prix at La Courneuve…
Mozart des Hayettes produced from his first crop Quidame du Val Tibermont, the winner of the 4 year old cycle at the Belgium Young Horse Championships in 2004. Since then he has produced 10 CSI winners, including Ramiro de Bellevue, the 7 year old Belgian champion who went on to compete successfully at CSI 3* level in South America; Melody des Hayettes has been a moderate performer with Tiffany Foster mainly in 1.35/1.40 classes – their best performance in 2013 was a 6th in a 1.45 class in Vienna. Orson des Hayettes with the Belgian rider, Rosella de Simone has competed in minor Grand Prix but mainly in 1.35 / 1.40 classes, their best result in 2013, a win in a 1.30 class at Neeroeteren CSI**.
I guess it just goes to show that not even a brilliant pedigree, or an exceptional performance career, guarantees a brilliant sire…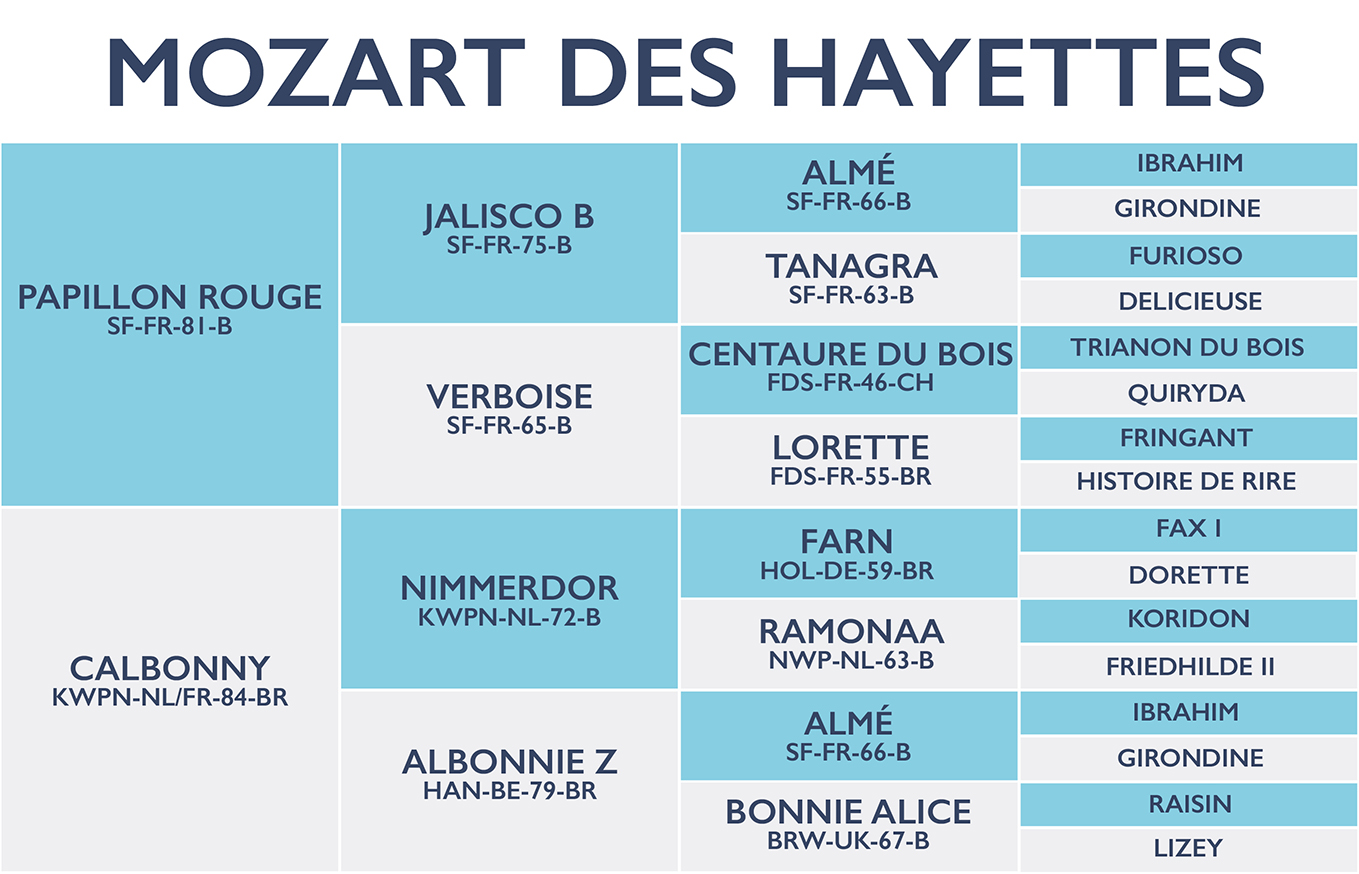 « Back to Great Stallions List