« Back to Great Stallions List
Guidam (ex Adagio IV)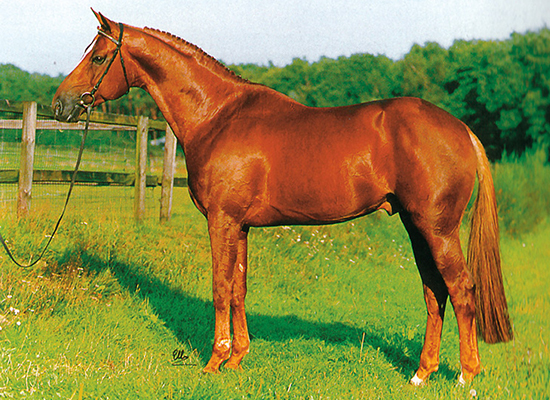 1988 – 2008 168 cm Chestnut
Breeder: J Linguanotto
It would be sad if the great Dutch breeder, Jan Greve, was remembered not for standing Voltaire, or for that matter his top Thoroughbred jumping sire, Julio Mariner, but as the stallion keeper who let Guidam, one of the best sons of Quidam de Revel, get away.
"In deals and deals, I lost Guidam, I sold him, something I should never have done, he was the best I had after Voltaire. I bought him as a two year old. I used a lot of French blood in the beginning, more than anyone else – but I don't like the mouth, hard to ride, soundness problems. Stifles are very important and there you find a lot of problems with stifles, not all of them, but quite a few."
Jan is such an individualist that as a schoolboy he 'hated' going by bus to school, it was just doing the same thing as everyone else that got him down. As a breeder he has always made his own way:
"I used Quidam years ago when no-one had heard of him. I bought Guidam out of his first crop. I heard that Quidam de Revel was jumping good, and he has got the most fantastic pedigree in the world, it's all international or Olympic horses. So I looked for, and found, Guidam, who also proved to be a very good sire, I'm always looking for something new. Quidam de Revel is no longer a goal for me, everyone is using him. It was nice to breed to with him at the time when no one used him, now it's too crowded on the bus. And I believe his son Guidam is better, if he gets the same mares as his father, he is better, more rideable, more elasticity, more power to collect. That is very important for the showjumper, to be able to collect the body, to make a stride on a metre and jump up – that is one of the most important things."
In Guidam's case once again we have a top sire, with a little question mark around the pedigree. Guidam's dam Fougere descends from one or other of the two Thoroughbred stallions, Kalabaka or Rantzau – the convention being that the second covering is assumed to be the effective one so, she is listed as being by Kalabaka. She has further close Thoroughbred ancestors on her dam's side, including Magic Red, the maternal grandsire of the triple Grand National winner Red Rum. The mare line reveals yet again the influence of Pharos who through his sons had an important influence on steeplechasers and jumpers. His son Link Boy (1928), winner of the Greenham Plate, Select Stakes and Doncaster High-weight Handicap and four other races, was a modestly successful sire of juvenile winners. Link Boy's son Burma Road (1939) won the American Grand National, and another son, Magic Red (1941), became an important jumper sire who got Grand National Steeplechase winner Red Alligator and was maternal grandsire of the great chaser Red Rum. Another Pharos son, Shining Tor (1931) sired Water Serpent (1941), one of the most prolific jumping sires of the 1940s and '50s, with many offspring that competed at the top ranks of international show jumping. Guidam has numerous crosses of Bay Ronald, mostly through his grandson, Son-In-Law.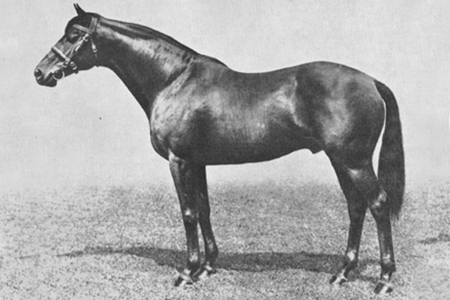 One of the great Thoroughbred jumping sires – Pharos 
Guidam with Eric van der Vleuten in the saddle, was at best a moderate performer – in his final year, he was 3rd in a Speed & Handiness class at Bordeaux. He does not seem to have competed in 1997, but in 1995 won the Puissance at Mechelen, and the Top Score at Zuidlaren. In 1996, he was 2nd in a GP at Goes, in a very lack lustre field and was 3rd at Hasselt. He won the best stallion title at the Zwolle International Stallion Show. Guidam then retired to stud following an injury.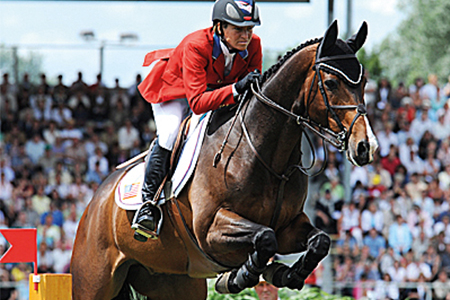 The greatest son of Guidam? Authentic and Beezie Madden 
As a sire Guidam, has been ranked No.1 in KWPN breeding index and No.1 in USEF jumper sires rankings. He is the sire of 35 Grand Prix and International Showjumpers including Authentic, USA Horse of the Year 2004 and Olympic Gold Medalist – and very much one of the stars of the 2006 WEG in Aachen, Luidam, the 2004 Aga Khan Nations Cup Winner and Liona, ridden by Hervé Godignon who rode Guidam's sire, Quidam de Revel, to team bronze at Barcelona.
"Guidam possesses, as a stallion, all the genetic qualities of his father Quidam de Revel, but I believe he passes on more rideability to his progeny. The bottom line is that he produces the goods," says Dutch showjumper and dealer, Paul Hendrix.
In November 2004, Guidam was awarded a 'Keur' predicate by the KWPN and was the 2003-2004 leader on the jumping breeding index with a rating of 171! His stallion sons are at stud in Holland, Germany, United Kingdom, United States and Poland with a high percentage of predicate daughters also at stud.
Guidam's history is yet again an illustration of the globalisation of horse breeding.
Born in France, purchased as a youngster by a Dutchman, he was sold in 2005 to the 2004 Irish Show Jumping Owner of the Year, Tom Rowland to stand at his Knightfield Equestrian in County Kildare.
Guidam had already come to prominence in Irish jumping circles when their team member, Billy Twoomey rode the Guidam son, Luidam, to Grand Prix wins at La Baule and Rome followed by an heroic double clear during the 2004 Aga Khan to gain a spot on the Irish Olympic team list for Athens. Although injury ruled Luidam out, there was another son of Guidam at Athens, Authentic, who kept the stallion in the frame.
The Irish Horse Board only decided in 2007 to let Guidam into their stud book, apparently there was a health or x-ray issues that prevented his earlier admission. The Irish Horse Board has adopted new rules that let in some stallions without inspections, health exams or x-rays.
On the WBFSH standings for 2007, Guidam was 18th and he was 16th the following year, but after that dropped out of the leading rankings, but he returned in 2014 in 22nd, with his best performer, Vindicat.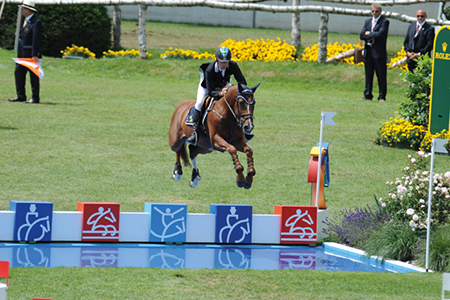 Ninja La Silla and Rolf-Göran Bengtsson
Guidam was put down in April 2008, after injuring himself in a trucking accident. In that same year, on the podium at the Beijing Olympic Games, there were two sons of Guidam: Beezie Madden's Authentic, and Rolf-Göran Bengtsson's Ninja La Silla in the line up for individual medals.
One of the truly great jumping horses, Beezie Madden's Authentic was retired at the age of 18. The Dutch bred gelding,  out of a ¾ Thoroughbred mare (Katell xx / Lucky Boy xx) jumped to his first Olympic medal at Athens in the gold medal winning American team. He added individual and team silver medals at the Aachen WEG, then went on to the Beijing Games helping the US win team gold and taking home an individual bronze. In 2007 the pair won the Grand Prix of Aachen. He was formally retired in 2013.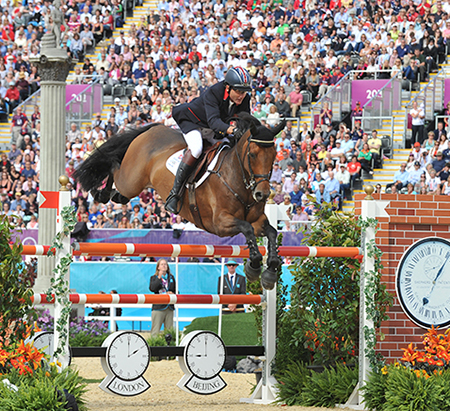 Vindicat and Peter Charles at the London Games…
At the London Games, Guidam was represented by Vindicat, ridden in the gold medal team by Peter Charles, and 64th individually.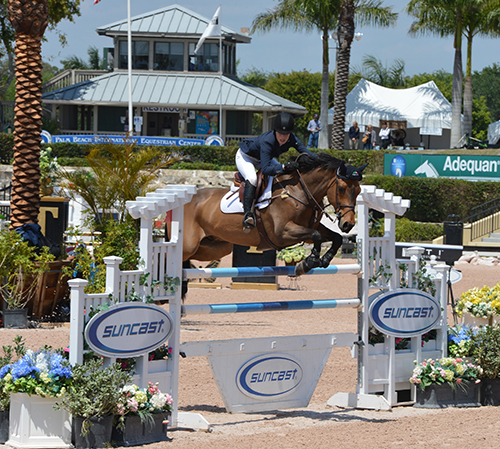 And competing on the Florida circuit with Jessica Springsteen
On the 2014 KWPN breeding values for jumping stallions with a reliability of over 90%, Guidam ranks 9th, with 1026 progeny over four, of whom 430 (41.91%) are registered competitors.
On the 2015/16 rankings, Guidam is still in 9th place with a value of 144 (96%) and 1031 progeny over 4, with 443 competitors (42.967%).
The 2016/17 KWPN breeding values have Guidam in 9th place with a jumping value of 144. 103 for conformation, 98 for loose movement, 107 for freejumping. He has sired 1031 progeny over 4, 447 going on to compete (43.35%).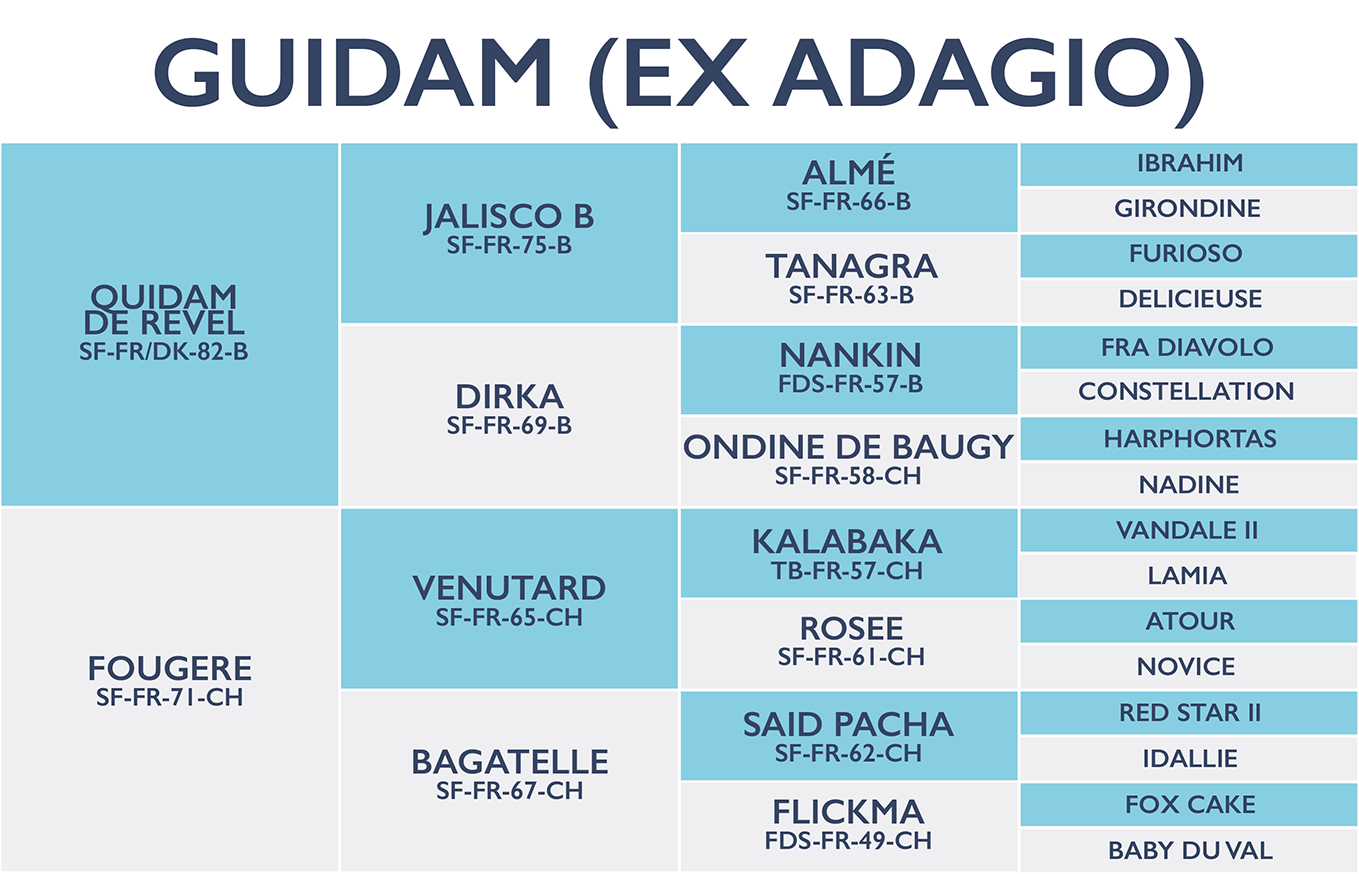 « Back to Great Stallions List