« Back to Great Stallions List
Nabab de Rêve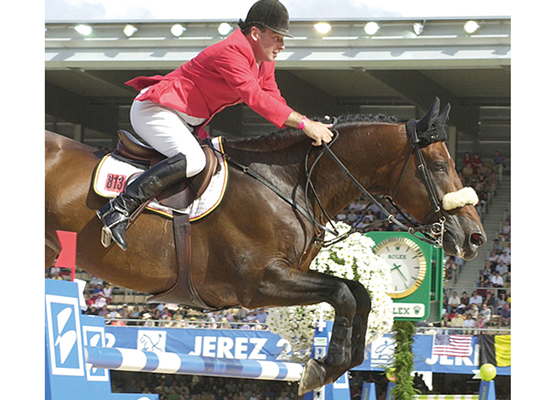 1990 – 2015 Bay 173 cm
Breeder: S. de Bruyn
The canny Belgian breeders were quick to spot which way the wind was blowing. They turned away from their French origins and shifted their affections to Holstein, then they were certainly smart enough to see that a new French breeding sensation – Quidam de Revel – had emerged, and even quicker to get on the bandwagon. The Quidam son, Nabab de Reve was born in Belgium at the Haras de Reve, but was registered in France. He is out of a mare by Artichaut, a good sire of jumpers at national and international level, including the stallion, Quartz du Vallon, and Orchestre, ridden by McLain Ward to many Grand Prix wins and placings. He was also sire of Muguet de Manoir, a leading sire in France over two seasons.
In 1993, Nabab de Reve was second in the Belgian 4 year old championships, and two years later, a finalist in the 6 year old class.
In 2001 with just one rail in the second round, Nabab de Rêve was a serious contributor to the victorious Belgian Nations Cup team at Aachen, and that seems to have been his rôle, solid team member rather than an individual star.
Under Philippe Lejeune, Nabab competed at the European Championships in Arnhem in 2001 finishing in 45th individually and they were in the bronze medal winning Belgian team at the 2002 WEG at Jerez, where they finished 42nd individually.
His son Bacardi van't Lambroeck was licensed by the BWP in 2004. Winsome v d Plataan won the 6 year old World title with David Jobertie in 2005.
His son, Vigo d'Arsouilles was declared Belgian Horse of the Year 2008, following a win in the Belgian Championships and a 5th at Aachen and went on to prove that he was a real star – the best horse in the World at the 2010 WEG in Lexington.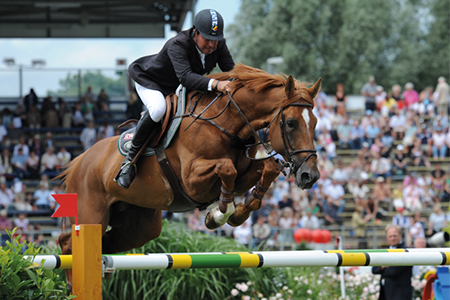 Vigo d'Arsouille and Philippe Lejeune at Aachen in 2008
and Vigo's son, Vagabond de la Pomme and Penelope Leprevost
star at the 2016 World Cup Final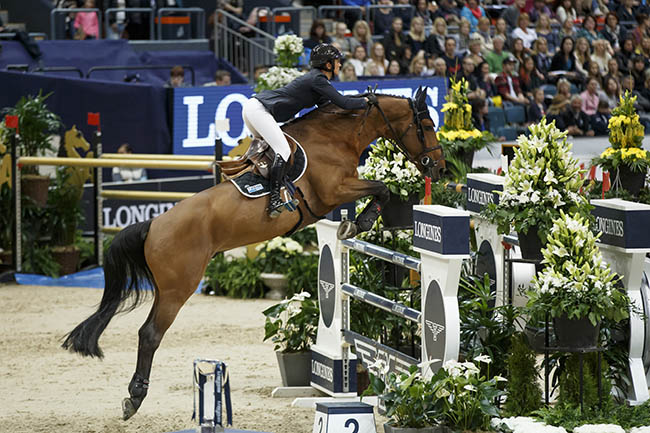 Vagabond de la Pomme and Penelope Leprevost
Nabab de Rêve was represented by three of his progeny at the London Games, Vigo d'Arsouilles, London (who proved well named, finishing 2nd individually!) and Valentina van t' Heike, while his son, Kashmir van Schutterhoff, also provided one competitor.
London celebrated a change of ownership, competing for Glock, but with his regular rider, Gerco Schroeder, with a 3rd in the 2014 Madrid Grand Prix, and as a member of the second placed Dutch team in the Nations Cup at Rome.
Nabab de Rêve was 8th on the WBFSH stallion rankings for 2012. On the 2013 rankings he is in 14th place, with London his highest points earner on 1320, with the second highest, Exquis Walnut de Muze on 520 – interestingly, both horses are out of Chin Chin mares, as is the fifth highest points earner, Equador van't Rossaker. On the 2014 standings he is in 15th.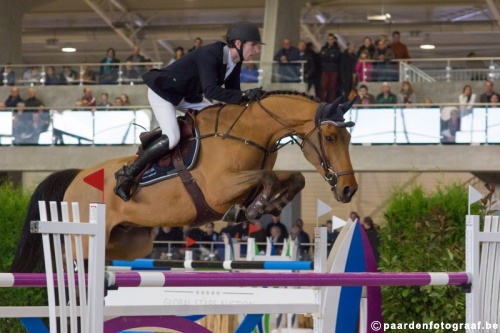 Couscous van Orti and Pieter Davos
On the 2015 WBFSH standings, Nabab is in 18th (his son Kashmir is 7th) with 38 points earners, the most successful of which has been Couscous van Orti.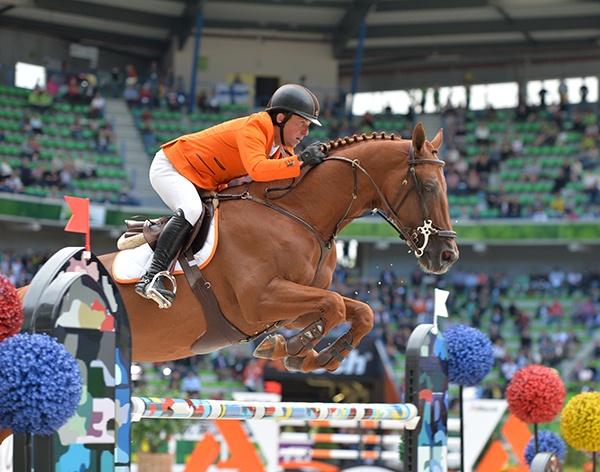 London – In the gold medal team at Normandy – London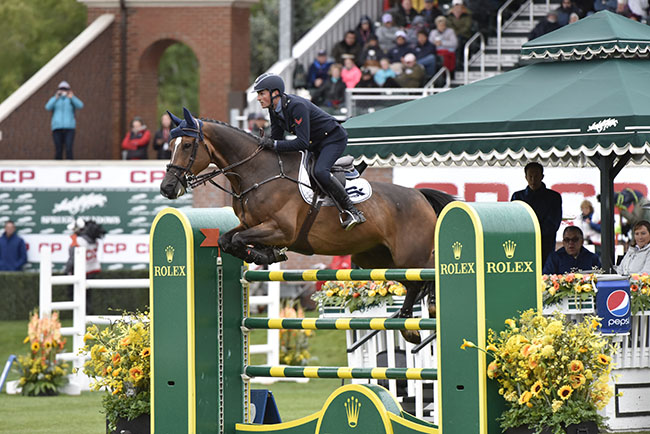 Third in the Rolex Grand Prix at Calgary, September 2016, Ensor de Litrange
by Nabab out of a Mr Blue mare…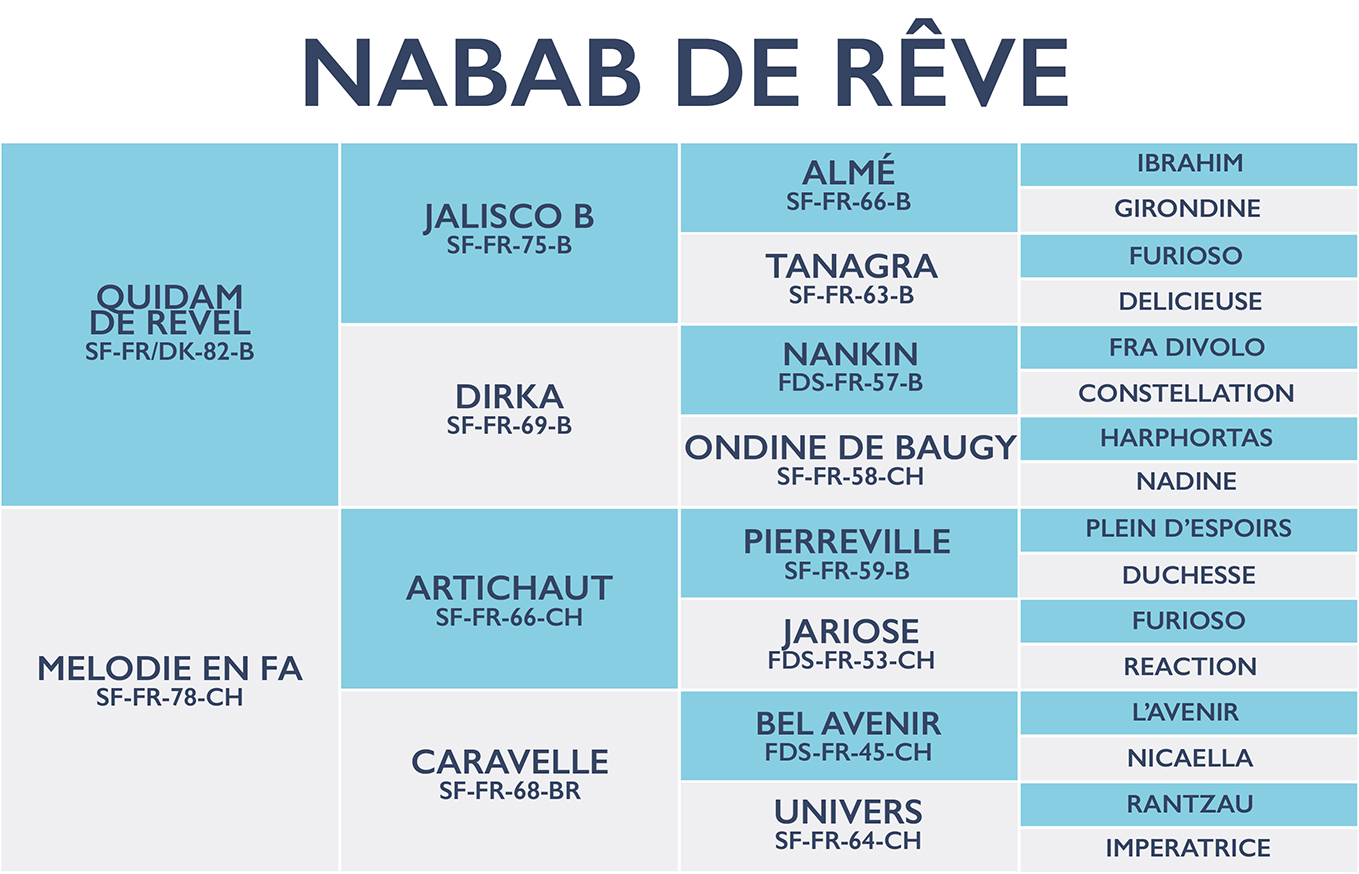 « Back to Great Stallions List