« Back to Great Stallions List
Animo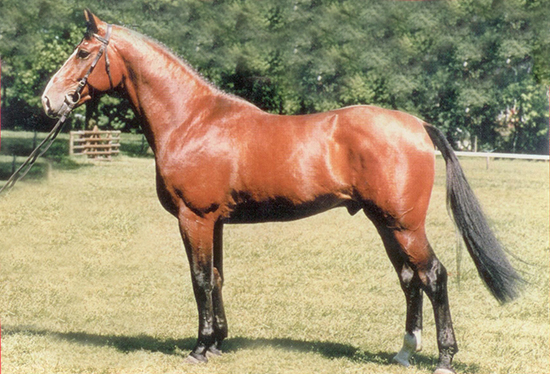 1982 –2011 168 cm Chestnut
Breeder: P. Simons (Lanaken, Belgium)
With the death of Jalisco in 1994 and Galoubet in 2005, Animo was the premier remaining stallion son of the great Selle Français sire, Almé until he was putdown at the age of 29 in November, 2011.
However Animo is very definitely a product of Almé's time at the Zangersheide Stud in Belgium, and his dam line contains some of the famous names of Dutch breeding.
His dam sire, Amor was imported from Holstein at the age of three. Since he lived from 1959 to 1990 and produced many offspring who performed well in dressage, jumping and driving.
On his dam's line, Animo is solidly Dutch bred bred. Gemma Jansen in her article, Animo – Olympic 
Competitor and Sport Horse Sire, in IDS International (February 2010) notes:
"Animo's dam, Irene ster, came out of a classic dam-line. Her dam was the black Gelder mare Omentine kern (s. Karolus van Wittenstein) out of Comentine kroon kern (s. Ridderslag). The Bakker family of Egmond aan den Hoef purchased Omentine as a mature horse and got one foal out of her, Irene. Although many years have passed, Simon Bakker still clearly remembers Irene:
'She was a beautiful horse with good gaits. I took her to the inspection as a three-year-old and she received the ster predicate. I used to ride her, and she especially liked to jump. On the ground, she was honest but wilful. For example, if I turned her out in a pasture and she wasn't happy, she'd jump any fence or canal to get out."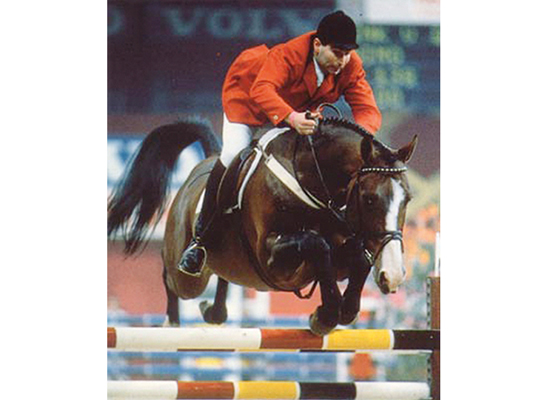 Mr Bakker got tired of chasing after Irene and sold her but she failed in her new career as a riding school horse. Again, Gemma Jansen has the story:
"Animo was born May 7, 1982 in the stable of Dutch breeder Peter Simons, who now makes his home in Belgium. A series of somewhat coincidental events led to Simons' purchase of Irene. Simons recalls:
'At the time, I was a butcher of beef and pork. One day, I got a phone call from Mario Pompen, who has since passed away. He ran a riding school in Brunssum and had a ster mare by Amor in his barn. She had been in-foal to Pericles xx but lost the foal mid-term in her pregnancy. Mario wanted to use Irene as a school horse, but she wasn't suited to the job. For instance, if she didn't feel like doing something, she'd rear straight up; and if someone tried to take her on a trail ride, nine times out of ten, she'd come back to the barn without her rider. Clearly, she wasn't meant to be a school horse. Mario asked me if I was interested in her. I bought Irene over the phone without even seeing her. After all, she was a ster mare and experts had deemed her worthy of the predicate, so I thought I could take the risk.'
'When she arrived at my barn, I was immediately smitten with her; she was beautiful and long-lined. The first time I bred her I used Heidelberg, which resulted in a nice colt that I later sold as a sport horse. After that, it was hard to get Irene to carry a foal to term. I decided to breed her again in 1981, but I wasn't sure which stallion would be the better choice: Almé or Ramiro. At the time I was in touch regularly with Frank Kemperman who used to work for the DPN, the now disbanded government equine research center, where Ramiro stood at stud. However, Frank and I thought that Ramiro was probably too burly to be paired with Irene, so we chose Almé who was more refined. That's how Animo was born.'
'He was quite ordinary as a foal; there was nothing remarkable about him. Later on, I showed him in the Benelux Open Championship, but he didn't qualify for the final. I thought perhaps he was too average to be a breeding stallion and lacked that 'special something', but I never doubted for a minute that he'd be a good sport horse… I bred Animo to my mares several times.'
'The first two, Ever and Forever are out of a trotter mare. The first went on to become the regional champion and was later sold as a sport horse to a Spanish buyer. The second one jumped really well in the UTV, the young horse championships, but I lost track of him. Some time later, I happened to see him on TV, showing under the name Bodyguard. He competed in the Brussels Grand Prix under Philip Lejeune and won the qualifier for the Maastricht Grand Prix. After that, he unfortunately got injured and dropped out of sight. I also bred Amira, a Ramiro daughter to Animo. The match produced Farah, who eventually became an international show jumper.'
Meanwhile Animo had passed into the hands of stud owner, Gertjan van Olst who had been looking for French blood, in particular the blood of Almé:
'I went to look at Animo, and the minute I saw him I knew I had to have him. Even though I had my doubts about his small size, I decided to take a gamble on him. I registered Animo for the stallion inspection, even though I thought his bloodlines might not be good enough for the judges to select him. Although Almé was certainly good enough, he had classic Amor and Karolus van Wittenstein blood right behind him.'
'At the first round viewing in Zuidlaren, Animo came into the ring and looked around like a king in the line-up; that's when my doubts disappeared and I thought: Yes, he's ready.'
At the performance test in Emelo, Animo finished at the bottom even though he got good scores for his jumping and canter. Mr van Olst believed in the stallion and his jumping ability:
"I decided that the development of a talented jumper like Animo was just as important as his breeding career, which is how he became one of the first privately owned stallions available though AI."
The young stallion placed in the four, five and six year old stallion competitions before going on compete at World Cup level. Animo caught the eye of Norwegian amateur, Morten Aasen who was watching the television coverage of Antwerp show. He bought the stallion and with him competed at the 1992 Olympic Games in Barcelona.
Animo competed in 48 World Cup qualifiers and Grand Prix. He was third in the Helsinki Grand Prix, he was fourth in the World Cup of Antwerp and second in the Munich Grand Prix.
Animo has been an excellent sire of sires, with the licensed stallions: Andiamo, Monaco, Placido, 
Revenge W, Regino, Animo's Hallo, Animo II, Amerillo, Alfonso, and his two Australian based full-brothers, Alimo (deceased) and Animate (both out of the international jumping mare, Lucillia by Lord).
His international showjumping progeny include Gina Lolobrigida with Franke Sloothaak, Bodyguard with Phillip le Jeune, Aniapollo with Norman dello Joio, Mystery Lady with Katina Lampe, Allegiance with Laura Kraut, Colorado with Harry Smolders, Billy Orange with Roelof Bril.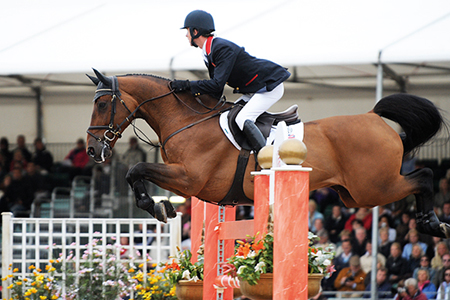 Starring in the British team, Robin Hood W (out of a Libero mare) and Ben Maher 
Animo spent his final years in England where he bred about 20 mares a year up to his death in 2011. Fittingly his new star is Robin Hood W, ridden in the British team by Ben Maher.
Over in the USA, veteran showjumping rider, Leslie Burr Howard is delighted with her new star, Utah – by Andiamo out of a Jus de Pomme mare. On the opening day of the 2011 CSI4* at Spruce Meadows, Leslie and the ten year old Utah took out the 1.60 class from a very classy field of horses, and in November, 2013, the pair won the Grand Prix of Toronto, again beating a top class field.
His son Andiamo is shaping as an excellent sire of jumpers in Holland and is ranked 29th on the WBFSH 2013 rankings.
Animo ranked 9th on the 2009 WBFSH jumping stallion rankings but dropped to 47th on the 2010 list and does not appear on the later rankings.
On the 2014 KWPN breeding values, Animo is 17th on the list of stallions with a reliability of +90% with a value of 138 (96%). He has produced 917 progeny over the age of four, of whom 353 (38.49%) have competed.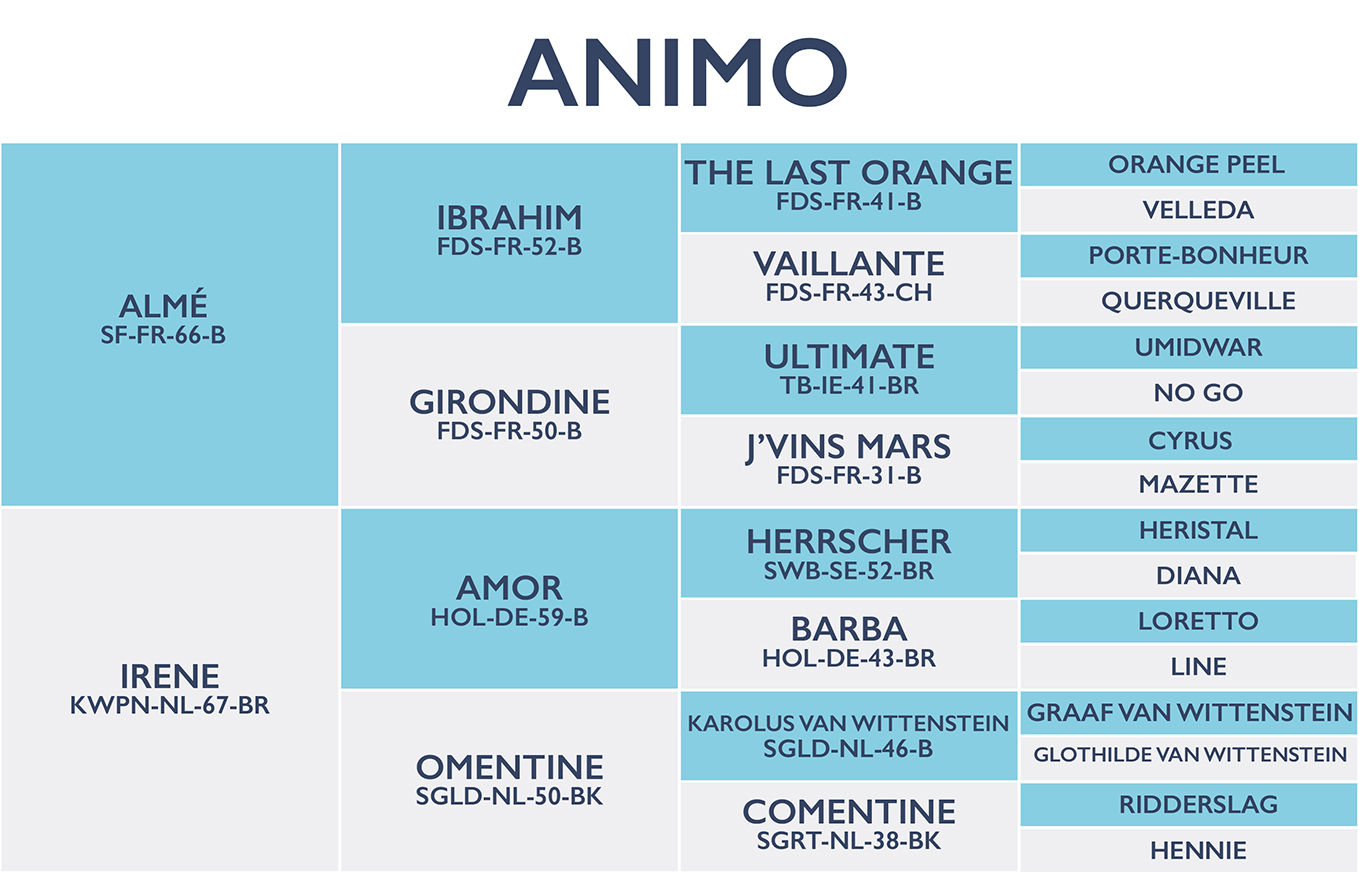 « Back to Great Stallions List