« Back to Great Stallions List
Andiamo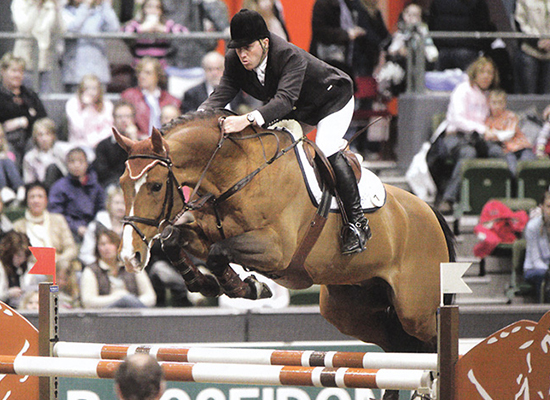 1993 166 cm Chestnut
Breeder: Morten Aasen
Andiamo is out of a mare of Anglo Arab breeding – Taj Mahal by Garitchou x. Andiamo's breeder, Morten Aasen – who rode and competed his sire, Animo – initially bought the mare for his wife to ride. Andiamo was purchased as a yearling by well-known Dutch stallion keeper, Gertjan van Olst:
"Back then Andiamo was pretty rough looking and not very handsome, but I really liked his bloodlines on his dam's side. I've always been crazy about Anglo-Arabs because of the fresh blood and durability they pass on." (quoted in Andiamo: Gertjan van Olst: 'Now I know what a 'true jumper' is!' in ids International, July 2010 by Gemma Jansen – all subsequent quotes are from this excellent article.)
Animo's dam line features two of the most famous French Anglo Arabs of modern times – Garitchou and Nithard.
Van Olst was a fan of the youngster from the start: "I got him ready for the stallion selection. The first time he jumped was a revelation for me, and he's never taken a bad jump."
Andiamo was first approved by the NRPS (Nederlands Rijpaaden en Pony Stamboek), but unfortunately while undergoing the KWPN performance test, he flipped over backwards and fractured four spinal processes in his wither and split a fifth in half. After he recovered, he re-entered the KWPN stallion selection process and although not initially selected, a re-inspection committee allowed him to go on to the three week performance test and finally as a seven year old he was KWPN approved in 2000… but not for long.
Van Olst sold the stallion to Leon Melchior (hence the 'z' that is sometimes tacked onto his name) and because Melchior failed to present a collection of foals to the KWPN, he lost his approved status. It was a decade later, in 2010 before he was welcomed back into the KWPN ranks.
Under van Olst's ownership, Andiamo competed up to 1.30 classes. At Zangersheide, Jos Lansink competed him until he sustained a soft tissue injury. Sold to the De Slovere stud in Belgium, he successfully competed at Grand Prix level with Kristof Cleeren and Jean Claude Vangeenberghe. With Jean Claude he was 2nd in the Brussels **** Grand Prix in 2004, and the same year was 2nd in the Rome World Cup class. With Kristof, he won the 2006 British Open Championships at Sheffield CSI****, and in the previous year, the pair were part of the winning Nations Cup team at Gijon.
According to Van Olst: "Andiamo's natural jumping style is electric, balanced and scopey; his wither comes up, his nose goes down, his hind end goes out – and he's scopey. He really has textbook-classic jumping form. Actually, he's the quintessential jumper with a fighter's mentality, who's also careful – he's a horse with character and he passes on those traits. Andiamo offspring aren't amateur horses but they're natural jumpers."
"Conformation-wise they're not selection horses, and Andiamo himself moved a bit on his forehand and trailed with his hind legs. His offspring are better in that respect, and he sires nice horses when he's bred to a nice mare. And he always passes on his Thoroughbred blood: you won't find any cold ones. He produces jumpers form the most divergent combinations."
Perhaps because of his conformational traits, Andiamo was slow to produce a KWPN approved son, but in the 2011 Spring Performance test, Dynamo, by Andiamo out of Fonelle R by Winningmood van de Arenberg, was approved for breeding with the recommendation: "Dynamo can benefit the canter and add jumping form as well as scope to jumper breeding." The young stallion scored 81.5 in his test – the second highest score of the jumpers, with 8.5s for technique, power and jumping talent. Perhaps the bloodline has life in it yet…
Andiamo has been a successful sire of competition horses, with a number of his offspring competing at an international level: Picasso and Alvaro de Miranda, Pitareusa and Eric vd Vleuten, Pistachio and January Verellen, Pontetto and Peter Bulthuis/Luis Felipe de Azevedo, Alarm and Marc Houtzager, Alverna and Wim Verpoort, Akido and Sabrina Busch and An Side and Joe Clee.
His approved sons include Picasso Z, Dynamo, Andiamo Special, Arco Polo and Al Pacino W.
Andiamo is ranked 12th on the WBFSH sire rankings for 2012, but had dropped to 29th on the 2013 standings.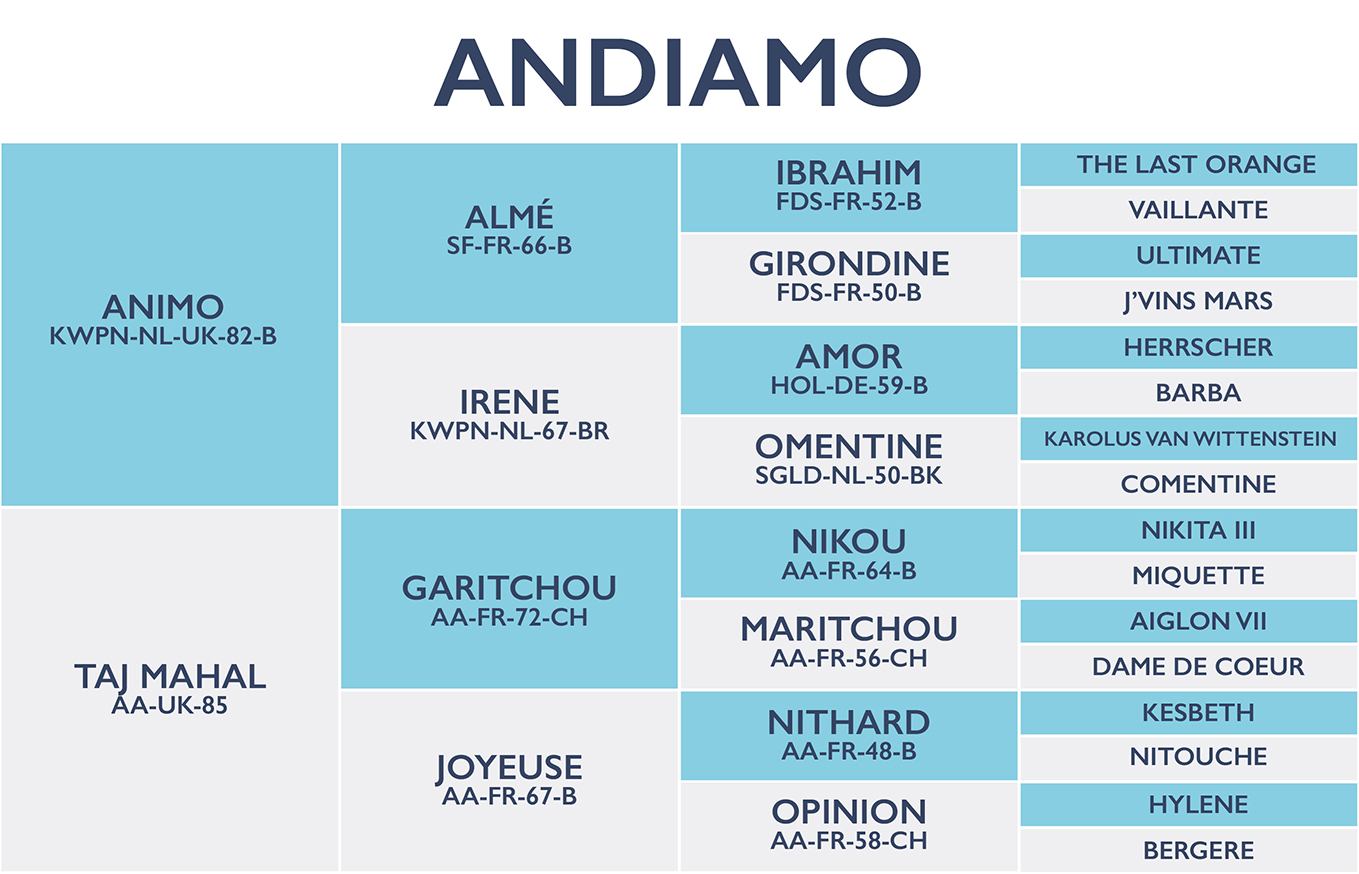 « Back to Great Stallions List