« Back to Great Stallions List
Belissimo M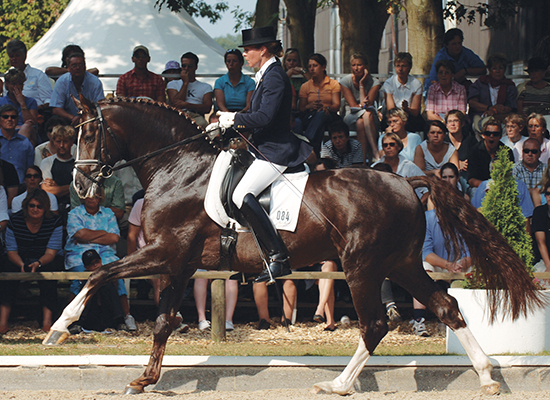 1999 169 cm Chestnut
Breeder: Dieter Niesar
Belissimo has certainly been a major player in the revival of the 'B' line in German dressage breeding. On the 2015 German FN dressage stallions, he appears in 15th place, with a dressage value of 145 (0.98 reliability), he even has a positive value for jumping, 103.
Belissimo is by a rather obscure private stallion, Beltain. This stallion is very much a product of Dr Schulz-Stellenfleth's breeding program, from the mare line that produced over 20 licensed stallions – his dam, Gänseliesel is the three quarter sister to the dam of the famous Brentano II, but unlike Brentano, Beltain never found fame in his lifetime. Injured just before the licensing, it was not clear whether he would ever be rideable and he was sold to the Karsten family in Westfalia, an area where his famous dam line was not really appreciated.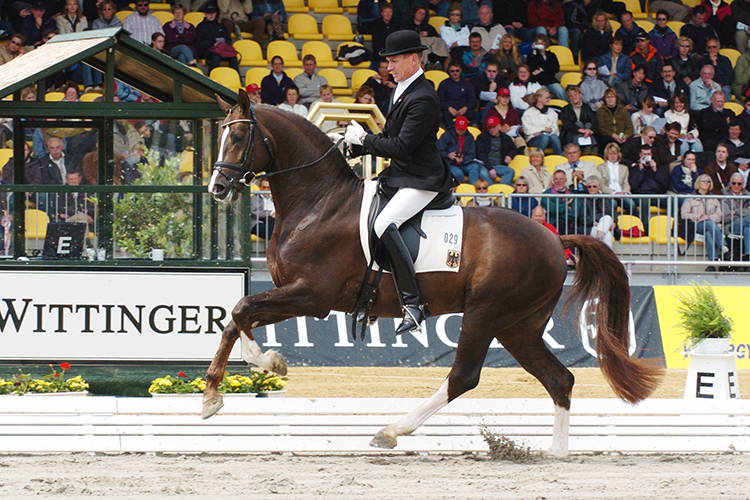 Belissimo M
Beltain recovered from his accident and went to dressage riders, Petra Epping, Rudolf Zeilinger and then Jo Hinnemann. Leonie Bramall, who was based with Hinnemann, showed him up to Grand Prix and when he was about ten years old, he was finally licensed on the basis of his success in the sport, which, in those days, happened very rarely.
Beltain then stood at the Westfalien State Stud, but was not much used, and he died in 2002 before his son Belissimo put him on the map…
Belissimo's dam line is solidly Westfalien – his dam Roxa, is by the great producer of dressage horses, Romadour II, and out of a mare by the Thoroughbred Lucius. The dam line of Welfe has also produced the performance stallions Cash and Fly (Holsteiner), Cinamant K (Westfalia) and Pluco (Oldenburg, Rhineland, Saxonia).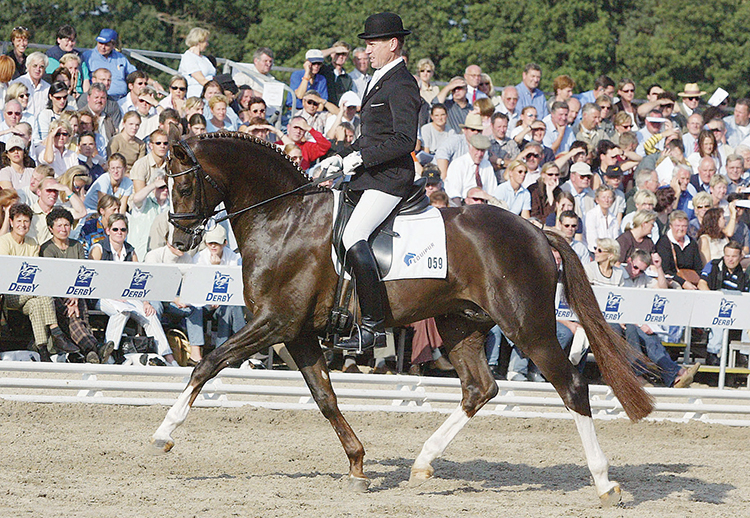 Belissimo M
In 2002 Belissimo achived the highest result in a 30-day test to that date, scoring the perfect 10.0 four times. In 2003 he became Bundeschampion of the four-year-old stallions in Warendorf and qualified for the Young Horse World Championships in Verden, where he finished fifth in the final. Belissimo continued his success at the Bundeschampionate second in the final of the six-year-old dressage horses when he bungled one flying change even though he looked far the best horse in the class.
Under Australian Hayley Beresford he had a successful career at Grand Prix level, qualifying for the London Olympic Games in 2012. In late 2013 he was retired to stud, now residing with new owners Westfalenhof Stud in Steinhagen.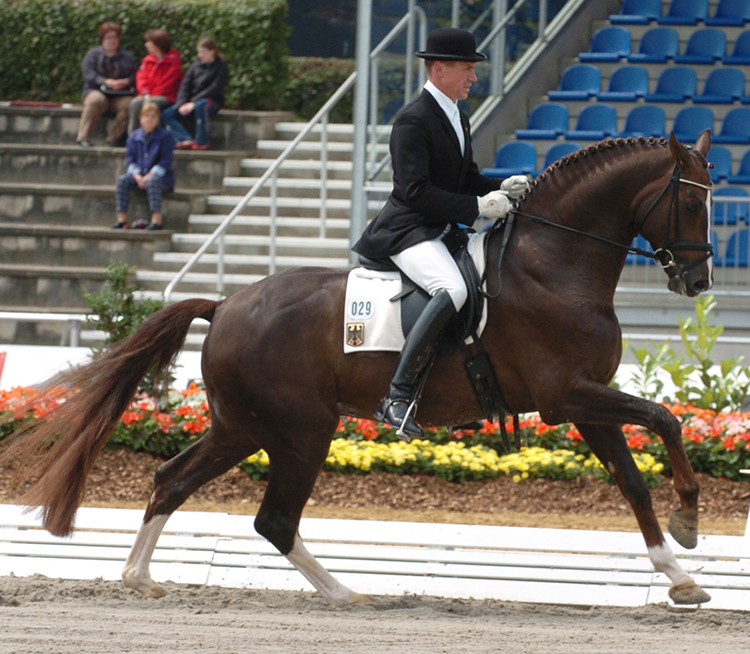 Belissimo
Belissimo has produced over 40 licensed sons, amongst them premium stallions such as Bentley (2008 licensing in Verden). Several of his progeny followed in their father's footsteps and competed at the Bundeschampionate, for example the 2011 Bundeschampion of the six-year-old dressage horses, Benicio.
In the 2017 Hanoverian stallion book, Belissimo is recorded with winnings of €8,927, with five wins at S level. His 794 competition progeny have won €463,474, with 48 going on to compete at S level dressage. Bella Rose with winnings of €85,807 is  one of three of his progeny to win more than €10,000. The chestnut mare was a real star at the WEG in Caen, placing second in the Grand Prix with Isabell Werth, and with the pundits agreeing that she is the best horse that great rider has produced… Sadly she has since been sidelined with injury. The others to earn more that €10,000 are Betty Barclay with €11,526 and Beyonce (€13,005).
On the 2017 FN breeding values, Belissimo has a Jungpferdeprüfungen (young horse) dressage breeding value of 144, and a Turniersport (open competition) value of 135. His Hanoverian breeding value for dressage is 136, with the highest mark – 141 – for the canter. His jumping value is 95. He scores 128 for type.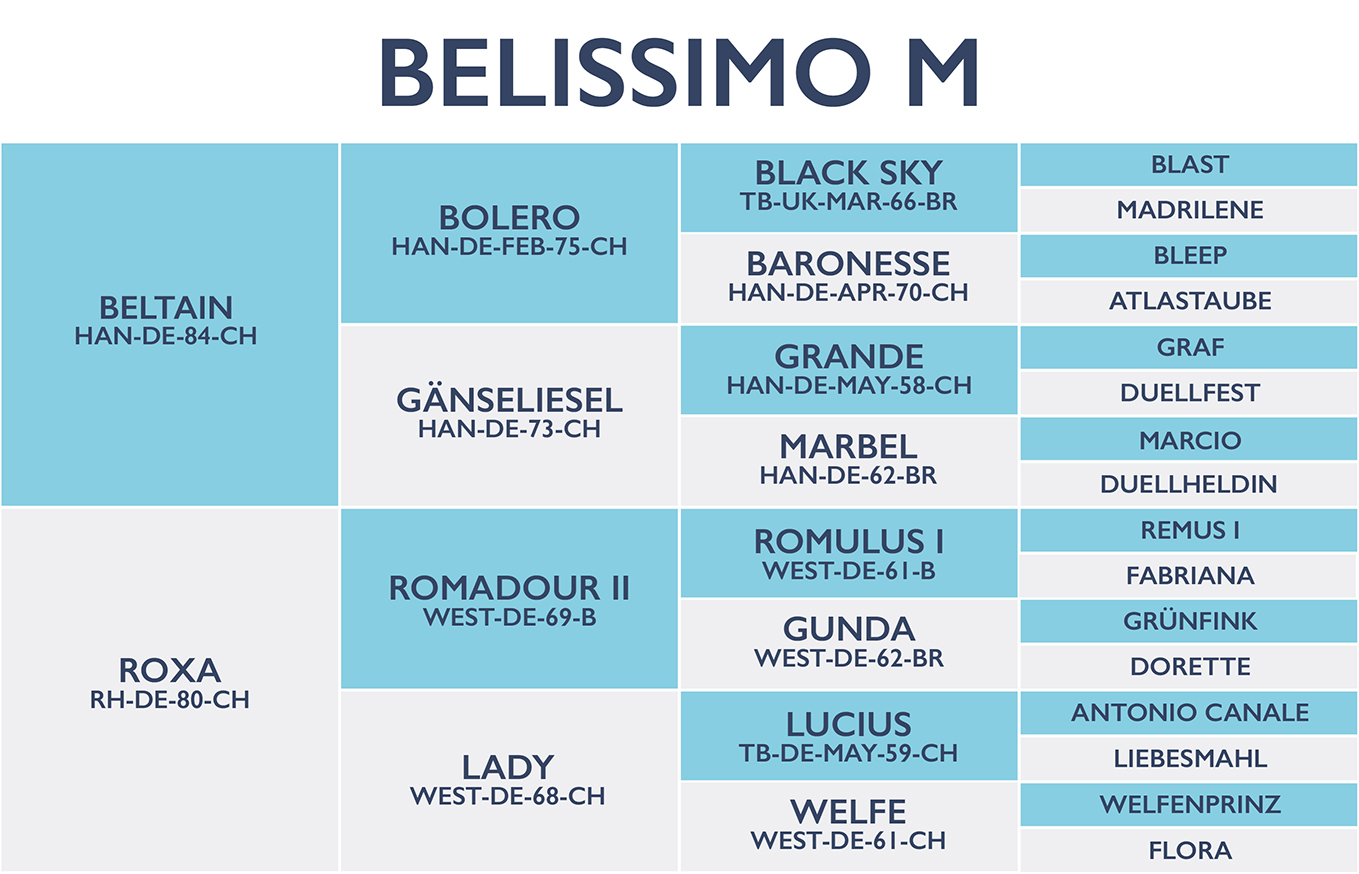 « Back to Great Stallions List