« Back to Great Stallions List
Bubalu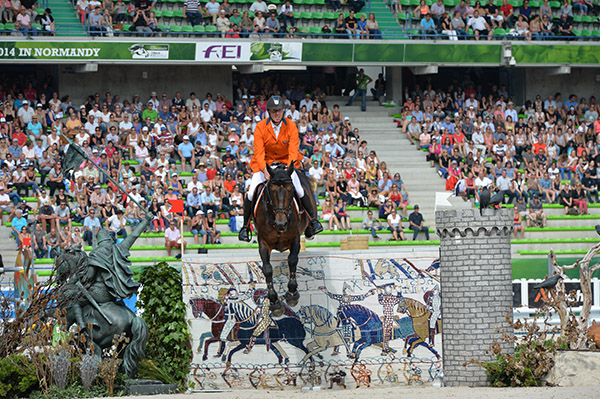 Born 2000 1.66 cm Bay
Breeder: VDL Stud, Beers
When VDL Stud founder, Wiepke van der Lageweg, was bitten with the horse bug, he threw himself into the new project with his customary enthusiasm, and traveled to Holstein in the 1970's where he purchased four mares that were to form the foundation of his stud: Hyazinthe (Ladykiller xx),  Nathalie (Follywise xx), Ramirha (Farnese) and Shoraya (Ladykiller xx).
Shoraya is the daughter of Etoile (by Aldato) from the Holsteiner 474a mare line (I am indebted for this information to my colleague, Adriana van Tilburg), and Etoile features on the pedigree of two of the Dutch team stars, not only Bubalu but also Verdi, since Etoile is his great great grand dam.
Etoile who was born in 1968, was bred by the family Plüschau, who established Stamm 474a in 1900 with the mare, Kiek by Ali. Etoile produced twelve foals, including five mares each of whom established their own line. Her last foal, the approved stallion, Sir Tom (by Sir Shostakovich xx) was born in 1992.
Shoraya was bred in 1976 by Benno Hoff, who sold her as a foal to Maas J Hell. Initially the mare was not for sale but fortunately for the future of Dutch jumping breeding, Wiepke does not take no for an answer and Shoraya produced for him sixteen foals, including five daughters who are the dams of international jumpers.
Her daughter, Zancara – by Nimmerdor- was successful in her own right, and was crowned the reserve champion of the Netherlands. She is half-sister to the international jumper stallion N-Aldato. Zancara is also the dam of four stallions in different studbooks, all of whom jumped internationally, Montreal VDL (Indoctro), Pessoa VDL (Animo), Great Pleasure (Grannus) and when bred to the super star performer, and super sire, Baloubet du Rouet, Bubalu. When she was put down at the age of 28, Zancara had produced 18 foals.
For Wiepke van de Lageweg the mare was important to fix the conformation problems that came with Quidam. Wiepke told Adrian van Tilburg (Baloubet du Rouet's unrivalled career, Breeding News, October 2017):
"Baloubet du Rouet was a top jumping horse but his conformation was not flawless. But to get the good points of Baloubet (size, length, blood, scope and sharpness) in our breeding program we used him on several strong well-bred mares who could compensate for some of his flaws, like, for example, Zancara."
So Bubalu – who started life as 'Triumph' – might have been by a Selle Français stallion, but on his dam line he is very much a product of the VDL breeding program, and was the stud's first homebred product to compete for Holland at the Olympic Games.
Alas Babalu's appearance at the stallion licensing was  not a triumph for the KWPN licensing committee and while the youngster competed in the first round of the stallion selection, he was not selected to go on to the second round, and was sold to Colombian showjumper, Ricardo Villa, who competed Bubalu to the 1.45m/1.50m level. In 2008, the combination won the National Championship of Colombia, after which VDL Bubalu was approved for breeding by the American chapter of the BWP.
At that point, VDL Bubalu's breeder, Wiepke van de Lageweg, decided to bring the Baloubet du Rouet son back to the Netherlands.  Cameron Hanley showed VDL Bubalu for a short time, but after the sale of Oramé VDL, Jur Vrieling took over the reins and kept the talented stallion at his barn. The pair have been solid team players, members of winning Nations cup teams at Dublin (2010), Aachen and San Gallo (2011) and in their last big competition, in the winning team at the Nations Cup final in Barcelona in 2014. Immediately after the Nations Cup Final, it was announced that Bubalu's career would be scaled back on the way to eventual retirement.
As an individual performer, Bubalu was no super star. He won several minor Grand Prix (Treffen and Drammen) and was 55th individually at the WEG in Lexington, 52nd at Caen, 38th at the London Games and 23rd at the Euros in Henning.
In 2012, the KWPN granted VDL Bubalu recognized status.
Bubalu scores very highly on the OCD index, ranking 3rd  with a positive score of 106  (67%).  As of the 2015/16 KWPN Breeding Values, Bubalu has only 8 four year olds, with one competitor, but he still has a breeding value of 164 (61%).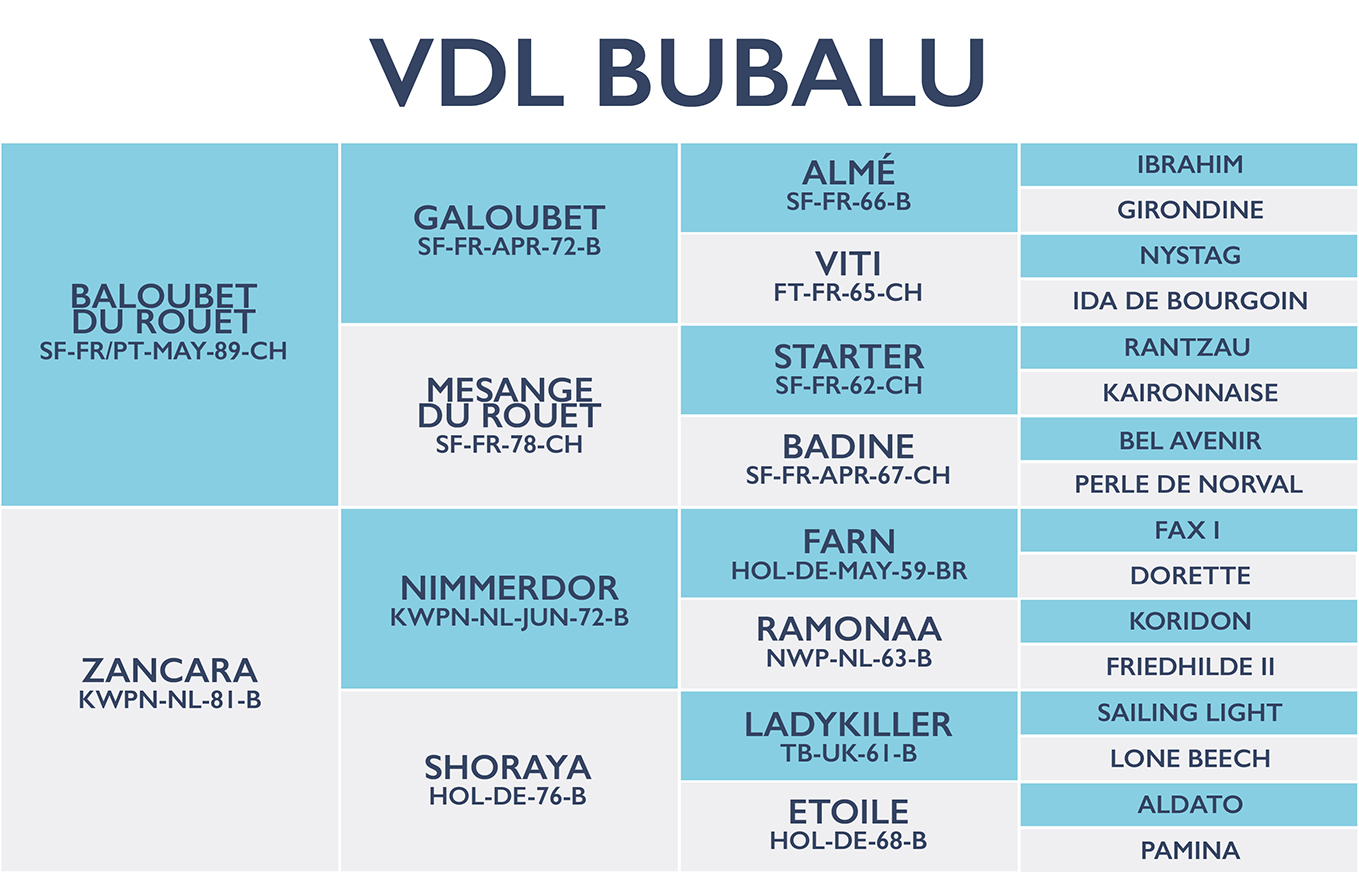 « Back to Great Stallions List