« Back to Great Stallions List
Corrado I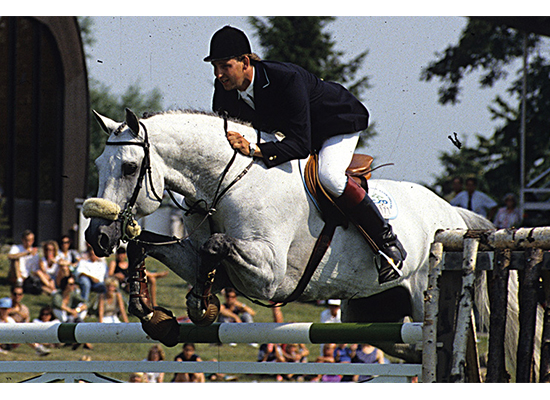 1985 1.71 cm Grey
Breeder: Eduard Struve 
In the days of Landgraf, Lord, Capitol and Cor de la Bryère, there was speculation as to where the new stars would come from to take their place. One spot has been admirably filled with a combination of two of those lines, by Corrado I, who joined Cassini and Contender as part of the new Holstein Holy Trinity.
As a three year old Corrado was graded at an after-licensing event at Elmshorn but as the authors of The Holsteiner Horse note: "at that point in time he was still not very well-developed. A very big long-legged stallion with a large frame and good lines. Nice head with big eyes and a striking neck. Pressure behind the withers in the topline. Flaw in the lower foreleg. Restricted short-striding trot. A significant stallion with outstanding jumping ability and extraordinary jumping style."
Corrado is from the bloodline 6879, which was hugely fashionable in the 1950's: Baden, who competed at the 1952 Olympic Games in Helsinki with Hermann Evers, Baden-Baden, ridden by Rheder Thormählen, and Original Holsatia, a star with Fritz Thiedemann, before being sold to Mexico, all descended from this line.
More recently this line has produced Campus (Carthago / Lord), Chellano Z (Contender / Cor de la Bryère), Corrado II (Cor de la Bryère / Capitol I), Landlord 4 (3rd at Spruce Meadows) and the Hamburg Derby winner, Lausbub (both by Landgraf).
Corrado combines the blood of the two great Cs – Cor de la Bryère and Capitol, with a healthy dose of Thoroughbred on the dam line through Maestose xx and Frivol xx – and yes, all those familiar names appear on their pedigrees. Frivol has two crosses of Bay Ronald, while Maestose has Pharos on both sides of his pedigree, along with Bayardo, Hurry On and Son-In-Law. Maestose was the sire of the advanced showjumper, Maracaido.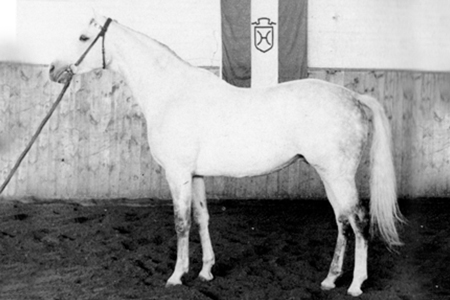 Maestose, more Thoroughbred blood
The grand-dam Kürette produced the showjumper, Lutschino (by Landego) and the showjumping and dressage horse, Fandarina (by Fantus).
Claus Schridde in Berndt Eylers' Leading Stallions of Germany 1998/99, remarks: "Corrado I is free of Ladykiller xx blood, and for that reason alone, is invaluable for improving the partly impoverished blood of Holstein mares."
Even if his conformation caused a certain degree of angst for the licensing commission from the start, it was apparent that Corrado was something special over a pole, and at his performance test he scored 10s for his free jumping and jumping ability / training. He also scored 8 for rideability. He ended with a jumping score of 137, the highest of his year and finished 3rd overall.
Corrado was ridden by the Holsteiner Verband riders, Thiess Luther and Bo Kristoffersen on the young horse circuit, and was a finalist as a six-year-old at the Bundeschampionate in 1991.
The next season he commenced his international jumping career. Under an agreement between the Verband and Franke Sloothaak's sponsors of the time, San Patrignano, he was campaigned by Franke – but at first Franke had to work hard.
According to an interview with Sophie Renauldon in Monneron 2007: "It was very hard at first; he had a very strong temperament. He was not easy to ride and his qualities were difficult to channel. It was one problem after another. His first show with me was the CSI-W in Antwerp and frankly, I found him very hard to ride, as he was weaving all over the place. The following week, at another show, I changed his bit and tried a small hackamore. My aim was to keep him straight, and to obtain a more regular stride. But it was not easy either, because he had a very long stride and was very strong. But he was intelligent, fast and careful, so he learnt and improved rapidly."
The pair won the Grand Prix of Leeuwarden in 1993, and were second in the Nations Cup at La Baule. In 1994, Corrado won the World Cup Qualifier at Dortmund and finished third in the Nations Cup at Aachen. He also won the German Championship that year. In 1996, he won the Danish World Cup Qualifier at Aarhus, and the Grand Prix of Neumünster and Kiel. In 1997, Franke and Corrado were third in the Hamburg Grand Prix and fourth in the Grand Prix of Göteborg.
As a sire, Corrado was again, an instant success. His international jumpers include: Classic H with Helena Persson, Cher with Piet Raymakers, Corrada with Peter Charles, Cosmina with Markus Fuchs, Cosmos Star with Evelyne Blaton, Caramia with Espen Johannsen, Canyon with Tim Grubb, Think Twice with Leopold van Asten, and Cabrio with Felix and Toni Hassman. Cattani competed at the 2005 European Championships with Spain's Manuel Saro Fernandez, before the ride was taken over by Geir Gulliksen – the pair were in the Norwegian team at the 2008 Olympic Games. Carsten Otto-Nagel won the Riders Tour in 2008 with the mare, Corradina, and the next year, the pair were second at the European Championships in Windsor in the bronze medal winning German team.
Perhaps his most spectacular son is the grey stallion, Clinton, who was individually 4th at the Olympic Games in Athens, and second behind Shutterfly at Aachen in 2005.
Fifteen Corrado sons have been approved for breeding in Holstein and his sons, Corofino I, Coriano, Coronado and Clinton have themselves already produced licensed sons.
By the end of 2006, Corrado I is recorded with 95 progeny who had jumped at an international level.
However Franke Sloothaak suggests that Corrado might be better in the second generation: "Even if I feel that first generation Corrados are not the easiest to use, I am convinced that his second generation products are excellent horses. I think that Corrado is good in a second generation breeding paper."
Holstein breeding director, Dr Thomas Nissen, told me in an interview in 2014, that it was important to be aware of the strengths and weaknesses of the stallion:
"We know we have to make compromises if we want a perfect performance horse – then you will not have a horse that is correct in every respect. When a horse is perfect in jumping, like Corrado, when he was young, he was very narrow, tall, not the perfect stallion type but he was a jumper with such capacity that we had never seen before, so we say, okay, if the stallion can give these genes into the next generation, then he is interesting as a stallion for us. And he could, and he did, do it for us."
"He produced a lot of offspring that jumped at the higher level. In his time he was a famous stallion but the breeders knew that if they used Corrado, they will not get the perfect type, the topline a little bit long, a little bit deep, not so correct and they are not so easy to handle, they are difficult, but they had a lot of scope and capacity. If you want to get this into your breed, then it is good to go to Corrado, but if you want correct horses, a little more easy to handle, then you have to take another, perhaps Casall, they are better in the head. That is breeding and we will never reach the aim and say, okay, now we have everything."
On the Monneron standings for 2006, Corrado is 24th with 24 progeny.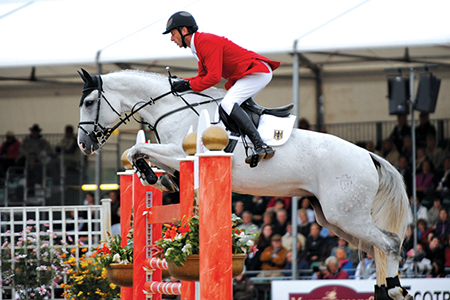 Corradina at the Europeans in Windsor
On the 2008 WBFSH standings, Corrado was in 19th place but by 2014 has dropped to 42ndt place. His most successful representative of late has been Corradina (Sandro) who in 2013 won the Grand Prix of Braunschweig with Carsten Otto-Nagel, the pair were also members of the victorious German Nations Cup team at Falsterbo. Here is Corradina in action: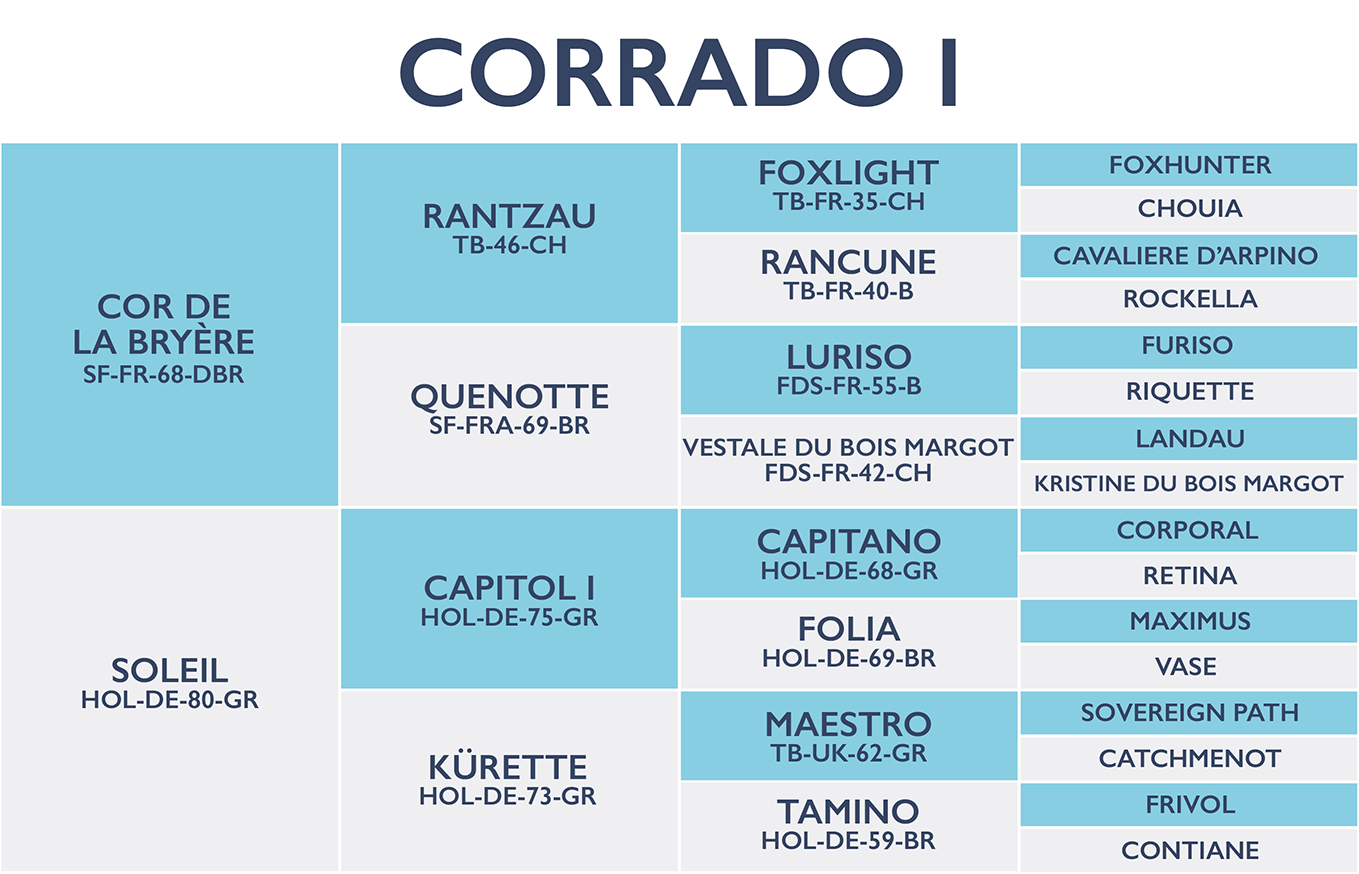 « Back to Great Stallions List