« Back to Great Stallions List
Cruising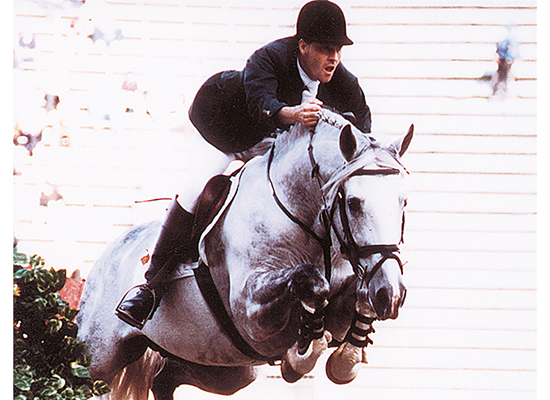 1985 – 2014 168 cm Grey
Registered Irish Sport Horse
Breeder: Bord Na Gcapall, Ireland
The most successful Irish international competitor of recent times, Cruising is by the registered Irish Draught stallion, Sea Crest.
Sea Crest is by Knockboy who is out of Artic Lass who is by Artic Que – Artic Que was a well known sire of Irish Performance horses, including Glendalough.
Sea Crest's dam, Sea Spray is by Tara, who is the maternal sire of the stallion, Clover Hill.
Sea Crest himself was a grade A show jumper and sire to the International Grand Prix show jumping Irish Sport horse stallion Cruising, Hoochi Koochi (Spanish team horse at the Atlanta Olympics), Nires Crest (Scandinavian jumper champion), Cruiseline ISH (Grand Prix mare) and Cruise Forever (ISH jumper stallion).
Sea Crest was discovered by the well-known Irish breeder, Mary McCann – in an interview in 1997 she explained:
"I leased Sea Crest off the Irish Department of Agriculture when he was three years old. It was then we realized his potential to jump. Within three years he was Grade A, that's when we retired him, because basically that sort of horse is not made to be galloping around big arenas. He was never beaten indoors. I liked him because he was athletic, it doesn't matter if a horse is heavy as long as he is athletic."
"When you look at Sea Crest you want to look at him as if he was half bred. I'm a great advocate for a certain percentage of Irish Draught blood in a horse, preferably a quarter, but with some of the Irish Draughts now, they are breeding just for showing, and you can breed the athleticism out of the horses. They are too fat, or they move up and down on the one spot. For the middle market, riding horses for the Germans, who buy a lot of Irish horses, or even for our own Irish market, the half bred is brilliant because it is just that much easier for them to ride."
Cruising's dam, Mullacrew was a moderate International showjumper, but not the star winner of Grand Prix as legend would have it. Mullacrew's sire, the Thoroughbred, Nordlys was the sire of many famous jumpers, including the 1972 individual Olympic gold medallist, Ambassador (Italy).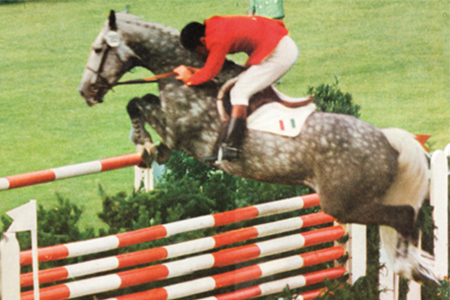 Ambassador r – by Nordlys – Gold Medallist in 1972 with Graziano Mancinelli 
Cruising's grand-dam, Big Idea was a full sister to the Irish stallion, Ideal Waters. Big Idea was by Water Serpent, the sire of international jumpers like Rockette and The Rock. Water Serpent was also the foundation sire in Patricia Nicholson's successful eventing horse breeding program.
Cruising was one of those very lucky 'accidents' that happen every now and then. His dam, Mullacrew had been sent to Mary McCann:
"She hadn't been bred for three years. She had retired from competition after competing for the Army internationally, winning such shows as Lucerne, Rome and Wembley. After she retired she bred one foal, Steel Dust, a horse that went to Joe Fargis in the United States – they sold him as a foal to raise money to send the team to the Los Angeles Olympics. He won their Novice Championships, then damaged his knee."
"We didn't get another foal after that, and when Mullacrew was nineteen, we were told to put her down. I had to move heaven and earth to reverse that decision and in the end I leased Mullacrew to breed with, from the Army, for a shilling. We covered her the next week and Cruising was the offspring."
"He was a nice foal but didn't show anything special. Then when he was three years old he was starting to realise he was a little man, and I said to Edward Doyle, the international rider who was working with me at the time, 'You better take that fellow out, and if he doesn't jump, I'm castrating him'. He hit the rafters and that's when we realised we had something. From then on we took him very easy."
"He doesn't do an awful lot. He only does about ten shows a year. He'll do a few shows, come home, go out in the field every day while we are freezing semen for export, all the work he does here is to trot around the roads for about eight miles each day, then a bit of cantering in the sand, but no jumping at all. Then he'll go back to Trevor Coyle's and back into the shows."
"He gets no schooling except what Trevor gives him. He's always very good on the flat, he's highly intelligent. We just keep him very fit."
"He breeds very well to the half Irish Draught mare. You want to look at Cruising as if he was a National Hunt Thoroughbred. He actually puts more quality into the mare than she has herself – he never goes the other way. With his foals, the day they are born they are dead correct."
As a competitor Cruising was a star – winning Grand Prix at Aachen (1999), Dortmund (1999), Lucerne (1998), San Marino (1996) and Wolfsburg (1996). He was the winner of three World Cup Qualifiers: Millstreet (1997, 1998) and Geneva (1998).
Cruising has been a successful sire of international jumpers and eventers.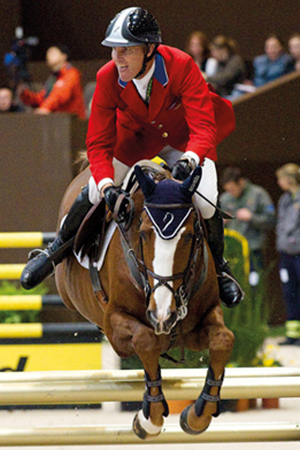 Flexible and Rich Fellers – and exciting combination 
In 2007, the Cruising son, Flexible (out of Flex ISH by Safari xx) was second in the World Cup Final in Gothenburg – his sire was also second in the 1999 Final. Flexible came back in 2012 to win the event.
In the 2006 Jumping Stallions' rankings, as compiled by Bernard le Courtois in Monneron 2007-2008, Cruising ranks equal 24th with 11 international representatives.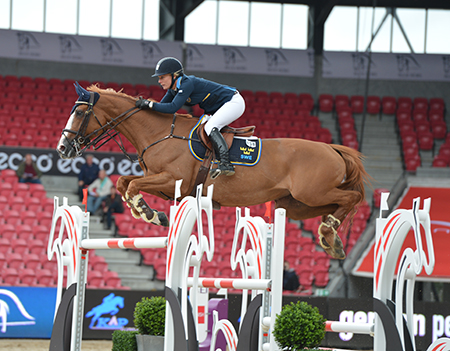 Mic Mac Tillard and Angelica Augustsson
On the 2013 WBFSH jumping standings, Cruising is in 47th place, with 14 representatives – the most successful of these was Mic Mac Tillard (Galoubet) who carried Angelica Augustsson to the Europeans at Herning, and victories at Münster, Trefor and Pforzheim in the 2013 season.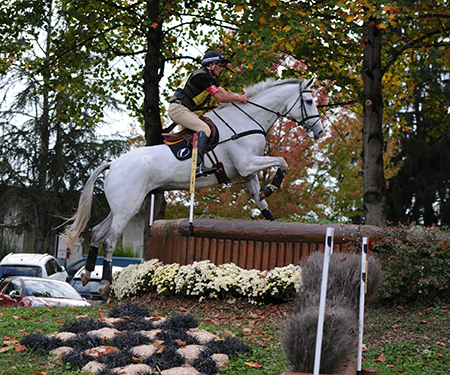 Andrew Nicholson and Mr Cruise Control 
Cruising is also in 5th place on the 2013 WBFSH Eventing Sires standings, with 13 competitors, the best of which was Andrew Nicholson's Mr Cruise Control. At London, he was represented by Mr Medicott, who was started by the German eventer, Frank Ostholt, but ridden for the USA at the Games by Karen O'Connor. The ride has now gone to Phillip Dutton, and the pair were second at Pau 2013. Joseph Murphy rode Electric Cruise for Ireland at the Games.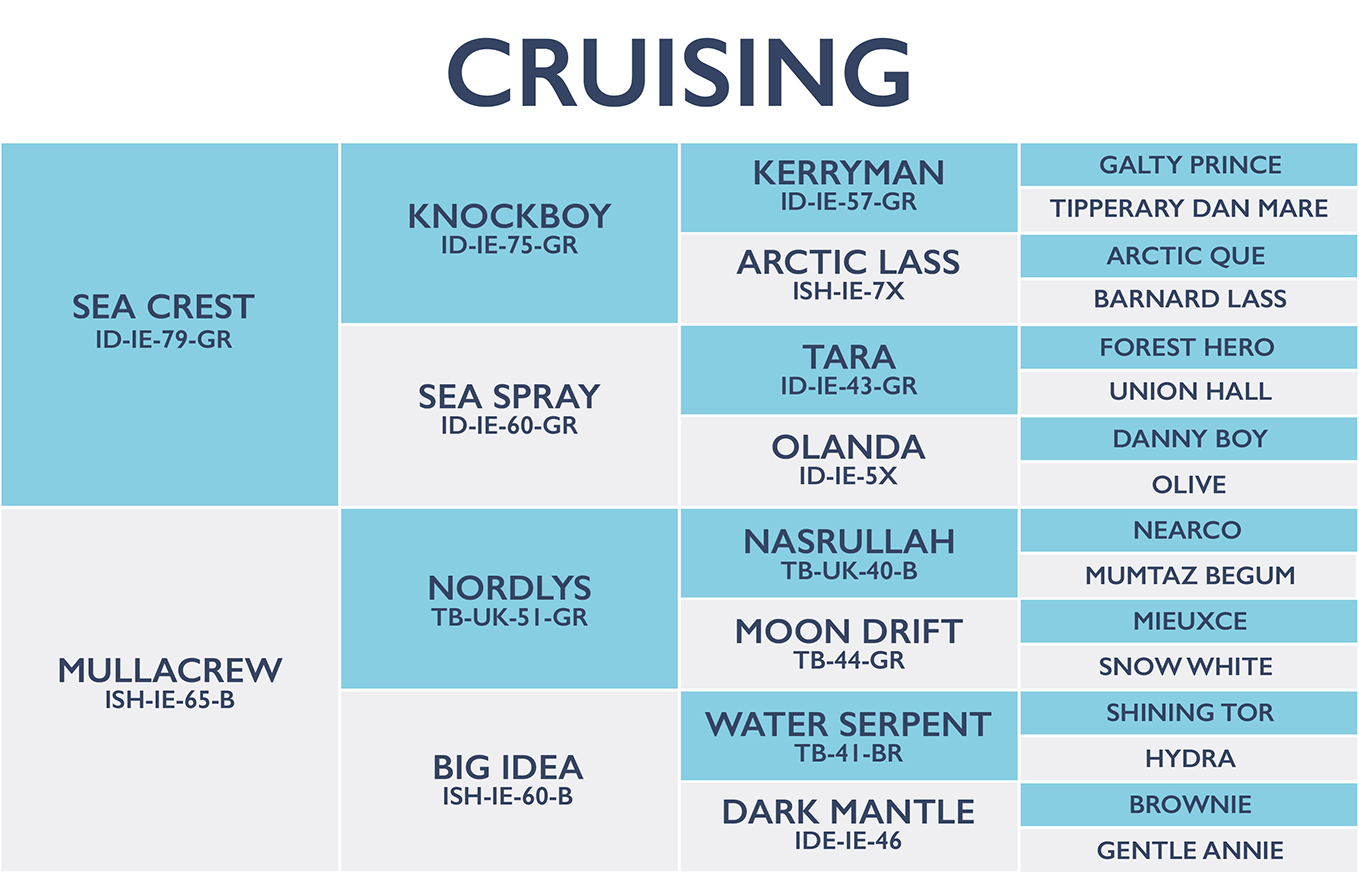 « Back to Great Stallions List