« Back to Great Stallions List
Daley K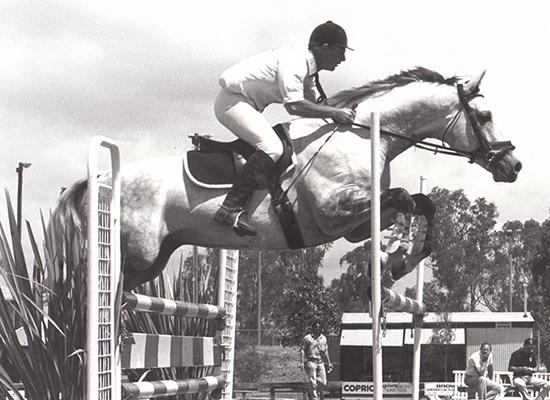 1984 – 2012 16.1 hh Grey
When he was born in 1984, Daley K was the first foal to arrive at Holger and Melanie Schmorl's Kinnordy Stud in Queensland.
He was by Daktylus, one of two stallions the Schmorls brought with them to Australia from Germany. The grey Daktylus was by Diskus, sire of World Cup Jumping champion, The Natural, and out of a mare by Absatz – the half Trakehner stallion that was so influential in producing the modern type of Hanoverian. Daktylus was second in his performance test at Medingen, scoring equally well in the jumping and dressage sections.
Daley K was out of their imported mare Gold Song who carries on her top line the blood of one of the all-time great jumping sires, Gotthard, on her dam line we find the Trakehner, Lateran, who produced a number of international show jumpers including the British high jump record holder, Everest Lastic.
At the age of four, Daley K became unwittingly involved in one of the great Australian frauds – the National Safety Council scandal.
The mysterious John Friedrich (possibly also known as Friedrich Hohenberger), who was either born in Germany or South Australia, became Managing Director of the National Safety Council of Australia during the 1980s. Along with various other grandiose schemes, Friedrich built an indoor school at his headquarters in Sale, Victoria, where a group of rather expensive young Warmblood horses were to be trained, under the supervision of eventer, Anne Taylor. One of these was Daley K – who Anne competed at lower level events.
On April 6, 1989, John Friedrich was arrested after borrowing vast sums of money from Australian banks. On July 23, 1991 he appeared in court to face 91 fraud related charges involving over AUD$293 million. On July 27, 1991, he was found dead on his farm near Sale, Victoria with a single gunshot wound to his head. His death was ruled a suicide. At the dispersal sale of the Safety Council horses, Daley K was acquired by local horseman Denis Crane.
It was a fortunate home since Crane had put together a mare band heavily influenced by the Thoroughbred, Balmoral Boy. Balmoral Boy carried the blood of Precipitation, the Thoroughbred that has influenced jumping breeding all over the world, through his Australian based son, Summertime. On Balmoral Boy's dam line, we find Talking (by Magpie) an early sire of Australian jumping horses, like Whisper (a member of Australia's first jumping team to New Zealand) and Chatter, who with Art Uytendaal in the saddle, cleared 7 foot one and a half at Melbourne Royal in 1968. And yes, Magpie was by Dark Ronald by Bay Ronald, that other great international Thoroughbred jumping line.
Balmoral Boy was owned by the late Mr Alec McIntosh.  Many outstanding horses were bred including Balmoral Bill, Balmoral Gent, Balmoral Ice, Balmoral Princess, Balmoral Duchess and Balmoral Rose.
Doubtless the most famous son of Daley K has been the stallion, Warlord II (out of Balmoral Princess). He was purchased from Blackall Park by Melissa Froesch as a yearling. As a six year old he won his class, and then the all age champion young jumping horse title at Dressage and Jumping with the Stars, in a class judged by George Morris. He jumped in his first World Cup qualifier as a seven year old. Gavin Chester purchased the horse as an eight year old, and in the 2006/2007 World Cup season Gavin and Warlord II won five consecutive qualifiers, a world record. They then represented the Pacific League in the final of the World Cup in Las Vegas in April 2007.
Other successful progeny include Warlord's full-sister, Aquila, a Sydney Futurity winner with Jeff Bloomfield. Another full-sisterSister Act, owned and ridden by Melissa Froesch reached B grade level as a young mare  before being exported to Canada.
Blue Crystal, the first foal from Balmoral Princess, was also owned and ridden by Melissa Froesch. She reached A Grade level as an eight year old, and then retired to stud. After several foals for Melissa, she was sold to Copabella Warmblood stud.
A number of Daley K's progeny have been sold overseas, including Blackall Park Sox who was competing A & B grade with Canberra showjumper, Grant Hughes before being sold to Japan where he is a World Cup competitor, and recently qualified for the Japan Cup.
Blackall Park Zambezi was a B Grade competitor before being sold to America.
Emmaville Design was started by Grant Hughes, and progressed steadily to A Grade level. He was then sold to Japan as an 11 year old A grader with 400 points. His career included being the leading horse at Canberra Royal Show in part one.
In 2014, young Tom McDermott won a series of big classes on the Daley K son, SL Limerick.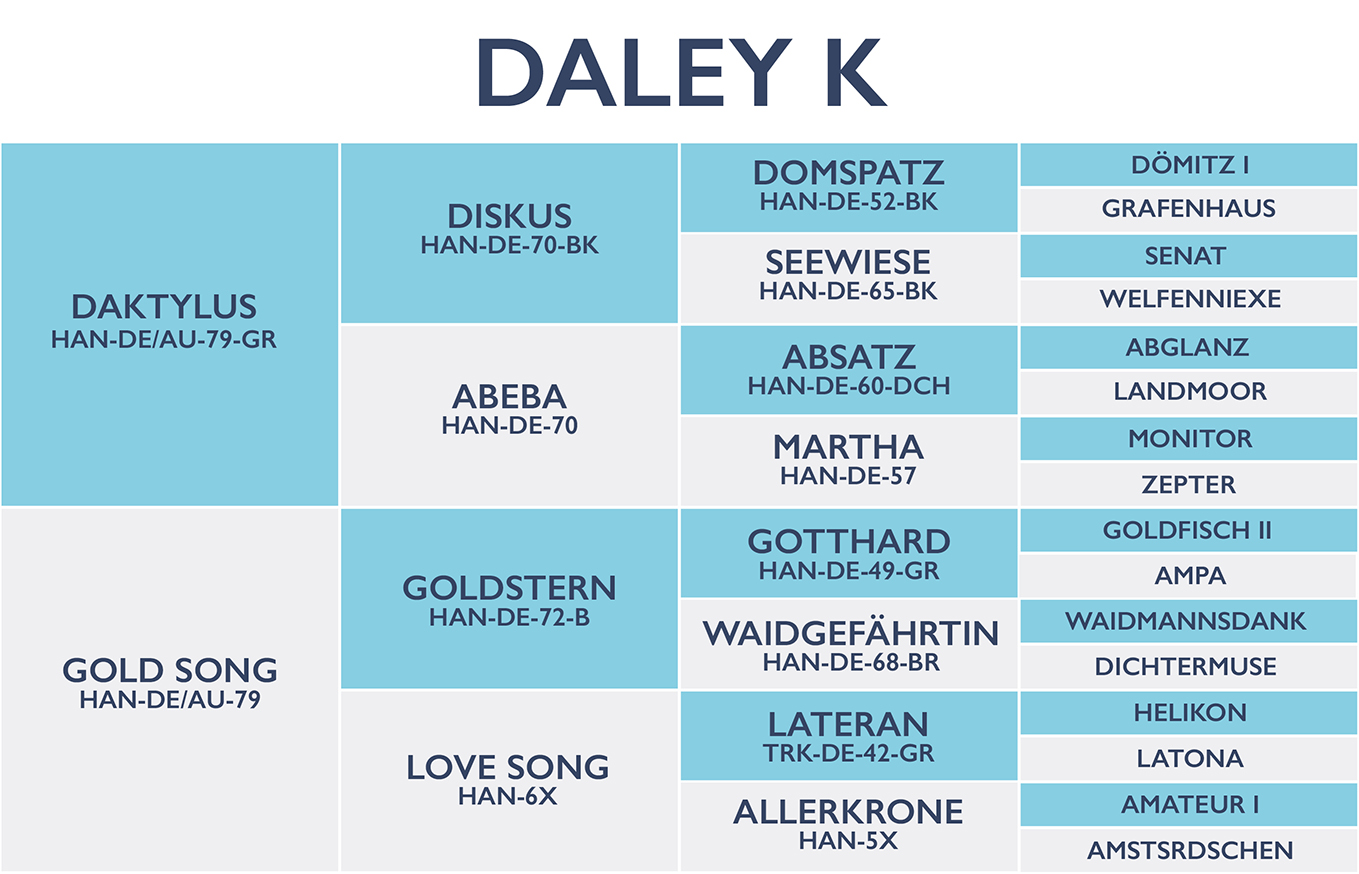 « Back to Great Stallions List