« Back to Great Stallions List
Eiger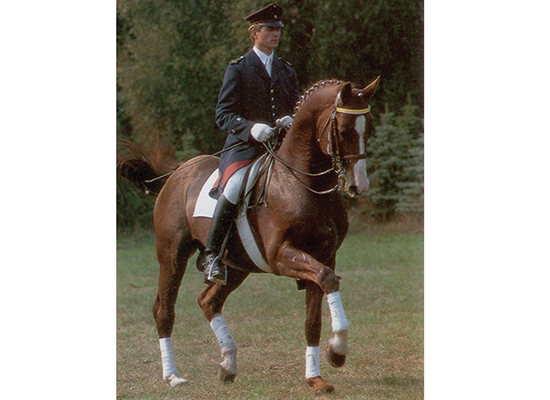 1975 – 1999 165 cm Chestnut
Breeder: Hans-Wilhelm Oltmann
Eiger was stationed at Beedenbostel (1979 – 1992), Celle (1993 – 1996), and Mandelsloh.
Eiger was born in 1975 at Hans-Wilhelm Oltmann`s at Drochtersen. Like most of the breeders of the time, Mr Oltmann was loyal to his local breeding station, and the most popular stallion there was Eisenherz, who arrived at Drochtersen as a young horse and attracted the most mares, year after year, as other stallions came and went. The sire of Eiger`s dam, Abermals adds the famous Tempelhüter blood to his pedigree.
Gerd-D Gauger tells the story in an article that celebrates Eiger's crowning at Hanoverian Stallion of the Year 1999 (in The Hanoverian, 6/99):
"Eiger's dam, Alete was born in 1970, and Mr Oltmann sen. gave her as a present to his son, who had taken care of the farm during an illness of his father. As a thank you he was to choose between two filly foals. He carefully selected the chestnut by Abermals who later as a three-year-old was pronounced Best Mare of the Show at Krautsand. Oltmann says, 'Even then she was a modern type mare, she had everything it takes. She did as well in harness as under saddle.' In 1975 she produced as her second foal a chestnut colt by Eisenherz. 'What an appearance,' the breeder remembers. State stud manager Dr Burchard Bade agreed. He purchased the foal to raise it in Hunnesrück."
The chestnut stallion grew up at the stallion rearing farm Hunnesrück and passed his performance test at Adelheidsdorf in 1978. With above average results in both dressage and jumping he proved his versatility and was ranked fourth in a field of 30, with a total result of 113.66 points. Others in the test that year were Großfürst (winner of the performance test), Bolero, Pik Bube II, and Don Juan.
After being licensed the dynamic chestnut was awarded the title 'Best stallion of his age-group'.
Again, Gerd-D Gauger takes up the story: "The state stud manager sent Eiger to the breeding station Beedenbostel. There he was well received and desired for his breeding. Beside his athletic ability, he had charm and presence, clearly influenced by his Trakehner ancestors Abglanz and Cyklon. Eiger, then without the 'I', produced himself. His first crop of foals proved it: his foals were awake, they had personality but were still easy to handle, they could move, had a large frame without being too long. Bernhard Wendt Sen. from the 'Schimmelshof' in Bremen, once said, 'You can buy Eiger's offspring blind. They are always ready for any task, alert and vigorous and soft as butter."
While Eiger produced progeny that were equally successful in jumping and dressage, it was a driving horse that first drew the world's attention to the stallion's talent. In 1985, his four year old son, El Dorado, together with Winni by Werther, became the first pair to win the World Championships in driving division two-in-hand, and Eiger I's fame spread – by now he had added the 'I' to his name with the birth of his full brother, Eiger II (1976) and Eiger III (1983) – both were sold to the state stud manager.
In the citation when he won the Stallion of the Year award, it was noted that:
'He passes on his type, his correct conformation and his very good rideability to his offspring. Very often they are talented for both jumping and dressage, just like their father is.'
Empire, ridden by Dr. Martina Fincke won €43,717 in dressage at Grand Prix level, while Etienne with €12,222, was the only other dressage horse to win more than €10,000. His most famous sons were team world champion Esprit FRH (ridden by Lars Nieberg) who won €551,204 and was fourth individually when a member of the German Gold medal team at the Sydney Olympics, and Easy Jumper who, ridden by Jos Lansink accumulated winnings of €30,558 while one more competitor earned more than €15,000, Efendi who won €25,889.
In the 2006 Hanoverian stallion book (which is the last in which he appears), Eiger is credited with 420 competitors, with earnings of €1,012,136: 150 dressage competitors (10 at S level) and 175 jumpers (18 at S level)
Eiger produced 39 State`s premium mares and seven licensed stallions, including Espri, who was crowned Hanoverian Stallion of the Year in 1995. Between them they gave new impetus to the Hanoverian E/A line, which traces back to the Thoroughbred stallion Adeptus xx who was born in 1884.
21 offspring of Eiger were sold at the Verden elite auctions and he sired the dams of a number of top horses. For instance the stallion Wilberforce by Warkant who sold for sensational 400,000 DM was out of a dam by Eiger as was Wanessa by Warkant who became Bundeschampion in 1991 or Windsor Queen, dam of the Hanoverian stallion of the year for 2013, Londonderry.
Eiger I passed away 24 days after he received the Stallion of the Year title.
In the 2006 Stallion Book, he has an FN dressage breeding value of 110, the same as his jumping value. On the Hanoverian values, he scored 107 for type, 102 for dressage and 115 for jumping.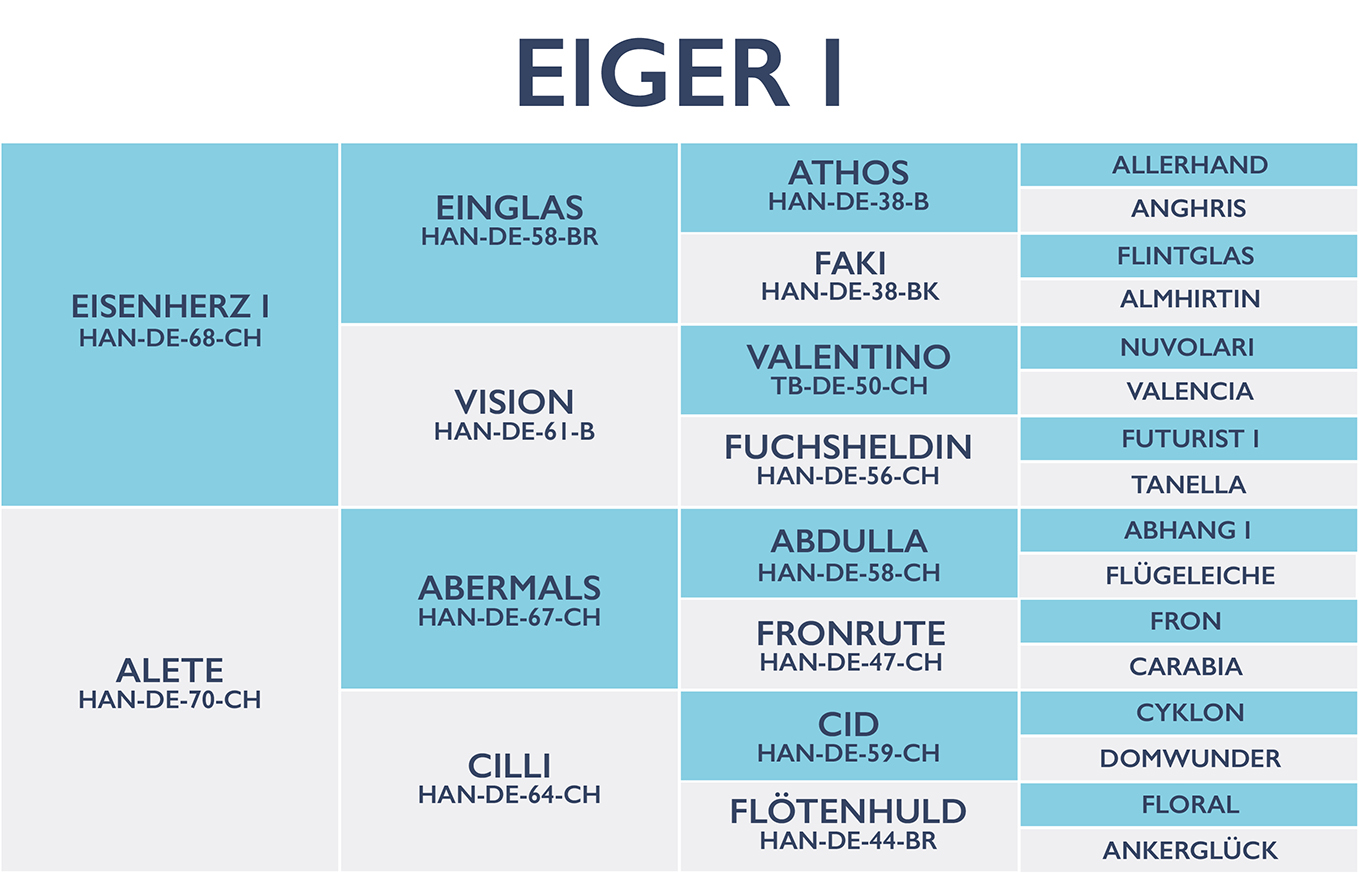 « Back to Great Stallions List