« Back to Great Stallions List
Frustra II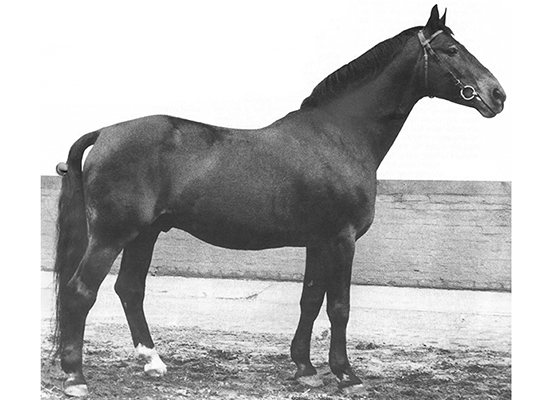 1943 – 1972 169 cm Brown
Frustra II is described thus by Claus Schridde in his article Phenomenon Frustra II – A leading figure from the second row (The Hanoverian, No 3, 2002): "large frame, a mighty shoulder, lots of withers, a beautiful neck, maybe a little narrow-chested, however, well muscled and elastic movement. His long cannon bone was then and is still today a sign of growth and size. His flat front feet and short pastern were however criticised."
Frustra II was by Futurist, a popular stallion in the 1940's, and out of Talwiese who had in 1940 produced another stallion, Farina (Fahnentraeger). In 1941 she produced Frustra I who stood at the Otterstedt breeding station from 1944 until his retirement in 1951. Talwiese descends from the Shagya stallion, Amurath II.
Frustra II stood in Hanover for 25 years in which time he produced 782 registered foals. Again, Schridde comments: "All of his offspring had frame, expression and importance. They were commended on their good rideability and their great jumping ability." At a time when competition prize money was low, his offspring earned a respectable DM286, 000.
Stationed at Achim in 1946, Frustra II produced the two Celle stallions, Wohlauf and Wohlan. Wohlauf produced two states premium daughters, Wunder and Winzerprinzeß, who, bred to Sender, produced the stallions, Sendbote and Saloniki.
Wohlan was out of Friesenamsel, a grand-daughter of Friesenkoenig – later the cross Frustra II / Friesenkoenig produced some exceptional horses.
Wohlan was a success at stud, standing from 1959 to 1963 at Otersen where many of his daughters were bred to Absatz, with fine results. One star was the mare Worms, a DLG Champion, and the dam of Argentan I and II.
At the age of sixteen, Wohlan moved to Hohnstorf, where a basis of Pik As xx mares, produced exciting results – the best known of which was World Champion showjumper, Mr T (out of Paedagogin by Pik As xx).
During his time at Achim, Frustra II produced Frutana who bred to Grande produced Graphit – sire of General I, Grannus, Graunstein I and II and Gloster.
Another of the mares from the Achim duties was Fruchtmuse, the dam of Gralsritter, who after a slow start (like Gotthard on the 'reserve' list for a while) gradually established himself and was eventually proclaimed Hanoverian Stallion of the Year. His influence lives on through the stallion sons, Gralshueter and Grandeur.
Also amongst Frustra II's early daughters was Fliedernixe, the great grandam of the World Cups.
Later in his life, the cross with Friesenkoenig produced Fanal, grandam of Lexikon 2, a dressage competitor with Monica Theodorescu, and the great grandam of Wenzel I & II.
A number of Frustra II mares were bred to the jumping sire, Don Carlos, with success. His daughter Forstlady, bred to Don Carlos produced two successful jumping competitors. After Don Carlos' death, Forstlady's owner, Margarethe Hagenah remembered how well Don Carlos crossed with her mare, and using frozen semen, prdocued Drosselklang I (exported to Namibia) and Drosselklang II – Hanoverian stallion of the Year 2002.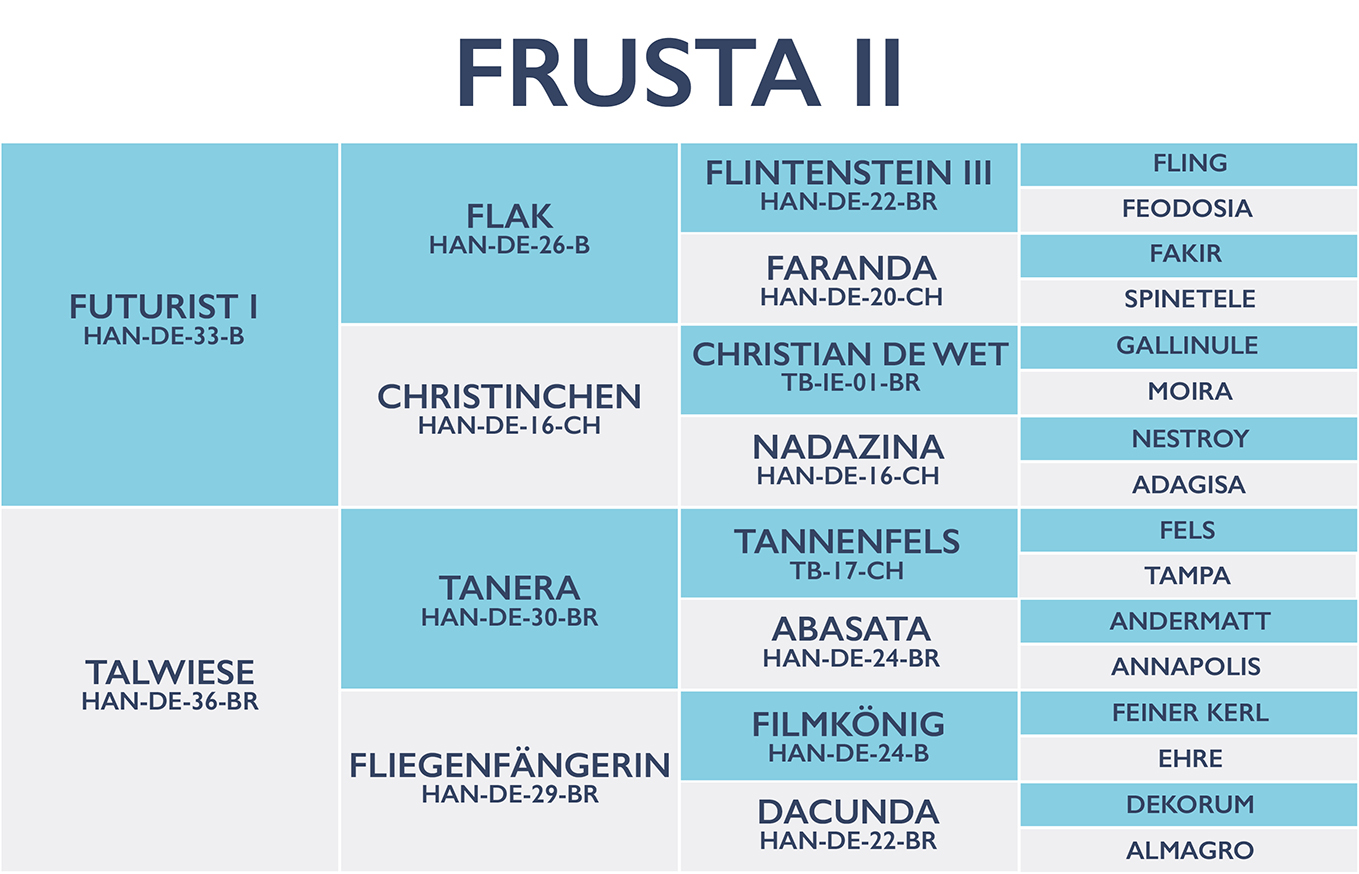 « Back to Great Stallions List