« Back to Great Stallions List
Fürstenball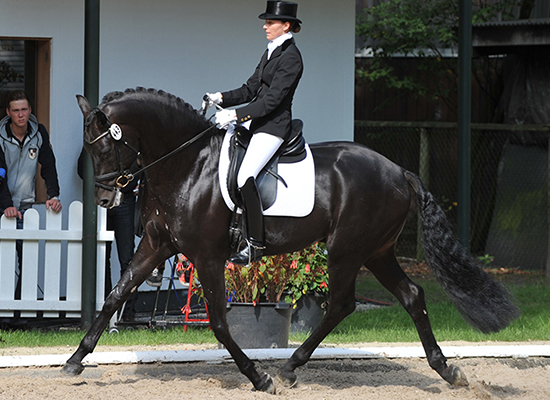 2006 1.67 cm Black
Breeder: Georg Sieverding
In his annual review of breeding values in The Hanoverian (1/2016) Ludwig Christmann hailed the new number one on both the FN and Hanoverian breeding values:
"The first foals of the dressage Bundeschampion from 2011 were born in 2010. His very high dressage breed value of 175 is already very well secured by a certainty of 95 percent. This means that a large amount of information from his offspring is already available. Eighty-nine daughters have already been performance-tested including 54 in Hannover. Ten sons completed the 30-day test and six a performance test including top stallions like Farrell (Breeding Farm Blue Hors), Finest from the Breeding Farm W.M. and the Bundeschampion and Hanoverian champion of riding horses from 2015, Fürsten-Look. By the end of 2014, this stallion had completed an outstanding 30-day test in Schlieckau with dressage-related scores between 9 and 10. His success as the outstanding Bundeschampion is not recorded in the breed value estimation,since riding horse classes do not count while a victory in a dressage horse class at the A level does. 132 descendants already competed in elementary classes, which include dressage horse classes up to the L-level. 106 returned home withat least one ribbon – that already is well-secured data! We now have to wait, if the Fürstenball descendants will fulfill the expectations at the upper level of dressage. His heredity of type is also outstanding. He heads on the list of the current producers in the Hanoverian Yearbook Stallions in the breed value for type with a value of 171."
Fürstenball is by Fürst Heinrich (Florestan / Donnerhall) who won a world young dressage horse title before his untimely death and out of Maradonna (Donnerhall / Classiker), one of the stars of the exceptional broodmare band of Oldenburg breeder, Georg Sieverding.
Mr Sieverding is as close as you are going to get to a traditional breeder today, but he is certainly not living in the past, he is breeding cutting-edge modern horses, though you might not get that as your first impression, since his farm and barn look right out of the nineteenth century.
But when they open the stable doors, out comes one after another the most beautiful mares you have ever seen in your life. You know immediately that the man who put this collection together is a thinker and a horseman with a wonderful eye… and it is no surprise to learn from him that his mentor was the great Georg Vorwerk.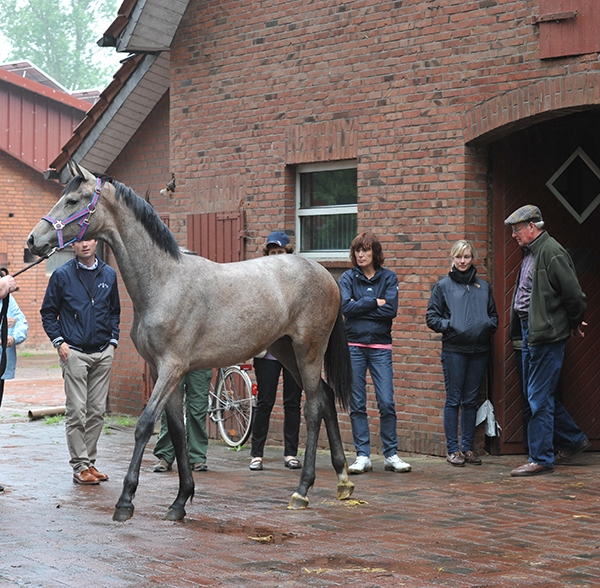 That's Mr Sieverding on the right – and the gorgeous filly By Fürstenball out of a Dormello mare 
"Georg Vorwerk was my friend, we traveled a lot together. I spoke with many breeders, but Georg Vorwerk was my main advisor – what was important for him was to see a foal at the age of three days, three weeks, three months. For Georg Vorwerk the correctness of the gaits and the bones was very important. You must have a sound horse with a very good temperament and character. The hind leg was always very important, the engine has to be correct."
One great mare line at Mr Sieverding's farm is the chestnut line, which descends from a Selle Français mare, Mexicane by Mexico (the full brother to Fiurioso II). Mexicane was purchased by Mr Sieverding in France while he was traveling with Georg Vorwerk. Mexicane was bred to the Thoroughbred, Shikampur, and the daughter, Mon Amour, to Weltmeister, an influential Hanoverian stallion (sire of Robert Dover's Grand Prix dressage representative, Walzertakt and Gerd Wiltfang's showjumper, Warum 10. Weltmeister's sire, Wedekind was the best son of the famous Ferdinand) to produce Maureen, who was then bred to the Holstein stallion, Classiker, a son of Calypso II to produce Marella…
Marella bred to Donnerhall produced Maradita who is the dam of Sieger Hit (by Sandro Hit) and who – ridden by Andreas Helgstrand – won the 5 and 6 year old stallion championship at the 2011 Danish licensing.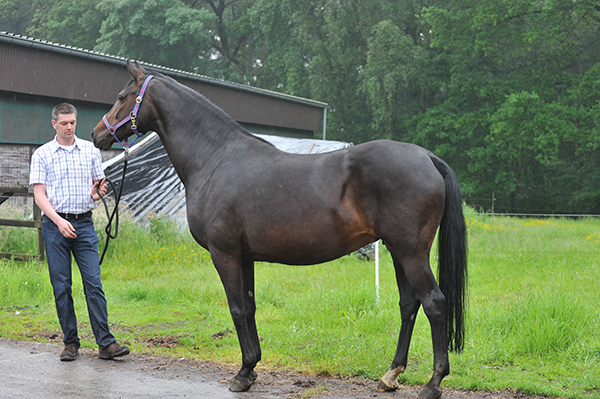 Maradonna
Maradita's full-sister, Maradonna, is the dam of Fürstenball.
Fürstenball is a perfect example of line breeding to Donnerhall, since the great stallion appears as both a stallion sire and a mare sire on his pedigree. See the fascinating article – Line breeding a crucial tool for the breeder.
After being sold for a record price of €110,000 as an auction foal, Fürstenball was the Champion Stallion at his licensing in 2008.
He then went on to win his stallion performance test with a dressage index of 154.98 points (9.0 or higher for a total of 16 times and a 10.0 for rideability).
He won the five-year-old dressage championship at the Bundeschampionate of 2011 when he received a top score of 9.5 for trot and overall impression, 10 for walk, and 9s for canter and submissiveness for a total score of 9.4.
In 2013 he won his first advanced (S) level classes and Prix St Georges tests, and during the Oldenburg stallion parade was crowned VTV Dressage Stallion of the Year. He may have competed in national small tour classes but there is no record of him on the FEI data base which records official Prix St Georges, and above, tests.
Fürstenball has already produced, from his first crop, the Champion Stallion Follow Me who sold for 400,000 Euros at the Oldenburg Stallion Days 2012 in Vechta.
In Verden in 2013, Fürstenball presented four approved stallions, including the top selling Farrell (€ 460,000, Blue Hors Stud / DK) and the premium winner Finest. Ten sons have been licensed so far.
Fürstenball is first on the 2016 FN rankings for stallions with a dressage value of 175 (0.95). In the 2016 Hanoverian Book, he has a dressage value of 155 which puts him first on the Hanoverian topliste, and a jumping value of 86. His trot is scored at 141, canter, 151, walk, 152 and rideability, 153. He scores 170 type, and 145 for his limbs.
His personal winnings are recorded at €3,243, with one win at S level. He has produced 181 competitors with combined winnings of €29,104. He is credited with 9 licensed sons.
The 2017 Hanoverian Stallion book records that his winnings have not grown since the previous year. His competitors now number 302 with winnings of €57,851 – none have made it to S level yet.
On the new German FN double breeding values, Fürstenball has a young horse value of 170, and an open competition value of 154. His Hanoverian dressage value is 157, 86 for jumping and 169 for type. This puts him at the top of the Hanoverian topliste for dressage and top of the standings for type.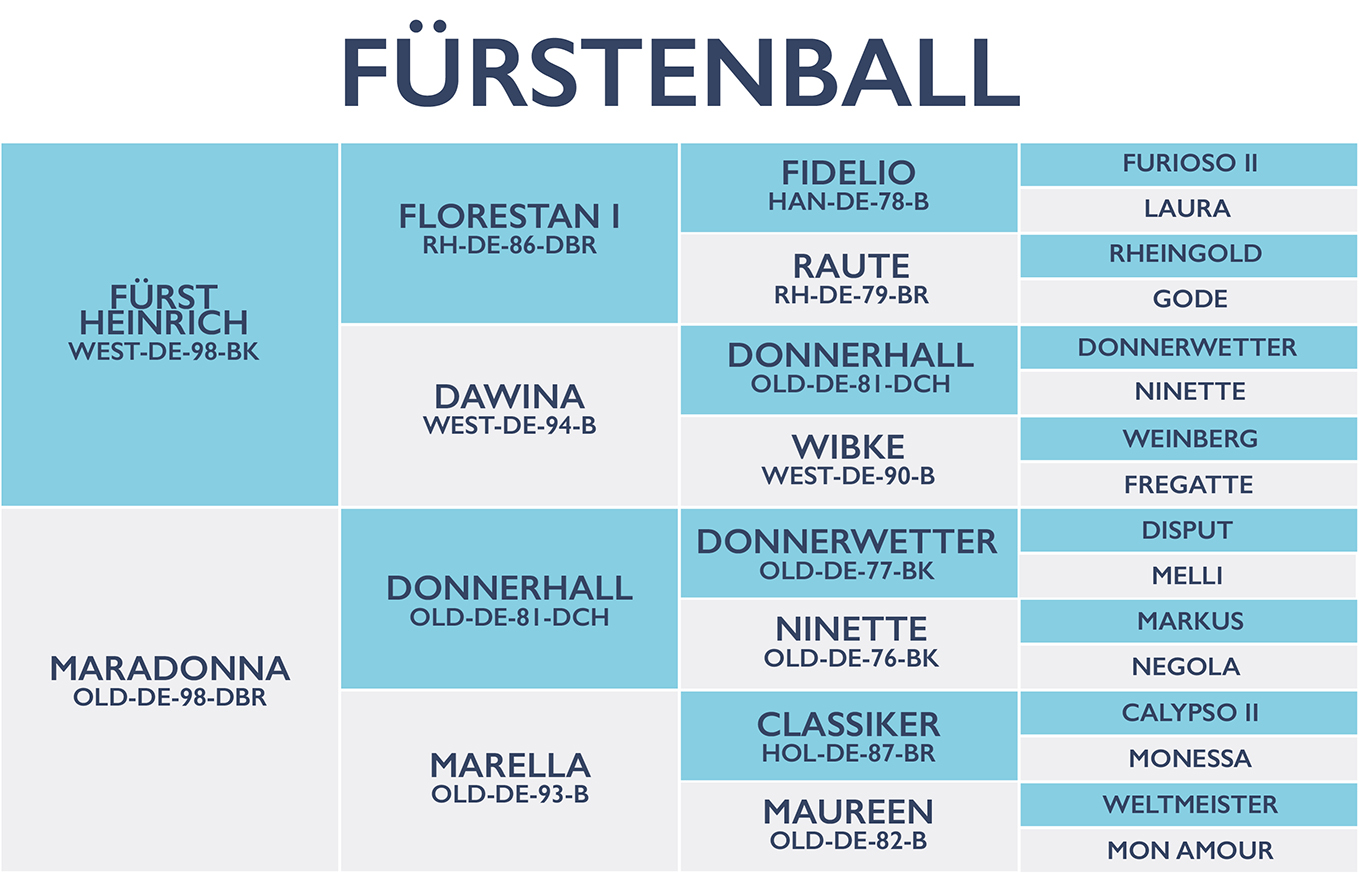 « Back to Great Stallions List