« Back to Great Stallions List
Grande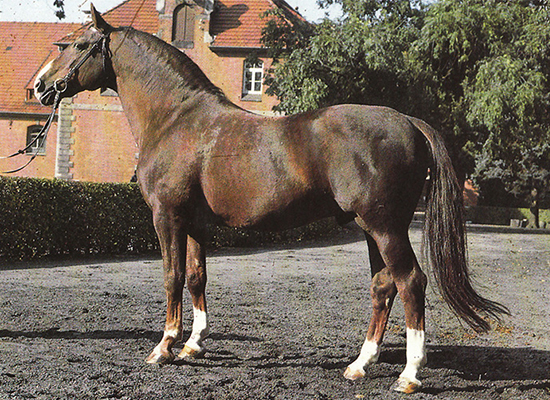 1958 – 1989 162 cm Chestnut
Breeder: Robert Grothmann
Back in the 'good old days', the farmers were loyal to 'their' local stallion station, and if the wise man in charge of Celle, sent them a stallion that did not look fabulous at first viewing, the farmers still gave him a chance. It meant that new stallions, new bloodlines, could emerge, that stallions that would not even be licensed in today's environment, had the opportunity to breed and diversify the gene pool. One of those stallions who would not make it now, was Grande.
He was little (just a touch under 16 hands) and not terribly impressive to look at.
Dr Bade, long time head of Celle, cheerfully agrees that one of the greats of breeding would not have made it if he came before one of his modern licensing commissions:
"Oh, Grande wouldn't be licensed. But that is the success of our breeding! At the time he was licensed, I believe there were discussions at that time even, because he was anything other than a riding horse, but he was of a good bloodline."
As it turned out Grande went on to produce 33 approved sons, 34 states premium mares and top showjumping progeny like Grande Giso, Grande and Gute Sitte. His grand children seem to have been the real stars – Galapagos with Gabriella Grillo represented Germany at the 1982 World Dressage Championships, and was one of the first stars of the 'new' class, Freestyle Dressage to Music. Grandeur (Gralsritter) won over a million Deutschmarks in a spectacular showjumping career, and since then has proven himself as a superior sire.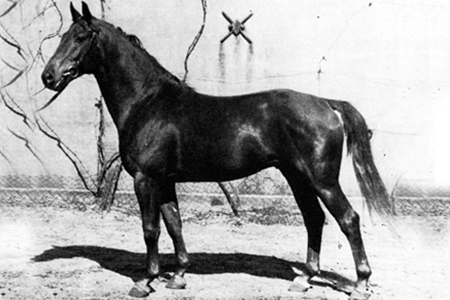 Grande's sire, Graf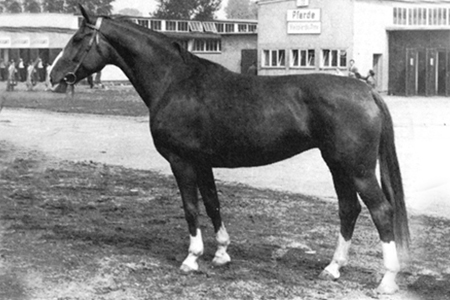 Grande's dam, Duellfest 
The Grande son, Gralsritter (out of a mare by Frustra II) after a somewhat inauspicious start, went on to be a respectable sire, producing four approved sons, 15 state's premium mares and 182 mares in the main studbook. At the time of his death, Gralsritter had a dressage index of 106 as against a jumping ranking of 127. His offspring earned DM2,280,347 – with his star jumper, Grandeur (Einblick) winning more than 1.5 million Deutschmarks, ridden by the Austrian, Thomas Frühmann, and Sprehe Gaylord (dam by Emigrant) winning over quarter of a million Deutschmarks with Ludger Beerbaum in the saddle. On the WBFSH jumper stallion rankings for 1995/96, Gralsritter comes in at 12th place, with the internationally successful jumpers Grandeur and Gaylord as well as Graf Grande (Luckner), Elan Sabena (Don Carlos), Gin Fizz (Sinus xx), Giva (Gigant) and Grazie (Spaeher). In 1993, Gralsritter was the Hanoverian Stallion of the Year.
Grande's son Graphit sired winners of over almost two million DM and produced one of the most important jumping stallions of them all, Grannus. The Graphit son, Grundstein was one of Germany's leading stallions before his export to the United States. Another son, Graditz sired Isabell Werth's Olympic and World Championship star, Gigolo, although this seems to have been a one-off performance and his other claim to fame seems to have been that he drew a chariot in the stallion parades at Celle – not a task allocated to the more irreplaceable stallions at the Stud. Grande's son, Garibaldi II sired the American dressage star Gifted who carried Carol Lavell to a team bronze at the 1992 Games and placed 4th individually. Garibaldi II died at the age of only 14, which was a great loss.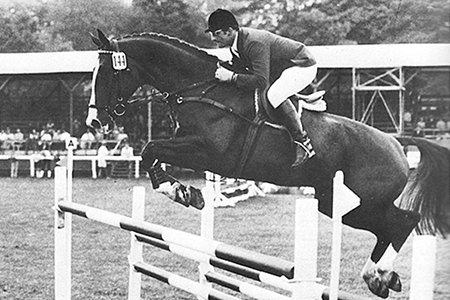 One of Grande's performers – Grande Giso and Hans-Gunter Winkler 
Grunnox (by Grunewald) was another top dressage horse, this time with Monica Theodorescu, and together they were members of the 1992 Gold Medal team in Barcelona, sadly the horse went unsound at the time when he was just entering the peak of his career.
Grande represents the old Hanoverian Goldschaum xx line, carried on through the foundation sire, Goldfisch II (1939 – 1958). It is not a very influential line nowadays. Graf Grannus (out of a Goldlöwe / Goya mare) carries on his jumping sire's legacy, while Grand Cru (out of the dam of World Cup dressage winner, Walk on Top, a mare by Absatz out of a mare by the Thoroughbred, Valentino) has been a moderately successful sire of dressage horses.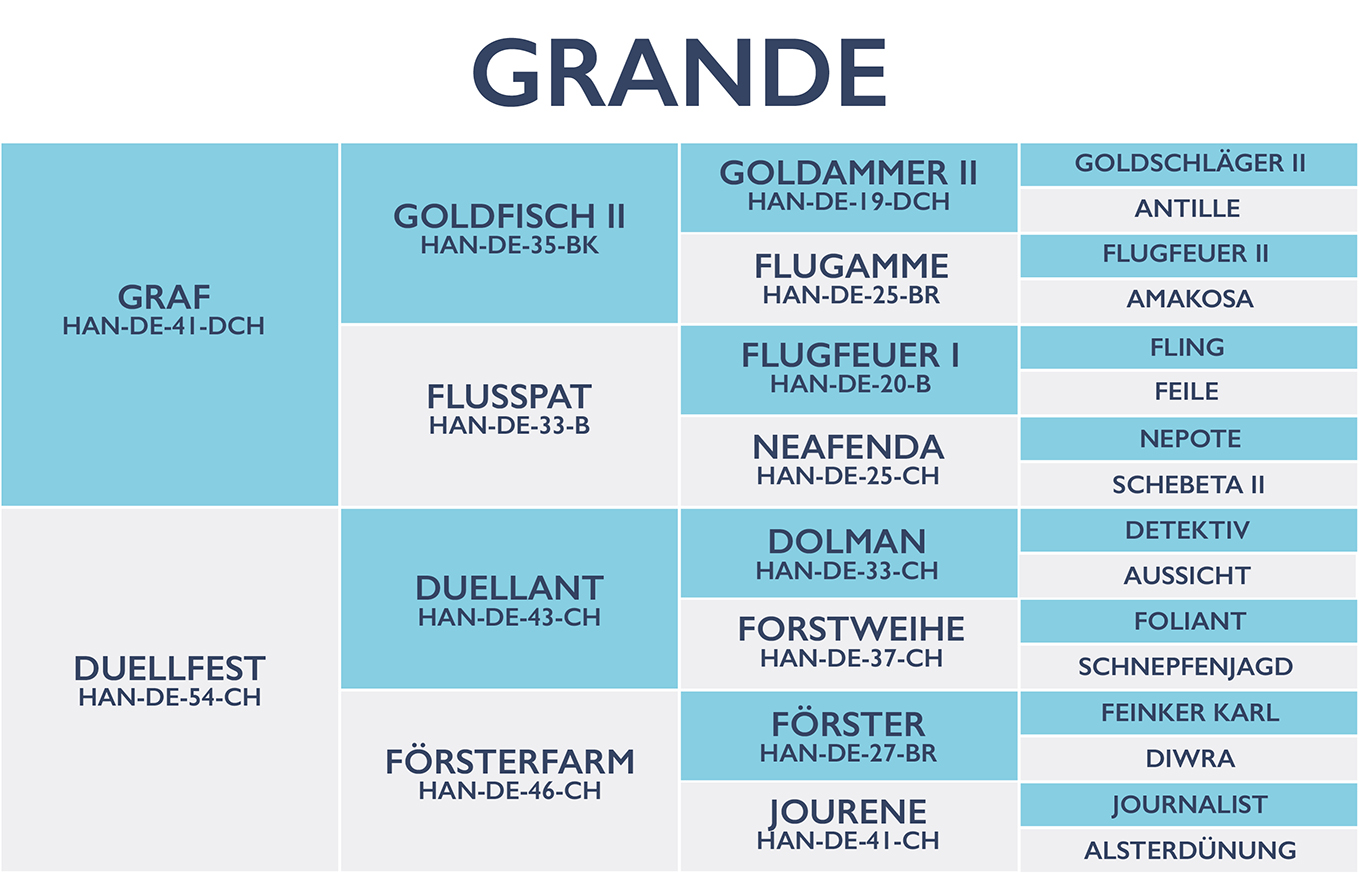 « Back to Great Stallions List