« Back to Great Stallions List
Grannus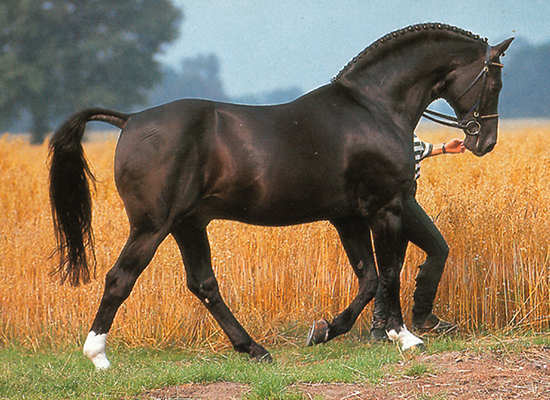 1972 – 1993 168 cm Black
Breeder: Ludwig Decker
First, let's clear up the confusion around his name. Grannus on official German FN records is referred to as Grannus-Granit. He was called Grannus when he was born but was renamed Granit when he was licensed in Westfalia before Heinrich Klatte bought him and brought him to Oldenburg. There was already an Oldenburg Granit, so his official name became Grannus-Granit.
The black son of Graphit was another of those great sires who was not a star of his performance test – indeed he scored a miserable 86.46 to come 58th out of a class of 66 at Adelheidsdorf back in 1976.
Luckily for the showjumping world, his owner Heinrich Klatte had faith in the stallion and his two sons, Guido and Ulrich Klatte took Grannus out into the competition arena where he collected a series of wins up to Advanced level.
Grannus only covered a few mares at the beginning of his career but was extremely popular towards the end of his life and was bred to as many as 300 mares a year.
His final years were clouded by scandal when blood tests revealed that he was not in fact the sire of some 40 plus offspring registered in his name. The Studfarm Klatte was severely disciplined by several studbooks for this irregularity and for a period an outside inspector was appointed to oversee the breeding of mares on their farm.
There does seem to be a little re-writing of history going on recently. In his article on Grannus in the 2004 edition of the French breeding annual, Annuaire Monneron, Pascal Renauldon records what would seem to the latest 'spin' on the affaire Grannus: 'the inquiry proved that the person responsible was a rather thoughtless head groom, who wanted to spare an aging stallion'. This 'explanation' was never offered at the time, and certainly those who visited the stud during the period and observed the high tech, high volume flow of horses through the mare examining barn to the insemination shed, will find this explanation just a little difficult to swallow!
Still there is no denying his influence on the sport of showjumping. Grannus sired some 800 competition horses who earned just under DM4 million in prizemoney! Showjumping stars by Grannus include Grannusch (John Whitaker), Grand Plaisir (Ludger Beerbaum), Governor (Phillipe le Jeune), Golo (Gerd Wiltfang), Burmah Grand Slam (Nick Skelton), Top Gun La Silla (Jan Tops) and many others.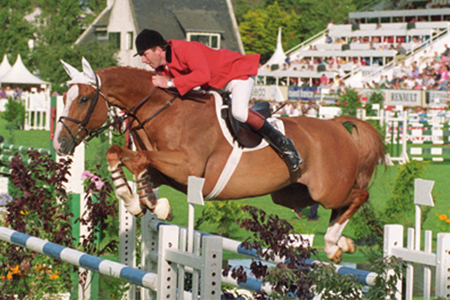 Grannusch and John Whitaker
In the Hannoverian Stallion Book for 1999, his progeny in the mare tests record a negative dressage rating (96) but, as might be expected, record a very superior 156 for their jumping abilities. The Grannus offspring were never the best types and the studbook inspection breeding values record a negative 98 for limbs and a 96 for correctness. It should be pointed out that Dr Ludwig Christmann of the Hanoverian Verband has discovered a negative correlation between good scores on conformation inspections and ability to jump – even down to saddle position – and Grannus proves this once again with a negative score of 96 for saddle position and 90 for frame. This does perhaps suggest that if the accepted 'good' conformation values do not result in good jumping ability, then a different jumping orientated conformation evaluation might be devised by simply flowing the results backwards, and using competition results to set jumping breeding conformation standards?!
Grannus bred 540 daughters who are registered broodmares, of which 46 received State Premium awards.
Although he had 11 licensed stallions registered with the Hanoverian breed alone and worldwide some 80 approved sons, no super star sire has appeared to develop the line.
Only Graf Grannus appears to be carrying on his legacy. Indeed, Grannus' legacy may live on more through one of his daughters – Gigantin – the dam on the increasingly important stallion, For Pleasure.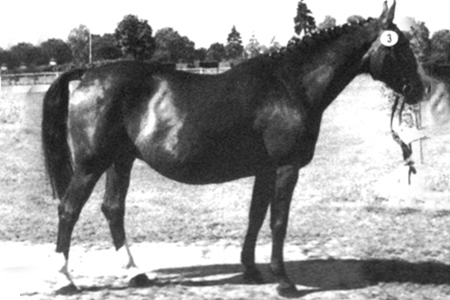 Grannus' dam – Odessa 
Grannus' dam Odessa was a very modern type, and a good breeder as well. In 19 years of breeding she produced 15 foals, the last when she was 22. Bred to the Grande son, Graphit, Grannus carries a double cross of the famous Hanoverian Goldschaum xx 'G' line since Odessa on her dam's side is out of Gitta by Gotthard.
However on Odessa's top side, there is more confusion. An article in the Z Magazine (June/July 2003) by Henk Bouwman draws attention to research by Claus Schridde, that marvellous fount of breeding information, who questions whether Odessa's sire Ozean was really by the Trakehner Ernest, or by Ernest's stablemate, the Holstein stallion, Lohengrin. Certainly a study of photos reveals that Ozean looks exactly like the Holsteiner, and nothing like the drawing re-produced of the Trakehner. Poor old Grannus, even after his death, parentage issues continue to dog him!

 That's Ozean in the middle – do you think he is by Ernest (left) or Lohengrin (right)
Even fourteen years after his death, the Oldenburg / Hanoverian stallion is well represented in international competition. Grannus appears in 14th place (with 16 representatives) on Bernard le Courtois' ranking of the top 75 stallions in the world that appears in the French publication, Monneron 2007/2008.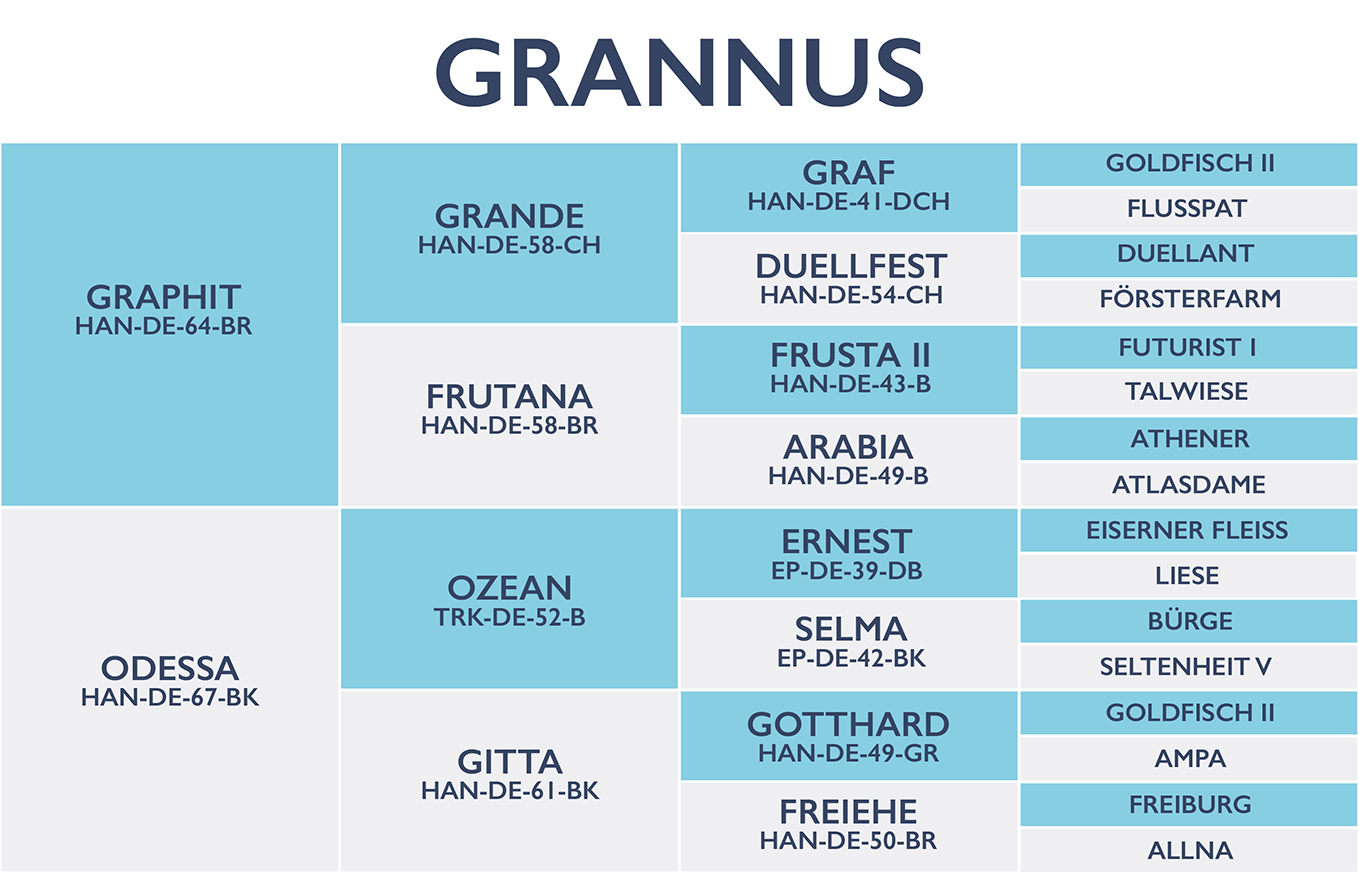 « Back to Great Stallions List