« Back to Great Stallions List
Johnson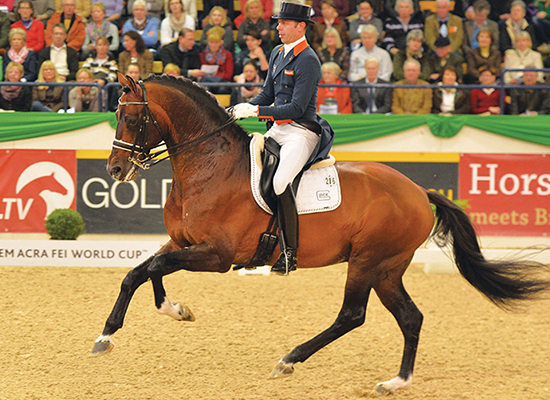 2002 1.73 Brown
Breeder: P. van de Vleuten
Johnson is shaping as perhaps the best son of Jazz, at least so far he has been able to emulate his sire in the competition ring, proving himself a real Grand Prix performer – and appears quite likely to follow in the footsteps of his sire and become a member of the Dutch dressage team. His worth as a sire is yet to be established but his progeny are promising…
Johnson's dam Roxane is the usual Dutch mix of Holsteiner, through her sire, Flemmingh, and Selle Français on the dam line – grand dam, Catharin is by Sultan by the Selle Français grand son of Ulimate xx, Marinier, out of a mare by the Holsteiner, Joost, with more Selle Français on the mare line through Artilleur, a grand son of Furioso xx.
Sultan is the sire of the Oldenburger approved stallion, Sion, and also Geoff Billington's international jumper, It's Otto. Johnson descends from the famous 'Reina' line; the renowned mare line from breeder Wim van Arkel. 

Famous horses from this motherline are: Darkdream, Sultan, Kallisto, Mendel, Charmeur and Waldo.
Johnson was the overall champion of the KWPN stallion show in 2005 and he completed the performance test at Oldenburg and at Ermelo.
 At Ermelo, he was awarded 9 for canter, 8 for trot, 7.5 for walk and 8.5 for talent as a dressage horse.
From Johnson's first breeding year, three offspring were selected to participate in the finals of the world young dressage horse championships at Verden, including Bretton Woods and Boston. Johnson has three approved sons with the KWPN: Breezer, Bretton Woods and Jacksparrow.
Johnson himself is very successful in international dressage competitions with Hans Peter Minderhoud, in 2014, they have recorded Grand Prix scores over 70 at three major competitions: s'Hertogenbosch, Göteborg and Neumünster.
It was interesting chatting with Hans Peter Minderhoud at Neumünster. I'd just come from the KWPN licensing where there had been a lot of discussion about the sons of Jazz and the failure of so many of them to go on to Grand Prix – and Hans Peter was the rider for most of them…
Florencio looked so fabulous with you winning World Young Horse championships, Vivaldi, Tango…
"Tango did a good Grand Prix."
But his career has been a little up and down…
"But he is a little bit like that. He does a few a good tests, then there are a few not so good – he is actually better in Grand Prix than when he was a young horse, because then he was always very spooky and for his basic gaits he didn't get super high scores. Now in the Grand Prix test he can do straight changes and nice pirouettes, he still gets his marks. With Florencio and Vivaldi, it is a little bit the same story, the horses were successful as young horses, they have been breeding like crazy every year, frozen semen in the winter, fresh semen in the summer, and with some you just have to make a decision, if the value is higher as a breeding stallion, then keep just him as a stallion because I cannot do both with him. Jazz was actually a little bit the same story."
"With Johnson it is a bit different because he always stays super good in his mind, and strong in the body. As a young horse we didn't do so much with him in the summer periods, now he is coming twelve so he had enough time to learn everything, and with him, even when he does both things, he stays good in the body and the mind, so he can combine it. There are not many stallions that can do that, especially when they are so successful as young horses and so busy as a young horse – it is very hard to bring them right up while they are doing both jobs."
Will Johnson go on and be a strong horse in international competition?
"Over the last two years in the beginning we always backed off on the training in the breeding season, but now he is breeding in the morning and I ride him a little bit later – maybe at the end of the summer season, then maybe you can feel it, but not so much with him. He is a clever horse, with the breeding he is never stupid, he goes to the phantom, jumps on, does his thing, that's it. With Florencio, it was up and down and up and down, screaming and kicking and yelling all day."
Are you still competing Tango?
"I rode him quite a lot this summer season, but I decided to do the World Cup season with Romanov and Johnson, because Tango is always a bit spooky indoors. He is still in quite a good shape at home and when we start outdoors, it is his turn also."
It is interesting that there hasn't been one son of Jazz to come along and say 'hello, I'm the next Jazz'…
"I think when Jazz was in his time, he was really special and really different to all the other horses, and he really put his mark on all his offspring. Now in Holland we have quite a few stallions – Vivaldi, Apache, Johnson, Charmeur – we have some more stallions and it seems like there is no new Jazz, but that was because in his time Jazz stood out on his own, now there are more top stallions."
Would you see Johnson as the best Jazz?
"I think so, if you see the offspring, I think so. He has a lot of presence, you really feel it when you come in, even the judges look up – with his nice head, and his big neck, and his front legs, and he is super nice to ride, he is really a sweet stallion."
Johnson is the only son of Jazz to have joined his sire on ranking for stallions with a reliability of over 90% in the 2014 KWPN breeding values. He is in 16th place with a value of 136 (92%). He is already the sire of 987 four year olds, of whom, 229 (23.2%) have started to compete.
The KWPN progeny report summary notes: A uniform collection of well-developed riding-type foals with good rectangular-shaped conformation and which are appreciated in motion. The foals use their legs well and show abundant elasticity  as well as good self-carriage.
Breeding recommendation 2006: Johnson can contribute long-lined, uphill conformation, and desired front leg use to dressage horse breeding. He is best bred to mares with good hind leg movement.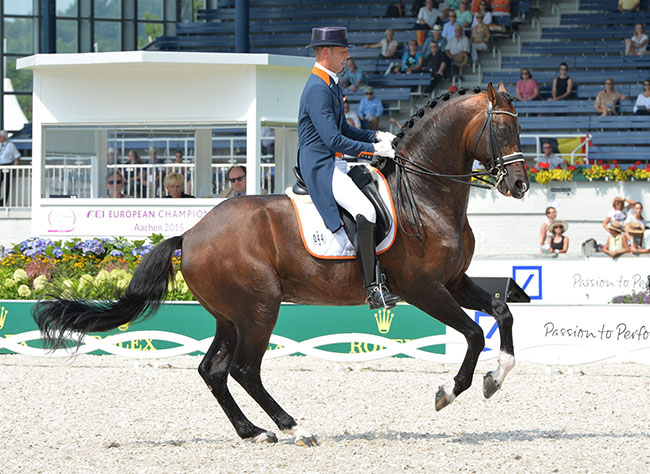 Johnson was Hans-Peter Minderhoud's ride at the 2014 WEG, where they were members of the bronze medal winning team.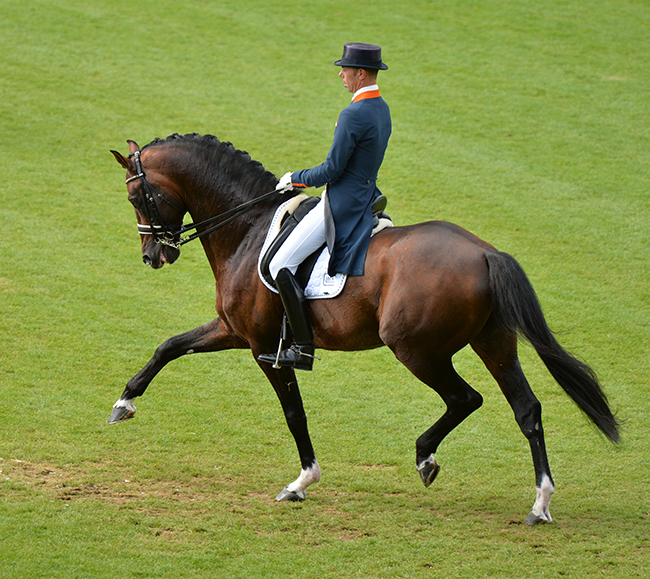 Johnson at the Euros
At the European Championships in Aachen in 2015, the pair were again stars. At the 2015 KWPN licensing, Johnson was the sire of the dressage champion, Handsome…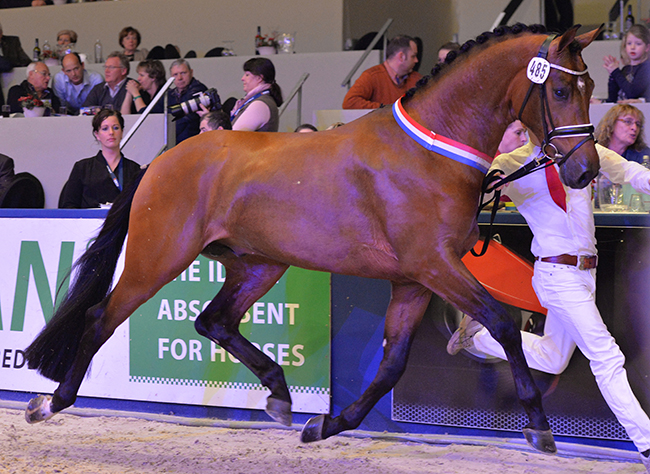 The licensing winner Handsome…
Johnson would seem to have laid claim to the mantle of his sire, Jazz, and indeed is shaping as a better Grand Prix competitor than his dad. On the 2015/16 KWPN Breeding Values, he has a breeding value of 144 (94%) which puts him into 14th spot on the rankings for stallions with a reliability of 90 and better. He has sired 1207 progeny over 4, with 356 in the sport (29.494%).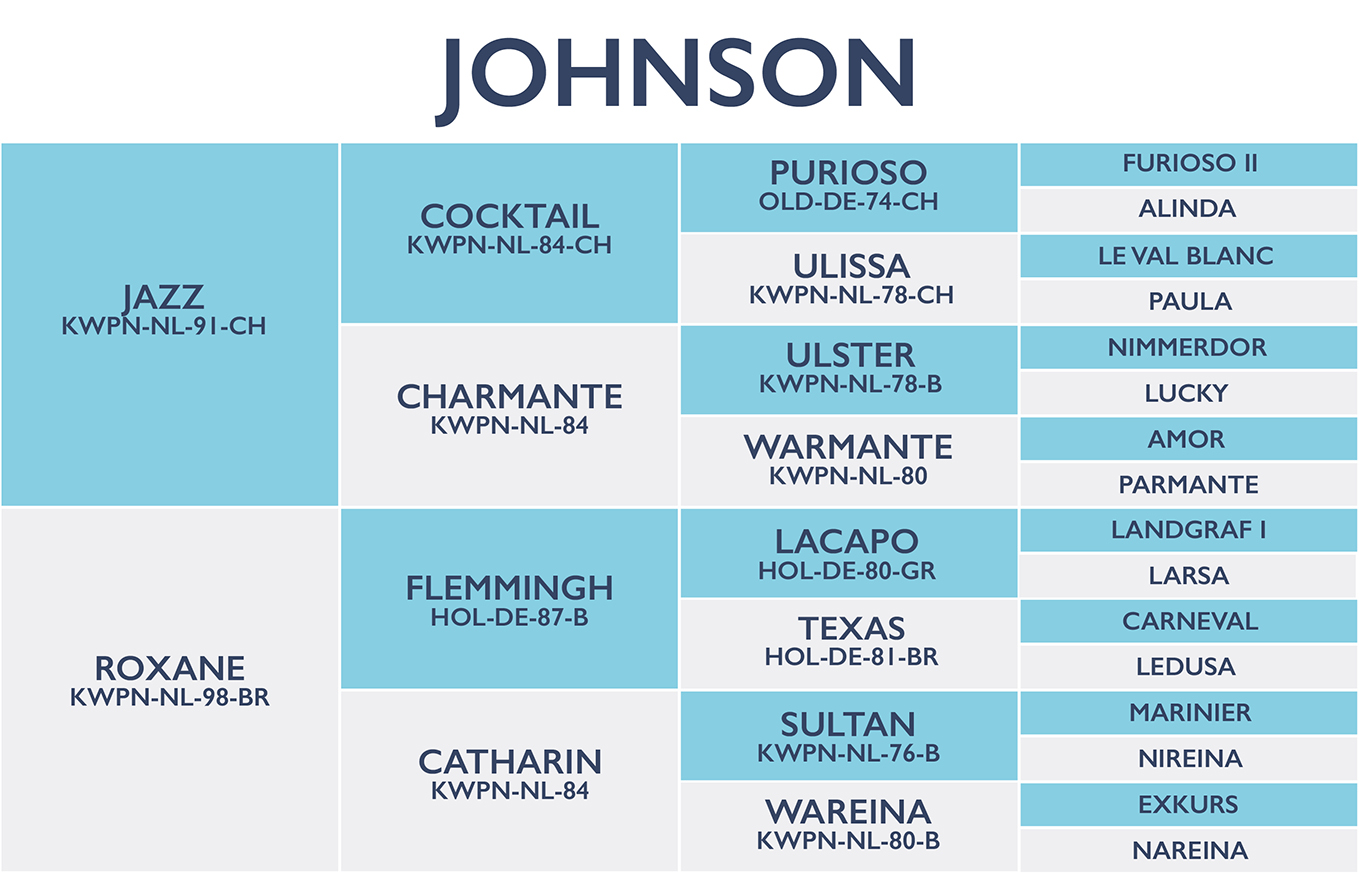 « Back to Great Stallions List