« Back to Great Stallions List
Libero H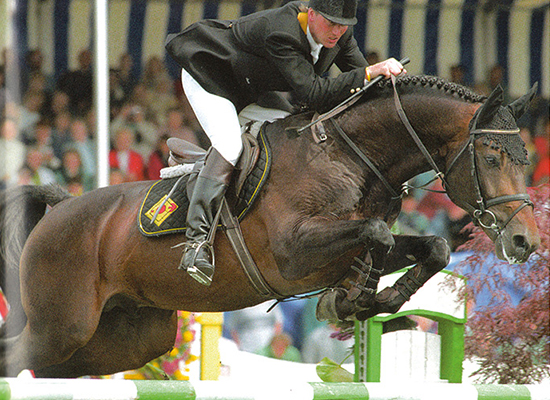 1981 – 2006 Bay 166 cm
Breeder: M. Röpke
Libero H is one of the few examples of successful breeding by numbers. His breeder, Martin Röpke, was a businessman and a mathematician. A friend who was a fan of Holsteiner horses persuaded him to breed Holsteiner jumpers. They researched pedigrees of successful jumpers and kept finding the foundation sire Achill 1265 in the pedigrees. Achill 1265 was an intensely inbred horse. His sire and dam both had the same sire, Achill 582. Achill 582 was the product of the mating of a full brother and sister. Martin Röpke wanted to try to concentrate the genes of Achill 1265 so he started buying mares who descended from him and bred them to stallions who also traced to him. Libero H's dam had Achill 1265 in her sire and dam line and his sire, Landgraf has him in his dam line. Libero H is inbred to Achill 1265, 41 times. The Achill line survived (just!) into the modern era through the stallion Farnese. Not surprisingly, Libero was originally registered as Achill.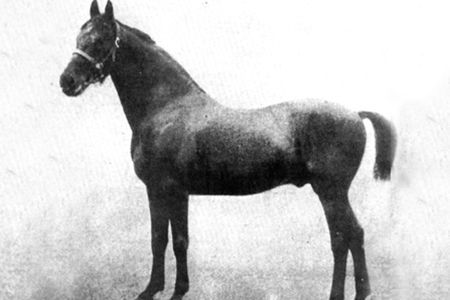 Achill as an eight year old
Libero unites two of the modern greats: Landgraf and Ramiro. Libero's dam, Oktave is by the influential son of Ramiro, Ronald. Ronald competed in Intermediate show jumping with Hans Günther Winkler. Ronald was the sire of Rocadero (Champion stallion Neumunster 1982), Saluut (licensed by the KWPN, sire of Margie Goldstein Eagle's Grand Prix jumper, Saluut II) and dam sire of Alcatraz (1988 Stallion Performance Test Winner), Latouro (1988 Champion Stallion), Captain Incipit and Lord Incipit.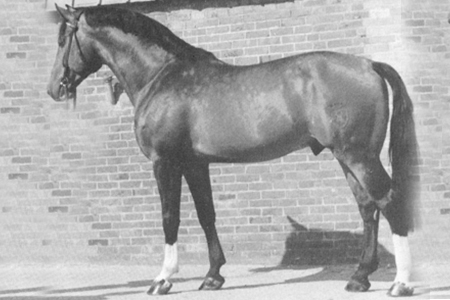 Ronald – the dam sire of Libero 
Interestingly, Libero's dam, Oktane, is out of a mare by Komet, who in turn is out of Valet by Lohengrin – who it has been suggested should appear on Grannus' pedigree.
Libero didn't do well in his 100-day test and was not initially approved by the Holsteiner Verband, but his breeder never lost faith in him. He was bred to a few mares and produced Libera, an internationally successful showjumper in his first foal crop.
Libero H was later approved by the Holsteiner Verband on the basis of his brilliant showjumping career.
Libero started his Grand Prix jumping career with Dutch star, Jos Lansink, but again, he was not welcomed by the Dutch stallion commission. Gert van der Veen, the inspector with the KWPN had great difficulties in persuading the Licensing Commission to accept him – his trot wasn't good enough, his shoulder was too straight, and he had a crooked hindleg. Two years later Libero only received a reserve premium for his first crop of foals – by then he had already won the World Cup with Jos Lansink!
His career with Lansink was truly spectacular. At the age of seven he won the Grand Prix at Lanaken. The following year he won two more Grand Prix before really hitting form in 1990, when he was 11th individually at the WEG in Stockholm, and won two Grand Prix and one World Cup Qualifier and one Nations Cup. In 1994 he won the World Cup Final in Den Bosch – as well as four qualifiers.
In all, he placed in 211 international competitions, winning 51 of them. He won 10 World Cup qualifiers and 12 Grand Prix. He has been no less successful as a producer of jumping horses. With less than 600 offspring, the number of international showjumping horses by him is truly remarkable. From all his progeny competing in the sport, over 25% are jumping at international levels.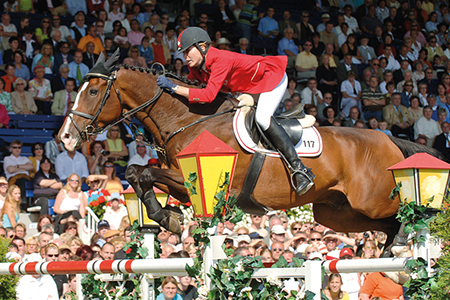 A star by Libero – No Mercy and Christina Liebherr
Libero H is represented in international showjumping by successful jumping horses such as Numero Uno (dam by Lord Calando) with Marco Kutscher, Olymp (Sandro) and Angelique Hoorn, Castle Forbes Libertina (Polydor) and Jessica Kürten, Lolita H (Grannus) and Toni Hassmann, Castle Forbes Maike (Lucky Boy xx) and Jessica Kürten, No Mercy (Dillenburg) & Christina Liebherr. Both Maike and No Mercy competed at the 2004 Olympic Games in Athens. No Mercy was once again a star at the 2008 Games in Hong Kong.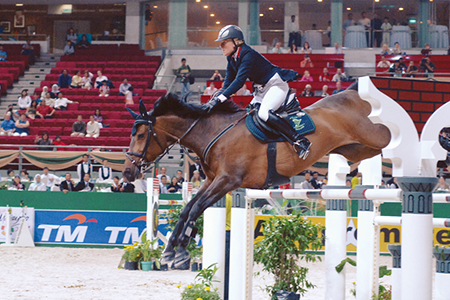 Castle Forbes Libertina – out of a Polydor mare, is one of the world's great jumpers with Jessica Kurten 
At the 2004 KWPN stallion selection his son, Ustinov was crowned KWPN Stallion Champion 2004 thanks to his outstanding jumping ability.
Libero H ranked 9th in Bernard le Courtois' top 75 stallions in the 2007/2008 edition of Monneron, on the basis of 22 CSI winners.
On the WBFSH 2007 Stallion Rankings, Libero was ranked 4th, with 22 representatives, with seven with 200+ points: Castle Forbes Libertina (Polydor), LB No Mercy (Dillenburg), Lambrasco (Coriolan), BCO Olymp (Sandro), Castle Forbes Maike (Lucky Boy xx), Grand Libero (Grannus) and Procasa Julia des Brumes (Thurin).
His last listing on the WBFSH rankings was in 2011, when he was 43rd – with his best representative that year was Cellagon Lambrasco (Coriolon) who carried young Janne Frederike Meyer to the London Games, the WEG in Lexington, the European Championships in Madrid – as well as a spectacular win in the Grand Prix of Aachen in 2011.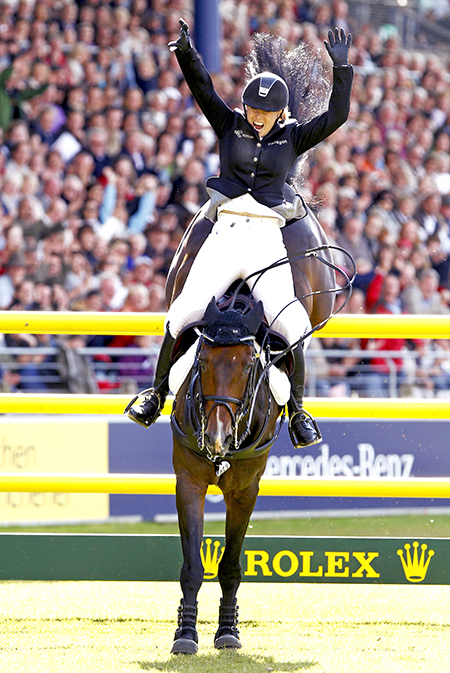 A very spectacular win at Aachen for Cellagon Lambrasco (Coriolon) and Janne Frederike Meyer. (Photo by Ludwiga von Korff) 
Unfortunately, Martin Röpke didn't live to see his faith vindicated. He died when Libero H was four.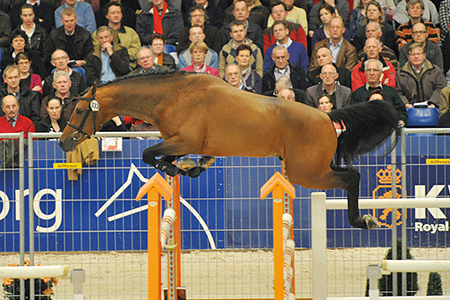 The Libero blood flows on in Holland through his son, Ustinov – this colt by Ustinov out of an Ahorn Z mare was approved to go to the Stallion Performance Test at the 2010 KWPN stallion show 
Watch Libero H win the World Cup final in spectacular fashion…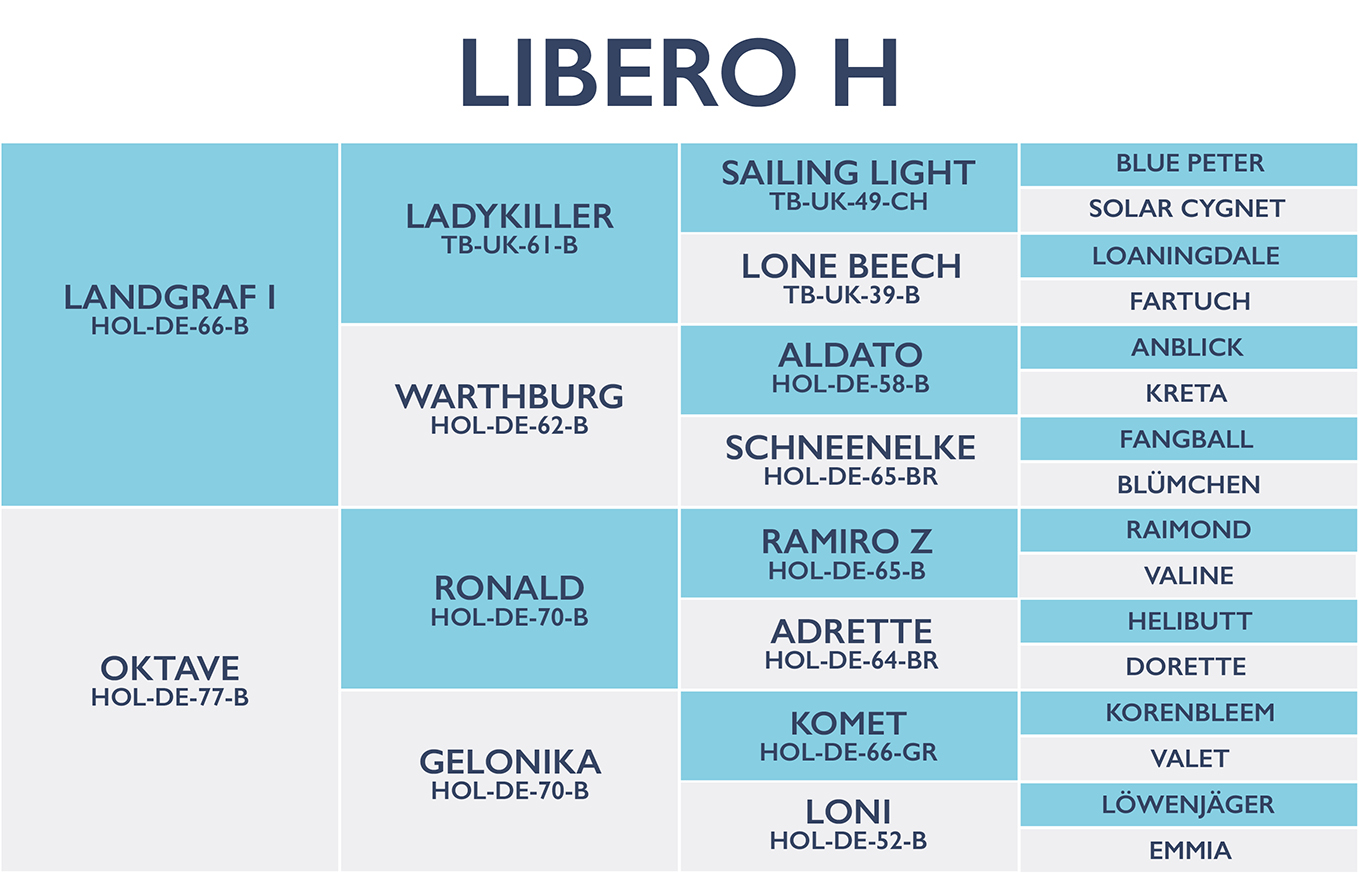 « Back to Great Stallions List