« Back to Great Stallions List
Marco Polo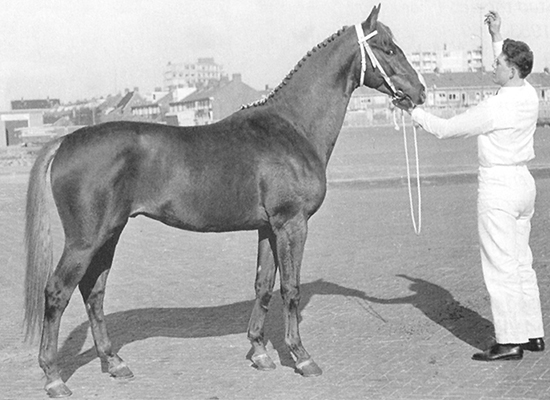 1962 – 1976 162 cm Chestnut
Breeder: K Rossenau
A delegation of Dutch breeders travelled to the Trakehner stallion licensing in 1964, headed by the Dutch inspector, J. K. Wiersema looking for new blood for the emerging Dutch Warmblood.
They purchased Marco Polo for a very reasonable DM7,000 but the reception back home in Holland was not encouraging. According to Jacob Melissen in his Leading Stallions of the Netherlands 1992/3:
"When the chestnut was presented to the public in Zuidaren, they were far from pleased with this newfangled 'upgrader'. True enough, Marco Polo was a rather smallish, still undeveloped stallion at the time, standing 1.60 m, a typical blood horse with long lines. His head was a trifle too long as well, and slightly convex between the eyes, not really a Trakehner type of horse. But Marco Polo would later not only grow into a good riding-type horse of sufficient size and volume – a half-bred looking like a Thoroughbred – but also into one of the greatest sires of the Netherlands, famous for his hereditary jumping talents and obliging character."
Perhaps the breeders would have been even less impressed with the choice had they known more of his sire, the Thoroughbred, Poet. The stallion stood for 22 seasons for the State Stud Celle before his death in 1967. Still he was not universally liked. The Trakehner studbook manager, Lars Gehmann wrote of him in 1993: "Poet xx will still give the creeps to anyone who knows of him, upon hearing his name. His offspring were of the so-called highly creative type, which hardly any mortal rider could set to his hand. Ingenuity and insanity were often hard to distinguish in Poet xx offspring."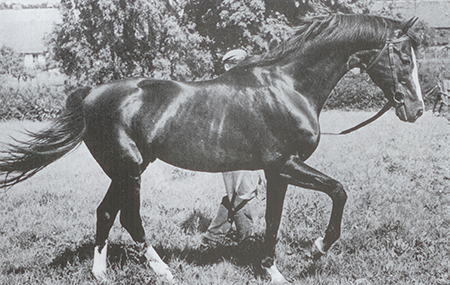 Poet – ingenious or insane?
Poet was only 162 cm but gave a larger impression due to his long front and spectacular movement. His sire, Janitor xx also produced the Celle stallion, Monitor xx, and was the dam sire of Steinpilz xx.
Although Marco Polo didn't serve many mares in his first seasons, it soon became apparent that his progeny could jump, and suddenly the chestnut was popular.
The first horse to really announce the arrival of a new jumping sire was the mare, Elzette, who teamed with a 15 year old Franke Sloothaak became Royal Dutch Federation Champion in 1973. The following year, Franke rode Polo Marco to become Champion of the Young Riders.
Another future Dutch jumping star, Henk Nooren, had his initial successes with Jonker Arno, while in the United States, Katie Monohan was successful with Polo Boy, as was Melanie Smith with Vivaldi. Phillippe Guerdat rode Pybalia for Switzerland at the Los Angeles Games in 1984, and was reserve for the Seoul Games, four years later. In Britain, Marius was a sensation with Caroline Bradley – winning the Birmingham Grand Prix, the Queen Elizabeth II Cup and the title, Showjumper of the Year 1977. Marius was out of a Sinaeda dam, and went on to sire Milton, one of the most famous showjumpers in history with John Whitaker.
Jacob Melissen is a Marco Polo fan: "His products were not just good jumpers, they were always eager to go, ready for any fence, in fact they threw themselves into their work. And if you have a very capable jumper that never says no, the temptation is great to ask too much of it. This was often the fate of the young Marco Polos. Besides, they were late-developers, just like their sire had been. Used improperly, and with violence, even the strongest chain would break."
Other famous progeny include Paul Weier's international showjumper, Irco Polo (sire of Casimir, grandsire of Marcoville), Ico (sire of high-jumping specialist Nekoma), Interpol (international showjumper under Freddy Walsh), Legaat (sire of Gräfin and Stoppelhaene), Matador, Otto, Plutus, Recruut (another international jumper for Paul Weier), Salvadro and Topas.
Marco Polo was also a successful broodmare sire. His daughters produced Zadok (by Nimmerdor) and Concorde (by Voltaire). In the USA, Hap Hansen's Dalfsen and Debbie Schaffner's Den Ham were both out of Marco Polo daughters.
Today, only Marco Polo's son Topas represents the line in The Netherlands.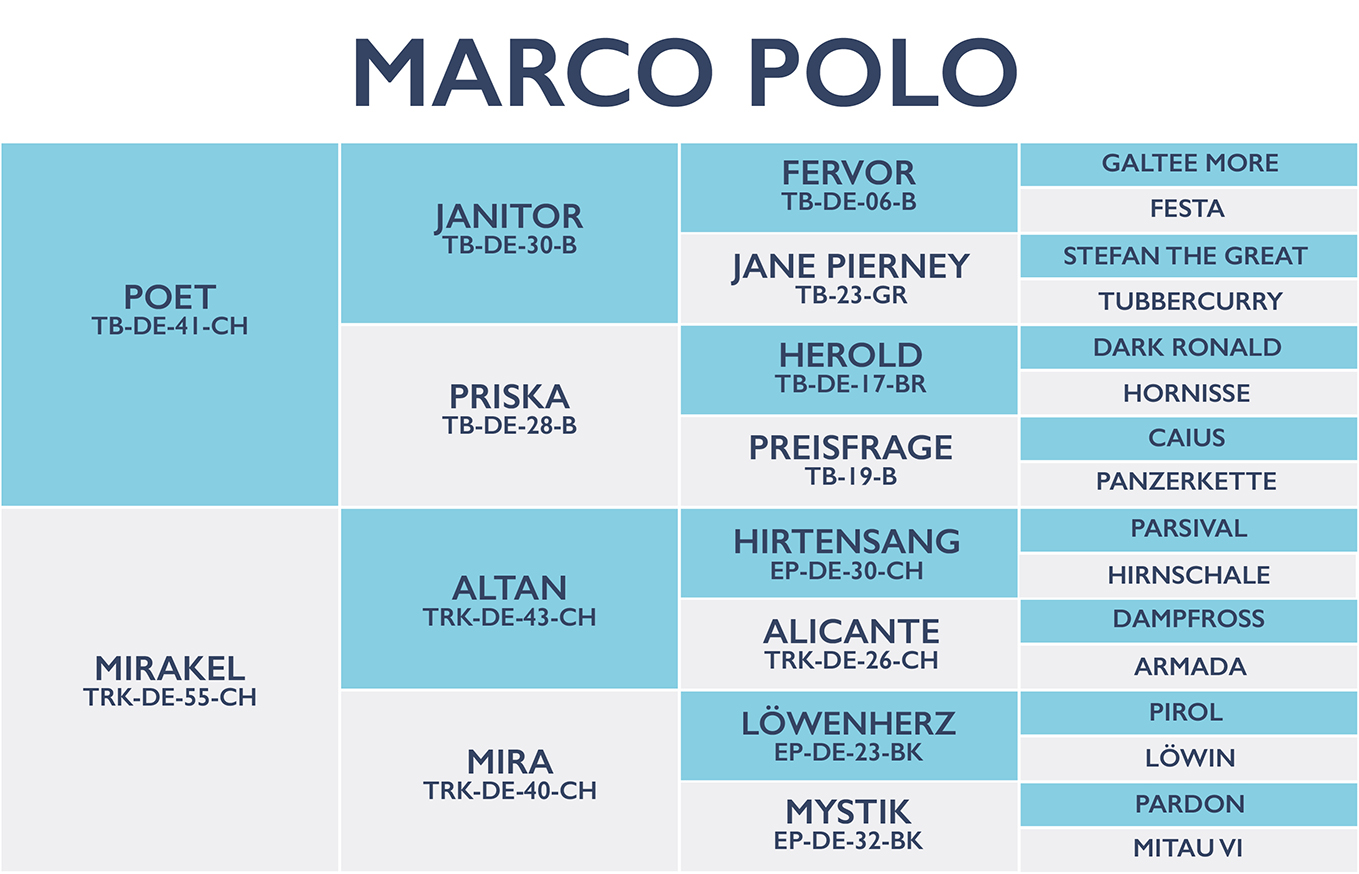 « Back to Great Stallions List