« Back to Great Stallions List
Negro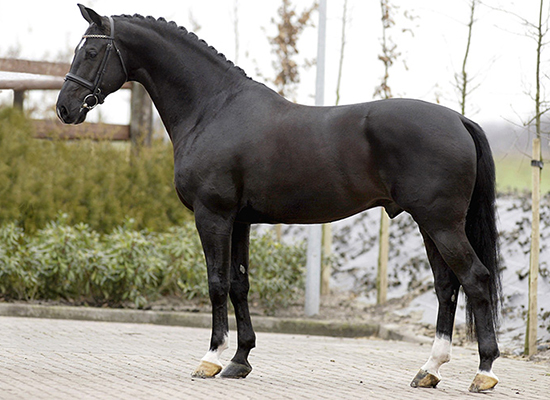 1995 1.70cm Black
Breeder: Wouter Borgers
Negro has a 2014 KWPN breeding value of 155 with a reliability of 93%, which put him into fourth place on the standings of dressage stallions with a reliability of over 90%. He is recorded as having sired 1066 progeny over the age of four, with 283 (26.54%) registered as competitors.
Negro is one of the most interesting sons from Ferro. Negro was the winner of both the KWPN Young Stallion competitions – in 2000 (for five year olds) and 2001 (for six year olds). The qualifying competitions take place at several places in the Netherlands: Zuidbroek, Roosendaal and Deurne, with the final at the KWPN stallion approvals in S' Hertogenbosch.
He won the title Young Star Stallion at Zwolle in 2001. During the 2001 Young Dressage Horse World Championships in Verden, Negro was the best 6-year-old KWPN entry, placing 4th with his rider Anne van Olst (score 8.5). Negro has successfully competed in the small tour. Of his four starts, he won three times. His first start in the Big Tour, in an Intermediaire I class, he won convincingly with the score of 72.50%. And his rider Anne van Olst was dreaming of the Olympic Games in Athens. In the summer of 2003, a seemingly harmless foot infection made an abrupt ending to his sport career. The Olympic dream was shattered. His career as a sport horse was over but luckily his career as breeding stallion could be continued. The KWPN awarded Negro Preferent status in early 2012 due to his exceptional offspring.
Negro is sire of the phenomenon Valegro (out of a Gershwin mother) who won both the individual and team gold medal during the London Olympic games in 2012 and then the world championship in Normandy in 2014. Other Negro offspring include Exquis Taikoen, Vainqueur and Uforia – all performing at Grand Prix dressage level.
Negro's mother, Fewrie (by Variant) produced five advanced level dressage horses. Variant competed at small tour dressage with the Dutch rider Anky van Grunvsen. Variant sired a few Grand Prix dressage horses like Hermes, Lucky and Marciano G.
His grandmother Mewri (by Gondelier) was a national showjumping horse with several riders and produced one medium level dressage horse. Gondelier is known for producing showjumpers and he was an international showjumper with Henk Nooren and Jan Maathuis. Gondelier produced the international showjumping horses: Kartouche, Nieta, Wanda and Winnethoe.
Gemma Jansen in her article on Negro in In de Strengen (January 2009) takes up the story:
"Negro was born on the 5th of April 1995, his name was Novabor. In his original name the letter 'bor' stood as abbreviation for the last name from his breeder, Wouter Borgers who died just before Negro was born. The farmer from Lunteren was a real fan of a good looking horse and according to his wife Eef, he had a really good eye for one."
"In 1988, Wouter and Eef went to Lieshout in Brabant (the Netherlands), because Rini Biemans had a few mares for sale, a mare and her two daughters. The mother, Mewri, was already quite old and not in foal. Wouter was not interested in Mewri. Wouter purchased Fewri and her one year older full sister Equador. Wouter chose for Fewrie and sold Equador to Theo van Manen. Eef recalls: "My husband was really fond of Fewrie, he thought she was an awesome mare. She can move really well and has a golden character, she is never mean. Sometimes she will push you almost over, because she wants and will always be walking in front. Karen Galema presented Fewrie in the IBOP, she earned the score of 92 AA. Karen was crazy from Fewrie because that horse could place her hindquarter really well under her body and could 'sit' on it. Just before Wouter passed away he said 'you must never sell Fewrie', so she stayed. Fewrie produced several good looking foals but Negro was from the beginning on a special foal."
Negro was presented by the family of his deceased breeder at the stallion selection and was not in the best shape. Gert Jan van Olst wanted to buy Negro but the breeders declined the offer because of emotional reasons. After the approvals Hendrik van Tuyl bought Negro and he send him to the re-inspection where he was approved. Negro did very well at his performance test and passed gloriously. Gert Jan van Olst bought a 50 % share of Negro during the performance test, later he became for 75 % owner of Negro and now he is 100 % the owner of Negro. His popularity is still growing, because of the success from Valegro.
Mr van Olst says that Negro crosses best with all kind of mares for sport: "He does not need a certain type or bloodline for sporthorses then he fit's for every mare. He needs a long lined mare with a bit blood, if you want the total package; a good sport horse and a good broodmare."
According to van Olst, his popularity has not risen that much since the success of his most famous son Valegro. He told Adriana van Tilburg: "Negro has proven himself, he has worked his own way up. Off course is Valegro a very good ambassador but has proven himself as a sire. I cannot give you the exact number of mares that he has covered this year but it will be more then 200 world wide."
"I think the qualities he gives to his progeny are very good movement, he gives power in the hindquarters. The toplines of his offspring are very correct, this makes it easier to have a good trot and canter. His offspring are having a perfect work ethic, they always want to work and are pleasant to handle."
On the 2015/16 KWPN breeding rankings Negro is in 6th place on the list of stallions with a reliability of over 90 with a value of 154 (94%) – up from 147 three years ago. He has sired 1198 horses over the age of four with  328 entering competition for a ratio of  27.378%.
On the 2015 WBFSH stallion rankings he is in 9th place (up from 18th the previous year). Once again, the bulk of his points come from Valegro (3183) with the next highest, Nintendo (1733) – the others who contribute to his total are not exactly household names: Unico G, Vorst, Numberto, Vanquer and Taikoen.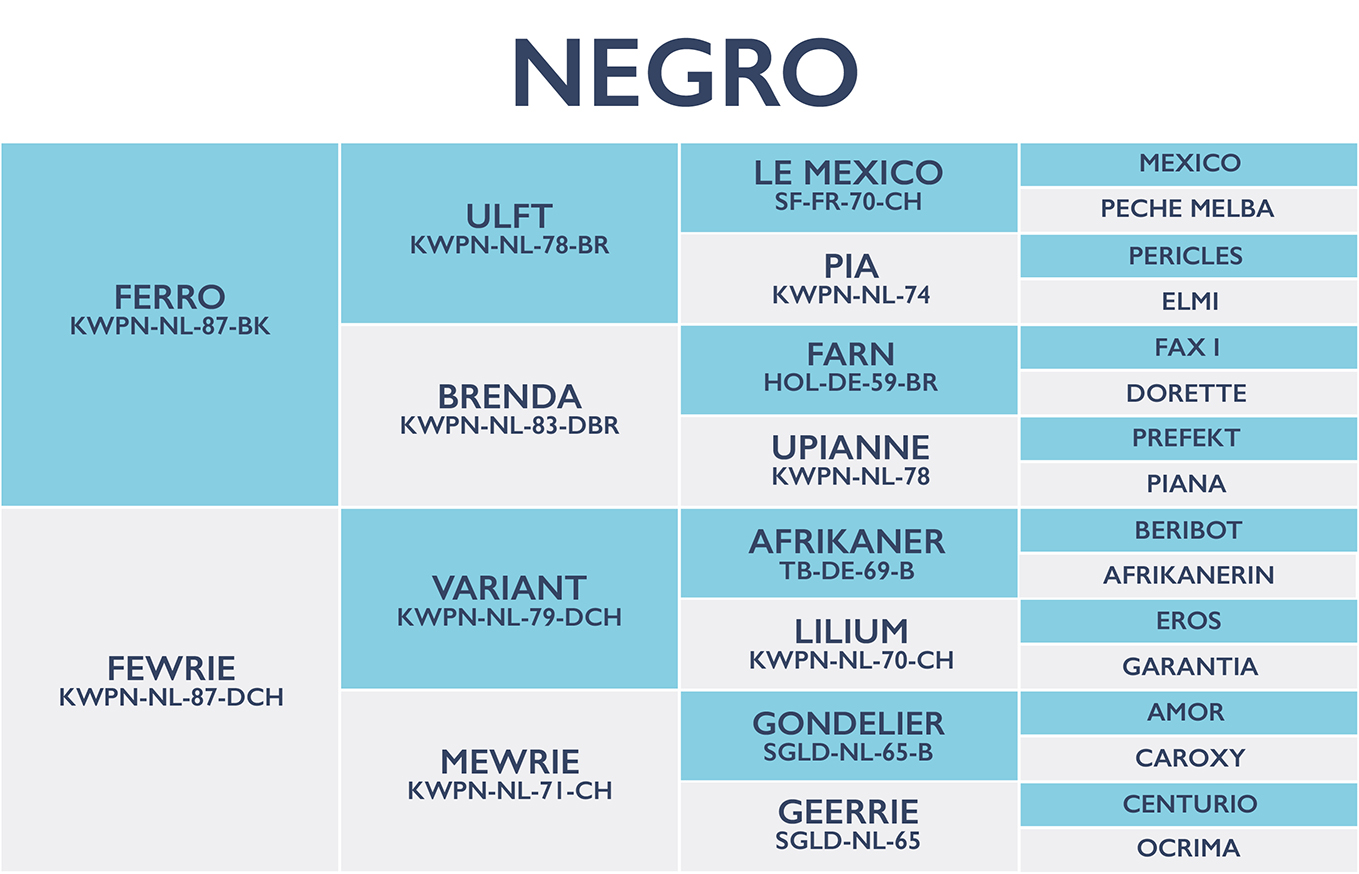 « Back to Great Stallions List