« Back to Great Stallions List
Pik Bube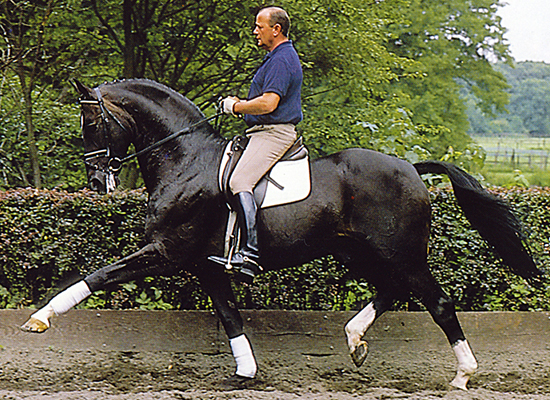 1973 – 1992 172cm Dark brown
Breeder: Gunter Pape
Pik Bube was bred by Gunter Pape, the head of the well-known 'breeding family' who run the prestigious Hengstation Pape.
It was a great surprise at the licensing of 1975, when the head of the State Stud Celle, Christian von Steglin failed to include Pik Bube in the 'Celle Lot' (the state stud director had at that time, first pick of the successful young stallions) and let him go to Grönwohldhof – where he formed a hugely successful partnership with the then-resident trainer, the late Herbert Rehbein. They won 11 out of 12 advanced classes in their only competition season in 1980.
Pik Bube's sire, Pik König is considered the most important son of the famous Thoroughbred sire of showjumpers, Pik As xx. Pik König sired 19 licensed sons and 22 State Premium mares. His offspring – such as Pirol 37 – were mainly successful in showjumping. With a dressage index of 126, and a jumping index of 131, Pik König had an overall rating of 129. His sire, Pik As xx stood at the State Stud Celle from 1953-69, where he sired four approved sons.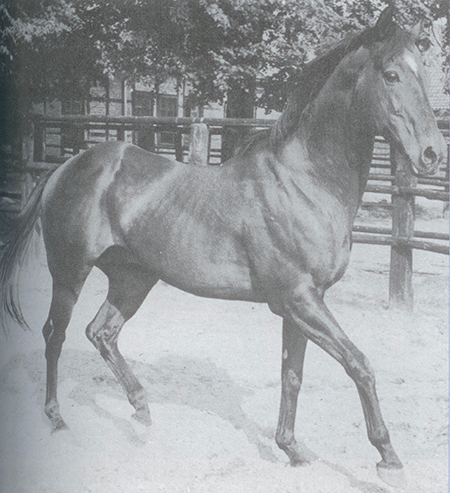 Pik As – Thoroughbred jumping sire…
Pik As was only 157 cm tall but according to Claus Schridde in his survey Thoroughbred sires in Hanover (II) in Z Magazine, June/July 2005: "far from tall, Pik As looked great and always made a deep impression at his presentations. At stud at Hohnstof in the Arlenburger Elbe polder, the superbly bred female stock in that region offered him enormous opportunities which he did not waste. With top class progeny such as Pesgö under Helga Köhler and Porta Westfalica ridden by Hartwig Steenken, he soon earned a good reputation as a showjumping horse producer. He hardly produced any dressage horses. State stud Celle had kept three sons from the last seasons in his career: the dark brown Pik König, the chestnut, Pik Junge and the grey Pikör… Pik König developed into a top-class showjumping horse producer. His sons Pik Bube I and II even produced many dressage horses."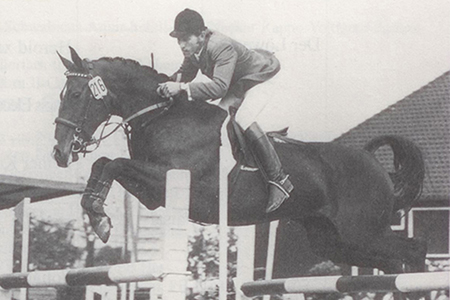 Dohlenfurstin – an international jumper
Pik Bube's dam, Franka was out of a very famous jumper. Her dam, Dohlenfurstin, was an international showjumper under the name Daniela, and was the most successful jumping horse in Germany in 1972. She produced three foals, two by Frustra II and one by Maigraf xx. Dohlenfurstin is also the dam of Grand Prix showjumper, Prince Charming.
Günter Pape bought Franka, as a three-year-old in 1969 and described her as follows, "She had a large frame, with a good shoulder and elevated, elastic movement. She was very dominant and impressed with her intelligence." He also commented on her rideability. Franka was to become the dam not only Pik Bube I and II but also their full sisters Pik Dame (USA), Paola, Pirola, and Polljana.
Franka was by Frustra II, one of those stallions who is seldom mentioned, perhaps because he produced mares, but no outstanding stallion son to carry on his line.
Günter Pape bred the Frustra II mare, Franka to Pik Koenig. Franka was out of Daniela by Domspatz / Der Löwe. Daniela was a successful showjumper with Hartwig Steenken. The Franka / Pik Koenig cross became the basis of the Pape family's breeding dynasty….
The cross produced the stallions, Pik Bube I & II, and their full sisters: Paola (dam of Donnerklang A and Bergamon), Priola (dam of Ragazzo and Donnerschlag) and Polljana, the dam of Raphinus.
Frustra II also greatly influenced Gunter Pape's other main bloodline: Gaby by Gotthard out of Fusion by Frustra II. Bred to Pik König, Gaby produced the licensing champion, Picard and the states premium mare, Philipa, who produced three licensed sons: Dobrock, Lanthanid and Rodin.
Pik Bube I sired performers in all disciplines. His daughter, Pikantje was Federal German riding horse champion of 1981, and Pik Bube's Girl won the 1990 Federal Mare Show in Verden. Pik Primaire and Pik Royal were amongst the 49 of his offspring that were successful in advanced dressage, while 19 showjumpers achieved advanced level. Perhaps the most successful of his stallion sons has been Piaster who stands in Bavaria, Pik Labonics has been a successful sire for the Westfaliens, and Pommery has produced some useful progeny in Hanover. His son, Pik Noir competed successfully in dressage and was the sire of Prinz Paul, who placed 3rd in the six-year-old Dressage Championship at the 2001 Bundeschampionate.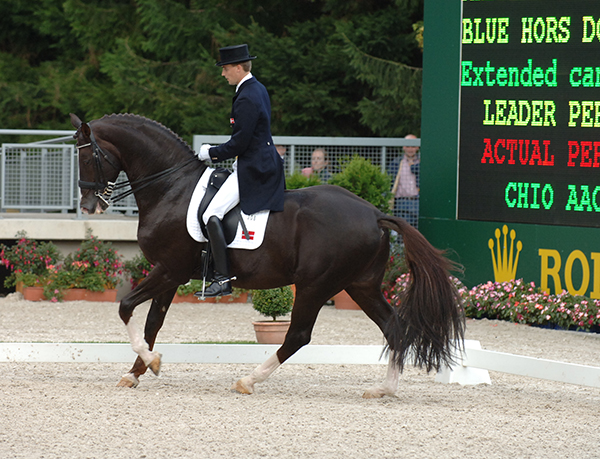 Don Schufro – the magic Donnerhall / Pik Bube cross 
As a brood mare sire, Pik Bube has been a phenomenon, especially when teamed with Donnerhall: Davignon, Don Primero, Don Schufro, Donatelli, Donnerbube, Dream of Glory, Duntroon – all bred on that magic cross Donnerhall/Pik Bube.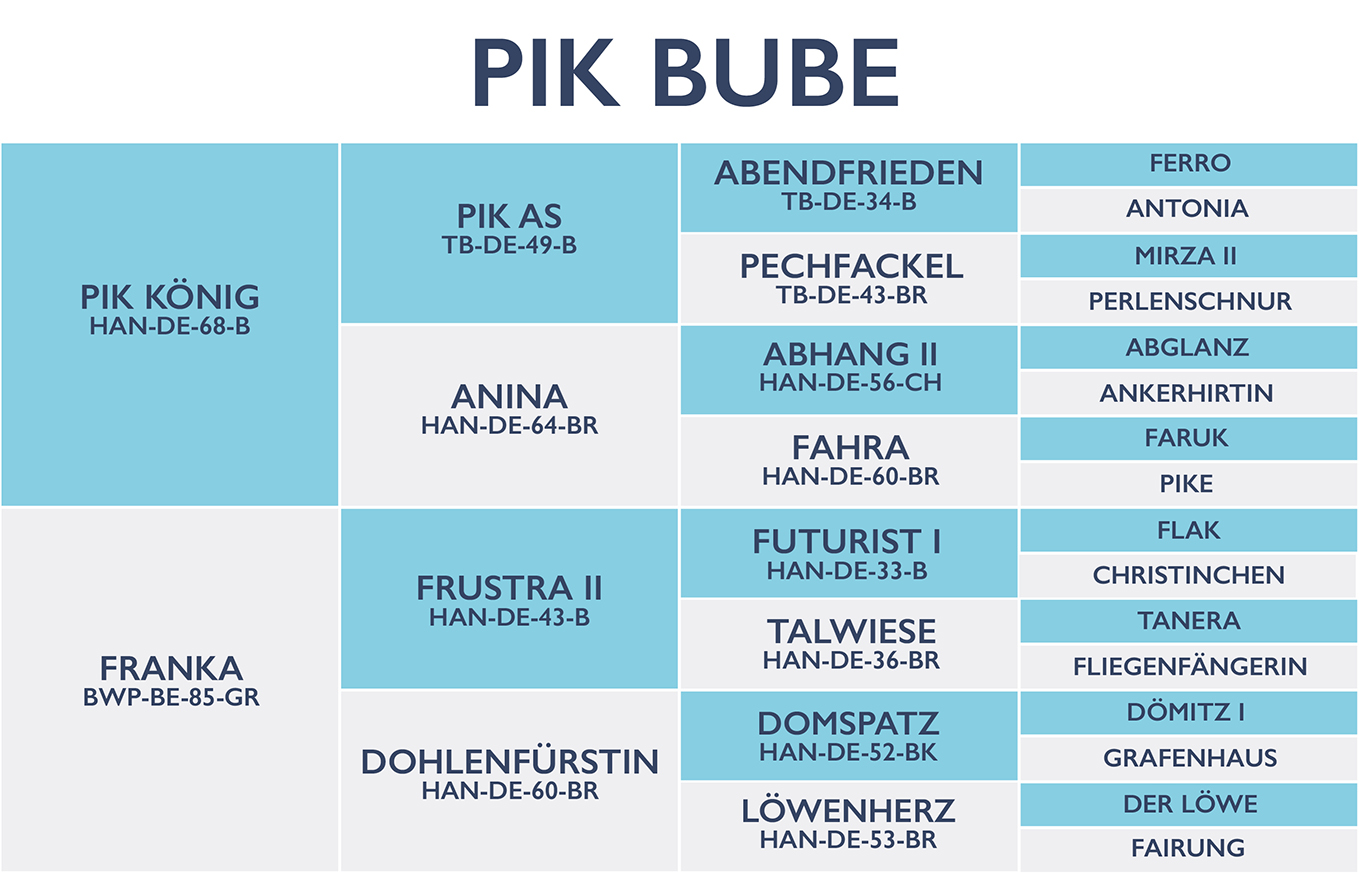 « Back to Great Stallions List