« Back to Great Stallions List
Rigoletto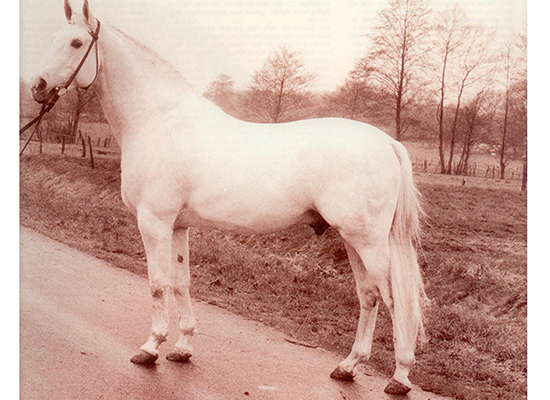 1960 – 1982 168m Grey
In 1992, ten years after his death, Rigoletto still had an above average jumping breeding value of 122, even though in that season he was represented by 35 dressage competitors – with 12 showjumpers.
Rigoletto became internationally famous with the success of Santa Monica with Alwin Schockemöhle in the saddle but his story is very much the story of the development of jumping breeding in Holland.
Dutch breeding expert, Jacob Melisen tells the story well in his The Leading Stallions of the Netherlands 94/95:
"The Rigoletto story began at a time in which the structured breeding of showjumpers was unheard of, at least in The Netherlands. In 1962 NWP chief horse inspector, J. K. Wiersema went to the autumn examination in Elmshorn (Germany) to see if there was anything worthwhile for the NWP. His eye fell on a grey colt, a very immature thing, but with promising manners. He rather liked it, but not its name. "I couldn't very well turn up with a Racker (bugger)," Wiersema said many years later. "Well, what do you fancy?" The owner asked him. I pulled out my box of cigars and pointed at the famous brand. That's how Rigoletto got his name. After this name change, it still took a year for Rigoletto to come to The Netherlands, as Holstein had claimed his first season at stud. Rumour has it that his owner had to be sufficiently 'oiled' before the sale was made. That's as it may be, Groningen stallion owner Job Heringa advertised the fact that Rigoletto had come to The Netherlands 'due to an aggressive purchase policy'."
"What had all the fuss been about? The problem was that Rigoletto's sire Ramzes was owned by a non-Holstein owner. Westfalien Baron von Nagel had nevertheless leased out the stallion to the distant north for four seasons – 1951/1952 and 1959/1960. Ramzes, being a Polish part-bred Anglo-Arabian could not easily convince the Holstein breeders. A foreigner on Holstein clay! Therefore, Ramzes progeny were few (31 broodmares and 5 approved stallions in all). But in showjumping circles, Ramzes offspring (Ramona, Retina and Romanus) had become famous between '52 and '59. That is why Ramzes went to Holstein a second time and that is why, by that time, 'an aggressive purchase policy' was needed'."
Like his sire, Rigoletto returned to Holstein, in 1971, producing three approved sons, the only one that was used was Rocco. It was much the same in Holland, where he produced four approved sons, Radjah (who lasted two seasons), and Othello and Paco, who both only lasted one. His fourth son, Turjin, lasted longer, and produced 94 foals, not a great total.
Rigoletto did a lot better, producing 1382 foals in seventeen seasons and his name may still be found on pedigrees in Holland today…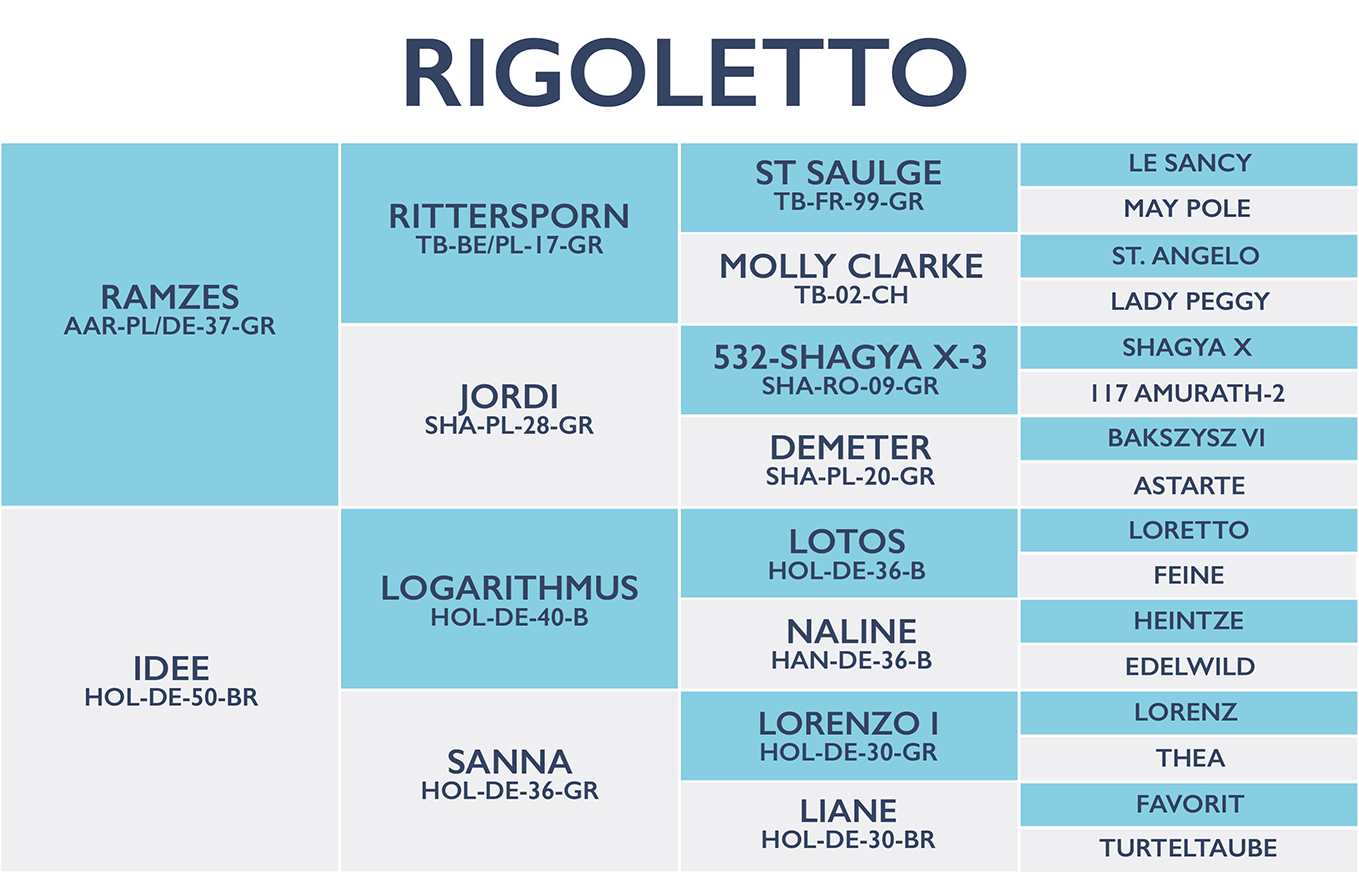 « Back to Great Stallions List