« Back to Great Stallions List
Rousseau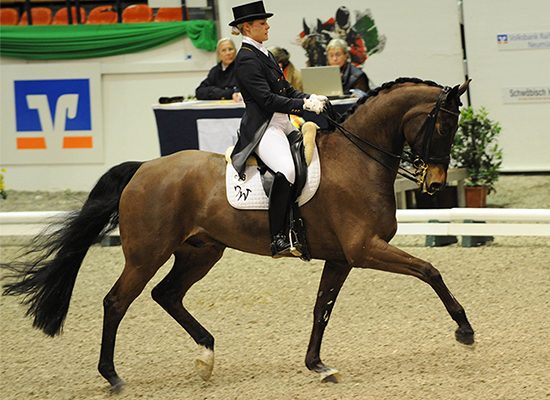 1998 1.73 Brown
Breeder: Jos Haak
Rousseau's sire, Ferro, was a dressage star, but his dam, Zsuzsa, was a true family horse. Rousseau's breeder, Jos Haak wanted a competition horse for his daughter, and a brood mare for himself. The mare's previous owner worried that she would grow too tall and put her up for sale.
"I went to look at her and liked her immediately because she looked like a real horse," Mr Haak recalled in an article by Karin Karlas in idsi breeding. "So, I bought her and bred her right away as a two year old because I hoped that being in foal would stop her from growing, Nevertheless, she grew another two inches and ended up being 17 hands tall."
"Zsuza was a big mare with a slight Gelder look, although she was very fancy. She had a great temperament but was afraid of small things like umbrellas. However, when my daughter got married, she rode Zsuza in her wedding dress and the mare didn't mind at all."
She could also move: "She had incredibly good cadence and balance in the trot; she always moved the same way: with nice regularity and she never took a wrong step. Besides that, she was a mare with beautiful long-lined conformation and enough size and bone."
She was bred to the Thoroughbred, Saros, and the Ramiro-son, Architect before Haak's daughter, Carla had her turn, and rode her through Z2-level dressage.
The first two foals were not great, but bred to Ferro, she hit the jackpot: Rousseau. Mr Haak liked what he saw: "I knew right away he was a world class horse. In fact, I walked from the barn into our kitchen and said to my daughter: I've never seen such a beautiful foal as the one that's lying in the stall."
Rousseau has had a spectacular career. He was purchased for the American stud, Hilltop Farm with the highest bid at the first annual KWPN sale – 300,000 guilders – and later sold on to Harmony Sporthorses. He easily passed his performance test with an overall '8' for dressage ability. He was Dutch national champion as a four year old, and reserve champion the next year.
Rousseau represented The Netherlands at the 2003 World Young Dressage Horse championships in Verden, where he was second. He was immediately licensed in Hanover, Oldenburg and Westfalia.
At the 2006 KWPN Stallion show, Rousseau was represented by 11 sons from his first crop, the most of any sire that year. His son, Wamberto was champion of the licensing before he too was sold to Harmony Sporthorses, where he joined his sire in the stallion barn. He went on to win his performance test in the United States in 2007, but like his dad, does not seem to have done much after starring as a youngster.
The following year, the Rousseau bandwagon was in full swing when another son, Zagreb – later named Blue Hors Zack – was named champion stallion, and topped the sale when he was bought by Danish stallion master, Esben Møller.
And yes, the following year, another son, Ampère, made it three in a row, and he went on to pass his performance test with record high scores.
By 2007, Rousseau had the highest dressage index of any of the KWPN stallions, 181, with many of his daughters starring at the mare shows. He was also starting to gain recognition in Germany where his son, Fiorano was the premium stallion at the Hanoverian licensing and then topped his performance test at Münster-Handhorf. Another son, Fürst Rousseau, also topped his performance test.
However by 2014, Rousseau has tumbled down the standings of the dressage stallions with a reliability of 90% or better. He is now in equal 11th place with a breeding value of 141 (92%).
In the 2016 KWPN rankings, Rousseau is now in 16th place with a breeding value of 142 (93%). He has produced 817 progeny over the age of 4, with 247 going on to compete, that's 30.232%.
Rousseau is also popular in Germany and scores his own page in the German stallion book. His competitors in that country number 104 with winnings of €81,322. The most successful dressage horse has been Harmony's Fiorano, who recently competed Grand Prix on the 2017 Florida circuit.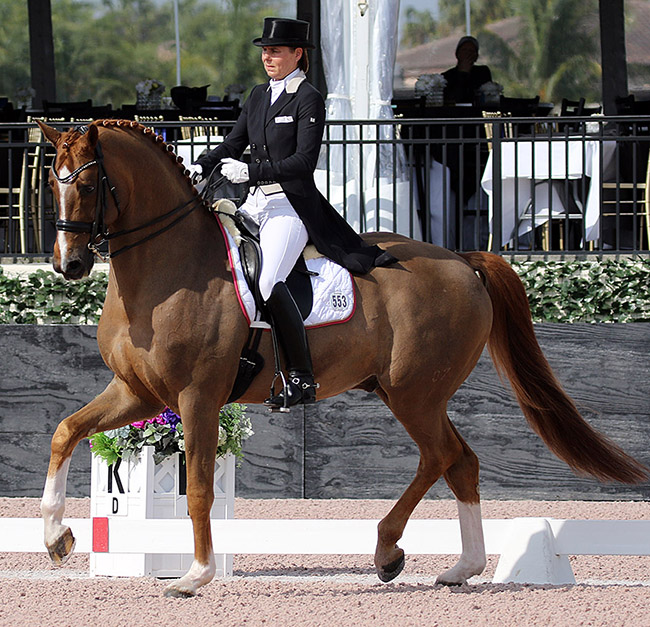 Susan and Fiorano in the States – Photo Kenneth Braddick
Rousseau has a 2017 FN breeding  value of 127 for young horse classes and 133 for open competition. On the Hanoverian breeding values he scores 109 for dressage, and 86 for jumping, and 117 for type.
His KWPN progeny report notes:
Offspring 2002 (foals)
Rousseau showed a uniform collection of sufficient to more than sufficiently developed riding type foals that stand in more than sufficient rectangular model and are refined.
The head is expressive. The poll is long and well formed. The neck has good length with varied muscling. The neck is often vertical in hand and frequently comes from deep in the chest. The neck is used well in movement. The wither has good length and is well developed. The shoulder has more than sufficient length and sufficient position.
The back is sometimes slightly hollow. The back is generally well muscled.
The loins are well formed, well muscled and well connected.
The croup slopes and has sufficient length. The hamstring varies in length.
The foreleg is correct. The hindleg is correct. The base is light and has much quality. A few times the pastern was straight.
The walk is pure, has good scope and good suppleness. The trot is light footed.
The foals show good scope, much impulsion, good suppleness and good balance at the trot.
The canter shows a somewhat varied picture.
Generally the foals trot with sufficient to more than sufficient scope and more than sufficient impulsion. Some foals are a little stiff in the canter.
Remarks:
Twelve of the foals were picked and the owner selected six.
The selected foals fit in with the above picture. One of the selected foals was lame. The shape of the front feet of one foal was not even.
Two foals that were inspected at home fit in with the above picture.
The quality of the mares varied.
Shown:
18 (+2) foals out of 72 mares bred in 2001.
In the 2016 Hanoverian stallion book, Rousseau is credited with 100 offspring in competition, with winnings of €60,427. He has an FN dressage value of 131, and a jumping value of 96. His Hanoverian values are 107 for dressage and 87 for jumping, He scores 108 for trot, 103 for canter, 91 for walk, and 127 for ride ability. He scores 117 for type, and 118 for his limbs.
One of his progeny has earned more than €10,000 – Harmony's Fiorano who has earn €10,703.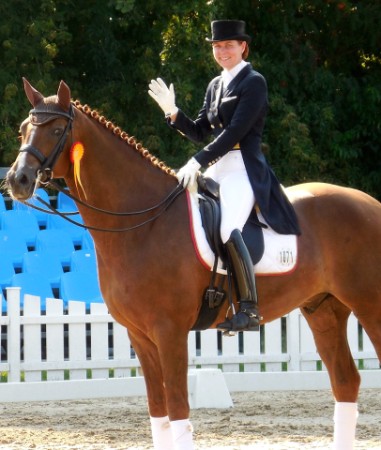 Harmony's Fiorano and Susan Pape after they won their first Grand Prix (71.48%) and Grand Prix Special (73.33%)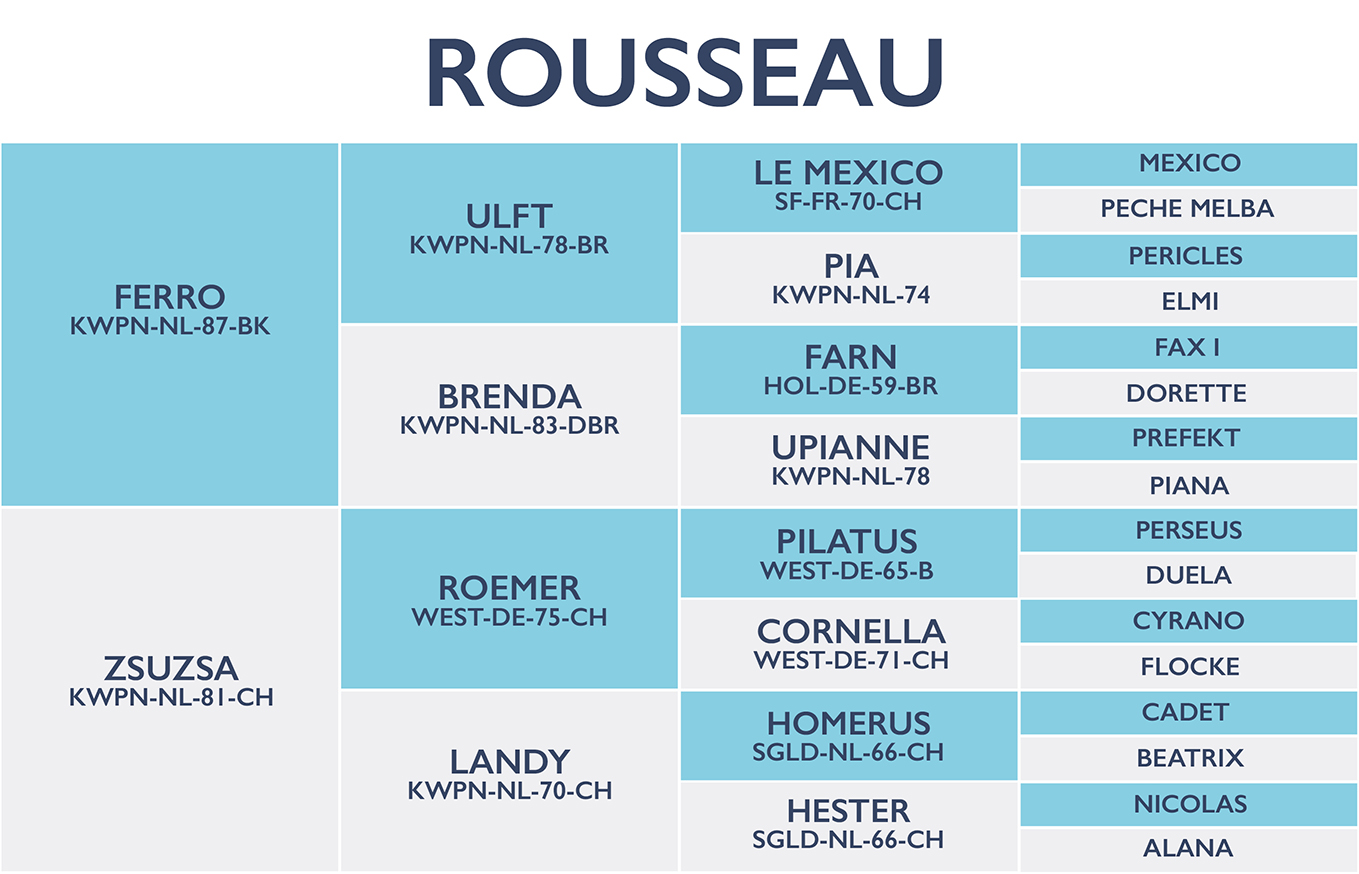 « Back to Great Stallions List