« Back to Great Stallions List
Rubinstein

1986 – 2000 171 cm Black
Breeder: Herbert de Baey
Rubinstein was born into a dressage Royal Family. His dam is Antine, one of the three daughters of the mating of the Thoroughbred stallion, Angelo and Dodona (the two male foals from this pairing were Olympic dressage stars, Amon and Ahlerich).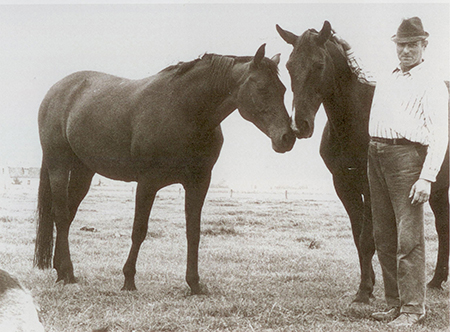 Herbert de Baey with Amone and Antine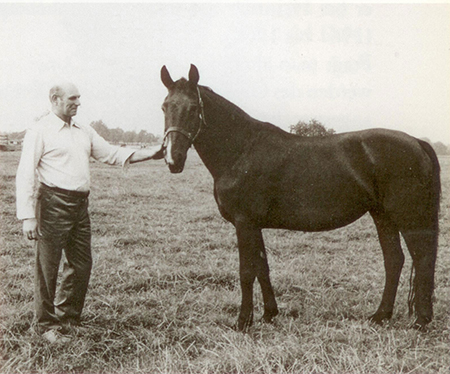 Herbert de Baey with Dodona 
Rubinstein is by Rosenkavalier – Rosenkavalier is by Romadour II, who is the sire of World and Olympic champion, Rembrandt, out of Antine's full-sister, Adone. From another full-sister, Annette came Romancier (also by Rosenkavalier) who stood at the Blue Hors Stud in Denmark. However it should be noted that Rubinstein's two full-brothers have disappeared without trace. I had the opportunity to purchase Rubinstein's younger (full) brother, very cheaply. He was a truly awful horse and moved like a startled chicken. I also saw Rubinstein's full-sister in the paddock and that is where I would have left her.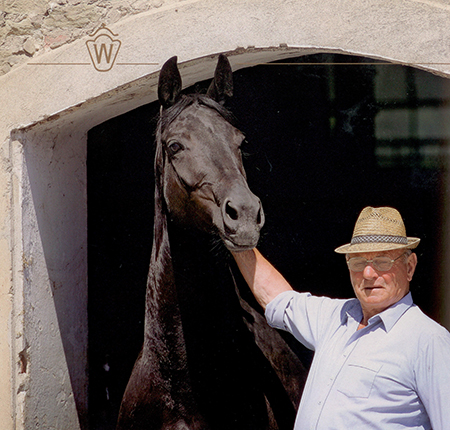 Herbert de Baey with the two year old Rubinstein
Rubinstein's sire, Romadour II is one of the most significant of modern Westfalien sires – but his breeding is clouded by mystery. He is listed as a son of Romulus I, a descendent of the famous Ramzes AA through Radetsky – however it has been established that his dam was covered not only by Romulus but also by Duft III (a stallion who was later removed from the Westfalien State Stud due to his poor fertility). Certainly Romadour II is very different in terms of conformation – and in the progeny produced – to his (full? half?) brother, Romadour I. Romadour II's progeny tended to be chestnuts with a lot of white, and a lot of movement, Romadour II and Duft III were both bays with a lot of white, while Romadour I and Romulus I were rather plain. Duft III was the son of another flashy chestnut with a lot of movement – Duellant.
In 1976, Romadour II represented the Westfalien studbook at the DLG Exhibition in Munich, where he was awarded the 1-a winner's prize, while his daughters, Riviera and Ranja were awarded the 1-a and 1-b distinction respectively in the three year old class.
Nicole Uphoff's Rembrandt is, of course, the most famous of Romadour II's progeny, while his breeding sons, Renoir I and Rosenkavalier have continued to pass on his legacy, most notably through Rubinstein and his sons.
Rubinstein was acquired at an early age by Mrs Gudula Vorwerk of the famous Vorwerk stud in Oldenburg. She bought him for a mere DM 35,000 as a three-year old. Before this he had been rejected for the Westphalian approvals, the commission being of the opinion that he was "too small, not enough horse, with defects on the hind leg not suitable for approval." His breeder, Herbert de Baey had faith in the black horse, did not have him castrated and shortly afterwards welcomed Mrs Vorwerk and the Oldenburg Officials to his studfarm. Rubinstein was headed for Oldenburg.
Rubinstein was third in his performance test at Adelheidsdorf remarkably finishing in a higher position (4th) in the jumping rankings than he did in the dressage (5th).
Rubinstein was ridden in his early tests by Detlev Nesemann, and the pair were Reserve Champions in the Six Year old dressage class at the 1992 Bundeschampionate. The ride then went to that gifted rider/trainer Martina Hannöver, and together they won ten of his eleven starts at S-level. In 1995, Rubinstein scored eleven first and second placings at Grand Prix and Grand Prix Special level, and he was seriously being talked about as a candidate for the mighty German team to go to Atlanta.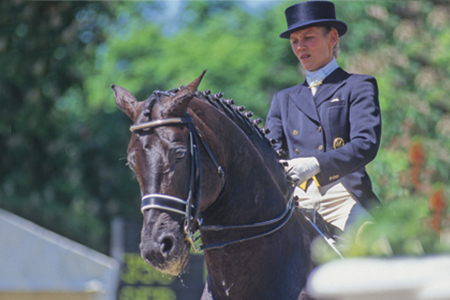 Martina with Rubinstein 
The bubbly blonde dressage trainer remembers the time well:
"I rode him for the first time, the first year we were at Vorwerks, back in 93. My husband, Ralf was riding him in M tests, but Ralf was a too big for him, so they asked me if I could ride him. I thought, I am not sure he is the horse for me. I really didn't want to put myself under so much pressure. I was happy with Rohdiamant who I won with at the Bundeschampionate. I got Rubinstein, and I rode him in four M tests, and he won all four. Then I started to ride him Prix St Georges, when he was seven, from 11 Prix St Georges, he won 10 and was second once. We kept on going."
What was he like to ride?
"You had to motivate him pretty good to look something special. Rubinstein and me, the special thing was the harmony, that's what dressage means, and that's what came over – the harmony."
He was never a big mover?
"Never, never, but when he was going without mistakes, he had a super walk, he did super super pirouettes, super transitions, so that is what Rubinstein was."
You had to manufacture an extended trot?
"Yes… we were happy with a 7, at least we didn't try for an 8. That came out of canter – medium canter with flying change, and we got another eight with the transition to walk and the walk pirouette. I learnt with this horse to take a risk when it makes sense, and when it doesn't, to just accept what you get, and not ask for more and make things worse because you've got the horse tense."
It always seemed to me that you got what extended trot you did get, came out of a lot of collection?
"I had to get him very together and on the hind legs so that the front legs came up."
When did you do your first Grand Prix with Rubinstein?
"1994."
Did you win?
"Yep. It was at Norten Hardenburg. First we did Intermediaire II – he was qualified two weeks earlier for the Nurnberger Burgpokel, so we decided we are going to try. He won the Intermediaire II, and then he won his first Grand Prix – and that was the night that his son, Ratino was born! That was really amazing. I said to myself, this is a sign, and if he is good like his father, he's not for sale, we can keep him."
Do you remember that first win with Rubinstein?
"I have also watched it on video. I must say the times are changing. All the breeding has changed… it was ten years ago… and then there were not such spectacular horses. It's not like right now with Rusty – the big movers, at that time we didn't have such big movers. The times are changing, twenty years before that, we didn't have such big movers as Rubinstein…"
Then Martina lost the ride and Rubinstein went to Heike Kemmer, and the magic was lost. Nicole Uphoff rode the horse for a season, but even she could not get Rubinstein motoring again – his weaknesses, the lack of power and scope, particularly in the trot, were glaringly apparent.
Still he was at the beginning of his career, a very successful stallion.
In his second crop, Rubinstein sired Regazzoni out of a Werther mare. Regazzoni was the champion of his stallion test at Münster-Handorf with a score of 140.53. Regazzoni is already the sire of a number of licensed stallions – and competed to FEI level himself. He was sold to the USA but seems to have left behind some good broodmares. Rubinstein is also the sire of Rotspon, born in 1995 out of a mare with classic Hanoverian bloodlines – Argentan, Pik Bube, Wendekreis. Rotspon topped his performance test in 1998 but sadly did not get a chance to compete at the Bundeschampionate, seemingly because Dr Bade did not wish to promote the son of a Westfalien stallion, standing at an Oldenburg stud.
The most successful stallion son of Rubinstein in the competition arena has been Relevant, who with Lisa Wilcox in the saddle was a star in the American team at the 2002 WEG in Jerez. Rubinstein was also represented in the 2002 German team by the gelding, Renoir, with Ann-Kathrin Linsenhoff.
The black stallion sired more than 90 approved stallions and numerous competition sports horses, however none of his stallions have gone on to establish themselves as a really top sire, and certainly none have emerged as the sire of sires – too often the progeny are a lot like Rubinstein himself, pretty, obliging but lacking movement and scope.
Rubinstein last appeared in the Hanoverian Stallion Book in 2005, where he is recorded as having 1502 progeny in competition for winnings of €1,457,560. He had 133 S level dressage competitors – and just 3 advanced jumpers. In terms of prizemoney, Relevant is far and away his most successful product, with winnings of €155,985. Relevant is currently standing in Britain.
Ribinstein's FN ranking was 139 for dressage and 93 for jumping. On the Hanoverian rankings, he scored 143 for dressage and 78 for jumping. He scored a positive 132 for type, and 133 for limbs.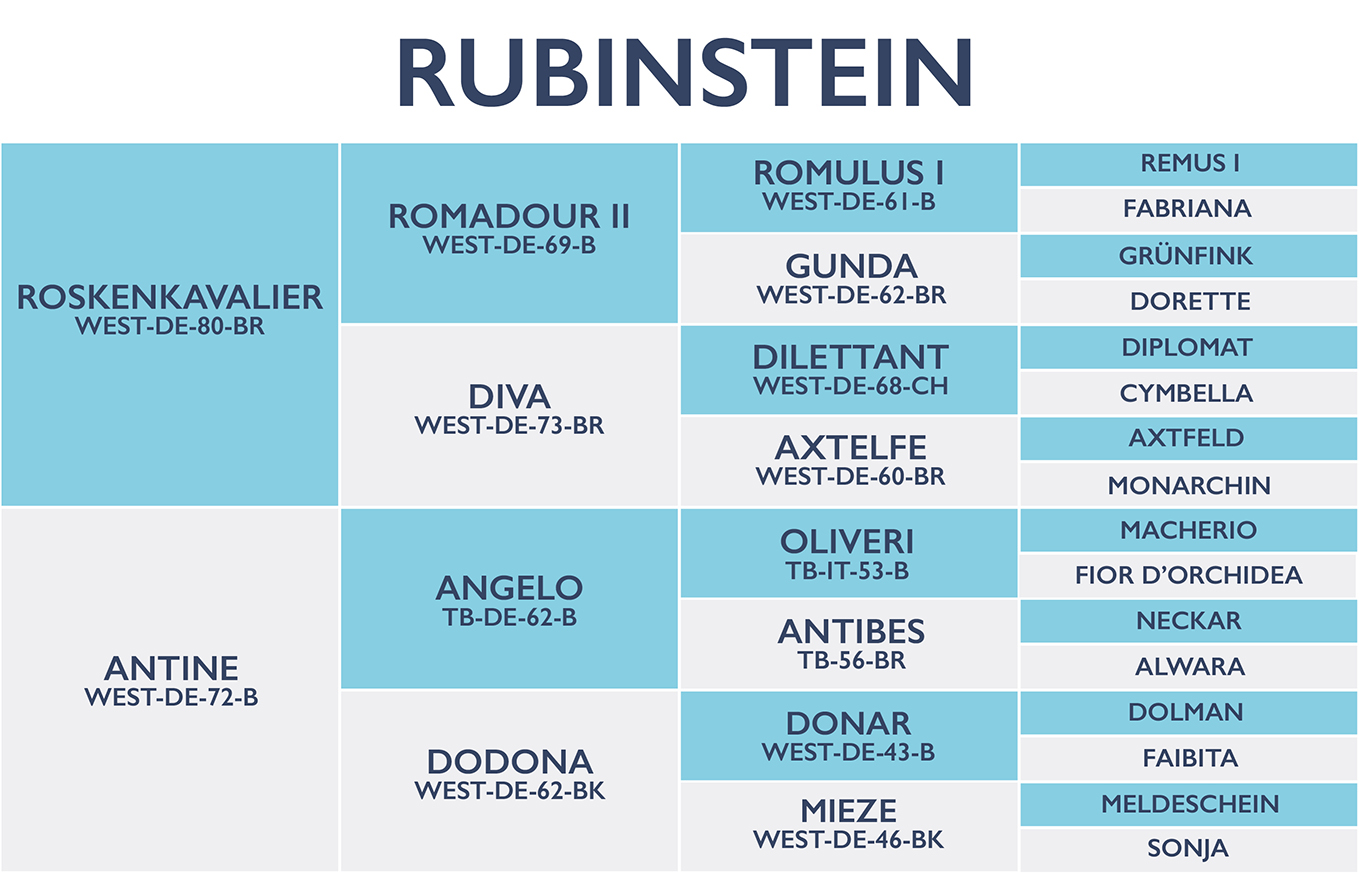 « Back to Great Stallions List