« Back to Great Stallions List
Sir Donnerhall I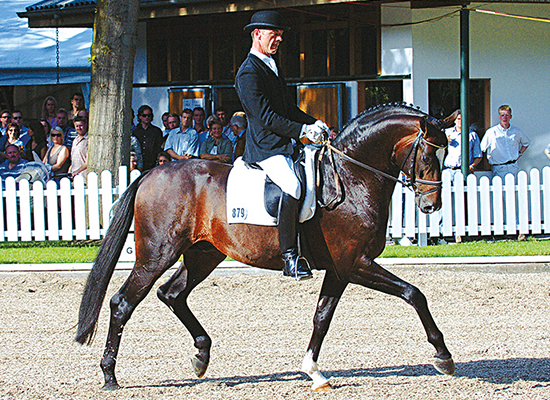 2001 171 cm Dark Bay
Breeder: Maik Kanitzky
By Sandro Hit, Sir Donnerhall is interestingly bred on his dam line. His dam sire, Donnerhall, needs absolutely no introduction, and he has been without doubt the most successful 'stallion maker' of the founding big three of dressage: Donnerhall, Weltmeyer and Rubinstein, although Florestan is currently quietly upstaging the trio.
Sir Donnerhall's dam, Contenance D is out of the Holsteiner mare, Contenance II, whose sire, Feldherr combines two of the famous old style Holsteiners, Farnese and Moltke I, her dam, Contenance is by the Thoroughbred, Grundyman and her dam, Vorr is by another Holsteiner, Ratibor (conventional enough: Raimond, Consul, Ladykiller, Fahnrich) it is the next line that starts to get exotic, with lots of å's and ø's, indicating that we have moved even further north to Denmark, and one of the original Danish breeds, the Fredriksborg, a breed of chestnut carriage horses.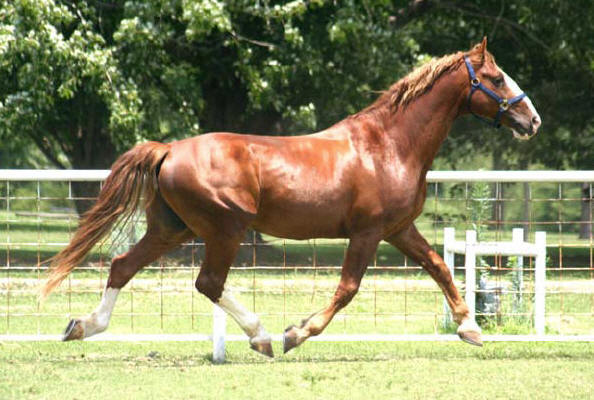 The Frediksborg horse..
Contenance D received her States Premium award at Oldenburg's most prestigious mare show, Rastede, before she arrived at PSI by a somewhat circular route. According to Ulf Möller, the manager of the PSI dressage barn and the rider who partnered Sir Donnerhall throughout his career, it was a deal within a deal. A partnership between a businessman and Paul Schockemöhle's Jumping Barn manager, was coming to the end: "They did some horse dealing together and then they couldn't agree about how to finish the deal and then in the end they agreed that Mr Schockemöhle would get an unborn foal out of one of his mares. So they finished the deal and this was Sir Donnerhall."
"So he grew up in Lewitz (Schockemöhle's horse raising farm in the Eastern part of Germany) like normal, everyone expected that he would be the winner of the licensing. At that time an Englishman, Mr Pidgley wanted to buy a stallion from Mr Schockemöhle, but because they expected Sir Donnerhall would be the winner of the licensing, they didn't sell Sir Donnerhall so they sold Don Kennedy to the Pidgley family. Then what happened is that Don Kennedy won the licensing and Sir Donnerhall was third."
"I started riding him as a four-year-old, he won the Oldenburg Championships and qualified for the Bundeschampionate, the German Young Horse Championships in Warendorf, but for him to be accepted by the Hanoverians, without doing 70-day test, he had to be placed 1, 2 or 3. Mr Schockemöhle asked me, can you guarantee that he will be 1, 2 or 3? And I said, hey, I cannot guarantee with a stallion, as a four-year-old, in this ring, I cannot give you the guarantee. So we didn't go to the Young Horse Championship and he did his 70-day test and he was at this time the highest score ever, so he was accepted by the Hanoverian breeding society."
"Then I got him back for the five-year-old Young Horse World Championships. He won his qualifier and then he went to Verden and unfortunately we all know what happened in Verden… so I was second."
(What happened was that after winning the first round, Sir Donnerhall was very disobedient in the canter work in the second round, but still managed to finish in second place thanks in large part to a 9.5 for general impression, a mark that provoked a noisy and antagonistic reaction from the spectators – like his father, this is a horse that attracts strong polarizing opinions.)
Ulf is not one to give up:
"To repair this I really trained for the Bundeschampionate and he won the five year old dressage title, so in the end it was a good success."
From then on, the stallion has only been ridden in stallion shows, although Ulf says he is handling the Prix St Georges work: "Now he's doing a good Prix St Georges, but we only get him to ride three/four weeks of the year to prepare him for the stallion shows…"
What do you see as Sir Donnerhall's qualities?
"As you know, I rode a lot of Sandro Hit offspring and there are some really good ones. You see now some of his offspring winning the Grand Prix but there was always a little bit the concern that some offspring from Sandro Hit do not have enough energy. I think Sir Donnerhall is really the one with the perfect mix of being nice, of being rideable, of having a good brain, but also of being fresh enough, forward enough and smart enough and trainable enough. I think that's the things that get more and more important, not only the gaits, but also the willingness, the trainability, the right brain. I think he's the perfect example of this."
Are there any particular mares that you think he's been working better with?
"What is well known is that Weltmeyer mares fit very good."
Because they're good behind?
"Yes, they have good hind legs. Weltmeyer himself has a, let's say a 'forward-pushing hind leg' and not such a 'carrying' hind leg but Weltmeyer on the mother line is a very positive thing. I think also Londonderry is a very good mix; we just had a very beautiful mare from Sir Donnerhall/Londonderry."
"I think it is a good thing if the stallion survives the first years, if they get old enough then you really find out the right fit. I think this is the advantage with older stallions like Sir Donnerhall, like Sandro Hit, like Don Frederico. All these stallions, which are still en vogue in an older age, you, the breeder, can know what is the perfect mix."
"I cannot say in particular which mares fit. Most breeders look at the stallion and think they will get a copy of the stallion – they have to look at the mares, and they have to look at the weak point of their mares and where the weak point is in the stallion, because every stallion has a weak point – so that maybe you don't mix two weak points together. If you have a horse with little bit of a slow hind leg you need a stallion with a very active hind leg. So this is what people need to think about."
Sir Donnerhall is a little bit slow behind?
"Okay he is a little bit, he's built a little bit like this. His croup is a little bit flat, we all know this, but because he's so rideable you can activate the hind leg, he takes it, and that's the good thing, and it gets even better with the age, with the right muscles… Okay, from his construction it's a little bit flat, but let's say one of 100 foals have it, most of them have a very nice hind leg, and a very nice construction from the croup. This is what I mean, if you have a mare with a flat croup, you would not use this stallion because then you mix two negative things together, then you cannot hope that it gets better. That's how it should work."
But he's not going to compete in Prix St Georges? He's just going to do the stallion shows?
"Yes, but I think you could bring him tomorrow to Prix St Georges and he could win it. The nice thing with Sir Donnerhall, is that he has this special presence. He's never standing there with the neck down, always with the neck up and proud. You cannot pass him without noticing him, he has unbelievable presence, and this is also what he has under saddle, he's always 'there' and that's what makes him a really good horse in my opinion."
Sir Donnerhall's competition career comprised four wins, one second, and one fourth at preliminary level for total earnings of €1,960. His 802 competition progeny, according to that splendid publication, the Hanoverian Stallion Year Book 2015, have won €291,848 between them, with 41 making it to Advanced level dressage, but  with just one with earnings of over €10,000 – Sacre Coeur with €13,924.
He has 11 licensed sons.
On the 2014 German FN dressage stallion breeding values, Sir Donnerhall has  a score of 154 which puts him in 15th place on the list of stallions with a reliability of between 90 and 99%. On the 2013 list, his full brother, Sir Donnerhall II wass ranked more highly than he with a dressage value of 160, but on the 2014 standings, Sir Donnerhall II's breeding value is 149. Sir Donnerhall II caused some heartburn in Hanover, when he was acquired by the state stud at Celle and bred a decent book of mares, before he was rejected by the Hanoverian licensing committee in early 2010, which left the resulting foals in limbo. Sir Donnerhall II went to Sweden, and then returned to win a bronze medal at the 2012 World Young Horse Championships in Verden, the home of the Hanoverian…
Sir Donnerhall II  won a World Cup Qualifier in April 2017 with young Spanish rider, Morgan Barbançon but they had to travel to Mariakalnok in Hungary to do so.
In the 2016 Hanoverian stallion book, Sir Donnerhall I's personal tally stands at €1,960, with four wins at L klasse. His progeny in the sport number 921, with winnings of €411,152. Two of his progeny have won more than €10,000: Sacre Coeur (€15,952) and Sammy Deluxe (€12,952). He has an FN breeding value of 152, 93 for jumping. His Hanoverian dressage value is 144 and 89 for jumping. He scores highly for canter, 168, and trot, 150, with a negative 93 for walk, and 145 for rideability. He scores 144 for type.
By the time the 2017 Hanoverian book had been published, the number of competitors had risen to 1001 with winnings of €523,777. Three progeny have earned over €10,000 – Sacre Coeur (€17,833), Sammy Deluxe (€13,601) and Starbucks 2 (€13,883). His Hanoverian breeding value is 142 (fifth on the topliste) with a jumping value of 88. For type he scores 145 which puts him in equal 5th on the topliste.
He scores a massive 165 for his canter, a 150 for trot and a miserable 94 for walk – his rideability has a breeding value of 143.
On the new FN values, he scores 150 as a young horse sire, and 135 for open competition.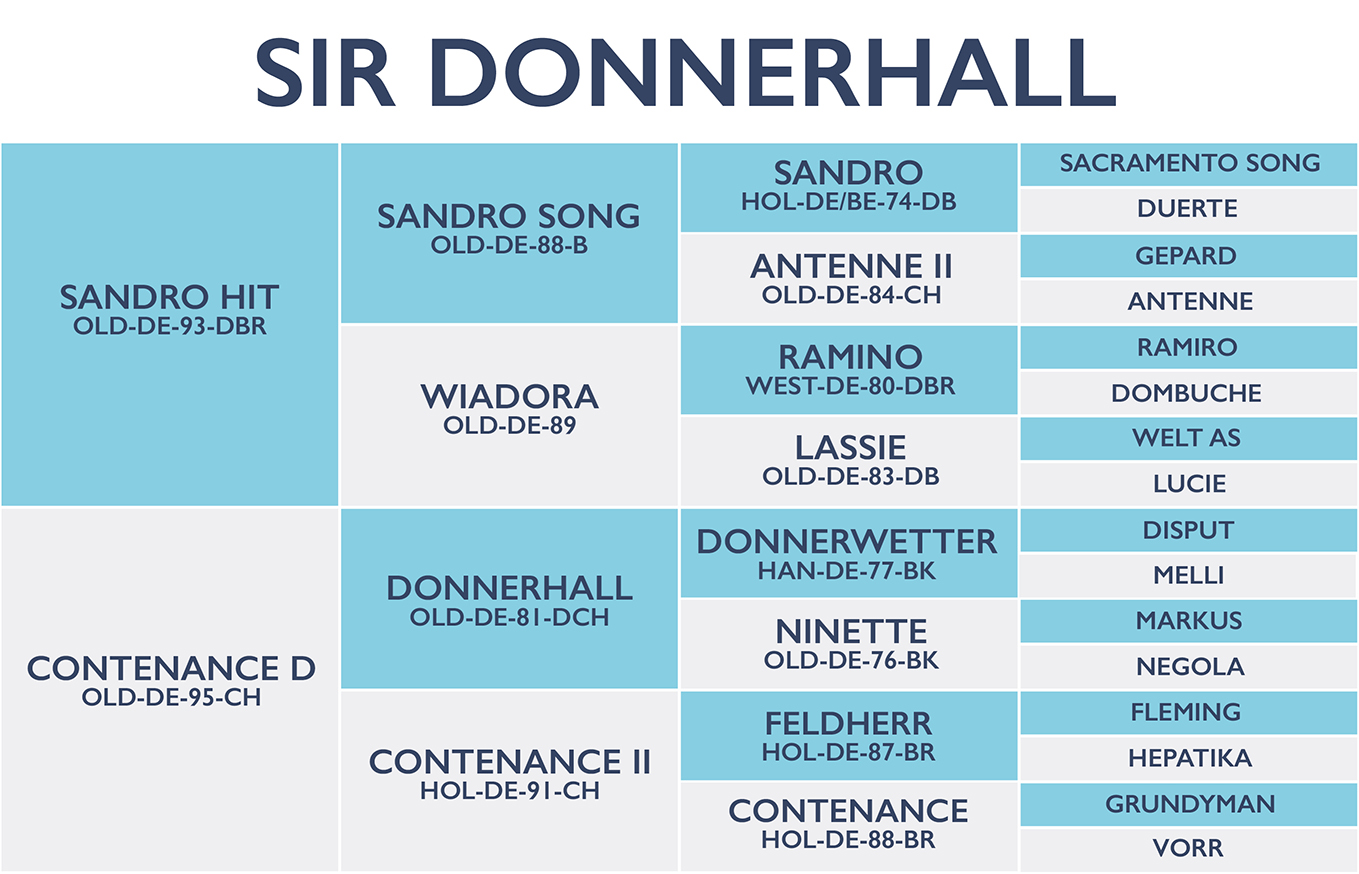 « Back to Great Stallions List