« Back to Great Stallions List
Souvenir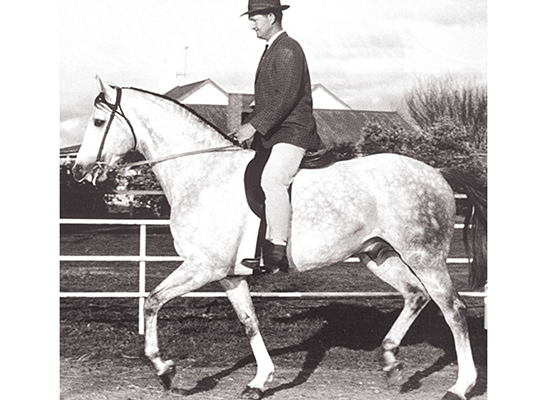 1959 – 1979 16.2 Grey
The grey stallion is a controversial figure in Australian breeding as this article by Bronwyn Bevan explains…
The Horse Magazine's 2005 Jumping Stallion of the Year is Souvenir, although surely there will never be another stallion of the year whose breeding remains such a mystery!
Like most young girls growing up, I had an idol, well I had two, one was a horse, the other its rider. They were Silveneer, the son of Souvenir and Peter Mullins. I had been told that Souvenir was a great horse, but how much do we really know about Souvenir and his progeny or breeding for that matter? Who was he, and why was he so great?
Rumours run rife around horses, and the Souvenir line is no exception. Almost everyone has heard something about Souvenir and/or his progeny. Let's start with Souvenir's breeding. If we listen to rumours, Souvenir is nearly every breed known. He definitely has some Thoroughbred in him, but some say there is also Percheron (that would explain the size), Arab (would explain their presence), Australian Stock Horse (well his progeny are very popular for back paddock mustering), or Standardbred. Then I got to his pedigree.
Over time though I got three different spellings for Gortland (Gorlan & Gourtland), three for Nina (Nena & Nenna), two for Revera (also Revere), Carra Dale could be Carradine, and Rose Buira could be Rosa Ruberina. While those who knew her, called her Rose, she appears on the ASH web page as Rubenette.
Request was owned by Ted Clark, whose son, Howard acquired Souvenir as a yearling. Like Souvenir, Request sired many successful hacks, and the Galloway, Charmaine riden by Sheryl Gardner. Around this time, it was thought that Request was indeed part Thoroughbred, crossed with a 'cold blood'. Unlike his son, Request was never advertised to outside mares and consequently was not very well known. Gortland was imported from Britain and was one of the first stallions used by the Victorian Mounted Police Force.
Now the bloodline starts to get tricky. Nina was owned by John Ryan, who bred racehorses. One day, Jim Clifford, who was a friend of both Ted Clark and John Ryan, introduced the two and consequently, Nina to Request. Why they bred this stallion to this mare is a matter of speculation. Nina was a paddock brood mare. Request a 'closed book' stallion who bred hacks. Nina is thought to have bred a race horse by the name of Winrami, however he was never registered with the Australian Stud Book. Her grandsire, Balmerino, was born 1925 by All Black out of Anna, who won the VATC Guineas in 1928. However, there is no record of Desire or Carra Rice. Sadly I have been unable to find any proof that Souvenir is a pure Thoroughbred.
On to his progeny. While most Warmbloods on the competition circuit today are named after their sire, this was never the case with Souvenir (with the exception of Supreme and Silveneer). Nor was he restricted to well bred or successful mares. Howard Clark was a businessman and wanted Souvenir to be known by all. This was both a blessing and a shortcoming. His progeny have been successful in eventing, showjumping, dressage, polo, campdrafting and tentpegging. On the other hand, this meant that some ordinary mares produced ordinary foals possessing the Souvenir name.
However, nobody could deny that there have been some very successful performance horses by Souvenir. For example Art Uytendaal and Tongala in Europe (from seven international starts, he placed six times), Jeff McVean and Autograph – 5th individually at the age of five at the Rotterdam Alternative Olympics, Peter Mullins and Silveneer (twice Australian champion in 1982-83) or Vicki Roycroft and Mickey Mouse (who placed 10th at the World Championships in 1990, the best result of any Australian combination).
More recently Peppermint Grove (by Fionn Barr out of Granity, by Kumali, by Souvenir) and Gill Rolton – gold medallists at Barcelona in 1992 and Atlanta in 1996. Or Sydney Olympic team gold medallist Kibah Sandstone (by Bamborough Sunny Souvenir by Souvenir) and Matt Ryan. Other performers include Supreme, McCartney, Koyuna and Burgundy (who jumped a 1.8 metre gate as a yearling).
Wendy Schaeffer rode four Souvenir bred horses, one of which Koyuna Sun Glo, by Copper Glo Memento, by Copper Glo by Souvenir, was short listed for the Athens Olympic Games.
Souvenir's record as a performer is also not to be laughed at. He won the Royal Melbourne Show Champion Led Stallion for 3 years in a row (aged 2, 3 and 4 years) before retiring to stud. During this short career, Souvenir caught the attention of people all around the world, including European and British Horse Societies and riders in Japan and New Zealand. He was, at a very young age, given the privileged title of a horse with perfect conformation. Not only were Souvenir progeny successful in the showjumping and eventing arena, but also in hacking. Charmaine, who was a galloway, was Champion at Melbourne Royal many times. In the early 1960's the South Australian Mounted Police Force employed Souvenir to sire their horses. Ridden by members of the police force, these horses blitzed the showjumping, dressage, eventing and tent pegging arenas. So impressed were the police force that Souvenir was replaced by his own son Lochinvar, when the time came to retire. However it was Image, another son who left his mark on the force. He was a handy showjumper and eventer with John Vaughan in the late 60's.
Another belief which has been prominent in my research is that Souvenir was no good as a sire, he didn't "stamp" his progeny well. The general consensus is that these horses are highly intelligent. But what of the idea that they are difficult to handle? Neville and Lyn Rose would consider this an insult to Silveneer, one of their Souvenir bred horses. For the record they say Silveneer was an absolute gentleman to handle, like many of the line.
Wendy Schaeffer's Souvenir bred horses all have different temperaments. This could be the biggest clue in revealing the secret behind the stigma of this line. Perhaps Souvenir didn't stamp his foals with his temperament, but instead with his talent and the differing temperaments are in fact due to environmental factors, like training.
(Editor's note: On the subject of heritable characteristics I do know one trainer who had a lot to do with Souvenir bred horses, and he always claimed that when you were breaking them in, if you didn't put blinkers on them, they always bucked like crazy.)
While it is common for a stallion to have a large influence on the potential of a foal, it is almost surprising that Souvenir's qualities have passed through 3 and 4 generations. Many of these horses may have been too sensitive for some riders, but there is no denying that even up against some of the best imported horses they have shown some real talent. Perhaps then, we should put aside personal grudges and cherish the Souvenir line in a country where home grown talent is difficult to find.
Bronwyn would like to thank:
Hunter Doughty, Kerry Uytendaal, Wendy Schaeffer, Gill Rolton, Neville & Lyn Rose, Howard Clark, Merl Rodwell, Grant Marshall & Patrick Lycett (South Australian Police Force) Vicki Roycroft, Mick Ryan, Everyone on the Cyberhorse forums.
Chris Hector's note: I have on numerous occasions, and with various versions of Souvenir's pedigree(s) tried to find the horses on the splendid Australian Stud Book website. It is not an encouraging exercise. From the top, there is no record of Gortland, or Desire, Wishful or Request. On the bottom line, I can find no Carra Rice, or Carradine (as supplied to Bronwyn – or Carra Vale as supplied by Darren (Howard's son) Clark to Stephen Lamb). No Patrice, no Rubenette, and no Rosa Ruberina. Even more mysteriously, the Revera on Bronwyn's pedigree is not there, but on Stephen Lamb's it is given as Revere, 1930, by Heroic out of Real One. Bingo, there's a Revere out of Real One by Heroic and born in 1930. Trouble is, it is a mare, and therefore an unlikely candidate to be the sire of Relation! And Revere and Balmerino are the only two names I can find that match. My favourite story of Souvenir's ancestry is that he was bred by Sergeant Jim Clifford, by Request and out of a mare of Percheron / Arab breeding – this may be total fabrication, but one prominent breeder swears he was told this by the late Ted Clarke – alas neither he nor Sergeant Clifford are available to confirm or deny…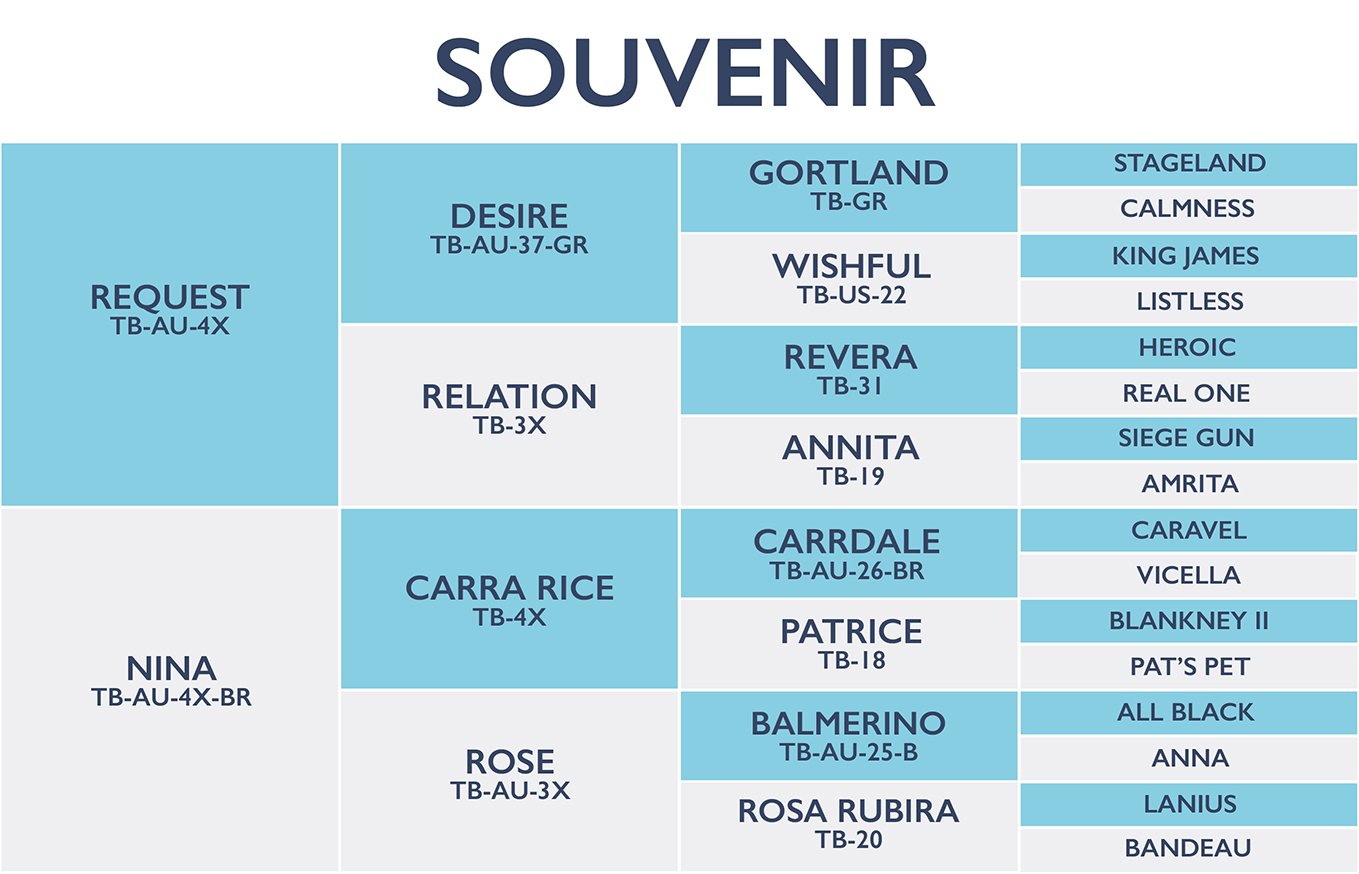 « Back to Great Stallions List