« Back to Great Stallions List
Totilas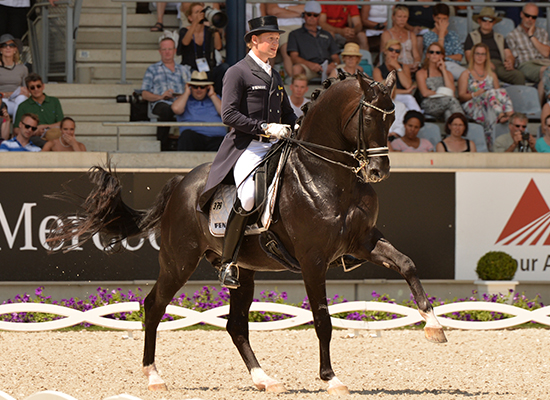 2000 170 cm Black
Breeder: K J Schuil / A Visser
Up until his victory at the European Dressage Championships at Windsor in 2009, Totilas had not been used for breeding, but in response to world wide demand, it was decided to release his semen onto the world market.
According to his rider Edward Gal, his time in the collecting shed has not affected his attitude, at the KWPN stallion show in February 2010, he told me: "Totilas has now been covering for one and a half months, and I haven't noticed any change with him, no change – so that is good."
Totilas has interesting – if not classically 'dressage' – blood, to offer. His Trakehner sire, Gribaldi was a Grand Prix dressage competitor, but on the dam line, the blood is less conventional. Like his sensational teammate, Parzival, he carries the blood of two Dutch stalwarts, Amor and Nimmerdor. Totilas is out of a mare by the Nimmerdor son, Glendale who was in turn out of a mare by the Amor son, Akteur.
I asked Edward if he found the father in the son?
"A lot, not only his appearance but also his ability for collecting, for piaffe and passage, and the pirouettes – Gribaldi had it too."
Totilas seems so strong – every time you see the footage of him doing the canter pirouette at Windsor, it seems so perfect, so effortless for him…
"You just say, now pirouette and turn and he starts doing it and it's so easy with him. Most of the things are easy with him. In the arena, when there is a lot happening, at the prize giving, you can let him walk normal and he just stands there, and when you want him to do something, he immediately reacts, and that is good."
Totilas' dam also produced two other dressage horses that competed at medium and advanced level, as well as Totilas' full sister Uusminka, in training with Edward Gal. Grand dam Elsa produced the advanced dressage horses, Talan and Uljanoff. The dam line that is heavily influenced by Holsteiner gave the licensed stallions Guiminko, Olympic W, Vindicator, Try Time, Racketeer and Amingo and several sport horses. In fourth generation is Pericles, one of the most significant Thoroughbred sires for Dutch Warmblood breeding.
Totilas goes back to the Oldenburger line of Freiminka (Godin-Rheinfürst), who is known as NL-merrielijn 038 in Holland. Also from this line are the jumping stallions Marius with Caroline Bradley, Palermo, at stud with Paul Schockemöhle, Camper, Iowa, Kelvin and Topas.
In rapid succession, Totilas set three world records, each time only surpassed by himself. Within two years Totilas and Edward Gal won all titles, individual and team European Champion in Windsor 2010, individual and team World Champion in 2010 and World Cup winner in 2010.
His partnership with Matthias Alexander Rath that followed his purchase by Paul Schockemöhle and Ann-Katrin Linsenhoff, was not such a happy affair, they had some success, including a silver medal in the 2012 German Championship but did not look at all happy at the Euro Champs at Rotterdam in 2011 and soon disappeared from the scene after that. He made a brief, somewhat disastrous, stallion show come back, in 2012 in Vechta, before disappearing again.
Totilas re-appeared triumphantly at Aachen 2014, winning the Grand Prix and the Special – both times beating world champion, Valegro, but was withdrawn from the Freestyle, and it was later announced that he was injured and not available for selection for the German Team at the WEG in Normandy.
 Toto Jr
His first foals were born in 2011, his colt, Total Recall set a new record at the foal auction in Vechta in 2012, as the hammer went down at Euro 200,000. His son Toto Jr was the first to be licensed – at Verden – and was sold for €100,000 to Edward Gal's sponsors, Glock.
Toto Jr was one of the three sons presented at the 2014 KWPN stallion show, they were all licensed but the star was his son, Governor, out of the full sister to Parzival.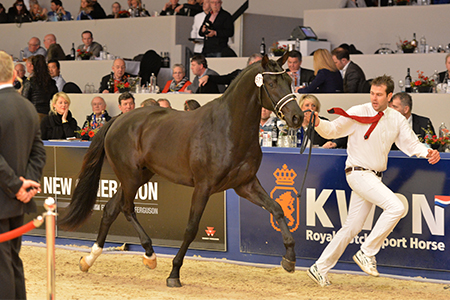 By Totilas out of Parzival's full-sister
At the 2014 KWPN Stallion Show, I interviewed the head to the Licensing commission, Wim Ernes – it had been a somewhat controversial licensing with the colt everyone expected to be crowned champion – the Totilas out of the full sister to Parzival – relegated to second place…
Early there was a lot of talk that the Totilas foals were terrible, but they looked good…
"The three we had were okay, very nice horses."
Is it perhaps that a lot of exceptional mares were sent to him – for example Parzival's sister… that was always the argument about Weltmeyer, in his first season he got 150 of Hanover's best mares, so was he a great stallion or did he have great mares?
"It is always a combination and the mare brings a lot, maybe more than 50%. I think Totilas had a lot of mares and they were not all high quality mares, probably that gave him a little bit of a bad name as a sire, but I think we have now seen that with good mares, he can bring a lot of good things."
On the 2015/16 KWPN rankings, Totilas appears with a breeding value of 163 (61%). He has produced 65 progeny over the age of four, of whom 3 are registered for competition, that's a participation rate of 4.615. Totilas is also no star when it comes to his OCD status, recording a negative value of 96 (67%).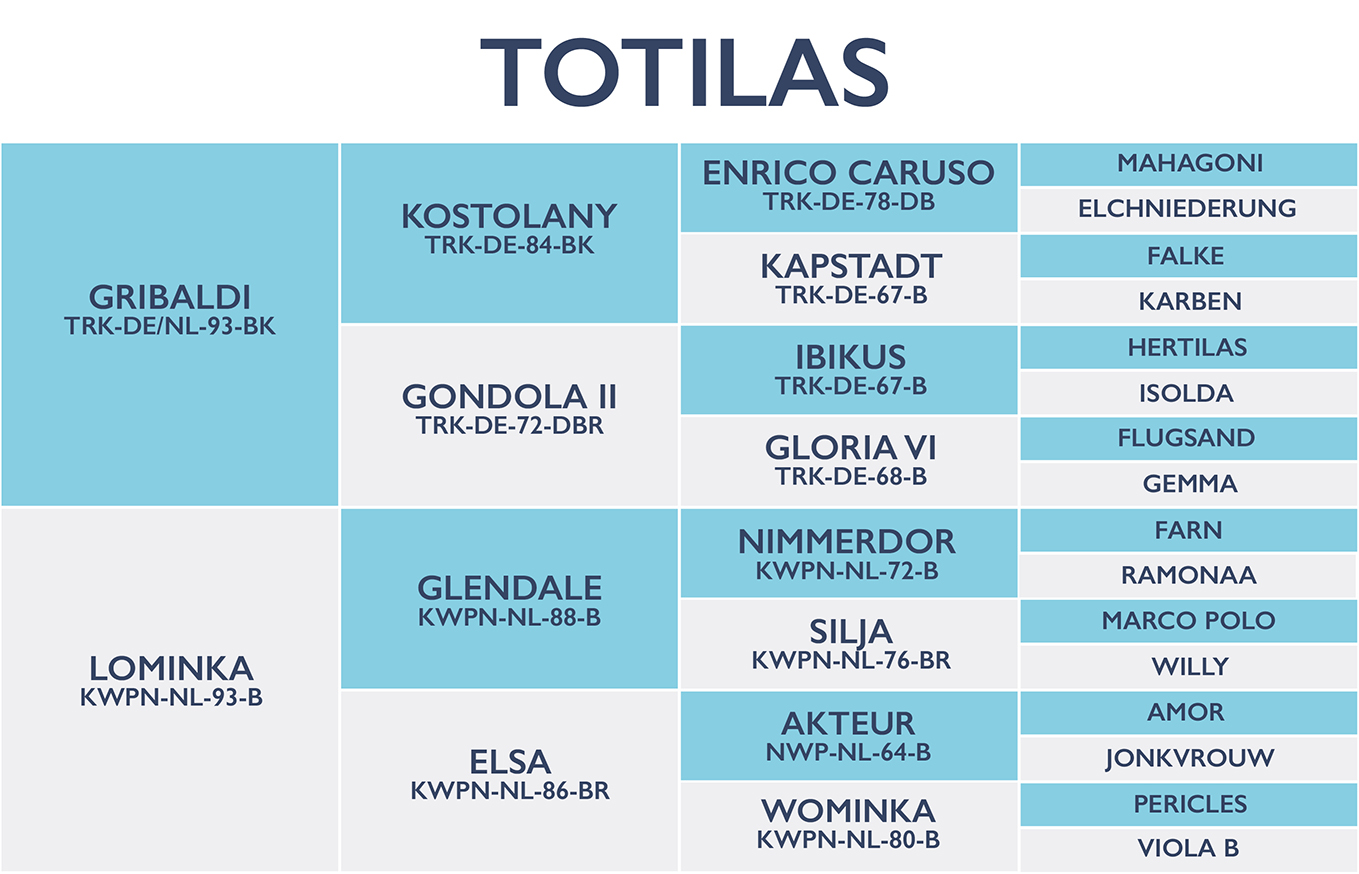 « Back to Great Stallions List