« Back to Great Stallions List
Warkant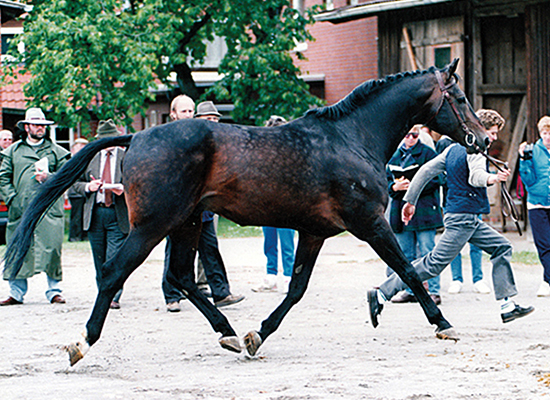 1983 –2011 169 cm Black
Breeder: Helga Axhausen
The Celle state stud stallion Warkant, by World Cup out of a Grande mare, was the Hanoverian Stallion of the Year for 2002.
Warkant was born in 1983 on Helga Axhausen's farm in Schiffdorf near Cuxhaven where his movement was exceptional right from the start. At the age of four days he was noticed by the State Stud Manager and scheduled to join the stallion prospects at the Celle raising farm at Hunnesrück and that's where he spent his youth where he stood out as the exceptional stallion of the group.
According to Gerd-D Gauger in his tribute to Warkant in The Hannoverian:
"When the shipper from Hunnesrück arrived at the farm of Axhausen, Warkant just hopped on the trailer. His well-balanced, bright temperament is not only a characteristic which remained all through his career as a breeding stallion, but also a characteristic which he passed on to all his offspring. He became the unchallenged champion at the licensing of the stallion prospects from Hunnesrück, a stallion with type and nobility, with excellent lines, prominence and a strong foundation (Pix As xx), a somewhat low neck set (Grande) and – of course – movement (Wöhler)."
Because of an injury, he could not participate at the stallion performance test's finals. His final result was projected up to 119,20 points. Warkant was the winner of the licensing of the Hunnesrück stallions.
In 1987, he started his breeding career in Beedenbostel. From 1993 to 1998, Warkant was stationed in Celle before he moved to Grethem in 1999.
He was one of the stars of the Celle stallion parades because of his excellent basic gaits and his expressive trot.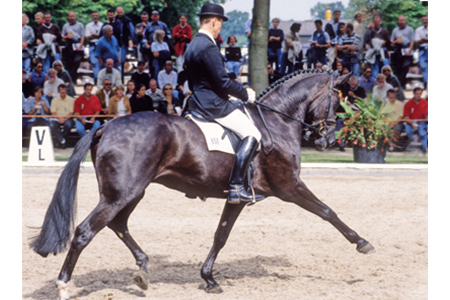 Wahajama – Bundeschampionate winner with Holga Finken and a Grand Prix horse for Ann-Kathrin Linsenhoff
Warkant's offspring caused a sensation on auctions. 37 of his offspring were the best horses of their auctions, 13 of them were sold at top prices of more than €50,000, EUR. Prices went as high as the then sensational amount of €255,000 for Wahajama by Warkant out of an Acapulco mare, she was very much more expensive, reputedly several million euros, when sold later to Ann-Kathrin Linsenhoff after winning the 5 and 6-year-old Dressage Championships at the Bundeschampionate. And yet she was initially sold at the Verden Foal Auction for less than €5000! Wahajama was a successful Grand Prix competitor with Ann-Kathrin prior to her rider's retirement from the sport.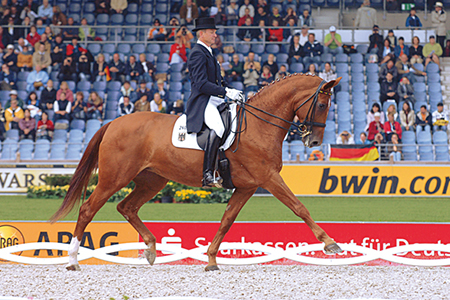 The most successful competitor by Warkant, Wansuela Suerte – competing for Germany with Hubertus Schmidt 
Wansuela Suerte, out of Wachmann mare, is another example. She was also a high-priced auction horse before going on to be a member of the German dressage team with Hubertus Schmidt.
Although Warkant produced 18 licensed sons none of them has made a name for himself. In his local breeding area, his reputation is as a mare producer, and some exciting stallions are now coming on the scene out of Warkant mares – the most famous of which is Londonderry.
Warkant is the sire of 57 state premium mares. His daughters passed their mare performance tests with excellent results. It ensured that Warkant achieved a dressage breeding evaluation in the 2015 Hanoverian Stallion book of 133 points while his jumping value is a lowly 74. His score for type is 76, although he scores 95 for correctness of limbs.
From the FN results it is clear that Warkant is very much a dressage sire. He has a positive dressage score of 125, and a negative jumping score of 55. He had 395 competitors up to the publication of the 2015 Hanoverian Yearbook, 286 dressage competitors and 72 jumpers.
His progeny amassed winnings of €941,511. Wansuela Suerte was the most successful with €324,851 while Wahajama-UNICEF won €101,800 and World Congress, €49,423.
A slightly old fashioned type, Warkant needs mares of quality to produce really good foals – but when he does, they are sensational.
On the WBFSH rankings for 2007, Warkant was in fifth spot with six representatives on the world stage but by 2009, he had dropped out of the top 30.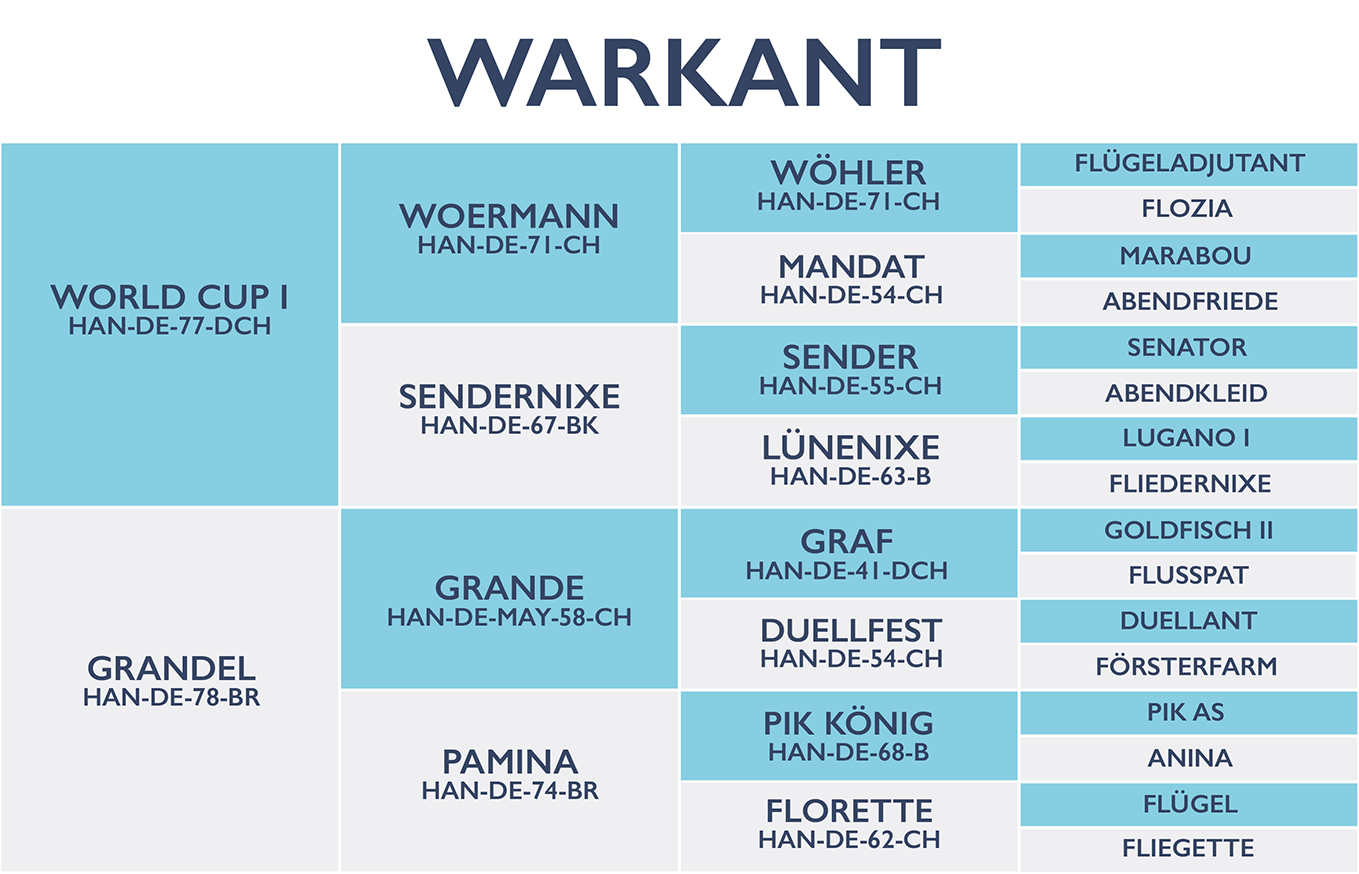 « Back to Great Stallions List