« Back to Great Stallions List
Wenzel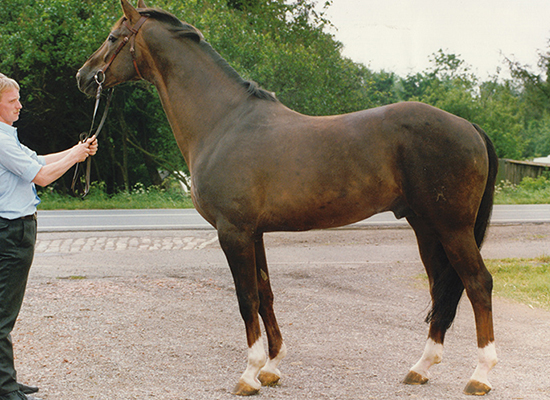 1976 – 2001 168 cm Liver chestnut
Breeder: Walter Wiechert
One of the first of the 'Dressage' sires, Wenzel was always a somewhat controversial stallion, and there are those who suggest that he did not throw horses with the most cooperative temperaments (blamed on his grandsire, Don Carlos), and he was suspected of producing 'roarers'.
(When I first took part in the Hanoverian Study Group in 1989, I had just come from Sweden, where stallions who bred horses with wind problems were banished to the riding school no matter how famous they were. I questioned the Hanoverian authorities as to why they were not excluding stallions who produced roarers, and was told that the condition was not hereditary. At this time, about half the horses in the Verden elite auction came with the note 'has been hobdayed'. Some years later, the Hanoverian officials decided that the condition was hereditary and made candidates for state premium mare honours produce veterinary proof that they were clean in the wind. Within a couple of seasons the problem was eradicated, and it is now impossible to find a 'hobdayed' horse at the Verden auction.)
Still the results are on the board, and there are not many stallions that have been so successful as Wenzel with 612 competition horses in Germany alone, with winnings of DM880,000 – almost all of that in the dressage arena. On the World Breeding Standings he had seven international competitors listed, which put him 10th on the rankings for the period 1992-2001. Wenzel was out of a mare by Matador, a very good Hanoverian grandson of the superb Marcio xx.
Wenzel was raised at Hunnesrück, the property owned by the State Stud, and at his performance test in 1979 looked underdone compared to the others who were primarily from private studs. However, his performance was excellent and he finished first of 31, beating notable opponents, including Genever, by Gotthard, and Eiger II by Eisenherz.
He became the Best Sire of 1980, and the 1982 Reserve Champion at the DLG show.
In Hannover alone, Wenzel left 1,208 progeny, including 350 broodmares, 68 of them state's premium mares. At the elite auction he was represented by 80 offspring. Eight riding horses and one approved son sold for more than DM100,000 – the first to break the 100K barrier was Walk On Top, prepared for the auction by Inge Schmezer. Walk On Top later won the 1998 World Cup final with Sweden's Louise Nathhorst. At the 2001 European championships, his son, Weldon Surprise – a real typical 'Wenzel' – performed excellently for his Portuguese rider, Daniel Pinto.
At the 2008 Olympic Games, Wenzel was represented by his son, Lancet, in the British Dressage team.
Wenzel also produced stallions – Wousselt, Western Star. Westerland and Westbury, none of whom set the world on fire, although Western Star was the sire of Sven Rothenberger's Grand Prix dressage horse, Weyden.
Wenzel was to his dying day, a grand old horse, with that air of someone who knew he was very special, and with just a touch of wickedness lurking in that big eye!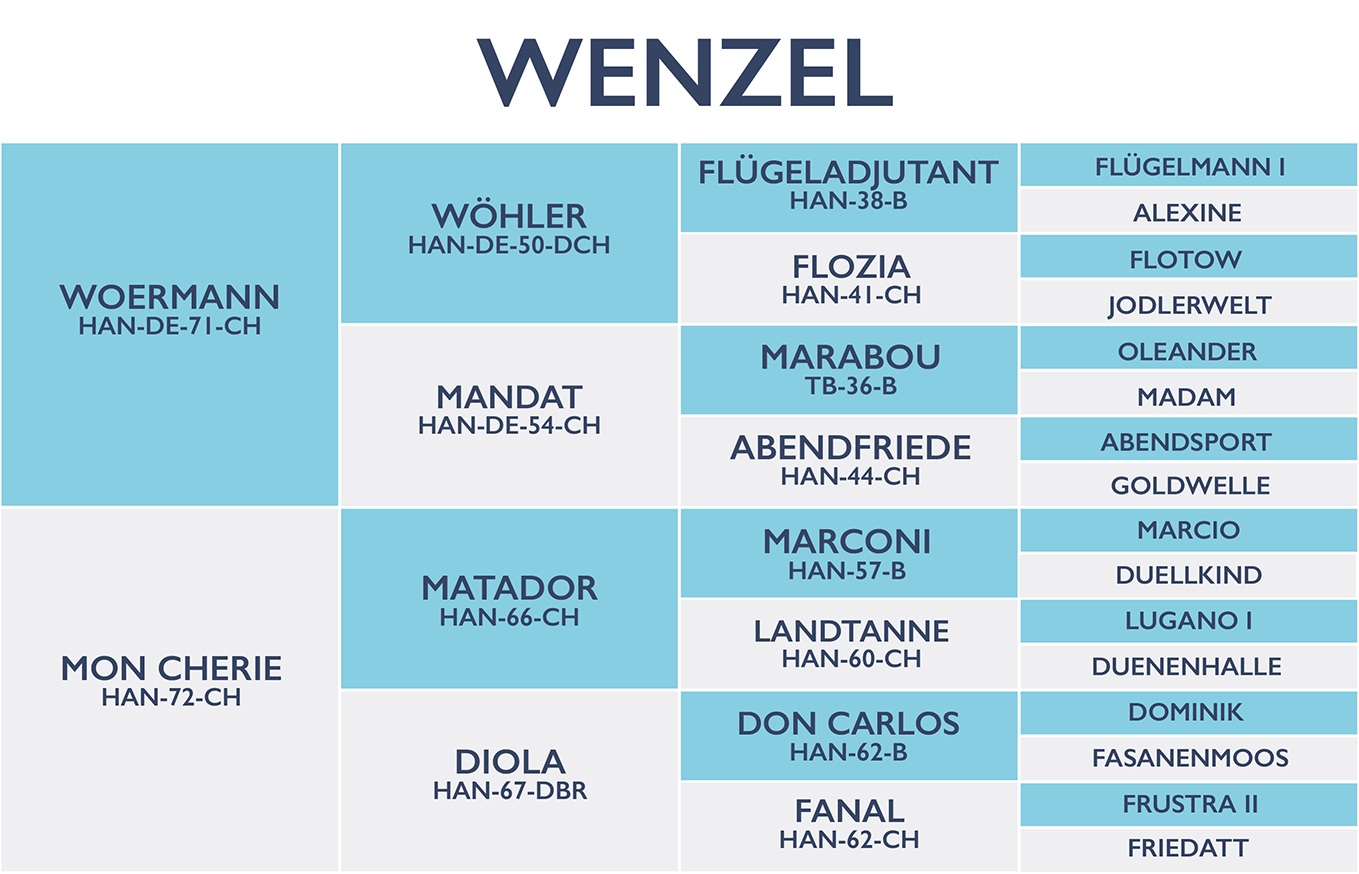 « Back to Great Stallions List