« Back to Great Stallions List
World Cup I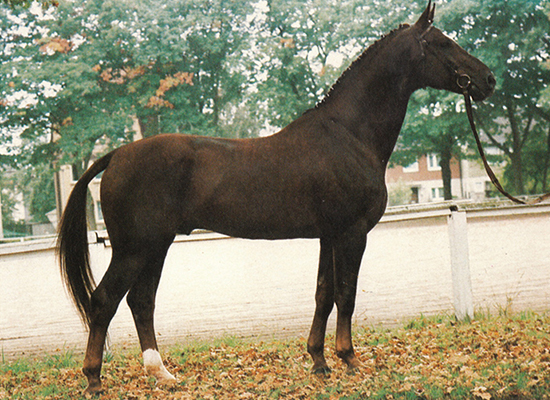 1977 – 1997 169 cm Dark Chestnut
Breeder Hans-Eduard Börger
World Cup, and Wenzel, were both products of Woermann's first two years of breeding, and both were performance test winners – and instantly popular. The cross of Woermann over the Sender mare, Sendernixe, produced four World Cups (in Germany licensed full-brothers are given the same name with the numeral indicating the order in which they were born.)
The first three were retained by the State Stud at Celle, and World Cup IV was exported to Canada.
Sender was a Hanoverian grandson of the Trakehner, Semper Idem.
World Cup I was selected to represent Hanover at the prestigious DLG shows in Frankfurt (1984) and Hanover (1986) – each time standing Reserve Champion. His daughter Walencia was DLG champion mare at the Hanover show.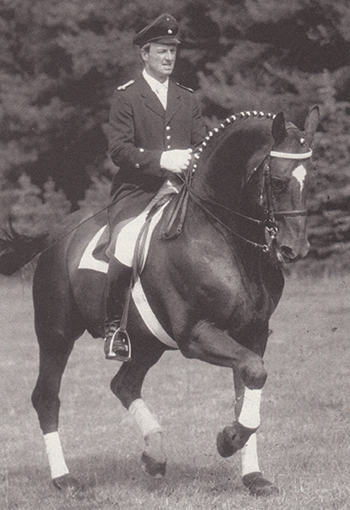 Here he is as a mature stallion, perhaps a bit old-fashioned by todays standards (Werner Ernst Photo)
The DLG stands for Deutschen Landwirschats-Gesellschaft, the German Ministry of Agriculture, which organized an annual DLG show at which each German breed society presented their elite group of breeding stock in an all Germany championship. The show was abandoned in 1984 but it reflected those earlier times when a stallion's riding career basically finished at the end of its performance test, and when stallion owners were artists at trotting their stallions out on the road in front of their stables with a team of helpers running along waving whips and rattling tins – the DLG championships were for in-hand classes only. Some modern commentators remember these shows with a grimace, claiming that they promoted impressive horses with that 'breeder's trot' that does not work well under saddle. The only exception to the rule seems to have been the first – and only – private stallion to win a DLG title, Donnerhall.
The stallions took part in the stallion parades, and World Cup was the leader for many years.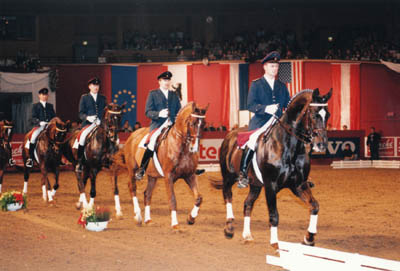 The new emphasis on breeding stock on performing, is reflected in the format of the Bundeschampionate, which for all its occasional excesses of 'spectacular' movement, does at least allow the spectator, and prospective breeder, to see the stallion – and his progeny – under saddle. The new attitude is also reflected in the way horses are sold. At all the major auctions, prospective buyers are given the chance to ride the horses before the sale. The old style studmasters would trot a horse out once for the buyer's inspection. "You want to ride him? There will be plenty of time to ride him when you get him home…"
World Cup was crowned Hanoverian stallion of the year 1996 and is sire of international dressage stars like Isabell Werth's Grand Prix dressage horse Welcome who was sold to The Netherlands.
He produced 16 licensed stallions, five of whom stood at Celle: Weltmeyer, Walt Disney, Warkant, Wogenspieler and Woodstock.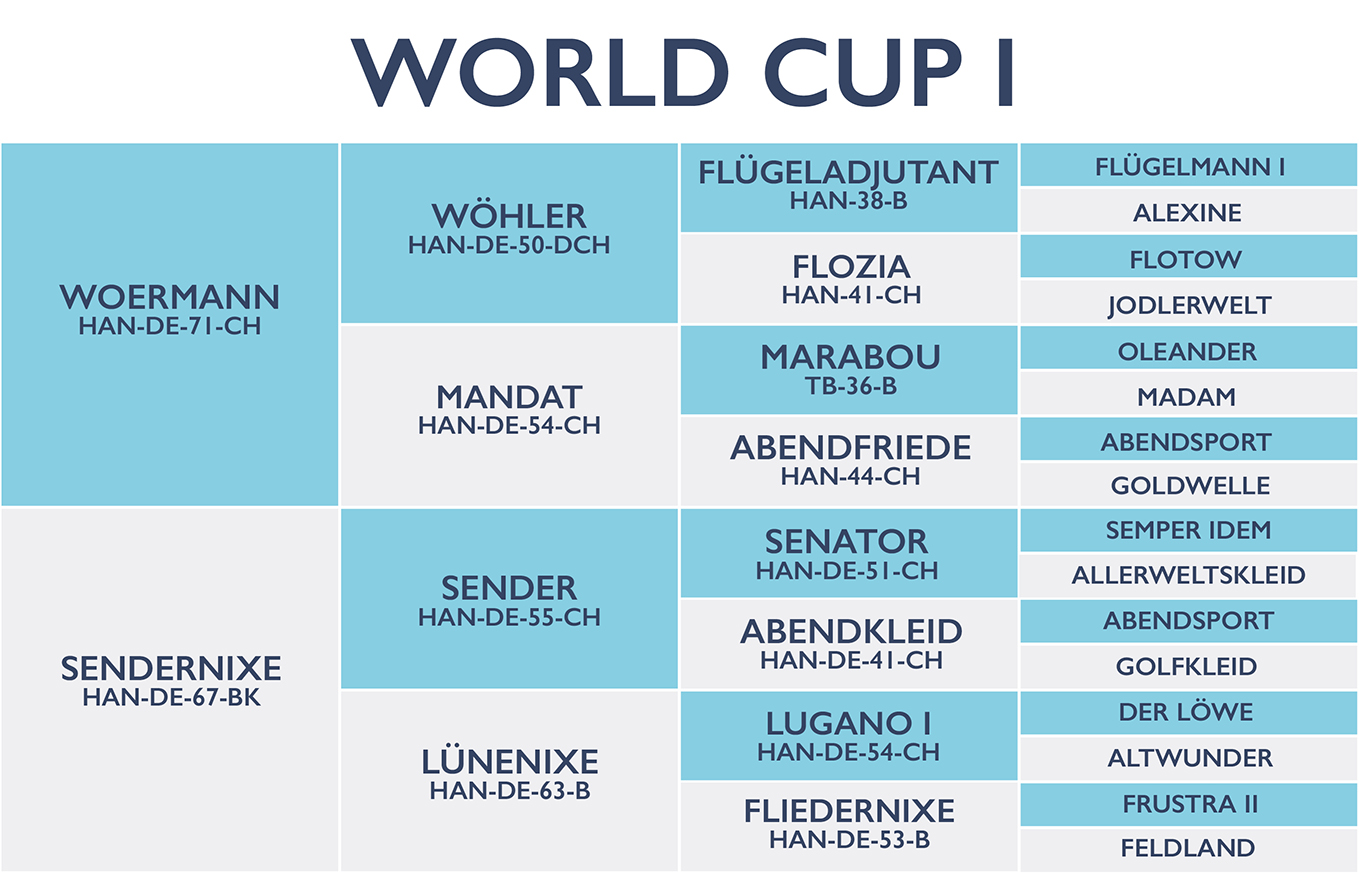 « Back to Great Stallions List