« Back to Great Stallions List
Lord Calando

1985 – 2011 170 cm Dark Bay
Breeder: Erhard Krampitz 
The career of this stallion is truly one of the signs of the times. Born and raised in Holstein, Germany, he finished his stud career in France – previously the most chauvinistic of countries when it came to horse breeding.
Lord Calando's sire needs little introduction – but his dam is something rather special: Perra is also the dam of Carthago, another of the great jumping competitors and sires. Her sire, Calando was himself an international showjumper, with Karsten Huck, and then with the Belgian (later to represent Luxemburg) Edgar-Henri Cuepper – he was also a good sire of jumpers with progeny with earnings of DM500,000 by 1994, and 180 state premium mares.
Lord Calando's grand-dam, Kerrin was also used as a competition horse for a short time. She was the only registered daughter of Mambo (by the Thoroughbred Marlon) of the famous mare line 730B, which also produced the Caletto brothers. Kerrin shares a dam sire with them – Consul, the sire of the great dressage horse, Granat.
After standing at the famous private stud farm of Maas J. Hell, Lord Calando made his move to France, to the French National Stud. In 2006, he was 47th on the list of the top 100 French stallions with 73 mares. In 2007, he was =55th with 69 mares. His move to France marks also the return to that country of the blood of one of its most famous exports, Cor de la Bryère, Calando's sire.
Lord Calando is described on the Stud website as: "a handsome and athletic horse, with very good shoulders and haunches." They consider his strong points to be: "Looks, movement, genetics… His offspring are good looking with great movement. He should be crossed with mares who lack strength, movement, but have balanced temperaments. Because of the amount of blood on his father's side, he will have a more refining effect."
Indeed Lord Calando is rich in Thoroughbred blood. Aside from his paternal grand-sire, Ladykiller, there are three crosses of Cottage Son, one of Rantzau, one of Furioso and one of Marlon.
Lord Calando hit the jackpot when he was 'trial' bred while awaiting his performance test, and produced his most famous son, Lux Z.
He is also the sire of Fabienne – 1st Final CN Samsung CSIO Madrid with Piet Raymakers; Locando who competed with Marcus Ehning in international Grand Prix, Loradus and Jerry Smits, an international Grand Prix competitor; Nabob who competed in the Nations Cup for Hungary and Rubynea, successful in France at Grand Prix level with Eduard Couperie. He is the sire of Goldkueste, the dam of Chatman, an international Grand Prix jumper with Ludo Phillipaerts, and also sired Joplanda, the dam of Numero Uno.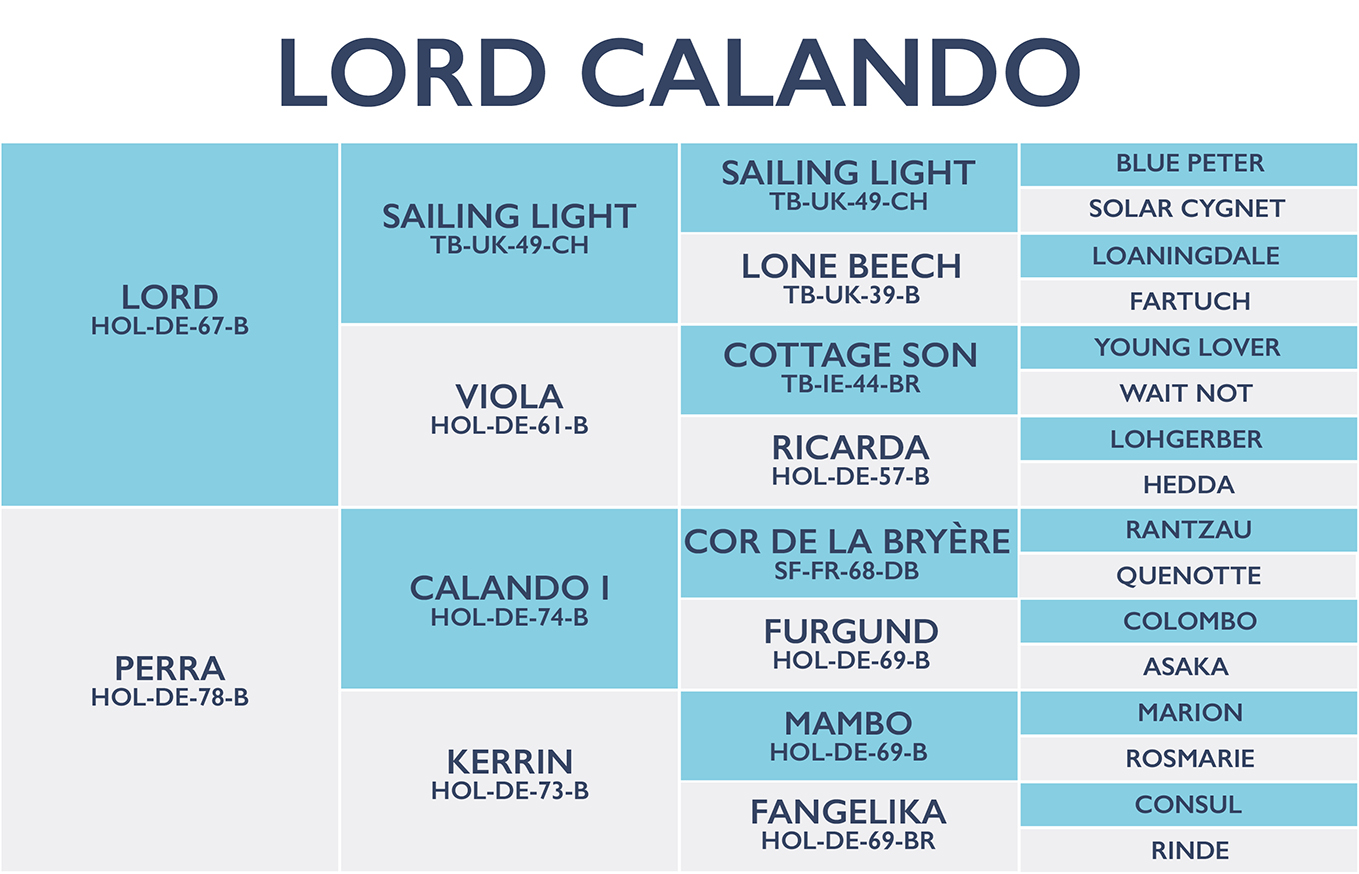 « Back to Great Stallions List