« Back to Great Stallions List
Lux Z

Born 1988 Height 168 Bay
Breeder: Studbook Zangersheide
Lux Z is one of those rarest of creatures, a stallion with a Z tacked onto its name that was actually bred at Zangersheide!
By Lord Calando, his dam sire Acobat II competed internationally with Samantha Lam of Bulgaria. The great-grandam, Novella is one of the more famous mares in jumping breeding history – being the dam of Landadel. Novella's daughter, Valetta VI, when bred to Cantus produced the famous showjumper, Calvaro, ridden by Willi Melliger.
Lux Z started his career in Holstein before moving to The Netherlands. Later he commenced a successful international career with Italian showjumping rider, Jerry Smit, and the pair competed at the 2000 Olympic Games in Sydney. They also won the Pulsar Crown competitions at Valkenswaard and Cannes, and participated in the WEG in Jerez in 2004.
His first season in Holstein produced the international show jumpers Gazelle d 'Aubry (Thomas Voss), Lux Can Do It (Tobias Bachl) and Lagunas (Ben Schröder).
His sons, Lupicor, Nobility and Niveau were licensed in The Netherlands, and Nagano was licensed in Belgium. In Germany he has produced six licensed sons: Lariano, Lorimor, Lagunas, Luxels, Luxius and Luxano.
Currently, Lux Z stands in Ireland and in an interview with Sally Parkyn in the September 2008 edition of Breeding News, Tom Meagher, the Irish breeder who stands the stallion, explained why he'd gone 'off shore' in his choice of stallion:
"At that time, we needed European, we needed the step and the jumping ability. I think our (Irish) stud book had their eyes closed for ten years. Hence we have to provide a European outcrop. Clearly, the type changed in Europe. When we were breeding from our own, we were getting the plainer Irish horse without the step and without the scope. The technique was still there, but the breed had gone a little plain and we had lost what the market required. The only way we could improve that was to import the bloodlines. We don't invent the wheel again, it was working in France, it was working in Holland, therefore we have to go for the best."
"However we still have to keep our 'Irishness', that fifth leg, that sober mind, and that rideability."
Which is why Meagher is now standing Yeats, a stallion of impeccably 'green' ancestry: Cruising out of a Clover Hill mare.
"How do we get that back in again? What better way than to produce a son who has the paternal father of all these? ie. Clover Hill / King of Diamonds / Cruising. Unpolluted and unspoilt, we can now do what Cavalier Royal did to our Irish mares in reverse. We can now have our big scopey Cavalier, Ricardo Z and Lux Z daughters coming through, and hopefully we can get the hybrid vigour back the other way."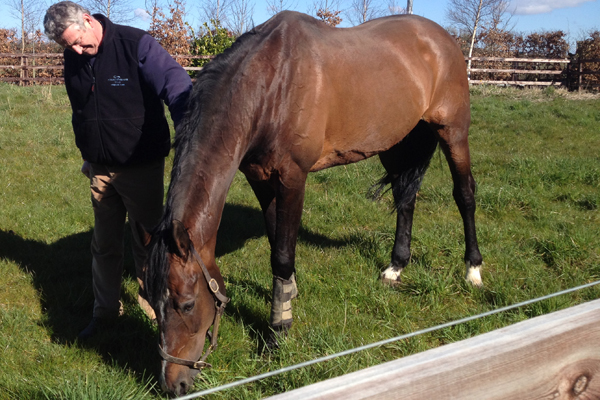 Lux Z in paddock with Tom Meagher – December 2013
Lux Z ranked 17th on the 2011 WBFSH jumping sire rankings, but had dropped to 31st on the 2013 standings. Each time the top two horses were Utascha SFN (Indoctro) and H & M Tornesch (Libero H). The mare, Utascha has been competing and winning at Grand Prix level and competing in Nations Cups teams, since 2009. First with Eric van der Vluten, and they competed at the 2010 WEG and 2011 Europeans, then since 2012 with Jeroen Dubbeldam, again competing and winning at the highest level, including the Euro Champs at Herning in 2013. On the 2014 rankings, Lux has dropped to 38th position.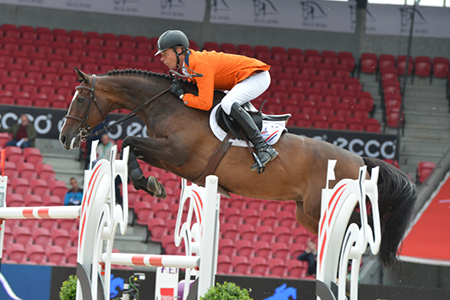 Jeroen Dubbeldam and Utascha at Herning
The stallion, Tornesch has taken Malin Bayard Johnsson to two World Cup finals (2011 / 2012) as well as the Euros in Madrid. The two are still competing at the top and were 4th in the great Grand Prix at Equita (Lyon) in 2013.
At the French stallion championship in October 2013, the overall winner, Admiral de Leuven, was by Lux, out of a daughter of Diamant de Sémilly, Everest l'Enchanté.
On the 2016/17 KWPN breeding values, Lux comes in =38th on the rankings of jumping stallions with a reliability of over 90%, with a jumping value of 126. He has a conformation value of 106, a free movement value of 104, and a free jumping value of 107. 1146 progeny over 4, with 403 competitors (35.16%).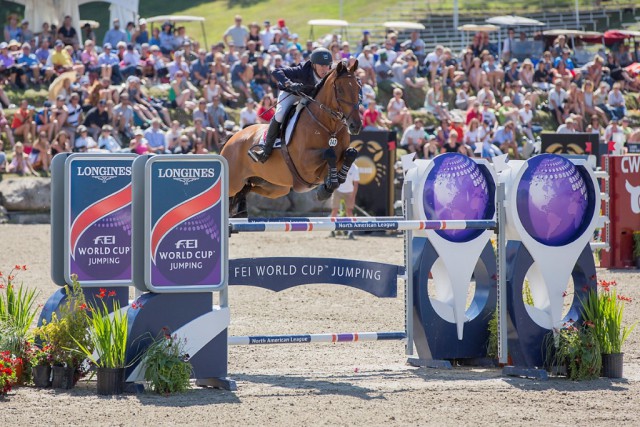 Special Lux and Jonathan McCrea win the $100,000 Longines World Cup qualifier at Bromont in August, 2016. Special Lux is out of an Irish mare by Coille Mor Hill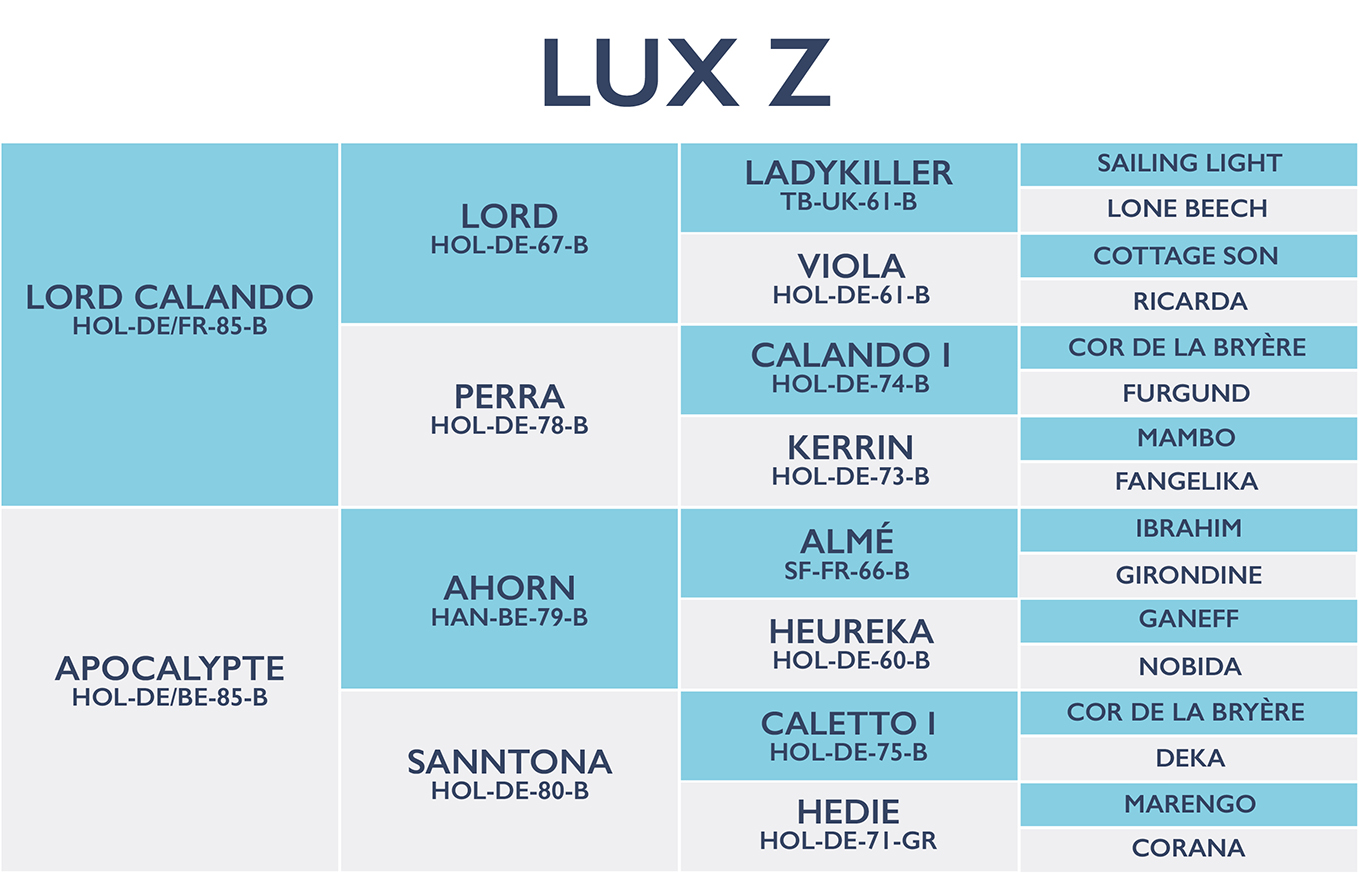 « Back to Great Stallions List