« Back to Great Stallions List
Caprimond

1985 – 2014 167 cm Chestnut
Breeder: Jürgen Hanke, Hameln
Licensed for Trakehner, Hanover, Oldenburg, Baden-Wüttemberg, Bavaria, Hesse, Saxony-Anhalt, Rhineland, Wesphalia, Sweden, France and Switzerland
The stallion was put down on 12 January 2014, and his rider in the last years of his competition career, Theresa Wahler paid tribute:
"Although our entire team is very sad for the loss of this stallion, we are also incredibly grateful to Caprimond. We are grateful for almost 30 years that we were able to keep this stallion healthy and happy. Like no other stallion Caprimond equaled Trakehner type and rideability. His influence on breeding is obvious and known by each knowledgeable horse owner."
As is so often the case, a stallion makes a stud – in this case, Klosterhof Medingen, and the stallion is Caprimond.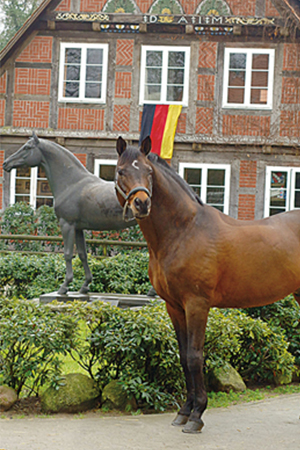 Caprimond in front of HIS statue
Medingen is one of the cutting edge breeding farms, but it is a business that has been built on the knowledge and energy of two men, Eugen Wahler, and his son, Burkhard.
But this stud is no plaything of the fabulously wealthy; it is the product of vision, hard work and an uncanny eye for a horse.
Getting Burkhard Wahler to stop the half dozen things he is doing simultaneously, and sit down in front of a recording device, is a fairly major challenge, but I achieved it in February 2007 and as you can see once Mr Wahler starts, he is a born storyteller…
"My father started after the Second World War, in 1950, he started to breed Trakehner horses. After the War he had no money – nothing – but he rented a farm."
"He met Kurt Krebs, Schimmelhof, a very famous private breeder from East Prussia. When he came to West Germany after the war, he had no place for his mares. My father had a stable but no mares – we can make a partnership, they decided. My father was to take care of the mares, and then foal for foal one season after another, one year you, one year me."
"That's how they started to breed and it was with two very famous lines. One was the line from Donau, it goes back to Trakenen, the other was the P line, my Prätorius who won the German three day event championship in 1986, was from this line. That goes back to Peraea, that's also back to Trakehnen. They were both very famous bloodlines."
"So we started to breed with them. At the beginning of the sixties, Mr Krebs moved to his own place. My father had the offspring and developed his own breeding program. In 1960, we moved to this farm, Klosterhof, and in 1965, my father sold his Knitting Company, and he started to do what he'd always wanted to do – just breeding horses…"
"In 1967 he started the stallion tests, at first just for Trakehner horses, then testing all different breeds. In 1972, we started to organize the Trakehner auctions. After we had run the auctions for two years, and everything was going well, you know how associations are, they said 'oh that's super Mr Wahler, but you make money with it, so we make the auction for ourselves.' They ran the auction for ten years, and in 1982, the year I took over the farm, they asked us whether we wanted to run the auction again."
"We said, yes, but our risk, our money and nobody from the association has any say. It took some years to build the auction up again but we were very very successful, we had auctions very close to Frankfurt Airport, which was very good for people flying in from America."
"Then the contract with the riding club where we held the auction finished, in 1989 – and we decided to build our own auction hall. So from 1990, we held the Trakehner auctions here on our farm. In 1982 we had an average price of 15,000 German marks, now in euros, 7,500 – it grew every year and in 2001, we had our last auction, with an average price of over €50,000."
Just as the horse selling business was growing bigger every year, so too the private stallion business was about to explode:
"At first we mainly used the stallions here over our own mares, but then I decided we should have a real stud farm, and we put that idea into place with Caprimond."
"We bought Caprimond at Neumünster, at the Trakehner stallion approval. He was the reserve champion stallion. Every special horse has his own story, and Caprimond has his."
"There was a picture in the catalogue, and the picture looked very nice, and the pedigree was very good for dressage – also the mother line was good. If you want a good stallion, it is important he comes from a good mother line, it makes his breeding much more safe – so that he is not making big ones and little ones so everything is mixed up. A really good sire has to have a very good mother line."
"With Caprimond, everything was perfect, when I went to bed every night, I took the catalogue, and I was looking again. Four or five days before Neumünster, I put a big circle around his number, and said, if this horse is like he is in the catalogue, then we will buy him. Photos don't always tell the truth, but when we went to Neumünster, he looked very nice. He was a fantastic type…"
"He went reserve champion, then we bought him, then he won the stallion test at Adelheidsdorf. We paid about €40,000, for today that is nothing, but twenty years ago, it was a lot of money, especially because he was very small, he was only 1.60, and that is small. But we were sure he was the right horse… we had that feeling, you can be wrong, but we got a good feeling so we bought him."
"Then he won the stallion test, and at the Bundeschampionate he was second. He got an 8.925, and the champion got an 8.93 or something! I rode him there."
"When he was seven he went Prix St Georges. When he was eight or nine, he went to his first Grand Prix. He was very successful."
And how! Back in 1999, the Hanoverian Verband decided to publish its own Stallion Year Book, ranking stallions according to dressage ability, jumping ability, and type – and on top of the list for type was Caprimond. Fourteen years later, the 2013 Hanoverian Year Book once again lists the top stallions by type, and there still at the top of the rankings is Caprimond with a breeding value of 176 – 19 points clear of the horse in second place, Wolkentanz II!
And to underscore the point, his son, Hohenstein is fifth on the same rankings with a value of 153.
Caprimond's sire, Karon initially stood at the Hämelschenburg stud farm. He covered in Oldenburg in 1989 and 1990, spreading his influence before he ceased breeding following a fractured pelvis.
In The Trakehner by Dr Eberhard von Velsen-Zerweck and Erhard Schulte, the authors remark that out of the 300 stallions at stud at the time of writing (1981), 'three sires in particular stand out as having had the greatest influence on the breed: they are Impuls, Pregel and Maharadscha, the last-named through his son, Flaneur in particular.' Karon combined the influence of two of these stallions, Maharadscha and Impuls.
Arogno is by the Maharadscha stallion, Flaneur, foaled in 1965, and an important representative of the Arab stallion, Fetysz OX, one of three Arabians introduced to the breed in the early 1930. Impuls, the sire of Karon's grand-dam, Kaprice II, was foaled in 1953, and founded a flourishing sire line and producing over 100 registered broodmares and numerous successful competition horses. Impuls represents the dominant line of East Prussian breeding, that of the English Thoroughbred, Perfectionist xx.
Arogno also demonstrates the importance of the English Thoroughbred in the Trakehner breed on his dam line. He is out of the Thoroughbred mare, Articonius by Apollonius.
On Caprimond's dam side, his grand-dam, Coeur-As, was a full-sister to the approved stallion, Chantilly, and Uwe Sauer's Grand Prix horse, Caro Bube. Again, Caprimond's dam, Capri VI shows in the influence of Flaneur (sire of Maharani II), through her sire Mackensen, who was an elite sire of the Trakehner Association.
As of the 2016 Hanoverian Stallion Yearbook, Caprimond produced 375 competitors with winnings of €345,183. 316 dressage competitors, 35 at S level or above. His FN dressage rating is 124 (0.98) as against a jumping index of 51 (0.94). His Hanoverian dressage value is 141 and 79 for jumping, and once again, a massive 175 for type, including 198 for the head. Sadly because the topliste only lists stallions that are 'activated' for the new season, Caprimond despite having the value of 175 was replaced at the head of the 2014 list for riding horse type by Fürst Nymphenburg who has a breeding value of 158 for type. It would have been nice to have had Caprimond's unbroken record of leading the type standings from the first stallion book in 1999 until his death in 2014…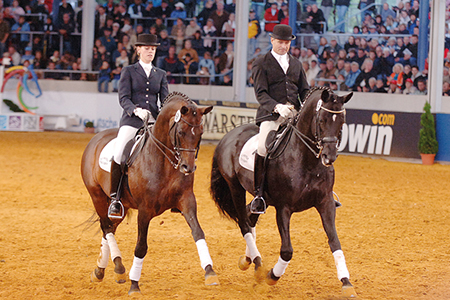 Father and son, father and daughter, Theresa Wahler and Caprimond, Burkhard Wahler and Hohenstein 
Caprimond was also the perfect schoolmaster for the Wahler children. At age 14, Theresa Wahler achieved her first S-level victory with him and one year later 12-year old Christoph Wahler presented the stallion in a show at the 2006 World Equestrian Games in Aachen. Caprimond also helped the children's mother, Ingrid Wahler rehabilitate and get her confidence back in the saddle after her riding accident a few years ago.
Caprimond was named elite stallion in 1995 and Trakehner Stallion of the Year 1998. Licensed offspring include Soulman, Inselmond, Sponeck, Catani K, Canaster I, Classic Touch, Solo Man, Tanzmeister, Contucci CWS, Campari Pur, and Caprigold.
His most famous offspring include the late Hohenstein, the Trakehner Stallion of the Year 2002, French Grand Prix team horse Noble Dream (Marc Boblet), and double European Young Riders Champion horse Atterupgaards Cassidy (Cathrine Dufour).
He has produced six dressage horses with winnings of more than €10,000, the most successful of these, Clinten 3, with €26,046.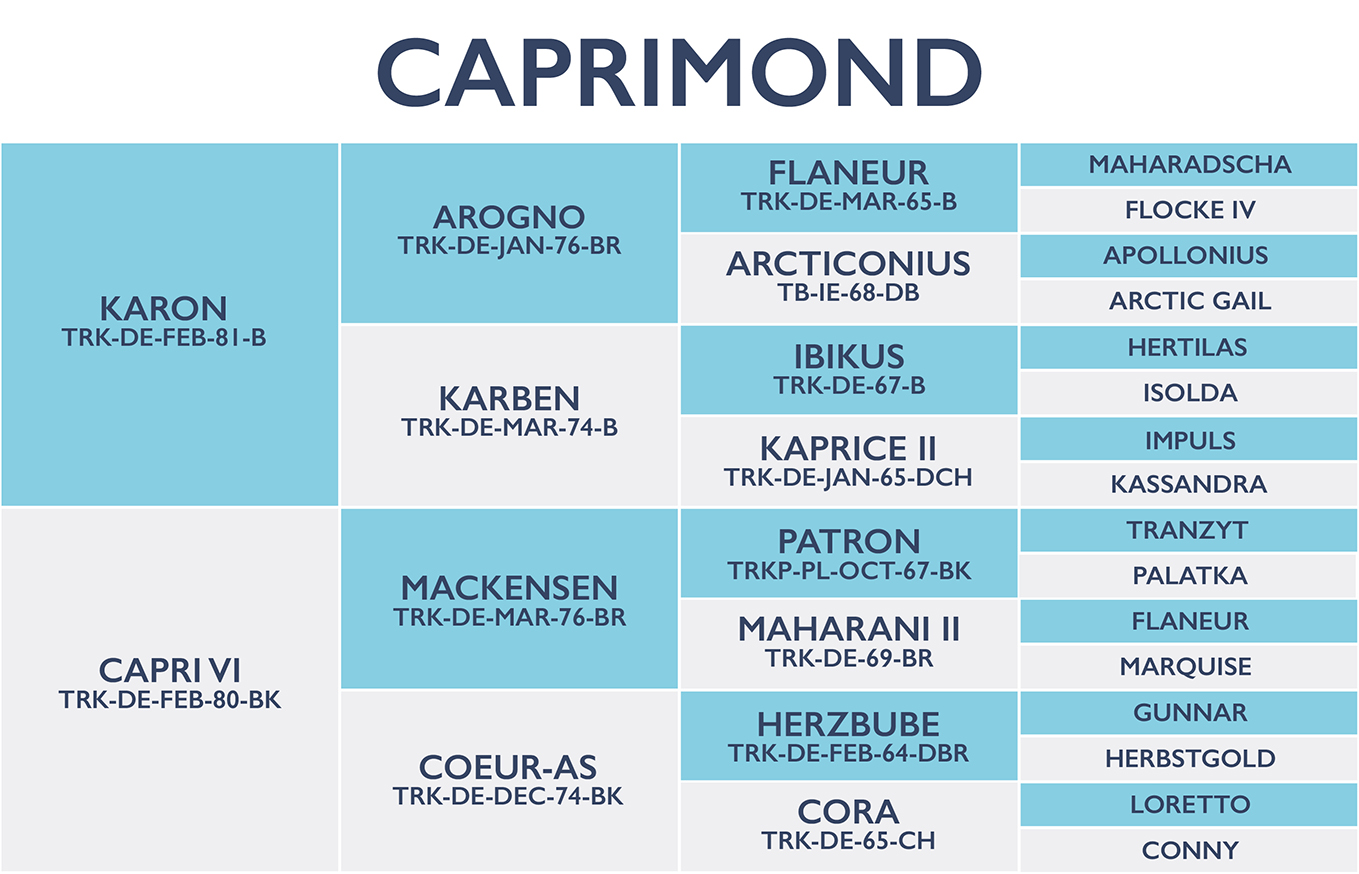 « Back to Great Stallions List