« Back to Great Stallions List
For Pleasure

1986 –2011 166 cm Chestnut
Breeder: Robert Diestel
At the age of 20, For Pleasure was farewelled at a moving ceremony held at the 2006 Aachen CHIO. The chestnut stallion injured a tendon the previous year and although it healed well, it was decided that For Pleasure should now devote his energies full time to his breeding career.
For Pleasure came 15th in his performance test at Medingen in 1989, coming 46th (out of 68) in the dressage with a score of 91.91 but starring in the jumping where he had the top mark of 145.95.
He was taken through young horse classes and into advanced by Hans-Joachim Giebel – together they took out the State Championship for Lower Saxony in 1994.
The following year, Lars Nieberg took over, and they were on their way to international fame and fortune…
For Pleasure finished his career with staggering lifetime earnings of €1.8 million – behind ET (competing for Austria despite his German birth) with over €3 million, but in front of British legend, Milton who won €1.6 million and over thirty cars!
For Pleasure contributed to four championship victories in eight years with the German Showjumping team, and four times won team gold: at the 1996 Games with Lars Nieberg, at the 2000 Games with Marcus Ehning and at two European Championships – Hickstead and Donaueschingen.
At Donaueschingen, he carried Marcus Ehning to his first individual medal – a bronze.
With both riders, he won 75 S-level classes, winning his last Grand Prix at the age of eighteen, at the Leipzig round of the World Cup, where he won the class over a massive course ("the highest track I have ever jumped with him indoors," said rider, Marcus Ehning) to beat Frenchman, Jean Marc Nicolas and Modesto.
For Pleasure has the rare distinction of having competed at Grand Prix level against two of his progeny – the stallion, For Keeps and the mare, Farina – in the Grand Prix at Wiesbaden 2005.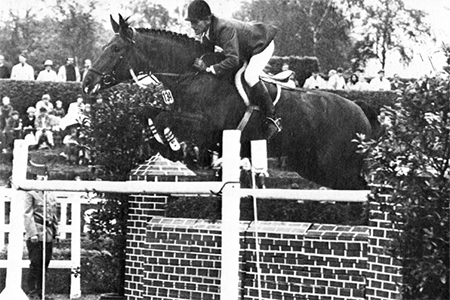 Dam sire, Goya, in action with Hartwig Steenken
For Pleasure is by Furioso II, out of Gigantin by Grannus out of a mare by Goya – she carries that 'G' blood that is so loved in Hanover: Grande, Grannus and Gotthard. Gigantin's first foal, the stallion Winterstar (by Wittenberg) was sold to South Africa where he became a popular sire. Her breeder, Robert Diestel then bred her to a series of stallions: Acord II, Caletto I, Quidam de Revel and Sandro, breeding the fillies from this cross back to For Pleasure (who says they only breed tight in Holstein?) – this cross produced the private stallions Fly High and For Life's Memory. For Pleasure's half brother, Champagner (by Caletto I) was a successful competitor with Thomas Brandt.
Robert Diestel established another mare line at his stud, based on the mare, Gabi (by Grundstein II), a half-sister to For Pleasure's grand-dam, Goldi. Johannes Ehning's international competitor, Carmen is out of Gabi, when bred to For Pleasure, she produced For Fun, who was ridden by Markus Ehning. The private stallions, For Play and For Kids Only, are inbred to their own dam line.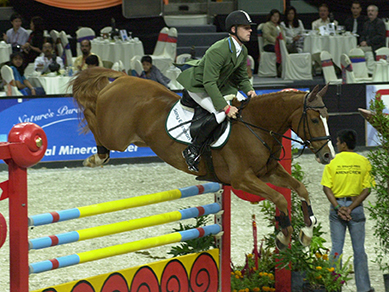 For Fun, competing in the World Cup in Kuala Lumpur with Markus Ehning
Fly High, who is out of Loraine (by Landadel out of Gigantin) was ranked second on the Stallion Jumping rankings in the 2008 Hanoverian stallion book, largely one assumes on the basis of the concentration on his papers of very famous ancestors – it can't be on the basis of his progeny, since at that stage they were too young to have done anything and his lifetime earnings were less than €10,000. The comment in the Hanoverian Stallion book is a master of under-statement: "His pedigree achieves a certain kind of security for the production of showjumping horses."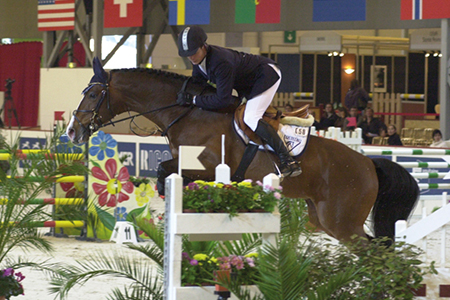 Forsyth FRH – like his sire, a winning jumper 
In the 2014 Hanoverian book, Fly High's assessment is more realistic. By then his personal earnings had risen to €18,236, and he has 72 competitors with winnings of €150,148 – largely thanks to two individuals, Flying Boy (€62,377) and Flashlight (€23,695) – but he no longer appears on the topliste of jumping stallions, although the For Pleasure son, Forsyth (out of an Argentan mare) is =6th with a jumping value of 151), his grand-son, For Edition (Forsyth / Leggioero) is 20th on 143, while another son, For Keeps (Graphit) is 26th with a jumping value of 140. For Feeling (For Pleasure / Monaco) is 29th with 137.
As at 2017, For Pleasure is the sire of eighteen licensed stallion sons, although none of them has really established himself as a worthy successor to their sire.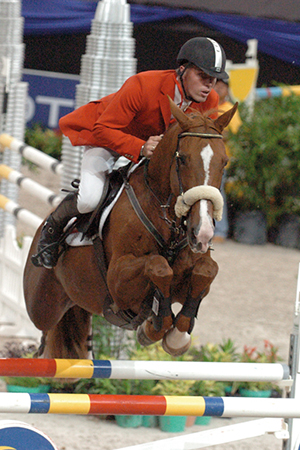 Earning money for Rene Tebbel – Farina, out of a Jet Stream mare
In the 2015 Hanoverian Stallion Book, For Pleasure is recorded as having 394 competitors with 121 jumpers competing at Advanced level. Together they have won €2,138,334, with the highest money winner being Rene Tebbel's Farina, who has won €262,806. Farina won the George V Cup at Hickstead. Christian Ahlmann's Firth of Clyde is the winner of €227,659.  Firth of Lorne has won €189,940, Forsyth has won €119,779, For Fun is the winner of €111,490, while For Germany has earned €83,722. There are 20 horses by For Pleasure that have won more than €15,000.
In the 2016 Hanoverian Stallion book, the stallion's reputation keeps growing, five years after his death. He is now listed with 406 competition progeny with winnings of €2,540,972. Thirty one of his progeny have earned more than €15,000 – two have earned over €200,000 (Farina – €262,806 and Firth of Clyde – €227,659), and four more, over €100,000.
In the 2017 Hanoverian book his progeny have grown to 413, and the winnings to €2,784,787. He has 36 jumpers with earnings of over €15,000, with six of them winning over €100,000, and two of them over €200,000 – Farina (262,806) and Firth of Clyde (227,659).
For Pleasure ranked 24th on the Monneron list of the top 75 stallions for 2006. On the WBFSH 2014 sires rankings, he is in 5th place. On the 2015 list, he moved into 4th place.
On the 2016 WBFSH stallion rankings, For Pleasure is in 3rd place with a staggering 75 competitors, four of which amassed over 1000 competition points in the season: Hello Forever (1325), Flora de Mariposa (1265), Fit for Fun (1170) and Barron (1030).
For Pleasure has a 2014 FN jumping index of 147. On the Hanoverian index he scores 152 for jumping as against 92 for dressage. For type on the Hanoverian rankings he scores a modest 84 – and as with many top jumpers, scores a negative score of 92 for saddle position.
He has a 2015 FN index of 147 for jumping, and 93 for dressage, His Hanoverian values are 150 for jumping and 89 for dressage.
On the new 2016 German FN breeding values, he has a young horse value of 138 and an open competition value of 142. His Hanoverian values are 148 for jumping and 88 for dressage.
For Pleasure retired as one of the great competitors – and despite the scepticism of many at the beginning of his breeding career, he is now proving to be an exceptional sire of jumpers.
Ludwig Christmann, the head of the Hanoverian Verband's international affairs department, makes the point that the For Pleasures can develop late:
"Look at Fine Lady (by the For Pleasure son, Forsyth FRH) when Eric Lamaze bought her, even though she was winning in 1.50m classes, no one thought she would be an Olympic horse. Even at that level, you can still be surprised by a horse. Maybe she is not jumping with a perfect style, she always jumps that much higher than she needs to, no matter if the poles are at 1.20m, or 1.60m. What I am saying is that the horse has to have a winner's mentality."
That has been a gold mine for Hanover, the blood of For Pleasure…
"It's amazing, but it is also an example of exactly what I am saying, as five-year-olds you can see their talent, but they develop as the fences get higher. For Pleasure himself had his own jumping style and he passed that jumping style on to his offspring but he also passed on the soundness and the hardiness and the reliability."
Did you expect that For Pleasure would become such a valuable sire?
"When the first For Pleasures were five and six, they were not the sort of horses that would go to the Bundeschampionate. They were not highly rated at the time, but I am very happy that For Pleasure has proven that it is never too late for a stallion to come back."
For Pleasure is also the return of Furioso II, and yet for a while it looked as if his 'F' line had disappeared…
"I would not say disappeared, at the moment I would say the Furioso line is the most influential line in modern sporthorse breeding. In dressage, we see what evolves from this line. In jumping, Kannan is a son of the Hanoverian Voltaire by Furioso, Ferro, Jazz, Florestan – all coming from this line. It is amazing this line became so successful."
For Pleasure was the most represented stallion on the Rio preliminary nominations list, with nine of his progeny – and with three of his sons, For Keeps (Graphit), For Feeling (Monaco) and Forsyth (Dorian) each with one rep.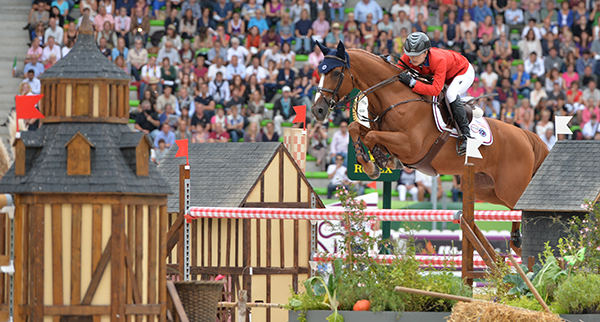 For Pleasure was well represented at the WEG in Normandy with three competitors including Barron (out of a Nabab de Rêve mare) with Lucy Davis, the other two were Flora de Mariposa and Quilebro du Tillard.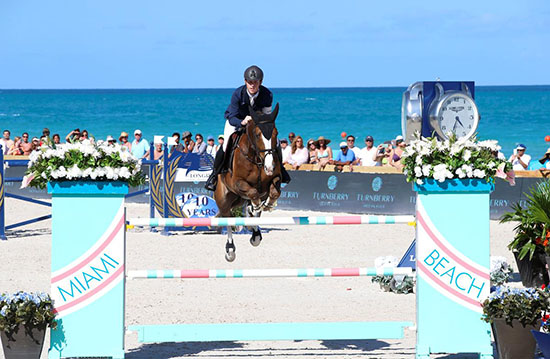 Still the For Pleasures keep coming – Scott Brash and  Forever, now Hello Forever, takes out the first American Invitational on Miami beach.
The chestnut is by For Pleasure out of a Nimmerdor / Ramiro mare.
(Photo: Stefano Grasso/LGCT)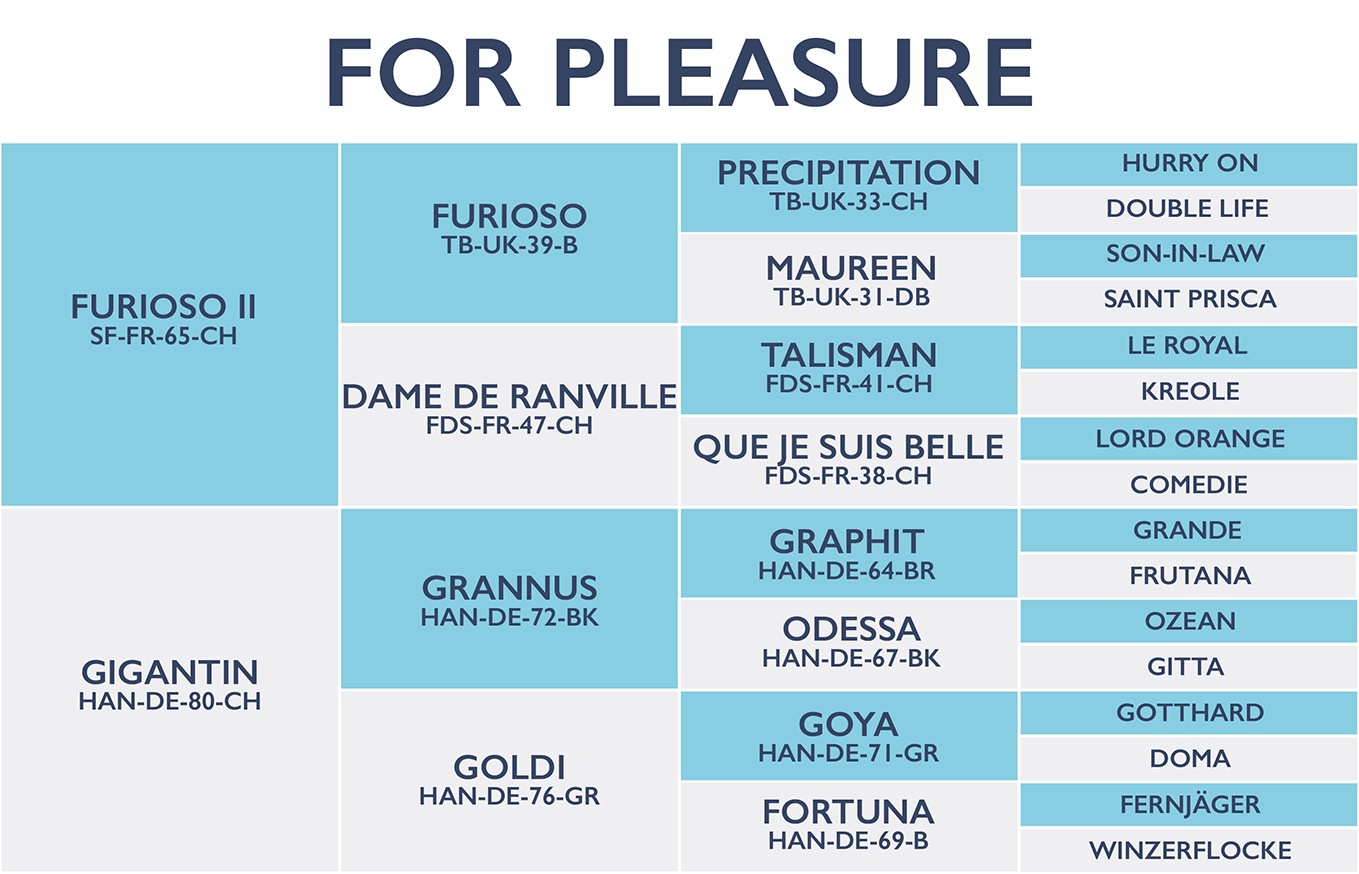 « Back to Great Stallions List