« Back to Great Stallions List
Tangelo v/d Zuuthoeve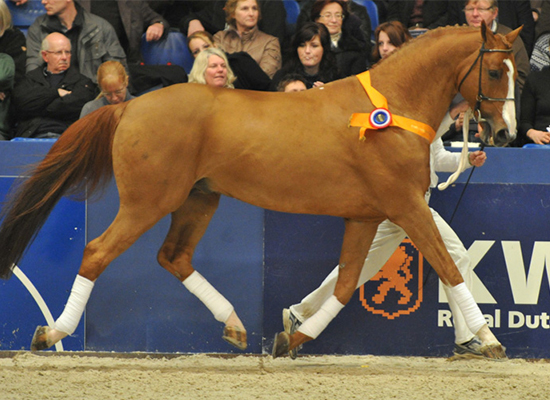 Born 1996, Chestnut, 1.69 m
Breeder – R. Vets (Belgium)
Licensed KWPN/ Oldenburg OL and Os/ BWP
Narcos' influence is alive and well in Holland through his son, Tangelo v/d Zuuthoeve who combines the blood of Narcos II and the great Thoroughbred, Laudanum, with the most successful lines used at the Zangersheide Stud. His dam, Olympia is out of Racyona Z, a combination of the three founding fathers of Zangersheide: Ramiro, Almé, along with Gotthard, who while never standing at Zangersheide, provided most of the original broodmares at the stud. Racyona Z when bred to Cor de la Bryère produced the licensed stallion, Colorado Z.
Tangelo's performance test report of 2001, notes:
Tangelo van de Zuuthoeve is an honest, reliable stallion. The stallion has more than sufficient willingness to work and works more than sufficiently. The walk is pure and has good scope. The trot has sufficient scope. He trots on the forehand. In the canter Tangelo van de Zuuthoeve has good scope. The canter is on the forehand. The hindleg is active but the canter is barely carried. The stallion should do changes better. He often has a flat foreleg in the basic gaits. Tangelo van de Zuuthoeve has slight talent for dressage and he gives his rider a mediocre feeling. As a jumper Tangelo van de Zuuthoeve pushes well from behind. He has good technique of the foreleg and bascules very well. He finishes the jump well from behind, he is careful and has a great deal of ability. Tangelo van de Zuuthoeve has a great deal of talent for jumping and gives his rider a good feeling.
After a competition career with Roelof Bril that seemingly did not include an international placings, since he has no performance record on the normally reliable Show-jumping Archive (www.sja.it), Tangelo settled down to a breeding career at the well known Dutch stud, De Radstake. He has already produced several licensed sons. Triple was champion at the NRPS (Netherlands Riding Horse and Pony Studbook), and Vigaro (Zangersheide) came second in the quality inspection for four year olds at Geesteren in 2006. Vigaro (out of a Renville mare) has so far been the most successful competitor by Tangelo, competing successfully in on the Grand Prix circuit with Gerco Schroder. In 2012, their best result was a 7th in the Grand Prix of Hardenberg.
Vigaro is the only son licensed with the KWPN, and he is the sire of two licensed sons: Dortmund HS and El Salvador. Another licensed son, F-One USA is out of a mare by Tangelo.
I was lucky enough to catch up with his owners, Johan Venderbosch and his son, André from the prestigious De Radstake Stud in Holland, at the 2010 KWPN Stallion Show, where Tangelo was awarded the title 'Keur'.
André Venderbosch told me that his family bought Tangelo from his Belgian breeder as a four year old:
"He won the Four Year old championship in Belgium, but we bought him before that. He came to Holland and was approved as a five year old. His oldest children are now coming eight, and we have several competing in international competition. They are unbelievable jumpers."
It is interesting breeding with the Anglo Arab, Narcos and the Thoroughbred, Laudanum – was that important to you, the Thoroughbred blood?
"Very important to us. In our stud, we also have Thoroughbred in the mother lines, so it is matching."
What sort of mares do you think Tangelo breeds best with?
"A little bit blood. Not too small mares, 165 or 166 but with a little bit of blood, then he breeds the best. Then they are really scopey but also a little bit quicker."
On the 2015/16 KWPN breeding values, Tangelo is in equal 11th place on the ranking of stallions with a reliability of over 90%. He has a breeding value of 143 (95%) and has produced 1084 progeny over 4, with 413 registered to compete (38.099%). On the 2015 WBFSH rankings, he is in 26th place with his most successful competitor, Laura Renwick's Bintang II, who in 2015 won the Grand Prix of Bethune**, and in 2016, was second in the five star GP of Bordeaux in a seriously good field.
On the 2016/17 KWPN breeding values, Tangelo has moved up to 6th place with a jumping value of 147. He scores a respectable 109 for conformation, 100 for loose movement and 110 for freejumping. He has 1168 progeny over 4, of which 464 have entered competition ranks, that's 39.72%.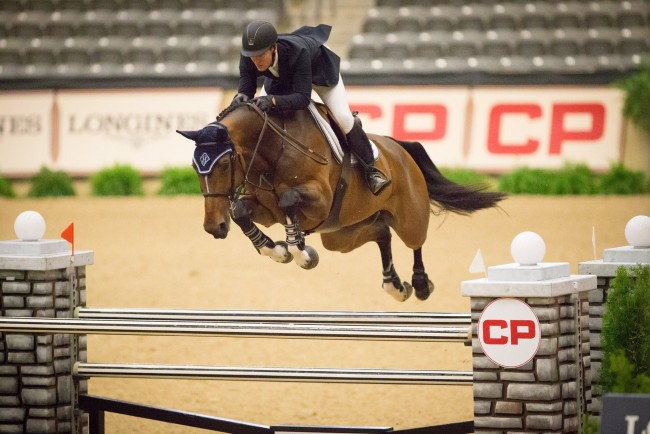 McLain Ward and HH Azur
Tangelo is in 16th on the WBFSH 2016 stallion rankings with 25 representatives – far and away the star being McLain Ward's HH Azur.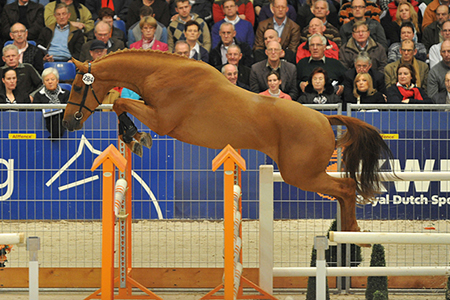 Cavallo C, one of the flashy sons of Tangelo v-d Zuuthoeve at the 2010 KWPN stallion show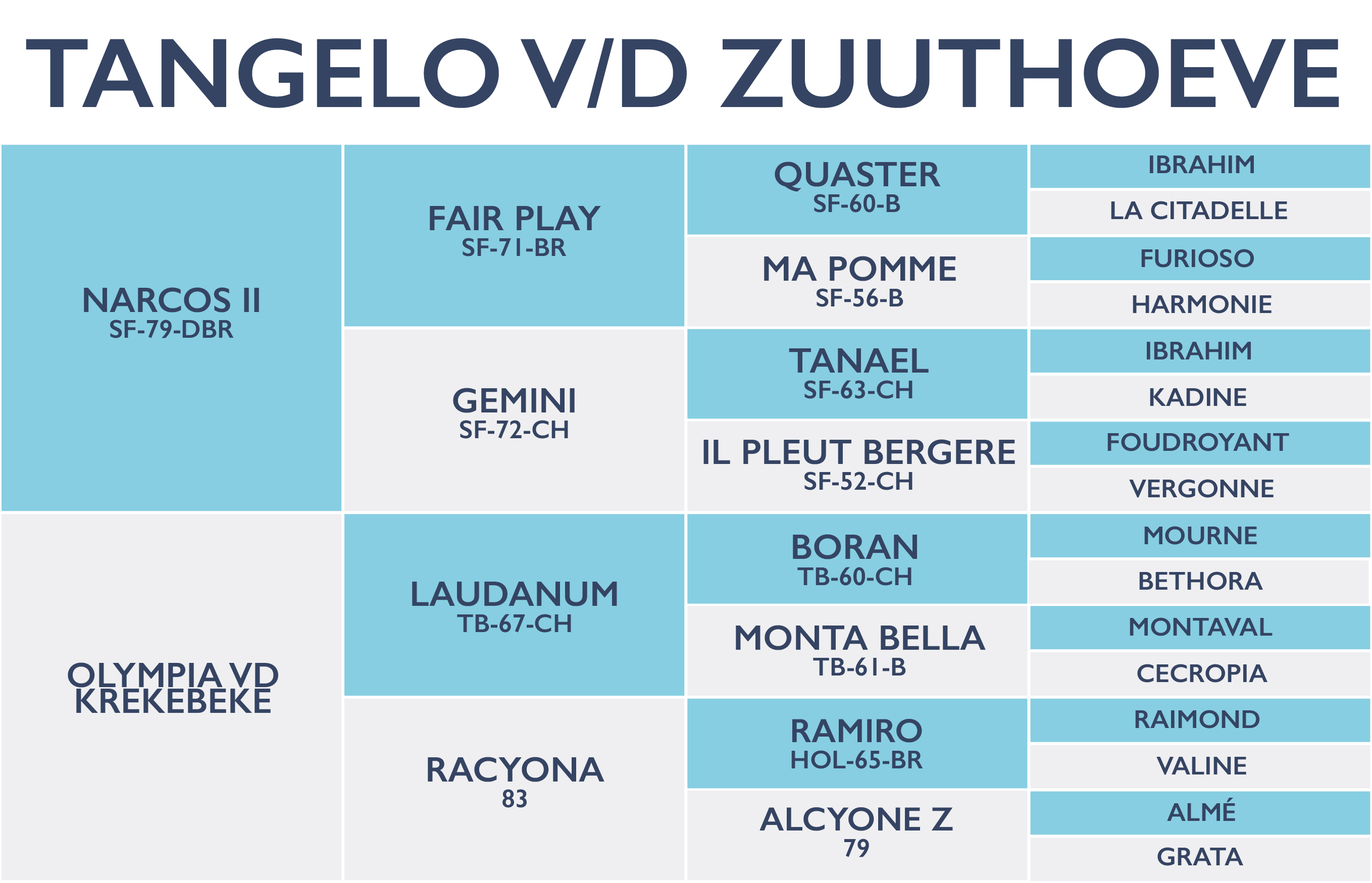 « Back to Great Stallions List