« Back to Great Stallions List
Don Primero

1985 – 2012 1.65 cm Dark brown
Breeder: Henrik Schulte-Frohlinde
Stood at: Grönwohld 1991 – 2001; Markebaecks Gard (Sweden) 2002 – 2003; Schockemöhle 2004 – 2005
Died at Markebaeks Gard in 2012
Don Primero was one of the first really successful sons of Donnerhall, despite spending a fair proportion of his breeding career in Sweden.
Don Primero was the Champion 5 year old Dressage horse at the 1990 Bundeschampionate and went on to compete at Grand Prix level with Karin Rehbein. He is a full brother in blood to the Danish based stallion and Grand Prix performer, Don Schufro (whose dam Fiesta is a full sister to Fantasia).
The cross of his sire Donnerhall over Pik Bube seems to make the magic happen. Don Primero adds yet another dressage dimension with the Trakehner sire, Unkenruf, who was schooled to Grand Prix level, but is best known as the sire of Christine Stückelberger's Grand Prix horse, Rubelit.
Don Primero's great grand-dam, Fabiola (by the Trakehner stallion, Herold) was a top international showjumper. Fabiola was out of Fischerin who was in turn a daughter of Finnländerin – a very famous Hanoverian mare. Finnländerin was the great grand dam of Josef Neckermann's Olympic dressage horse, Mariano. She was also the great grand dam of the Westphalien stallion, Radetzky – both of these horses were by the Anglo Arab, Ramzes.
For a number of years Don Primero headed both the Hanoverian and FN dressage stallion rankings. In recent years he has slipped down the standings somewhat, in 2007 he had an FN dressage ranking of 156 which put him into 8th place on the top list. He does not make the Hanoverian top lists for dressage or type in the 2008 stallion book, despite the fact that his score is higher than the highest stallion score, because the stallion lists are restricted to 'active stallions', and Don Primero was not activated for that season.
Don Primero re-appears in the 2010 Hanoverian Stallion book, for the last time. That year he had a dressage score – based on the Hanoverian mare tests and auction evaluations – of 174 (the highest score on the Hanoverian top list is Don Frederico's 148) as against a jumping score of 72. On these evaluations, Don Primero is very equally scored in all three gaits: 157 for trot, 173 for canter, 166 for walk, and 168 for rideability.
As of 2010, Don Primero has produced 438 registered competition horses with winnings of €537,763 – 385 in dressage (75 to advanced). His most successful progeny are Karin Rehbein's World Young Horse champion, Cherie (€36,666) and Dow Jones with €26,834. Seven of his competitors had won more than €10,000.
He has been very successful as the sire of Bundeschampionate stars like Devil's Bride, Dynamico, Dimaggio and Don Larino.
He was the sire of six licensed stallions, the most successful of which was DiMaggio, who won a world young horse title, and has since been a successful sire, notably of the newcomer on the British dressage team, Half Moon Delphi.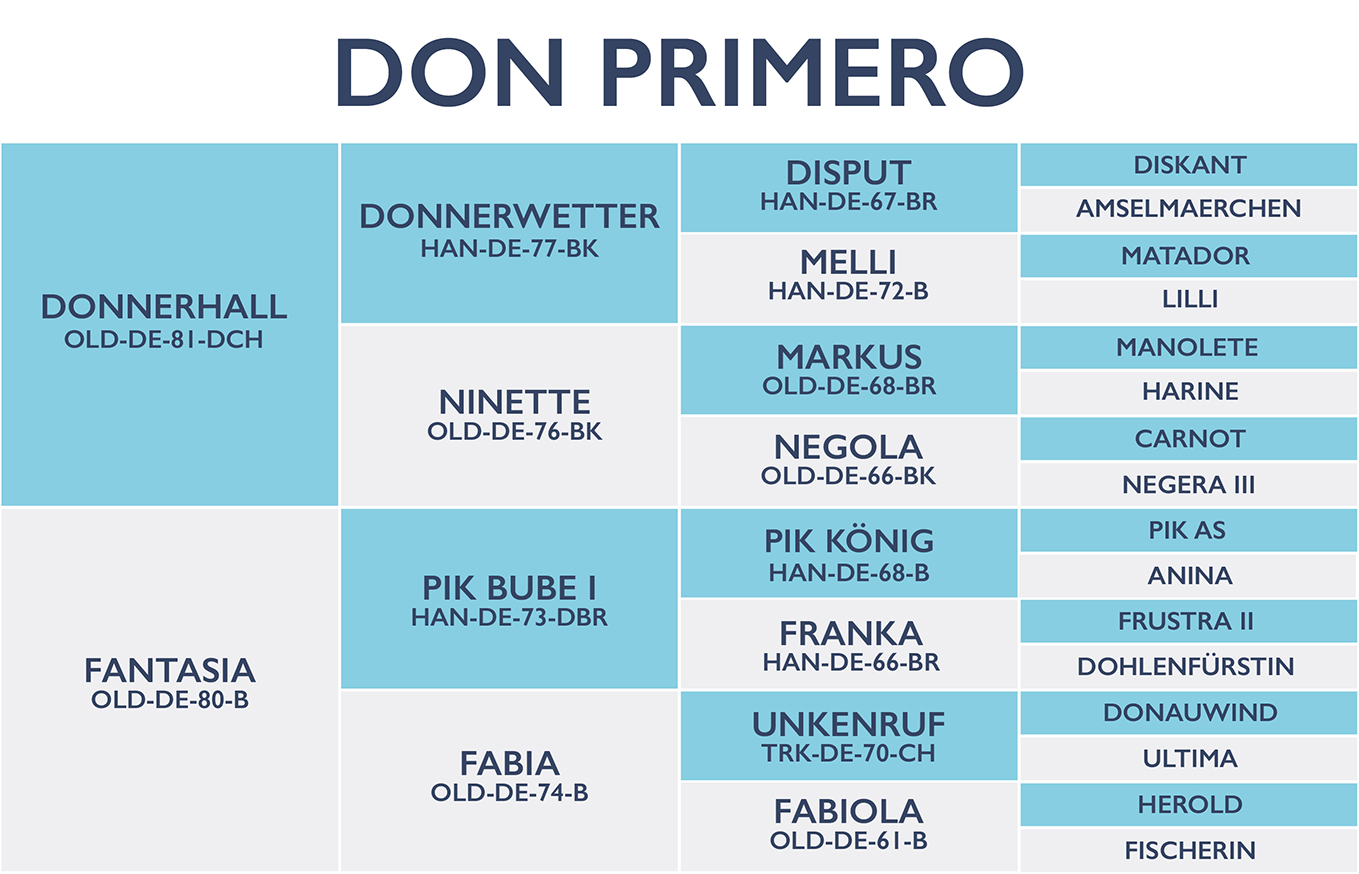 « Back to Great Stallions List