« Back to Great Stallions List
Uriel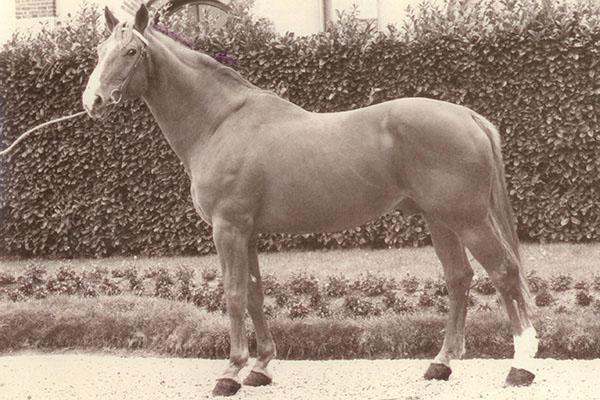 1964 – 1988 168 cm Chestnut
Breeder – J. Savary
Once again, we see how close the development of the French showjumper is to the working horses of the time. When Mr Clolus's carriage mare was requisitioned, he purchased another one, Nadine (by Issue d'Amblie) from Leon Brohier, the uncle of Jean and Georges, "who both remember her well, because of her energy and toughness." (the quote is from Jean Delanny's tribute to Fra Diavolo in the 1998 edition of Annuaire de l'Étalon Sport Français)
"As for Nadine, she was a rather big mare, compact, she went showing with Miss Clolus, often in foal and sometimes with a foal by her side! Jacques Savary, by marrying Miss Clolus, obtained Nadine as part of her dowry."
And what a treasure she was as a brood mare! She produced a string of international performers and some wonderful mares, one of whom, her daughter, Jesebelle de Baugy (by Ascot – by Plein d'Espoirs) bred to Nankin (who is out of a Plein d'Espoirs mare), produced Uriel.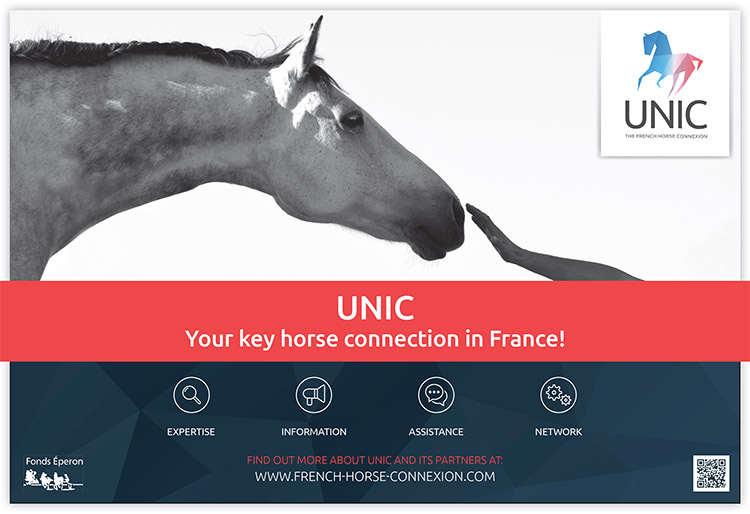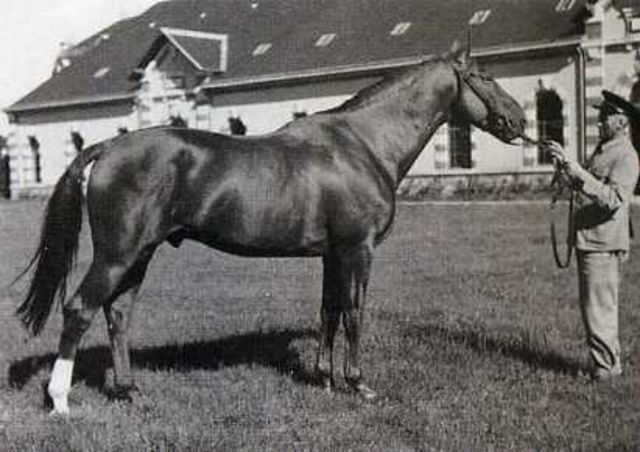 Plein d'Espoirs by the great Thoroughbred, Orange Peel
Uriel was acquired by Saint-Lô, with the Controller General of the stud noting:
'One would like to see a more sloped shoulder, but his big defect are his hocks, which are too far back, tired and open when he moves. Otherwise he has a very good blooded pedigree, a good frame and size (1m68). His withers are well pronounced , and he has good muscle tone." The Controller General saw him over jumps as 'a very hot horse, talented very strong with good bascule'. Unfortunately Uriel's hocks deteriorated making breeding difficult.
Uriel was fully booked from the start, and straws were drawn for his services as of 1973.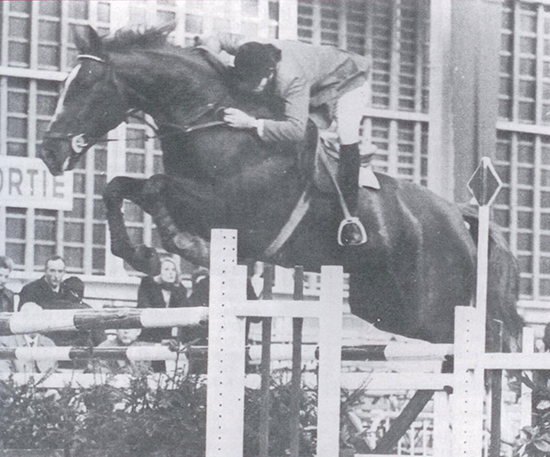 Derby IV, the first of the Uriels to star
Out of his first crop when he was four, he produced Derby IV, who competed in CSIOs, Deese II who won the Grand Prix of Deauville and the Dinard and French championships, Daphnée du Riou, De l'Ampliere, Duel Fleury, and the stallion, Diableur, and his career was off and running. He produced a total of 44 get with an ISO (jumping ranking) of more than 150 without counting those champions of their generation, those exported, the fillies leaving showing rapidly to become broodmares.
According to Jean Delanny: "Uriel produced hot horses (especially the mares), generous, respectful and clever, with strength, who liked to jump, good bascule, and satisfactory balance after the jump. He also gave his sickle and rather far back hocks, his heavy head, and Fra Diavolo's trot rather than that of Nadine."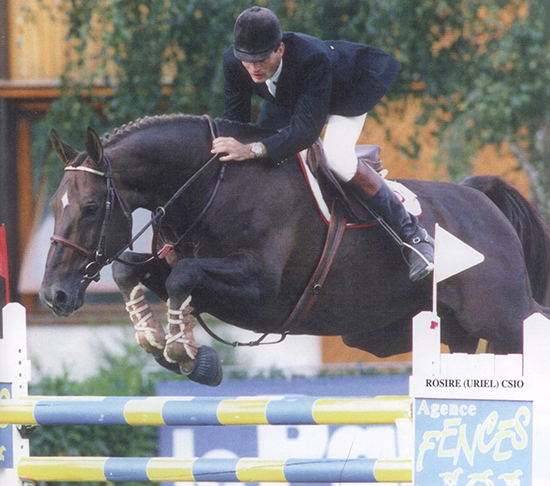 Rosire – a performer with Eric Navet, and an important sire…
He produced 50 stallions, the most important of which are Le Prince de Thurin, Nuriel, Paladin des Ifs, Rosire, Si Tu Viens and Arpege Pierreville. In Holland, his son Sable Rose, re-christened Calvados, was a major influence in the development of their showjumping horses.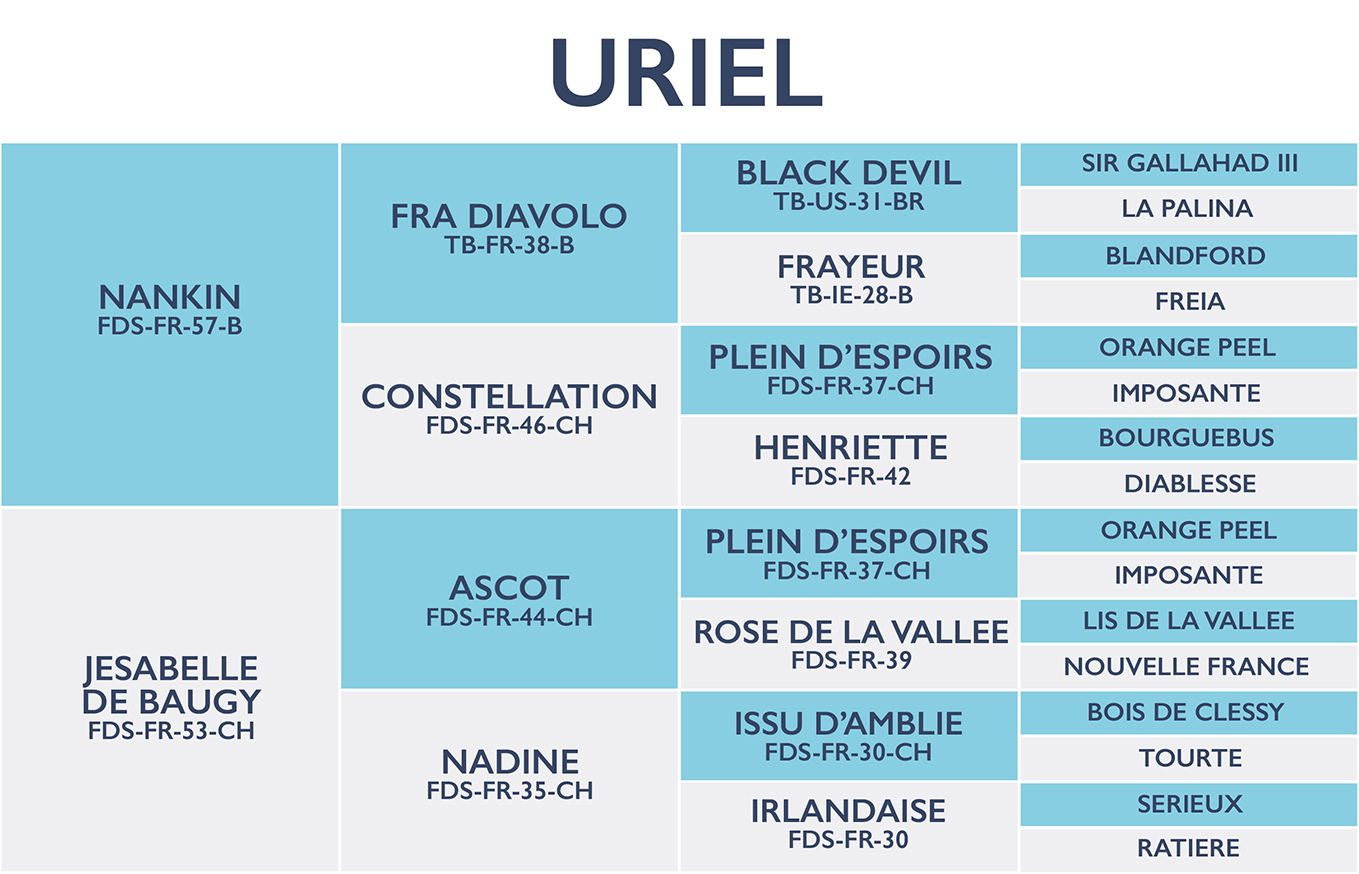 « Back to Great Stallions List