« Back to Great Stallions List
Colestus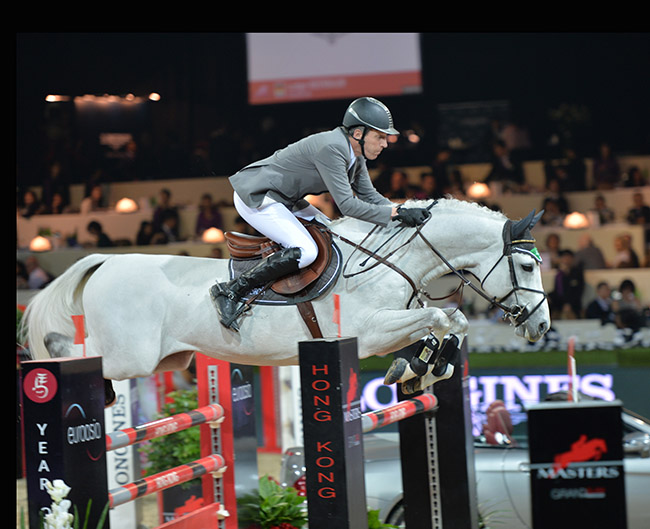 2006 1.70 cm Grey
Breeder: Hartwig Rellensmann
(Profile by Adriana van Tilburg)
The sire of Colestus, Cornet Obolensky, dominates the international competition and breeding scene. In Germany alone he has 71 approved stallions and of those 71 stallions, 52 are registered in Stallion Book I. From his first foal crop 21 offspring are competing at 1.60m level and in total 32 at 1.60m. Colestus not only shares his grey colour with his father, grandfather (Clinton) and great grandfather (Corrado I) but also their beautiful looks.
The dam of Colestus, Spice Girl R (by Stakkato) is classified as a States Premium mare and in her mare test scored a 10 for free jumping. Colestus is so far her most successful foal.
Stakkato was proclaimed Hanoverian Stallion of the Year 2000. He has produced so far 68 approved sons in Germany from them are 59 in Stallion Book I. In Germany he has 148 offspring who are jumping 1.40m and higher. He singlehandedly lifted the Hanoverian Showjumping program to a higher level. As a dam sire he appears on the pedigree of some very interesting horses like: Singular LS La Silla (by Fergar Mail) ridden by Marcus Ehning, Perigieux (by Perpignon) with Eva Bitter and Firth of Lorne (by For Pleasure) who won last year won the Longines Global Champions Tour in Hamburg with Kathrin Eckermann.
The grandmother of Colestus, Pepita (by Pilot), produced two 1.40m jumping horses: Wessex (by Watzmann) who is also approved for Westphalia and his full sister Wakefield R 2.
Colestus commenced his international career as a six year old at the World Breeding Championships for Young Showjumpers in Lanaken with Michael Beckmann. Marco Kütscher took over the reins for only three months before Ludger Beerbaum acquired the ride.
Madeleine Winter-Schulze bought Colestus from Stud Massener Heide for Ludger Beerbaum, to be his horse at the Olympics next year in Rio de Janeiro.
Mary Schary says on behalf of Stud Massener Heide: "We owned Colestus since he was two and a half years old. He had in 2013 two sons approved out of his first foal crop in München. now he has seven approved sons. Some of his offspring were very successful in several free jumping competitions. This year in Leipzig, he had five offspring in the finale and they were all placed! In Germany he has 42 offspring in sport and there are 30 registered broodmares."
The breeder, Hartwig Rellensmann has this to say:
"I started to breed with the mother line from Colestus about 20 years ago. I purchased the mare Pepita (by Pilot out of Diana by Durchlaucht), I was quite fond of Pilot mares, and at one point I had about ten daughters from Pilot as broodmares. Out of Pepita, I have two full sisters by Stakkato; Spice Girl R who is mother to Colestus and Space Girl R and I have bred a now five year old Colestus offspring out of her. Quite some extreme inbreeding but I thought it would be a good match and so far it worked out very well – the horse has a very good type and so much elasticity. Now she is in foal to Colestus again. Spice Girl R is my wife's favorite mare, she is suffering from Cushing Disease at the moment but we are going to help her with medication and we want to try to cover her again. I do not want to do embryo transfer, because I do not want to interfere with her well-being too much. She is the second best mare from Westfalia in her test and with Cornet Obolensky you add an unbelievable amount of scope, so that was for me very interesting."
"I am very fond of Cornet Obolensky, He covered about ten of my mares, ten years ago. Heinrich Ramsbrock bought Colestus as a foal, I have done business with him for a very long time. He also sold two of Colestus's full brothers to Russia, to the owner of Cornet Obolensky. Colestus's free jumping was outstanding, he was always doing his best and it looked like he was thinking how he could jump well. I have four broodmares by Colestus and I expect eight out of 14 foals by him, I believe in him. If he goes to Rio de Janeiro next year, I will take a holiday for two weeks and I will be in Rio de Janeiro to watch him jump there. It is a once in a life time experience to see the horse that you bred at the Olympic Games."
Ludger Beerbaum says about Colestus: "Marco Kütscher was riding Colestus before I did and at that time Marco was still working in my barn so I had a good idea about Colestus his qualities. He is a very kind horse for being a stallion, the grooms are liking him a lot. He doesn't have a macho character. He doesn't have a lot of scope but he is very careful and is very elastic, those are his outstanding qualities. I will compete with him in Rome and Barcelona and I want to jump a few World Cup qualifications with him."
The pair have started 2016 quite successfully with a 6th in the 1.50 at Basel***** and an 11th in the Grand Prix of Bordeaux*****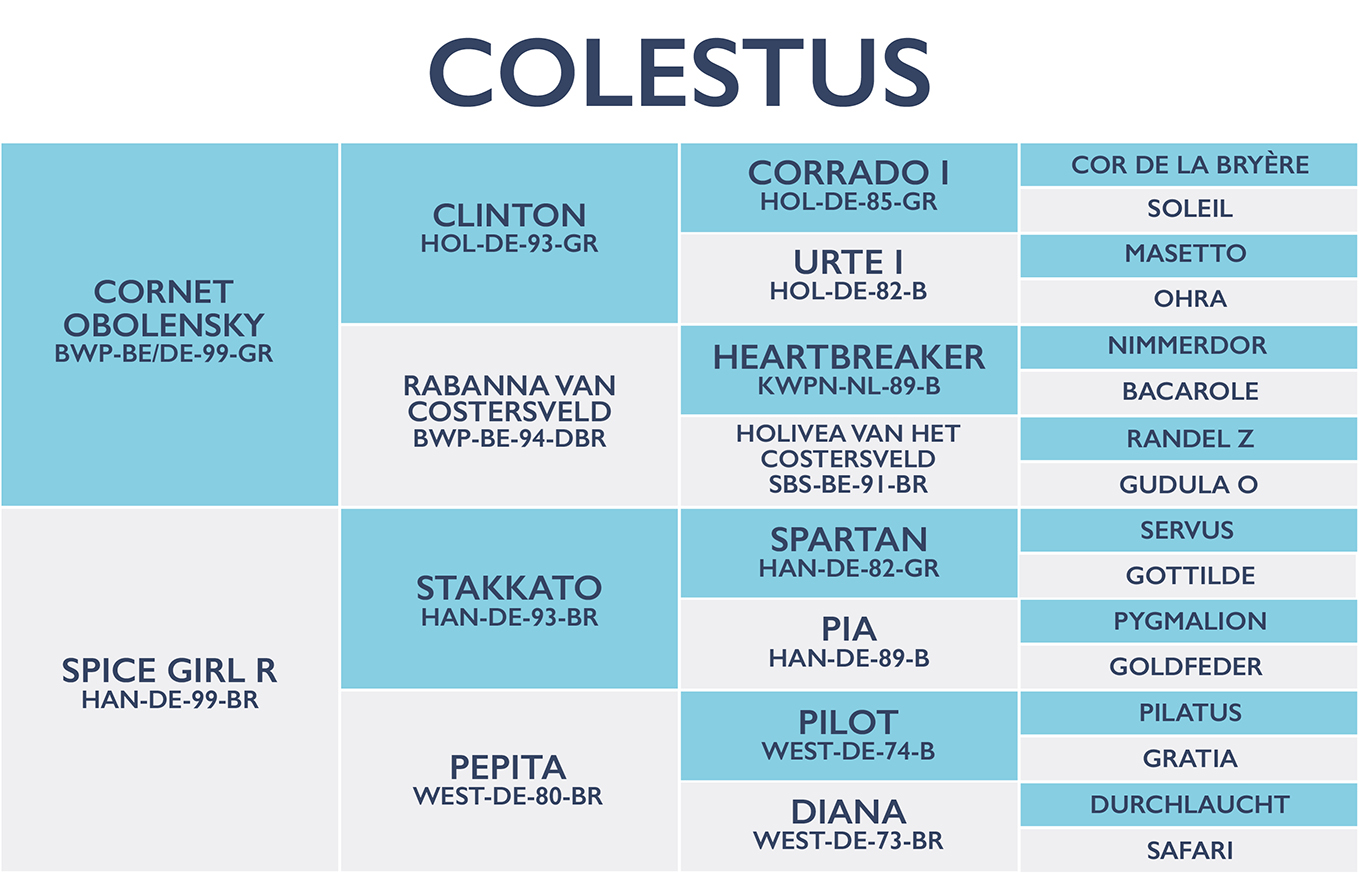 « Back to Great Stallions List