« Back to Great Stallions List
Don Schufro

1993 171 cm Liver chestnut
Don Schufro is out of Fiesta, whose full-sister, Fantasia, when bred to Donnerhall produced the stallion, Don Primero, an FEI competitor with Karin Rehbein. Don Schufro's full-sister Fantastica is the dam of the Sandro Hit son, Sonny Boy. Another full-sister to Don Schufro, was the Champion Mare at the 2003 Elite Oldenburg Broodmare Show in Rastede.
Don Schufro easily topped the dressage section of his Stallion Performance test at Adelheidsdorf with a score of 154.93 – alas a typical Donnerhall jumping score of 91.80, meant that he only finished second overall.
A Bundeschampionate finalist, Don Schufro moved quickly through the ranks to Grand Prix level. Ridden by Andreas Helgstrand, he placed at Aachen, Nörten-Hardenberg, Wiesbaden and Lingen. The pair were second in the Danish Championships in 2004 and selected for the Athens Olympic Games. In 2007, the pair were second in the Grand Prix in Neumünster and in the World Cup freestyle qualifier.
Don Schufro's Schufro's rider, Andreas Helgstrand is impressed with his progeny…
"I have not seen a stallion who makes foals better than he can. He is really going up as a competition horse now, and his sons and daughters, they are very easy to ride, they have nice hind legs – and that is very important in dressage, that you have the hind legs with you. All of them have a super canter. I think he is one of the best breeding stallions at the moment."
You have some very good stallions at Blue Hors?
"I must say my best horse ever is a son from Don Schufro, Don Romantic, he won the licensing as a four year old, and that horse is now six. But he has some problems with the nerves in his neck, when he bends to the right there is nothing, but there is a problem bending to the left. They can't find out what is wrong. We hope to fix it because I have never seen a horse like that before. We have had him to Newmarket, to everywhere. He didn't always have this problem so hopefully we can fix it. Don Schufro is good, but that horse is amazing, an unbelievable horse."
Don Schufro's son Diamond Hit was Reserve Champion in the Four Year old stallion class at the Bundeschampionate in 2001, and the following year, was Reserve World Champion of the Five Year old dressage horses. In 2007, Diamond Hit went on to be a most impressive Grand Prix competitor, with Emma Hindle.
Other licensed sons include: Der Dollar, Don Caruso, Don Darwin, Don Laurie I and II as well as Don Romantic, who won the Danish stallion licensing in 2002.
In 2001, Don Schufro headed the German FN stallion rankings for the first time, on the 2013 standings, he w as still number 1 with a breeding value of 169. On the 2014 FN standings he dropped to 3rd spot (behind Lissaro and Vivaldi!!!) with a breeding value of 172. On the Hanoverian standings for 2015, his breed value of 157 for dressage would have put him into 3rd spot, but for some reason he is not included in the topliste, He has a value of  71 for jumping. His strongest pace is the canter, with a value of 169. Trot – 135, walk – 142, rideability – 160.
On the 2015 FN rankings, Don Schufro has slipped to fourth, with a dressage breeding value of 167 (0.97) and a jumping score of 86 (0.89). In the 2016 Hanoverian Stallion book he has a dressage value of 154 and a jumping value of 72. His strongest pace is still the canter – 168, trot 132, walk 138,  and rideability, 158. In the 2017 Hanoverian book, his dressage value is 152, and 73 for jumping.
On the new 2016 German FN values, he has a young horse value of 156, and an open competition ranking of 166.
Don Schufro has produced 219 competitors for winnings of €364,234 (his highest earner is Weihegold, with €135,578 – this was before she went of Omaha), with 39 competing at S level dressage.
Don Schufro ranked 9th on the 2014 WBFSH stallion rankings, with his most successful competitor, Bocelli. On the 2015 standings, he is in 11th place, with 13 points earners but with Weihegold having already won her first World Cup qualifier at the beginning of 2016 his star was certain to rise, and sure enough he regained 9th place on the 2016 rankings. He should be higher still on the 2017 standings following Weihegold's World Cup victory.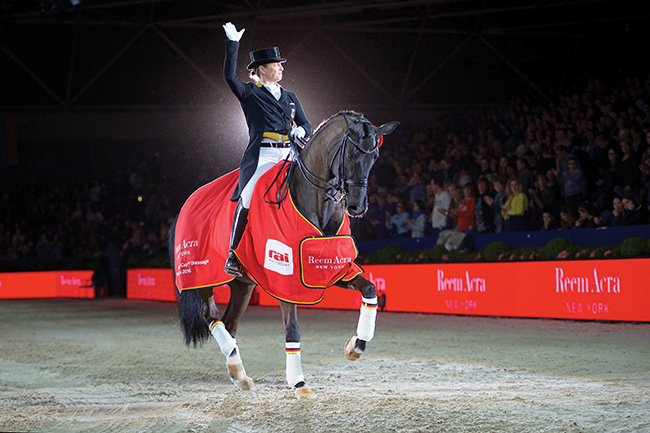 Weihegold and Isabel Werth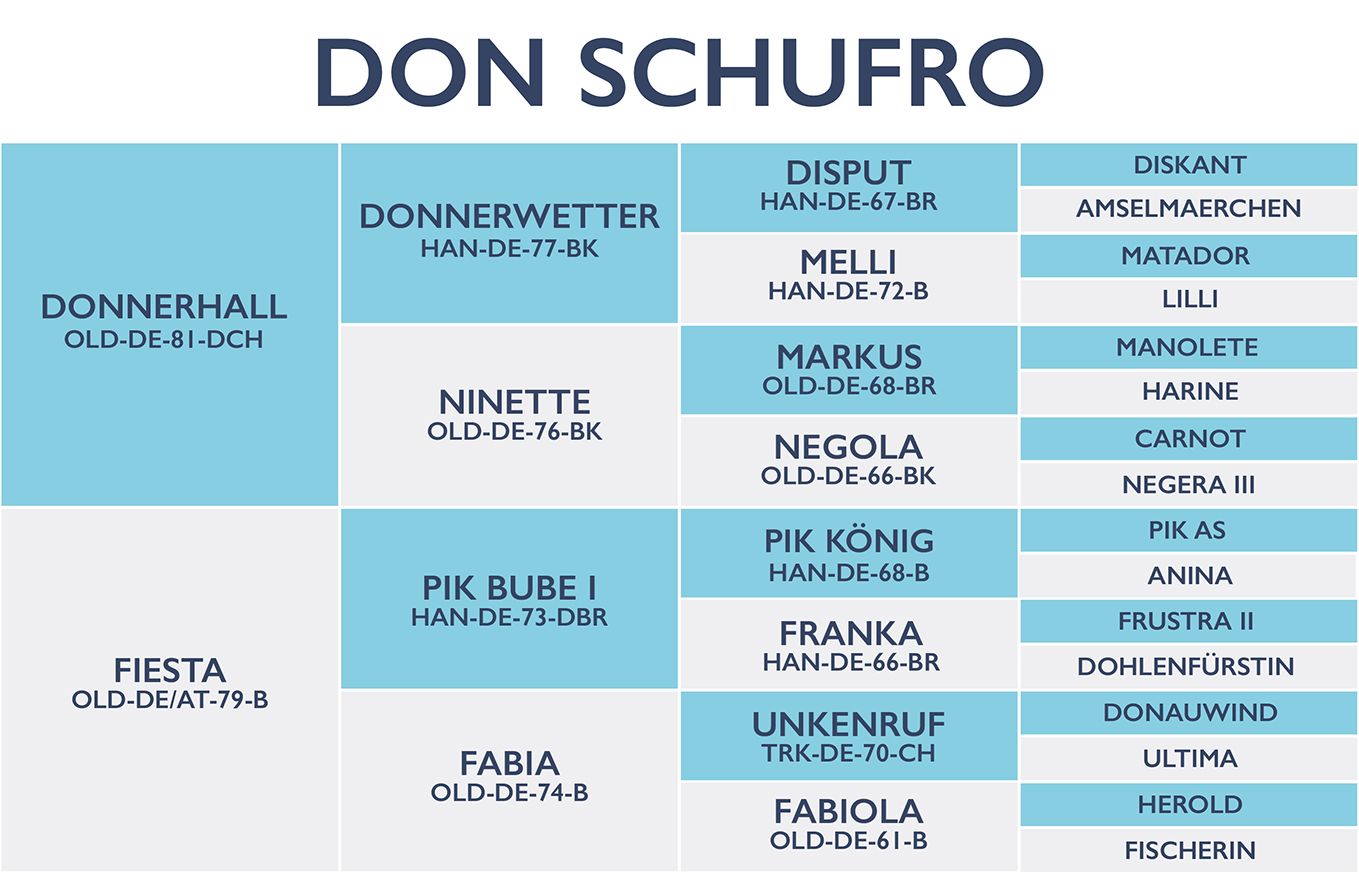 « Back to Great Stallions List