« Back to Great Stallions List
Kashmir van't Schuttershof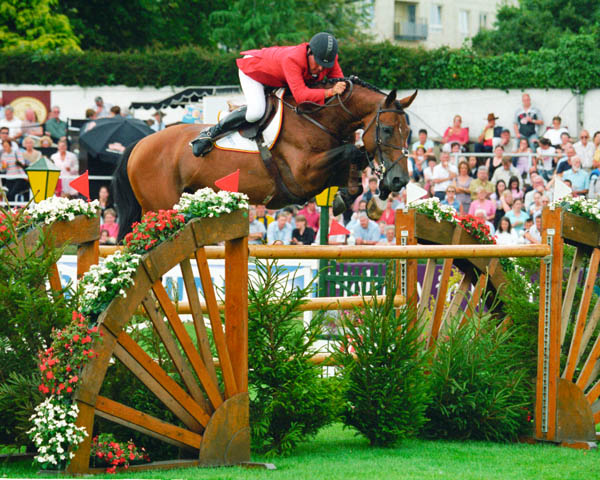 1994 172 cm Bay
Breeder – Willy van Impe
Kashmir van t'Schuttershof is one of the best sons of Nabab de Rêve, and like his sire proved himself as a competition horse before starring as a jumping sire. He jumped at 1.60 level with Philippe Le Jeune and was a fine Nations Cup horse for Belgium and was third in the team competition at the WEG in Jerez. He was second in the Grand Prix of Dublin and 1st in the Grand Prix of Compiègne as well as being a member of the Belgian team at the European Championships in 2001.
He is 7/8ths Selle Français, and combines the very finest French lines with just a touch of the great Hanoverian, Gotthard on his bottom line. His sire, Nabab de Rêve, combines the blood of the great Ibrahim, through Almé's best son, Jalisco, with another French great, Nankin (by the Thoroughbred, Fra Diavolo). His 12.5% Nankin blood is nicely balanced by 12.5% blood of another Thoroughbred great, Furioso (two crosses on his sire line, one on the dam line).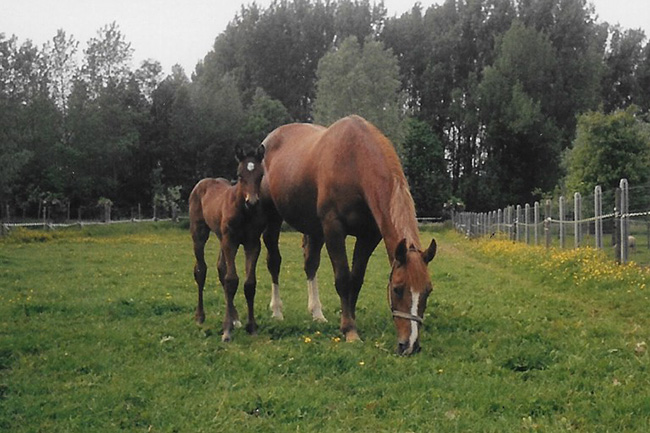 The mare who started it all, Fines
His dam, Fines van Kameren was sent straight to a brood mare career, and Kashmir was her first foal. She is by Tenor Manciais, by the influential Grand Veneur out of a Nankin mare. Fines' dam, Gotha is branded Hanoverian but she is by the Selle Français who starred as a stallion in Germany, Furioso II, out of a mare by Gotthard.
Tenor Manciais was born in France but came to Belgium as a youngster, going on to be a finalist in the Belgian Championships for Young Horses at the age of 4, 5 and 6. He went on to compete internationally with Philippe Lejeune.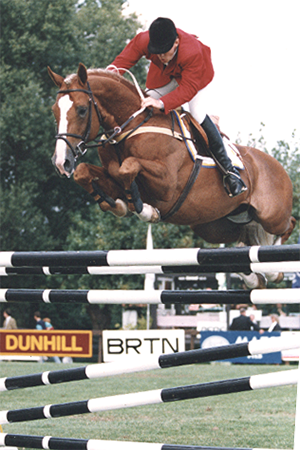 Tenor Manciais, one of the stallions that established the Schuttershof Stud
Kashmir was bred by Willy van Impe and while he was Fines' first foal for Mr van Impe, she went on to be a wonderful mare for his breeding operation.
Her next foal, Nistra vh Schuttershof (by Centro) is the dam of five foals, including Aragorn van Schuttershof by Quintero, like Kashmir, an approved stallion with the sBs, and a successful 1.55 competitor with Belgium's Yves Vanderhasselt and Holland's Yves Houtackers.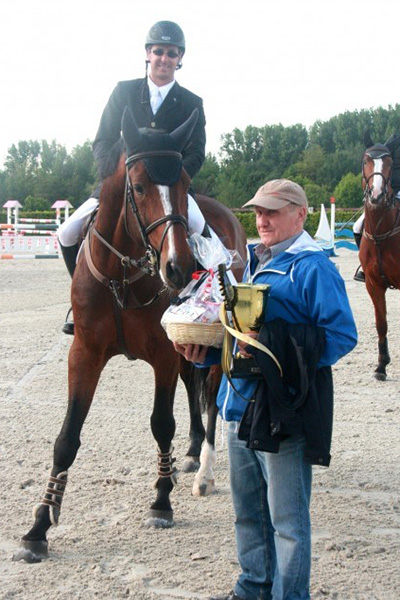 Wily van Impe with Aragorn van Schuttershof (Quintero LS out of the half sister of Kashmir) now ridden by Olivier Philippaerts at 1.55m level
Her next foal, another filly Orchin vh Schttershof (by Nabab de Rêve) produced Angel van't Hof (by Chin Chin) who jumped 1.55 level, and Challenger Van't Hof (also by Chin Chin) who competed 1.40.
Kashmir and Philippe Lejeune
The next foal, yet another filly, Pristina, produced Triomphe van Schuttershof (by Oklund) an approved stallion with sBs, and a 1.60 competitor in Italy, followed by the approved stallion, Anakin van Schuttershof (Quintero), followed by Dakota van Schuttershof (by Darco) who was a 1.50 competitor with Gert Jan Bruggink.
Another filly followed, Qualine (by Power Light) who was the dam of another sBs stallion, U Chin van Schuttershof (by Chin Chin) who competed 1.50.
Fines' 2002 daughter, Sissi van Schuttershof (by Nabab de Rêve) was a solid 1.55 competitor with Jan Vreiling.
All told, Fines produced ten foals for Mr van Impe. What a mare!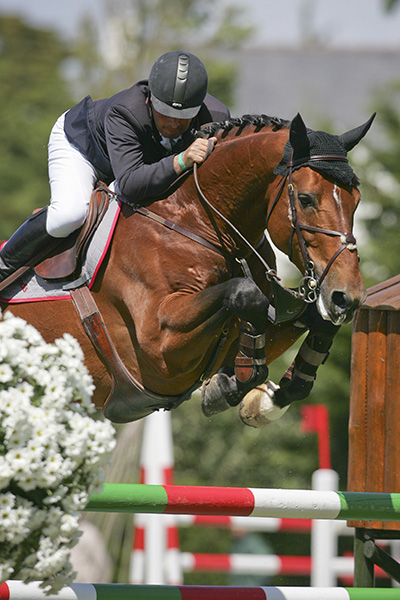 Kashmir and Philippe Lejeune / Photo: Dirk Caremans
Willy van Impe's son, Kim, took time out from his work as a vet in the middle of the breeding season, to tell me a little about the family's breeding operation:
"The horses started as a hobby of my parents in the 70's. In the beginning my father had two horses for amateur riding in the local amateur circuit (dressage and jumping)."
"After a while my father wanted to have more quality horses and in the late 70's he bought three foals out of the same mare called Dein Gluck, Hannoverian mare by Dirk x Grande – three years in a row."
"All these three mares (Blesse, Condora and Duellpoesie van Herlinckhove) became national champion at the BWP national selection concours ( about conformation, movement and pedigree of the horse)."
"My father was still looking to improve his stable and wanted to breed top show jumping horses. Again he looked to buy good foals, but now abroad."
"In 1984 he bought in Germany from the Böckmann family, a filly called Gotha (Furioso II x Gotthard) which became the grand mother of Kashmir."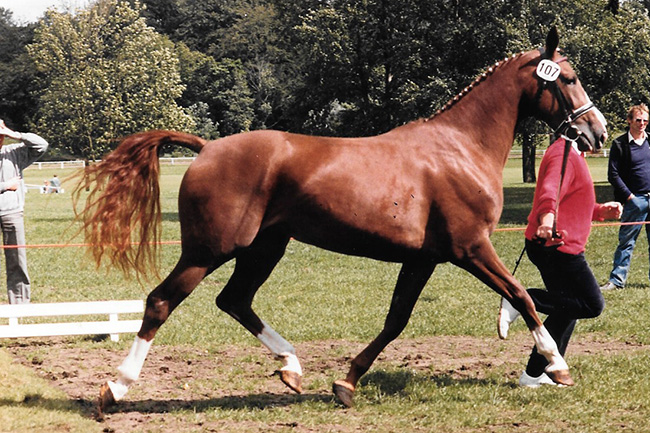 Gotha at the famous mare show at Rastede, where she won and became Staatsprämiestutte
"In 1985 he bought in France a stallion foal named Tenor Manciais (Grand Veneur x Nankin x Ibrahim) out of one of the best ranked mares in France called Golden Comet. Tenor was later a very successful show jumper with Philippe Lejeune and was vice champion of Belgium at the age of 8 after Jean Claude Vangeenberghe with Carrera who won the same year the Grand Prix of Aachen."
"Breeding these two, Gotha and Tenor Manciais gave birth to Fines van Kameren. It's a bit funny, my father forgot to put the suffix van Schuttershof on the declaration of the birth of the foal and at the sBs they putted the suffix "van Kameren" because the road we were living was named Kamerstraat."
"When she was four years old Fines was brought to Joris De Brabander to be bred with Chin Chin but she did not get pregnant with Chin Chin. So my father decided to cover her with Nabab, a stallion whom he believed in. (at the time my father presented Nabab together with Joris De Brabander to be approved at the SBS selection Show). It proved to be a good combination."
"Kashmir can be used an a variaty of mares. Kashmir brings technique, force, reflexes, size, but most off all he brings super mentality. Always willing to work, a big heart, enough blood but not crazy, super horses to work with…"
"It's a shame that Kashmir is not fertile any more (already for 5 years), luckily we still have a small stock of good frozen semen so we can still make some offspring. I'm also a veterinarian, specialised in reproduction of horses."
"So in 40 years it became from two amateur horses to a stallion/breeding and show jumping stable of about 80 horses with a embryo transfer and artificial insemination center. It got a bit out of hand…"
As a breeding stallion, Kashmir already produced 30 approved sires! And some very fancy competitors.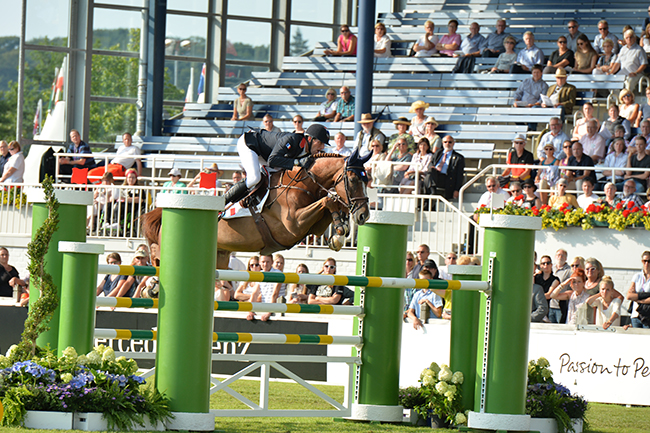 Kevin Staut and Reveur de Hurtebise HDC
On the 2015 WBFSH jumping sires rankings he is in 7th place (moving up from 12th the previous year, with 64 showjumpers contributing to his total), with his best performer, Kevin Staut's star, Reveur de Hurtebise HDC (Capricieux des Six Censes). Peter Fredericson has had success with H & M All In (Andiamo Z), as has Kent Farrington and Gazelle (Indoctro).
All three horses are entered for Rio, along with a fourth Kashmir, Fedor (Okaan).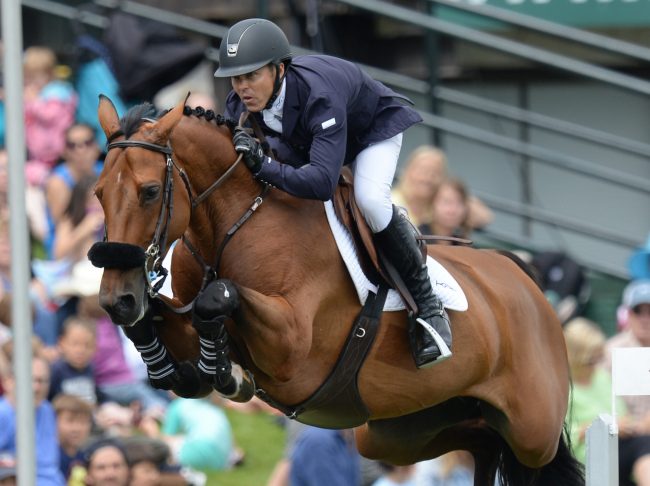 Kent Farrington and Gazelle win the $500,000 ATCO Queen Elizabeth Cup II Cup at Spruce Meadows… Photo Spruce Meadows Media Services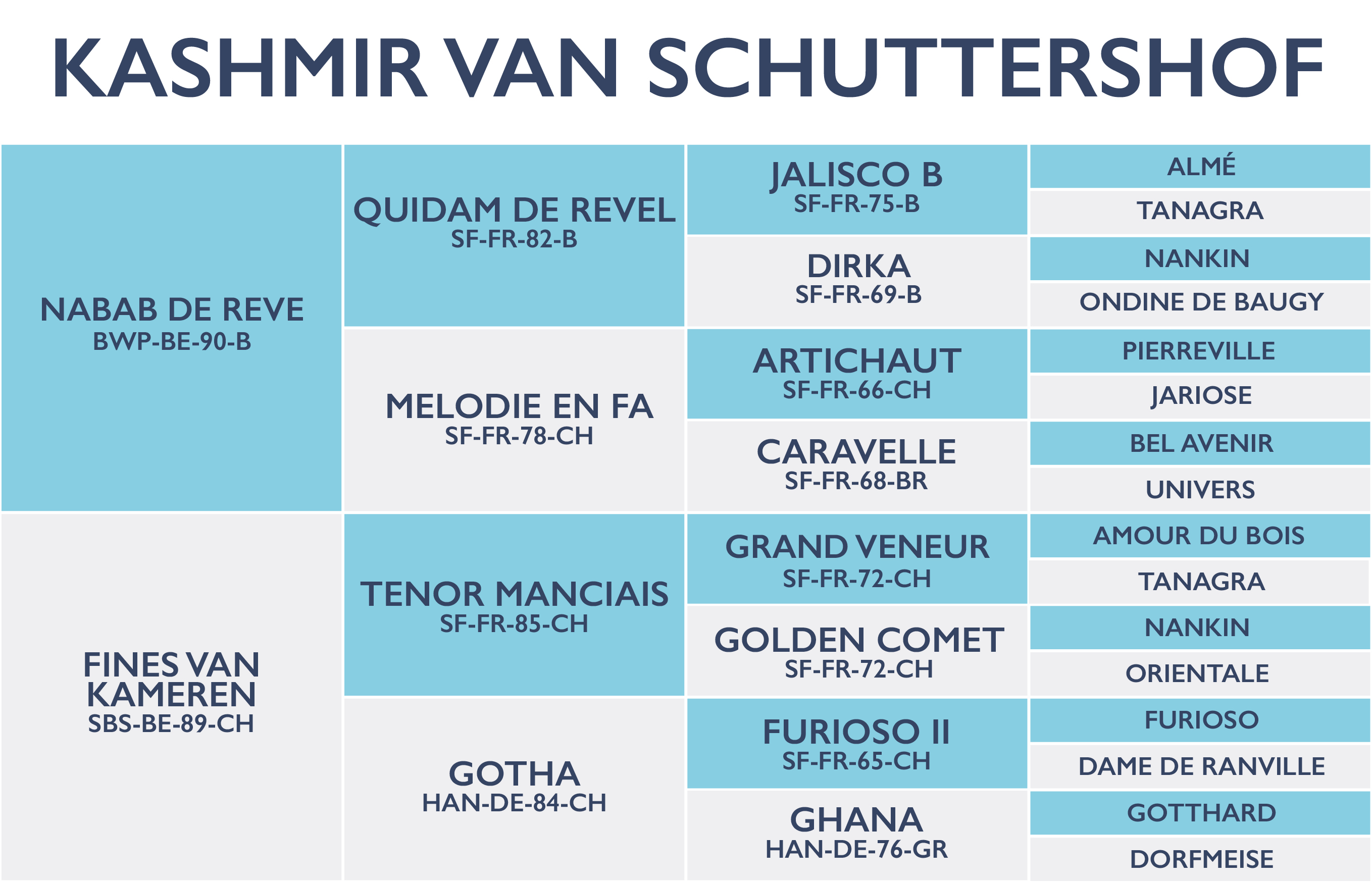 « Back to Great Stallions List