« Back to Great Stallions List
Jaguar Mail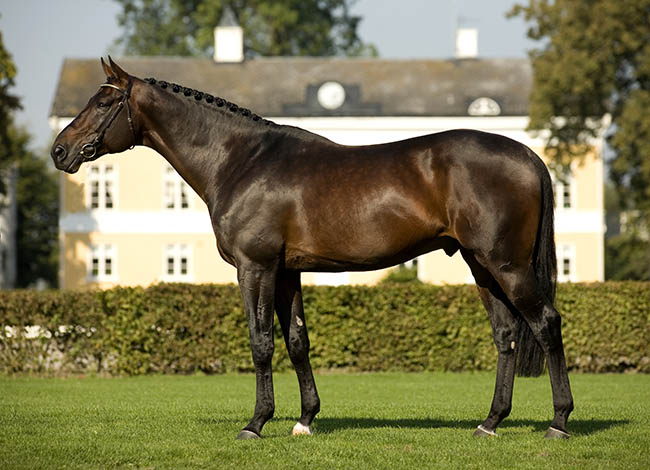 1997 1.76 Bay
Breeder: Bernard le Courtois
I remember the first time I saw Jaguar Mail. Flipping through the pages of Annuaire Monneron 2004, there was a huge double take, my god look at that horse! The most beautiful elegant Thoroughbred type, and then, double flip when I looked at the pedigree, 7/8ths Thoroughbred, combined with two of the greatest Warmblood jumping lines.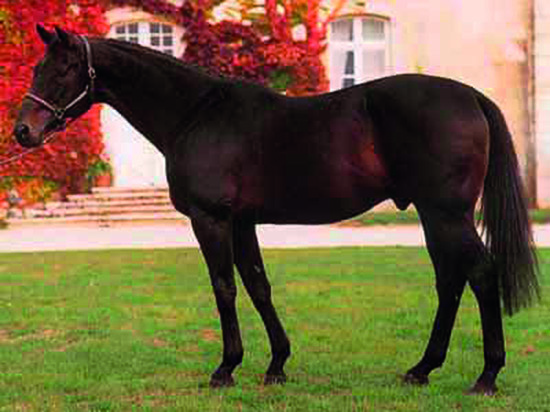 Hand in Glove – the American Thoroughbred that stood at Brullemail
Jaguar Mail's sire is the magnificent Thoroughbred Hand In Glove who had an exceptional,  sport career.  Only lightly raced, Hand In Glove was developed as a dressage horse up to the Prix St. Georges level and as a show jumper, competing at the Grand Prix level.    Hand in Glove was accepted by 15 different studbooks and has produced international winners for both show jumping and eventing including Famoso Mail, Frisco Mail, Free Style, and Ikat Mail. Grandsire, Best Turn was stationed at the legendary Calumet Farm.  He won 15 of his 28 races and sired 24 Stakes winners.  He was also a very successful sport horse sire, with his progeny including the International show jumper MVP and the FEI dressage horse Shining Moment.
His mother Miss Betty xx also was a highly successful race horse and is descended from the champion of all three and four-year-olds in the US, Buckpasser.
Jaguar Mail's dam, Elvira Mail, is a daughter of another Thoroughbred sport stallion Laudanum.  Described as careful and courageous, Laudanum was a winner of Grand Prix, Puissance, and Nations Cup classes and earned over 100,000 French Francs with Pierre Durand.  Elvira Mail has also produced the World Cup participant and WEG Silver Medalist Katchina Mail.
Another key element in the mix is the great Hanoverian stallion, Gotthard. While Gotthard never established a stallion line, his influence as a brood mare sire has been enormous, as can be seen in the career of his daughter, Goldret. The grey mare was out of an un-named mare by Friesenkönig, out of another un-named mare by Franz. A son-in-law of the mare's breeder, Otto Fricke described the Franz mare to Jo de Roo, the author of the article: Zangeresheide Sport Mare Lines Part X: The line of Goldret (Z magazine, August 2013).
"She only stood about 153 cm. Together with a small gelding she was used on the agricultural farm of my father-in-law. Her dam was an East Prussian mare who ended up in West Germany after WW II. The explanation for the fact that the Franz daughter was a grey can be that there were several Arabian stallions active in East Prussian breeding."
Goldret was sold to Zangersheide, and acquired the obligatory 'Z' tagged on her name. She was a welcome acquisition, according to stud manager, Alex Korompis, she was "a tall, long-lined, correct, very modern grey mare with a very fine upper line and a square conformation. I give her a 9/10 for conformation. And if she were still alive today, she would not double, still score high with her model. Unlike most Gotthard daughters, who radiate toughness with a male aspect, Goldret Z looked very feminine."
Bred to Ramiro, Goldret produced Renomee Z, who was licensed in the Holstein studbook. His daughters can be found on the pedigrees of the stallions, Douglas and Silverstone.
Goldret was then bred to Almé, to produce Adoret Z, who was sold to the Belgian stud, Van de Helle, and they in turn sold her to Bernard le Courtois in 1989. Adoret was a gold mine at Bernard's Brullemail stud.
Bred to the Thoroughbred Laudanum, she produced Chergar Mail, a licensed stallion and an international jumper with Philippe Rozier – they were members of the French team that won the Nations Cup in Rome in 1999.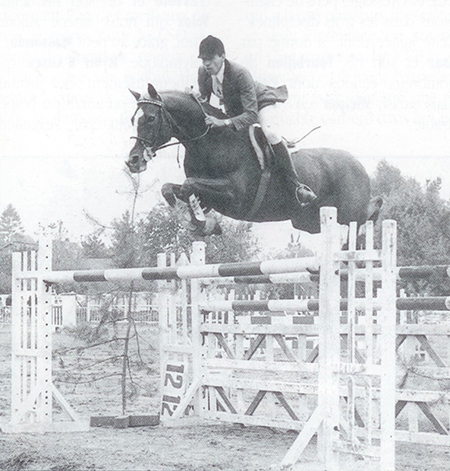 Laudanum – the last Thoroughbred stallion to win major Grand Prix in Europe…
Two years later, Adoret – again bred to Laudanum – produced the filly, Elvira Mail. Bred to Calvaro, Elvira Mail produced Katchina Mail who competed internationally with Patrice Delaveau – at the World Cup Final in Geneva and the WEG in Lexington.
In 1993, Elvira Mail's full-brother, Ferger Mail was foaled. After a successful showjumping career, the stallion was sold to the Mexican, Alfonso Romo, and re-named, Chapultepec la Silla. He in turn sired a string of international jumpers.
Bred to Hand in Glove xx, Elvira Mail produced Hoggar Mail who was the 6-year-old champion of France. He enjoyed success with Penelope Leprevost before he was exported to Argentina in 2007. He died three years later.
Bred to the American Thoroughbred, Hand in Glove, Elivira Mail produced Jaguar Mail in 1997.
Jaguar Mail's first foals were born in 2003 and had immediate success when two of his fillies finished 4th and 5th at the French Foal Championships that year. That first foal crop continued to impress as they developed and the Vice champion at the National 3 year old Stallion Show in 2006 was the Jaguar Mail son Play Again D'Orchival. Play Again won brilliantly the two free jumping tests with a score of 8.7 out of a possible 10 and was 2nd for the gaits test with a 7.8 out of 10 points. In 2010, Jaguar Mail had 11 horses qualified for the 4, 5, 6 year old French Championships at Fontainebleau. Jaguar Mail was the only stallion to have two offspring competing in the 2013 World Young Eventing Horse Championships. Of these two offspring, Tenareze was the commanding winner of the 6-Year Old Championship, finishing on his dressage score. Just as his father before him, Jaguar produces excellent horses in multiple disciplines.
Under Patrice Deleveau he had placings at both the French Championships and the World Breeding Championships for young horses.  At 7 years old, Jaguar began competing at Grand Prix, and by the following year was already on the WBFSH rankings.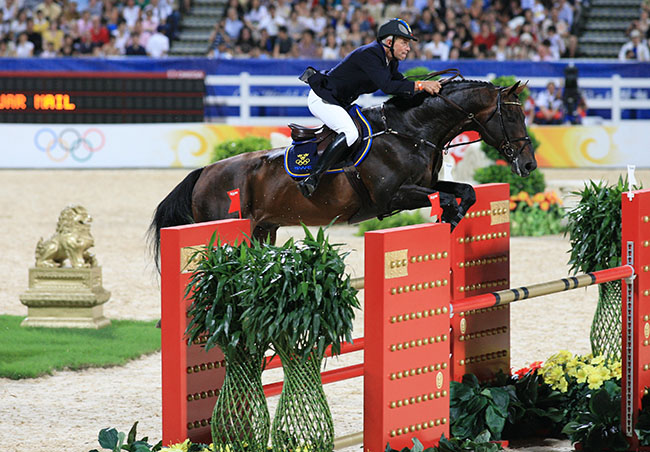 In 2007 Jaguar Mail moved to Sweden and began his partnership with Peter Eriksson.  After just two months together, the pair placed second at the Swedish Championships and later that year won the Sires of the World competition in Belgium.  The following year Jaguar Mail and Peter were important members of the Swedish National Team with placings in Gothenburg, Rotterdam, and Falsterbo.
At the 2008 Olympic Games in Hong Kong, the Swedish Team placed 5th overall and Jaguar Mail was 33rd in the Individual Final. In 2010 Jaguar Mail was paired with the young rider Margaux Rocuet.  Together they won the French Young Rider Championships in July, were 8th in the Ladies Championships in September, and won several Grand Prix.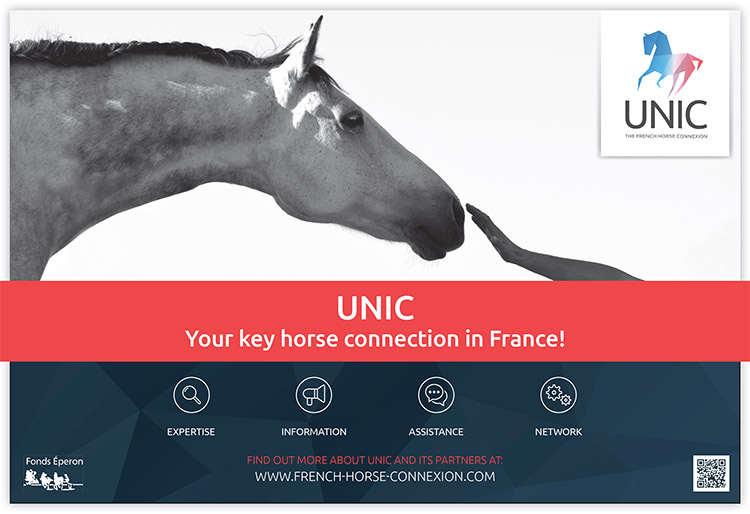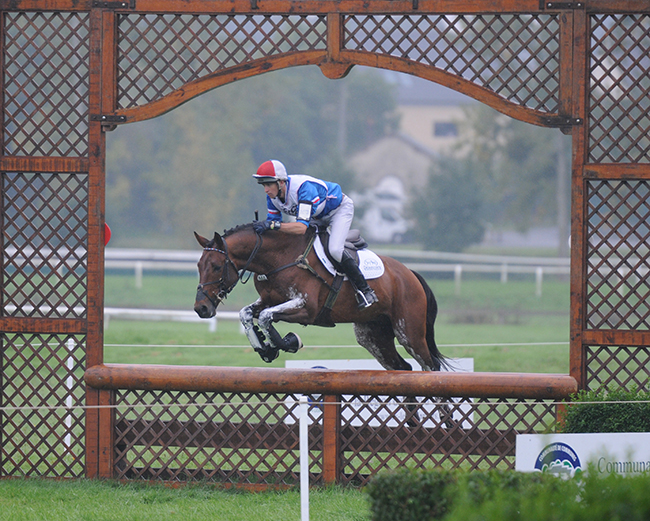 Tenareze – World Young Eventing horse champion
Jaguar Mail  has since proven an excellent sire of eventers, and his son, Tenareze won the 2013 World Young Eventing Horse six year old title and the 2014 seven year old title although, as Thomas confesses he wasn't a great fan of Jaguar because of his somewhat lazy front end:
"When Patrick, his breeder, brought him to me as a two-year-old, I wasn't that much of a fan of Jaguar horses, I thought they were very slow to mature and not the most careful of horses. With this horse, I couldn't find anything to put me off – he ticked all the boxes. I think he is fantastic, really special."
Jaguar has only one entry at Rio, but it might well be the one that brings home gold, Michael Jung's fischerTakinou – who like Tenareze is out of an Anglo Arab mare, this time by Sardana Pierre.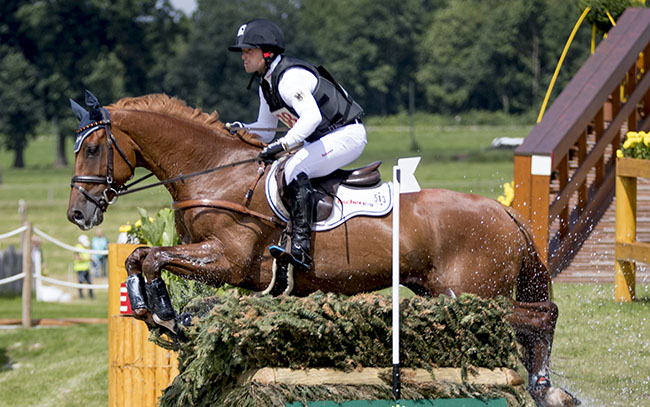 fischerTakinou – shown here winning Aachen CIC, one of Michael Jung's favourites – photo Dirk Caremens/Hippo photos
On the 2015 WBFSH eventing sires' rankings, Jaguar Mail sits in 5th place up from 20th the previous year with 25 competitors – headed by  fischerTakinou – contributing to his ranking – two of them, Little Britannia and Britannia's Mail, the pair of embryo transplants who qualified Jaguar and Headley Brittania as the 'married with kids' couple at the Hong Kong Games.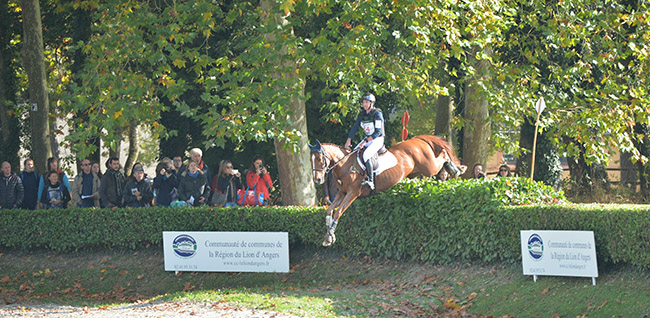 Vassily De Lassos, by Jaguar Mail, and Thomas Carlile, at the World Young Event Horse Championships, Mondial du Lion.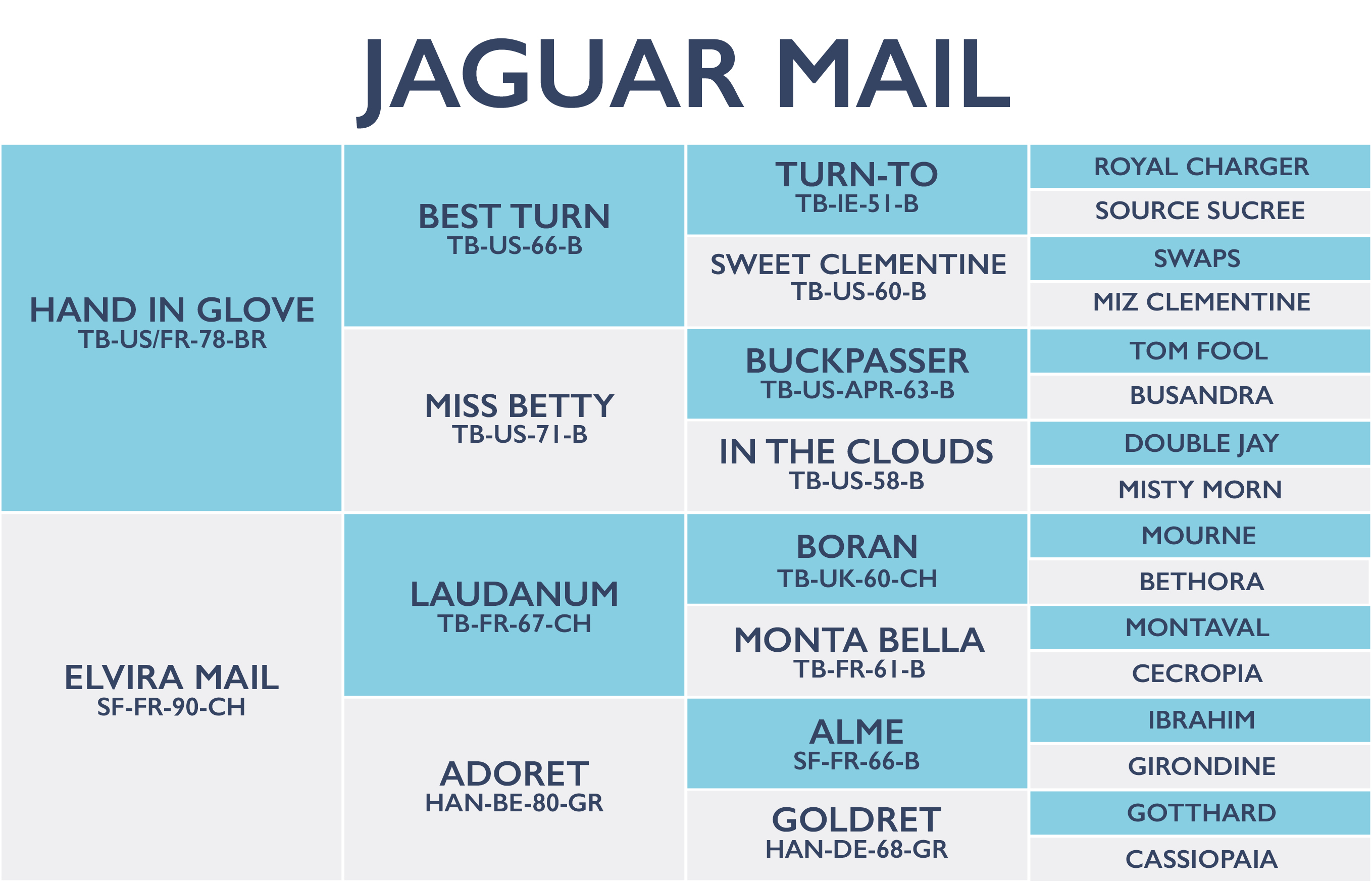 « Back to Great Stallions List