Who's Who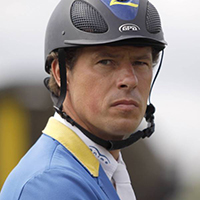 Ahlmann, Christian
Discipline : Showjumping
Born : 1974
Christian comes from a family of horsemen, but the horses were trotters not jumpers:
"I worked with trotters. At one time we had as many as 150 trotters at home, but not a single showjumping horse. I have a way with trotters. I have my license and in my limited career I won 25 races. But in all modesty I believe that I am better with showjumping horses. I learnt to ride in the riding school of my grandfather. It was fun for a child there among all the other kinds my age. In my teens I rode in local and national jumping competitions and helped out at home with the trotters. I tried both and I think that I have made the right choice."
Christian trained with Olympic Gold medallist, national coach and chef d'equipe Otto Becker.
Christian's international debut was at the European Championships in 1989 aged just 15, riding Cöster. He told Z Magazine, (Feb/March 2013): "I saw Cöster as a youngster and I believed he was special. My sponsor Marion Jauss wanted to buy a horse for me. I thought that Cöster was the best. At that time, he was the best horse I had ever ridden, but I did not know for certain if he would be good enough for championships or the Olympics. I had never jumped at that level, so how could I know? I always felt with Cöster I had the winning lottery ticket. Cöster was like myself, young and inexperienced. We had a good tie, but how far could we get? No-one could tell that at the time. He is now 20 years old, in excellent health and he spends his days in the field, in the company of his best fried, a tiny Shetland."
In a stunning international breakthrough, Christian and Cöster became the 2003 European Champion, individually, and they were members of the gold medal winning German team…
"At a championship everything has to fit perfectly that precise weekend, that precise day. Even with the best preparation, you still need good luck, or, reversely, you can not afford a single bit of bad luck. We are now ten years further and I have leant that it is not always evident that everything is right and that it all falls together at the right moment. In 2003 that seemed only natural. In the youth category I won medals at almost every European Championship and nothing new happened in my first EC with the seniors. It just seemed normal, but I now know that nothing is further from the truth."
At the 2008 Beijing Olympics, Ahlmann's horse tested positive for the banned substance capsaicin along with the horses of three other riders, and was subsequently suspended from the Games.
"The commotion around the 2008 Olympics created a snowball effect and we stood in the eye of the storm, we got the avalanche. Everyone made mistakes at the time. In addition, Cöster was getting old and I did not have a successor. That was a dark period in my life and it took a while before I saw light at the end of the tunnel. Fortunately things are now going better all the time. I had never believed that just a few years after Hong Kong I would be where I am now. And I owe that to a lot of people, Now the situation has turned in a positive sense."
In December 2012, Christian reached World Number One in the showjumping world ranking for the first time in his career.
Christian riding Codex One, won the Grand Prix of Aachen in 2014, but his ride on the stallion at the WEG in Caen later in the year, was not such a happy experience – and the pair made a quick exit to prepare for the next show on the calendar, to the displeasure of many fans, particularly the German fans.
Christian was selected for the German Team at the Rio Olympic Games, riding Talboubet Z where they were members of the bronze medal winning team.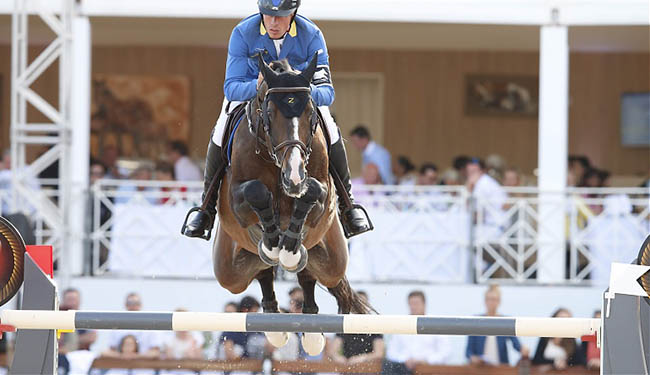 Christian Ahlmann took over the ride on Taloubet Z from his partner Judy-Ann Melchior in 2009. In 2011, Taloubet and Ahlmann won the FEI World Cup Final. Christian describes Taloubet as a strong, extrememly powerful horse with a bit of a flat canter who never gets tired. "There is no distance or fence where I'm worried that he can't do it," says Christian. "His flat canter just means I have to put an extra stride in sometimes or all the power goes forward instead of up." Originally Ahlmann took on Taloubet on a temporary basis as the partnership between the stallion and Judy-Ann wasn't working out, but he clicked so well with Taloubet that he never gave the horse back.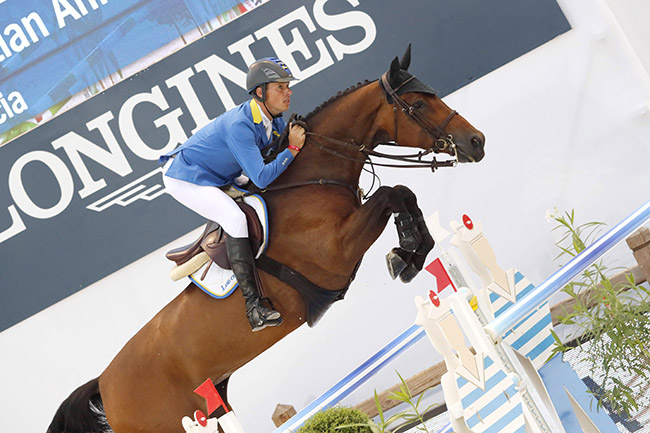 After seven rounds of the 2017 LGCT, Christian heads the rankings, here he is riding his Monte Carlo GP winner, Dolocia (Verdi / Furore) – photo Stefano Grosso