Who's Who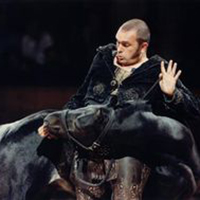 Bartabas (Clément Marty)
Discipline : French trainer and rider, film producer and impresario
Born : 1957
In 1998, he founded the equestrian performing show, Zingaro, which means 'Gypsy'. The name was taken from the name of his first horse, a spectacular Friesian stallion who was also the star of his shows. The company so impressed Jack Lang, the French Minister for Culture, that he granted them a large plot of land in the middle of working class Paris at Fort d'Aubervilliers to establish their theatre in the round; the cast live in caravans surrounding the theatre.
He also produced two movies: Mazeppa (1993) and Chamane (1995), both of which featured spectacular equestrian action.
In 2002, he founded the Académie du Spectacle Équestre (Academy of Equestrian Arts) in the Grande Ecurie of the Palace of Versailles.