Who's Who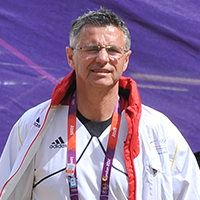 Becker, Otto
Born : 1958
Lives : Sendenhorst, Germany
Chef d'équipe and national coach, manager of the German Olympic show jumping team.
First breakthrough in 1990 winning the national Championship, part of the WEG team for Stockholm riding Pamina, Silver medal with the team and fifth place in individual ranking.
1994 and 1998 National Champion.
Represented Germany in three Olympic Games, Barcelona 1994, with Lucky Luke, Team Gold in Sydney 2000 with Cento and Team Bronze in Athens in 2004 with Cento.
With Cento won Grand Prix of Aachen in 2000 and the World Cup Final in Leipzig in 2002.